There are several campervans on the market that include a sink and a pump, but they seldom have a hot water source.
Most people simply dismiss electricity as a comfort for houses and recreational vehicles since it doesn't work well for heating—especially items that are as thermally dense as water.
This is totally acceptable, but if people realized how easy it is to install a 12v electric propane water heater in their campervan, we bet more constructions would include hot water! We'll show you how to connect a 12 volt water heater to your existing 12 volt sink system in this article.
If you're seeking for other hot water options, check out our articles on how to locate showers while traveling and the portable "shower in a box" hot water heater.
Propane Water Heater Types
There are two primary methods for putting a water heater in a van:
100% transportable water heater
Propane tankless water heater
The best way to describe fully portable water heaters is as "showers in a box." They have their own shower heads, faucets, and water pumps.
There is very minimal setup required.
They are simple to use, safe, and portable.
This is the approach to use if you don't want to play about while developing a water system.
That being said, a completely portable water heater has a significant drawback.
These systems have their own built-in water pump, so you can't connect them to your existing 12 volt sink (at least not easily).
Tankless water heaters may help with that.
What Is the Operation of a Tankless Propane Water Heater?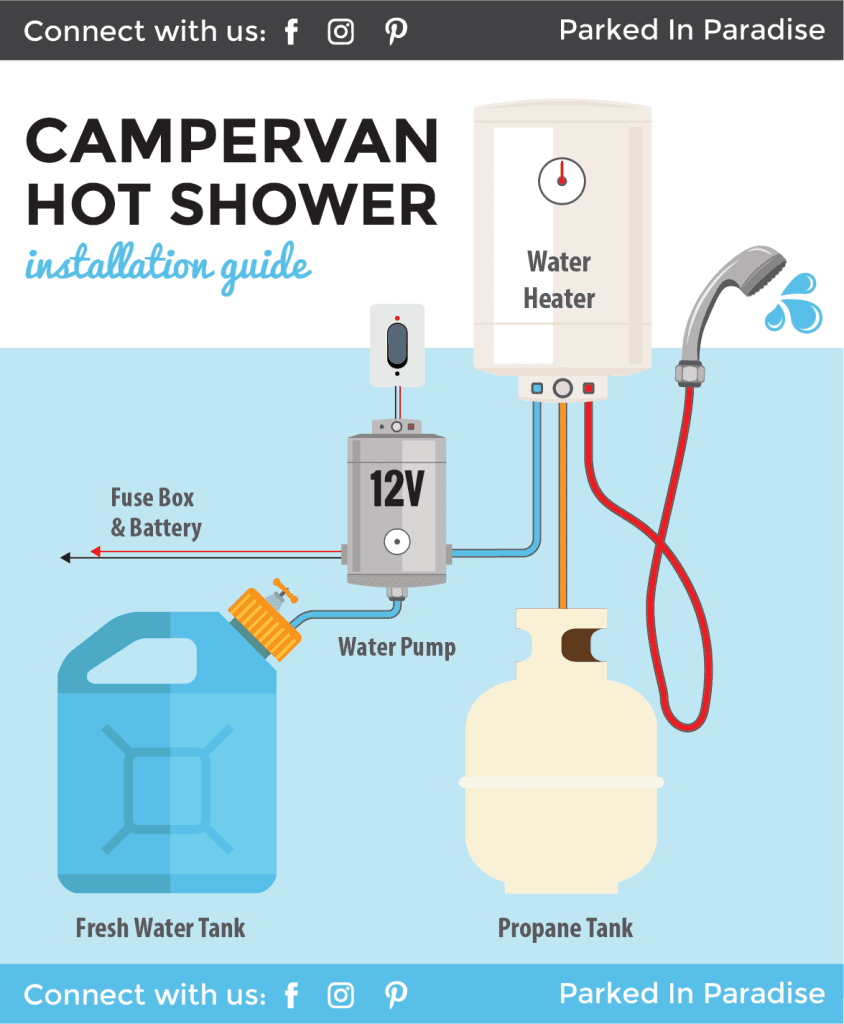 The tankless water heater has fewer components than the shower-in-a-box.
It is a straightforward concept that will heat the water using your propane tank, then force it out of your shower head using the pressure from a sink pump.
A 12V pump, fresh water tank, propane tank, and a 12V connector are all you need to take a hot shower.
However, if you want to link it up to your sink for both hot and cold water, things get little more challenging:
Parts Of A 12 Volt Electric Water Heater Using Propane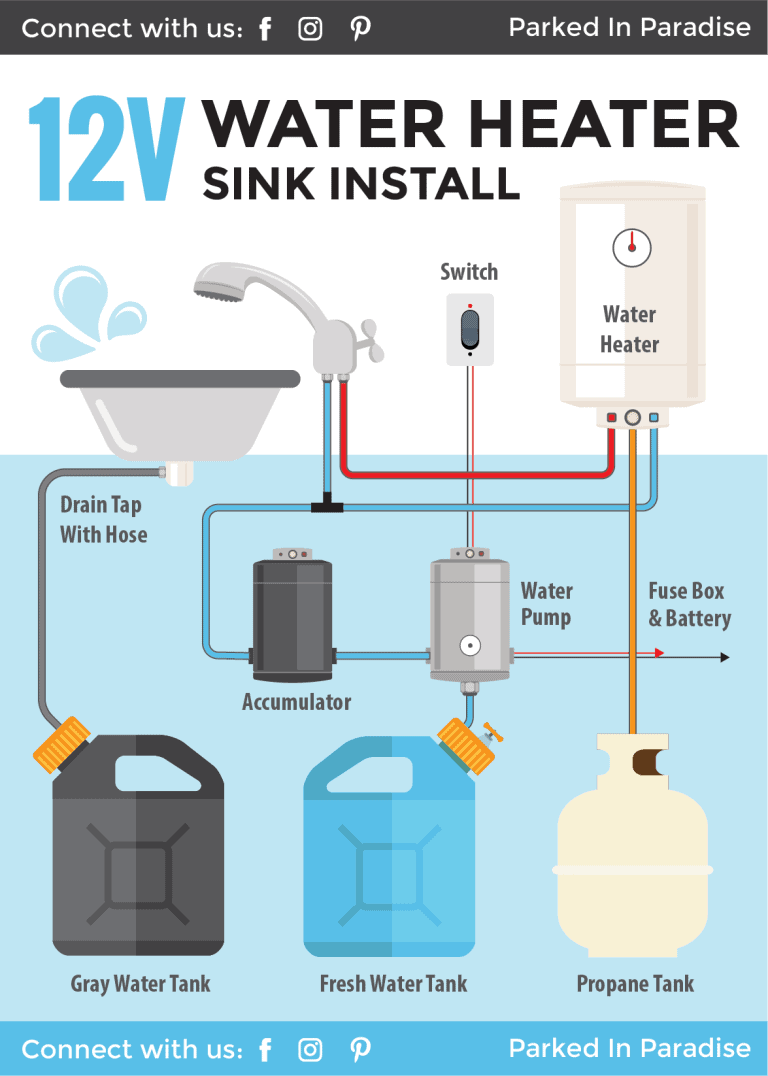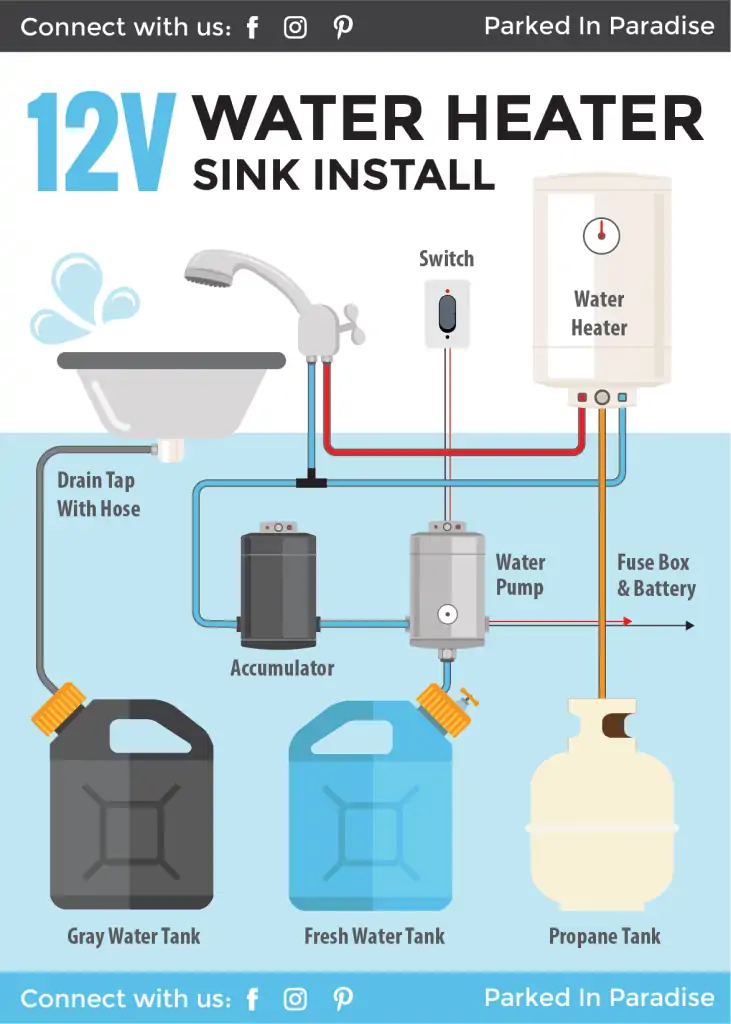 The hot water is plumbed straight into the sink in this illustration.
As a result, the sink may function like a typical home sink and you can change the hot-cold flow to suit your chosen temperature.
Read our page for a detailed explanation of how a 12V sink system is put together.
How to set up a 12 volt sink in your camper
Safety Advice for Propane Water Heaters
Always use particular care while experimenting with propane.
Because they are burning fuel, water heaters need fresh oxygen.
Never utilize a propane water heater inside of a closed car, and make sure they have enough of ventilation!
Place your water heater next to the back or side doors or another place with good airflow.
Never fasten your car's water heater to the exterior.
They were not designed to be exposed to the weather outside all the time.
The majority of heaters expressly advise against being exposed to snow or rain.
Install a carbon monoxide detector close by, check your gas lines often for leaks, and make sure your home is leak-free.
Installing a Water Heater: Steps
Step 1: Select The Proper Location.
Look for a location in your car with plenty of airflow, keeping in mind the safety advice above.
The heater should be accessible so that you can periodically check for gas and water leaks.
The heater should also be easily accessible for setting adjustments.
You may avoid dealing with lengthy tubing and possible water waste by placing it close to your water and propane tanks.
Instead of utilizing the included shower head if you're installing a pressured sink, you may double your utility by purchasing a retractable faucet that can be pushed outside the vehicle for showers!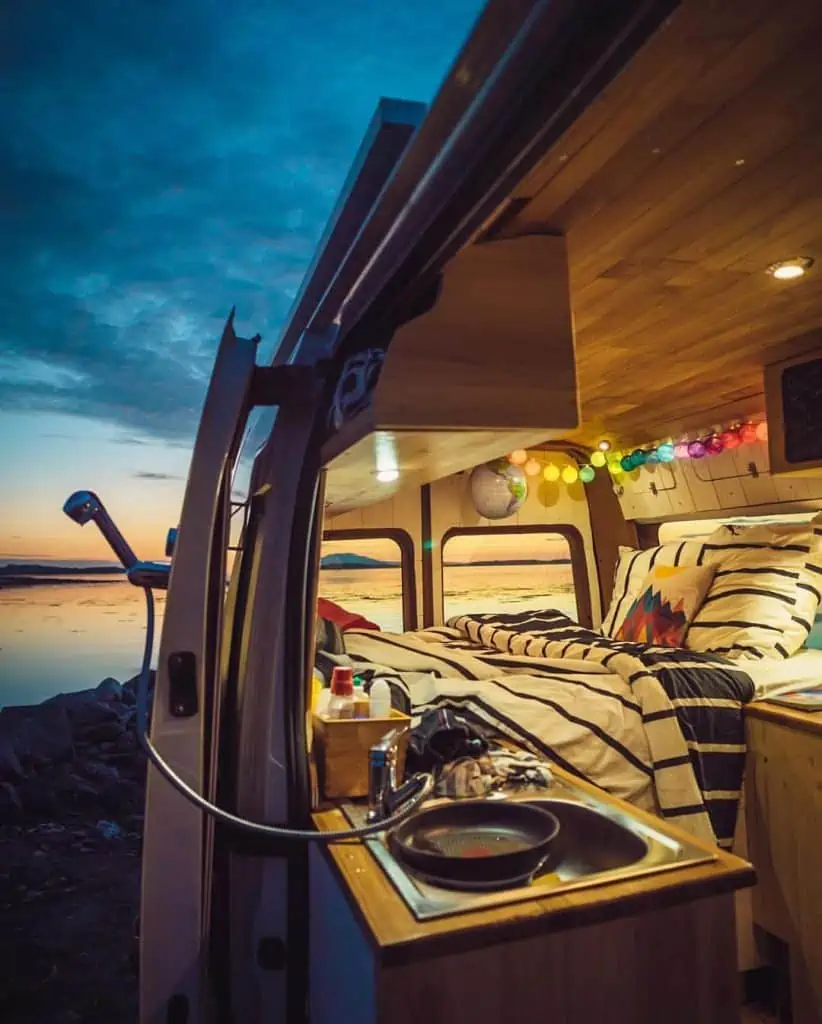 Step 2: Examine Your Connection Points
There are three places on a tankless water heater where hoses may be connected:
Intake for cold water
Fuel line
A hot water supply
Make sure the gas and water lines are shut off before starting the installation.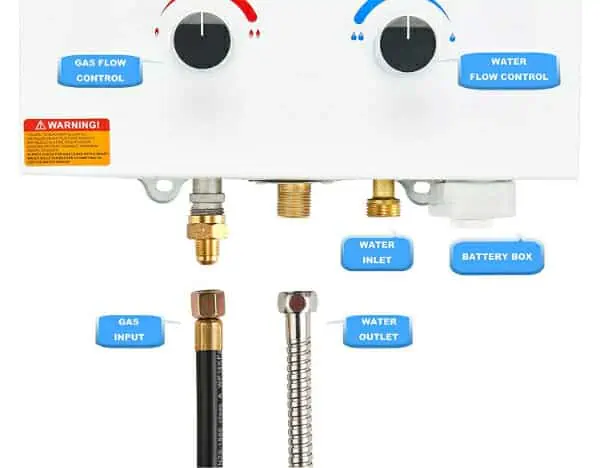 Step 3: Add The Water Lines.
Wrap Teflon tape or something similar around the input connections on the device to make sure they fit watertight.
Water tubing should be provided for each propane heater separately.
The usual size is 12″ thick if you wish to replace the tubing with anything longer.
To prevent hose deterioration, hot water should be delivered using CPVC tubing.
At the water fittings, fasten a hose clamp for further security to stop leakage.
Step 4: Put The Batteries In
Turn on your water pump after inserting the two D-cell batteries.
The batteries will often need to be bought individually.
These batteries are used to start the heater's automated piezo ignition.
To check for water leaks or loose connections, turn on the water heater.
The igniter should be engaged when you hear clicking within the device.
In order to connect the gas supply line, turn off the water pump first.
Step 5: Connect The Supply Line For The Gas
Before connecting the hose, you should Teflon tape the gas input lines just as you would the water supply lines.
Make careful you use yellow gas-specific Teflon tape.
Water fittings may be covered with yellow tape, but gas fittings cannot be covered with white tape.
The gas fitting is then installed.
Make sure the gas line is not overtightened.
This might shatter the regulator and result in a severe gas spill!
Simply by sniffing the air around the fittings for propane's distinctive "rotten egg" odor, you may locate a gas leak.
Attach your shower head and hose set once everything has been fitted.
Connect the heater to a power source after inserting the batteries.
The majority of units use a 12V cigarette lighter connector.
You're prepared!
Checklist for Tankless Propane Heaters
To assist you in selecting the tankless water heater that will work best for your van, we've analyzed a few of the most common models.
Although these models operate similarly, there are a few distinctions you should be aware of.
BEST CHOICE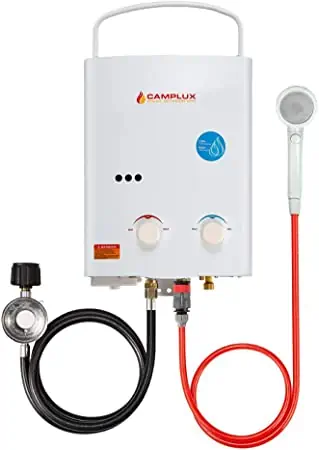 Camplux 5L
Lowest starting water pressure
Convenient outdoor setup
Wonderful for camping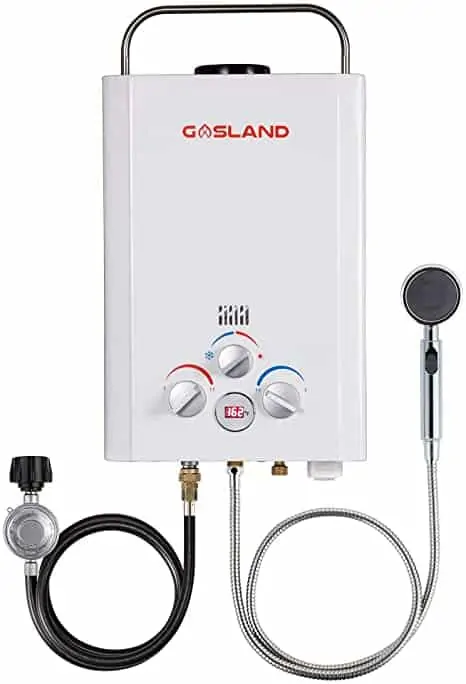 Gasland 6L
Safeguarding family safety
Small and light design
Saving money and energy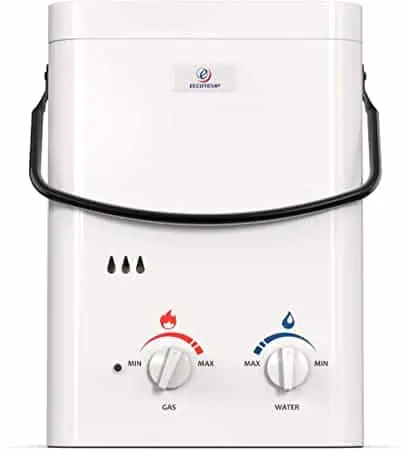 Eccotemp L5 Portable Tankless Water Heater
Lightweight
Comes with a safety shutoff
Simple to connect to any common hose
#1. Run Period
The quantity of gasoline, water, and battery power you have on hand determines the maximum run duration.
The propane is ignited using D-cell batteries.
With frequent shower usage, they may last for many weeks.
You can have a steady supply of hot water with a 12V electric setup.
After 20 minutes of usage, certain devices' emergency cut-offs will cause them to turn off.
This safety feature guards against the accumulation of carbon monoxide.
#2. BTU
The BTU, sometimes referred to as a "British Thermal Unit," is effectively the center of the propane industry.
An individual gas appliance's consumption or deliverable power is measured in BTUs.
Consider it the unit's "horsepower."
High BTU water heaters may either heat water more quickly or to a higher temperature.
#3. Water Pressure Minimum (PSI)
Psi is the unit of measurement for water pressure (PSI).
Each of these heaters requires a certain amount of water pressure to start the heater.
For your shower to function, you must ensure that the 12V pump you have can provide a high enough PSI.
For the majority of reliable water pumps, this shouldn't be an issue.
The given water pressure is the bare minimum required to function.
For comparison, the 55 PSI of the 12v SURFLO water pump that we recommend
#4. Highest Flow Rate (GPM)
Gallons per minute are used to measure flow rates (GPM).
This is the volume of water that your shower head will produce per minute when it is in use.
You may get a fair sense of the size water tank you would want to keep on hand by knowing your flow rate and how long you often take showers.
#5. Temperature Modification
These heaters all come with temperature dials.
You may decide if you want a cool to scorching hot shower.
To avoid burns, certain tankless water heaters feature a maximum heat output.
Top 12 Volt Water Heaters
Lowest starting water pressure
Convenient outdoor setup
wonderful for camping
Review of the Camplux 5L 1.32 GPM Portable Outdoor Propane Tankless Water Heater
The Camplux 5L 1.43 GPM Outdoor Portable Water Heater tops our list of tankless water heaters.
People who like the outdoors and are particular about correct installation are catered to by the brand Camplux.
With over two decades of expertise in the gas and electrical industries, they have made it their mission to develop products that are portable, innovative, and energy-efficient.
This model satisfies all three criteria and then some.
The Camplux runs with the lowest flow rate of the items we've tested, which is one of its most appealing characteristics.
Due to its low GPM of 1.32, you'll consume less water and hence move less of it around.
The SURFLOW 12V water pump, which is excellent for most users, is recommended by Camplux.
Two D-cell batteries are used to power the ignition.
The water can only heat up to a maximum temperature of 114.8°F before overheating prevention kicks in.
Although it will prevent burns, you won't be able to heat the water as much as you could with some of the other types.
Camplux places a high priority on safety, thus this heater incorporates a flame failure device.
In order to avoid a buildup of carbon monoxide, the pump will cut off if insufficient water is flowing through it.
Similar to that, it offers anti-freezing protection and an oxygen depletion safety shut-off.
When kept outside in cold climates, anti-freezing protection helps stop the metal coils within from becoming brittle and breaking.
Another drawback we've seen in several of the models we've studied is the absence of anti-freeze protection.
A one-year guarantee is also included with the goods in case anything goes wrong.
The Camplux's top handle may be folded down and out of the way.
The water heater may be stored and later hung outside on a tree or other substantial item if you don't want to permanently put it inside your camper.
In case that isn't sufficient for you, Camplux also offers the 10L alternative, which is twice as strong.
The power production will increase from 34,000 BTU/hr to 68,000 BTU/hr as a result, enabling it to keep up with a greater 2.64 GPM water flow.
Exist any possible drawbacks to the Camplux?
Yes.
You can discover that the connections are completely out of the ordinary for North America if you reside there.
This isn't shocking since Camplux is still a relatively new product in the USA.
Keep in mind that typical fittings from Home Depot or Lowe's may not fit while putting it up; this is by no means a deal-breaker or particularly difficult.
What We Like
What We Don't Like
Minimum Flow Rate
These aren't your standard North American connections.
Anti-freeze Defense
Is less heat-resistant than other variants.
Maximum Safety Elements
Safeguarding family safety
Small and light design
Saving money and energy
An Evaluation Of The Gasland 1.8Gpm 6L Outdoor Portable Propane Gas Tankless Water Heater
Although it doesn't have the most well-known brand name, the Gasland 6L Portable Tankless Water Heater does offer a few essential characteristics that set it apart from some of the other heaters we've examined.
It features a high BTU rating of 41,000, for starters.
This enormous water heater has no run-time restrictions and a 167°F maximum temperature cutoff.
A heater that gets that hot has both advantages and disadvantages.
Although it's good to have the choice to go really hot, temperatures beyond 150°F may rapidly result in significant burns to your skin.
Having said that, we like the ability to completely modify the temperature to meet your demands even when you're in a chilly location.
You may really have it your way since both the heat and water flow are entirely adjustable.
To ensure that nothing goes wrong while you're rinsing off, the Gasland has basic safety features including a flame failure device, anti-freeze protection, and an overheating shutdown protection.
With the included brackets, you may hang this item anywhere you choose, and the carry handle can be quickly folded down for storage.
If anything goes wrong, the appliance does have a one-year limited guarantee, provided that it has been used and maintained in accordance with the guidelines provided in the instruction manual that is included.
So, is this tankless water heater without any drawbacks?
The strong heat production is what stands out the most.
Be cautious while turning on the tube if you are really sensitive to heat or if you know that youngsters will be using this heater.
When you turn the shower head back on after turning it off, the water that remains in the tubing will be significantly hotter than the temperature you've chosen.
| | |
| --- | --- |
| What We Like | What We Don't Like |
| Maximum BTU Rating | Possible Burns |
| Temperature of the hottest water | Sizeable Design |
| No Maximum Runtime | |
Review Of The Camp Chef Hwd5 Triton Water Heater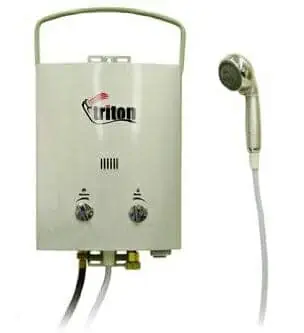 A firm called Camp Chef produces a variety of well-liked campervan conversion goods.
Their transportable camping oven was previously evaluated by us.
It only seems sense that this manufacturer, which makes a lot of propane-related items, would also create a well regarded water heater.
How does the Triton compare to the others that we have reviewed?
The other items on our list are smaller and lighter than this one.
It also needs 25 PSI of water pressure to work, which is the maximum minimum.
To keep the water going, you need need a reliable 12V pump.
The water does become hot, however! With a maximum temperature rating of 150°F, you run the risk of getting burns if you don't adequately reduce the heat.
This design, like the others, has a one-year guarantee and operates at a maximum flow rate of 1.5GPM.
The Triton stands out because to an interesting feature: it features the longest shower head tubing we've seen.
It extends 8′ long! There are many settings on the shower head itself, including shower, mist, and jet stream.
Overall, we believe that this hot water heater is a good choice.
It doesn't have a lot of negative reviews, and its features are average.
The igniter sometimes shutting off regularly is the only issue we've heard.
That might be a result of the unit's inadequate wind protection.
Additionally, unlike the Camplux, there is no anti-freeze protection.
In order to prevent the coils inside the water heater from freezing and being damaged, you must make sure it is thoroughly emptied before leaving it outside in cold weather.
| | |
| --- | --- |
| What We Like | What We Don't Like |
| No Maximum Runtime | Perhaps a new ignition should be ignited. Frequently |
| Most extended shower head hose | No anti-freeze defense |
| Different Spray Settings | |
Lightweight
Comes with a safety shutoff
Simple to connect to any common hose
Review of the Eccotemp L5 Portable Tankless Water Heater
The Ecotemp L5 is the final item on our list, thus it comes last.
With a weight of about 8 pounds, it is the lightest tankless water heater we have examined.
Although it has similar outside dimensions to the Camplux, the maximum heat output is greater.
The Eccotemp L5 can withstand temperatures up to 140°F.
Like the previous two items, this portable hot water heater is powered by two D-cell batteries.
To prevent mishaps, it incorporates a safety shut-off that engages if the appliance is used for more than 20 minutes or is tilted more than 45 degrees.
This pump is rated at 1.5 GPM of hot water production and requires a higher 20PSI to start the ignition, but even at that pressure, it is still much below the majority of pumps that people would use.
You may choose from a variety of spray settings on the shower head that comes with the Eccotemp to find the pressure and pattern that's ideal for you.
Comparing this to the other items, it offers a somewhat improved experience.
This heater comes with all required adapters and fittings for installation.
Additionally, the device's warranty is for a year.
Which elements do we not like, then?
According to concerns we've read, you should take extra caution not to keep this product in a freezer.
If you're not cautious, the very tiny coils that heat the water may explode from freezing.
Make sure the water tanks are entirely emptied in storage on chilly days to avoid this.
Second, the windscreen on this heater is not the strongest.
That implies the propane flame can struggle to remain lit in strong gusts.
If you're using the device indoors, this shouldn't be an issue, but you should be aware of it.
| | |
| --- | --- |
| What We Like | What We Don't Like |
| Least Heavy Design | No anti-freeze defense |
| Incline Shutoff | Inadequate wind protection |
| Different Spray Settings | |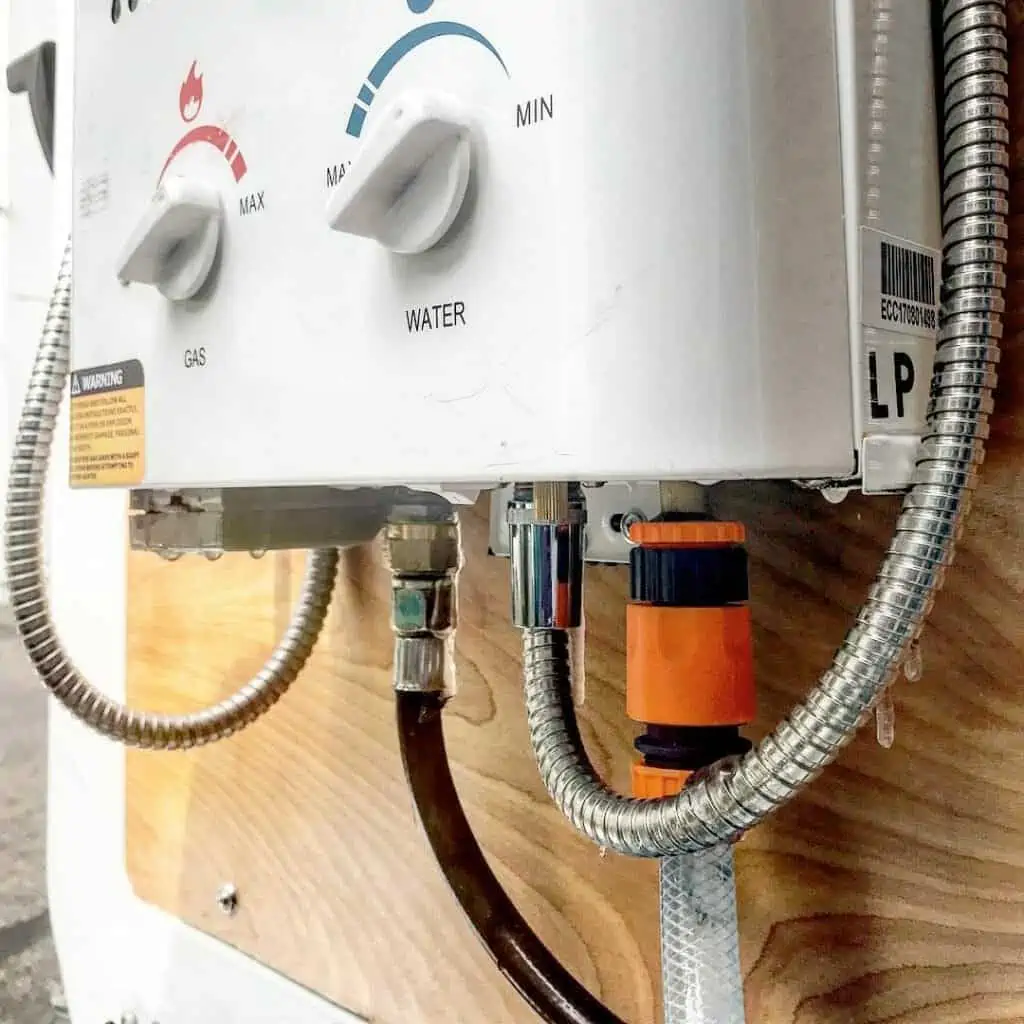 Finishing Up
Adding hot water to your camper is made easy with portable water heaters.
The system is simple to install, adaptable, and can be integrated directly into your existing 12V sink system.
The three heaters we've examined are of comparable quality.
Focus on the maximum temperature, run duration, and additional features like anti-freeze prevention or shower head customisation when choosing the ideal product for your vehicle.
We advise looking at a portable propane shower, which is a simpler design, if you want a hot shower but are not quite capable of creating a system like this (but cannot be built into a sink).
Travel safely!
12V RV Water Heater Videos Suggestions From Youtube