Most modern RVs include a 120V AC air conditioner that needs either shore power, a generator, or an inverter if operating on batteries. Switching to a 12V RV air conditioner, on the other hand, may minimize power usage.
We'll look at some of the things you should know about operating a 12V air conditioner in your RV, as well as some of your alternatives, in this post. Let's get a bit more into this.
Why Do RVers Need A 12V Air Conditioner?
A 120V AC power outlet is used by most RV air conditioners. The snag is that you'll need an inverter to convert the 12V DC electric charge from your RV batteries to 120V AC electricity for the air conditioner to work. This will result in further electrical losses and even more heat, which is exactly what you're wanting to avoid.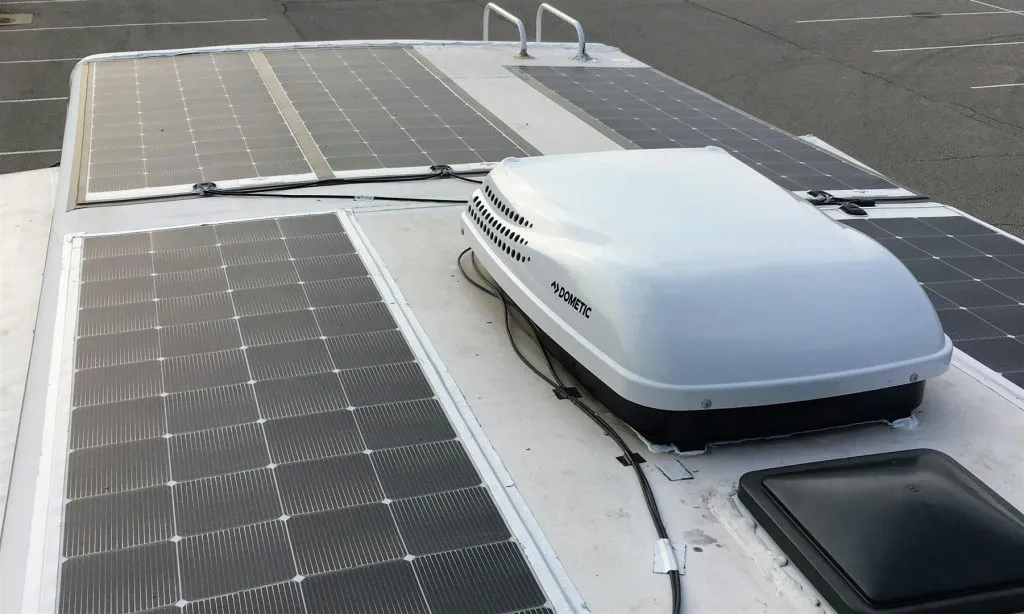 If you don't have an inverter, you'll need a generator to power your RV's 120V AC air conditioner. A generator is an useful backup option, but the noise it produces may be a nuisance, particularly if you're boondocking late at night.
On the other hand, a 12V RV air conditioner may be powered straight from your battery without the need of an inverter. Aside from that, a 12V DC RV air conditioner is more energy efficient, particularly when running on a battery, since you won't lose a percentage of the converted power via the RV inverter.
Air Conditioner with a Battery
The trouble is, unless you have a generator or a solar system, it's difficult to operate a 120V AC air conditioner continuously when the engine/generator is off. A battery-operated 12V RV air conditioner, on the other hand, uses less electricity and may run longer when the motor is turned off than a 120V AC air conditioner.
That means you can spend a few hours outdoors and return to a cool RV. Not to mention, if you're staying in a public campsite, you won't be bothering your neighbors all night with a noisy generator.
The Downsides of 12V Air Conditioners
The current draw is the major disadvantage of a 12V air conditioner. In our dwellings, we don't utilize 12V since the cables would be too big. The wiring for a 12V RV air conditioner must be bigger, and the electronics must be able to withstand greater currents, which might result in voltage dips and efficiency losses.
You'll need a lot of battery capacity because of the strong currents. This implies that if you want to operate them on batteries overnight, you'll almost certainly need to invest in lithium batteries.
When it comes to running 12V air conditioners from shore power, the excessive current demand rears its head once again. You'll need a high-current converter or an inverter charger for this. This also implies that if you run the air conditioner aggressively, your batteries will charge slowly.
As a result, 12V air conditioners are best suited for smaller RVs with reduced cooling needs. In a bigger RV, 24, 48, or greater voltage units are likely to be the best choice.
Recommended reading: Best RV Air Conditioners of 2023
Do 12V RV Air Conditioners exist?
Although battery-powered RV air conditioners are not yet common, a few manufacturers have launched them to the market, including Dometic, Nomadic Cooling, Indel B, and Rigid.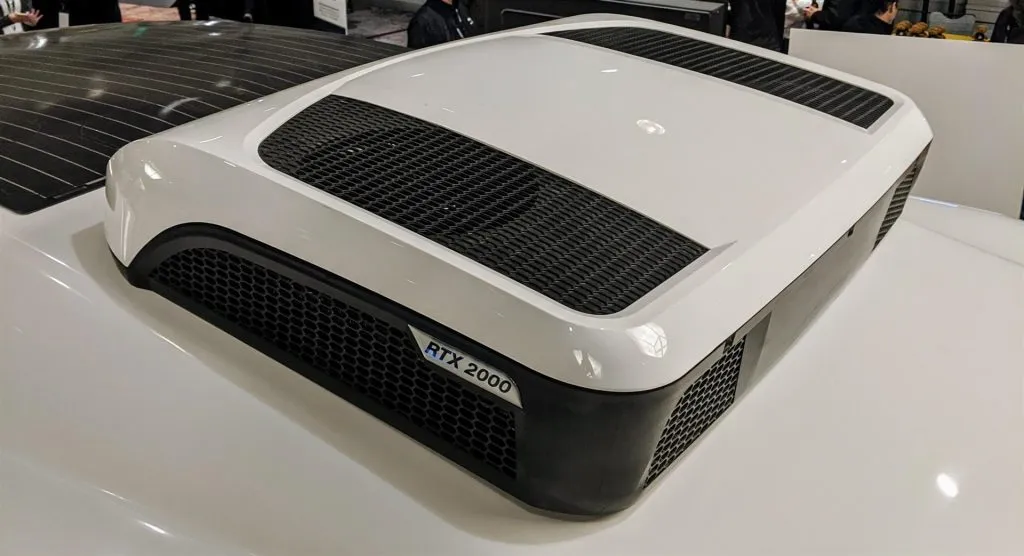 The majority of these cars owe their origins and inspiration to the transportation industry. Truckers who wish to turn off their cars overnight rather than letting them idle to keep them running regularly install 24V air conditioners. These technologies and models have gradually been switched from 24V to 12V to accommodate campers and motorhomes.
Some of the largest 12V RV air conditioners can generate up to 12,000 BTU, which is sufficient to cool most standard-sized RVs. On the other hand, a powerful battery-operated air conditioner would need a deeper dive into your wallet.
A 12V RV swamp cooler, on the other hand, is a cost-effective solution if you're mostly going to dry locations.
What Is A Swamp Cooler And How Does It Work?
An evaporative cooler, often known as a swamp cooler, works by blowing hot, dry air through a wet cooling pad. The heat is absorbed by the wet pad, which causes the water to evaporate, cooling your RV. Many of these coolers may also operate on 12V electricity.
A swamp cooler is better suitable for dry, arid settings since it raises the humidity level in the air. A swamp cooler, on the other hand, would be ineffective in a humid area.
Air Conditioner vs. Swamp Cooler
Unlike a swamp cooler, which requires water in the reservoir, an air conditioner cools a space using chemical refrigerants. Although air conditioners are more effective at managing temperature than evaporative coolers, the latter uses much less energy.
Swamp coolers are also less expensive and simpler to install than air conditioners.
Recommended reading: 5 Best RV AC Covers and Why You Should Use One
4 Best RV Air Conditioners for 12 Volts
Let's have a look at some of the top 12V RV air conditioners on the market (air conditioners that utilize compressors and operate on 12V electricity).
#1. RTX Dometic RTX 2000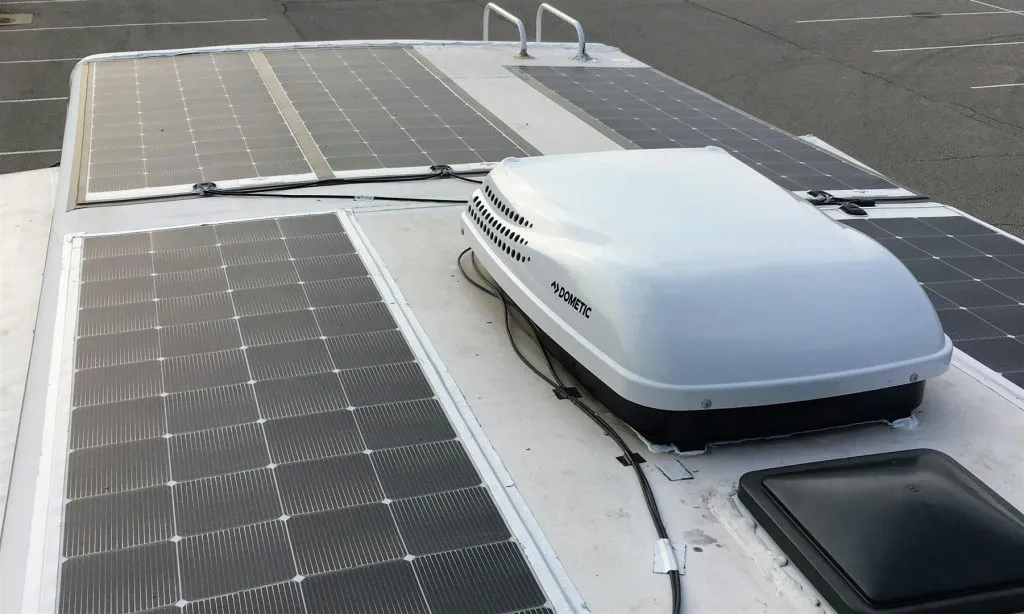 This Dometic RTX 2000 was developed from a 24V device available in Europe and was meant for truck drivers. We're extremely thrilled to see a larger RV parts company provide a solution for 12V air conditioning, since it's a relatively new product on the US market.
On eco mode, this 12V air conditioner can keep your RV cool for 12 hours while drawing just 19 amps. If you need to swiftly manage the temperature, turn on the turbo cooling operation mode and increase the power to 6,824 BTU or 2000W.
It features a small and elegant design that rests only 6 inches above your RV roof once fitted.
It'll set you back about $2700.
#2. Nomadic Cooling 2000 12V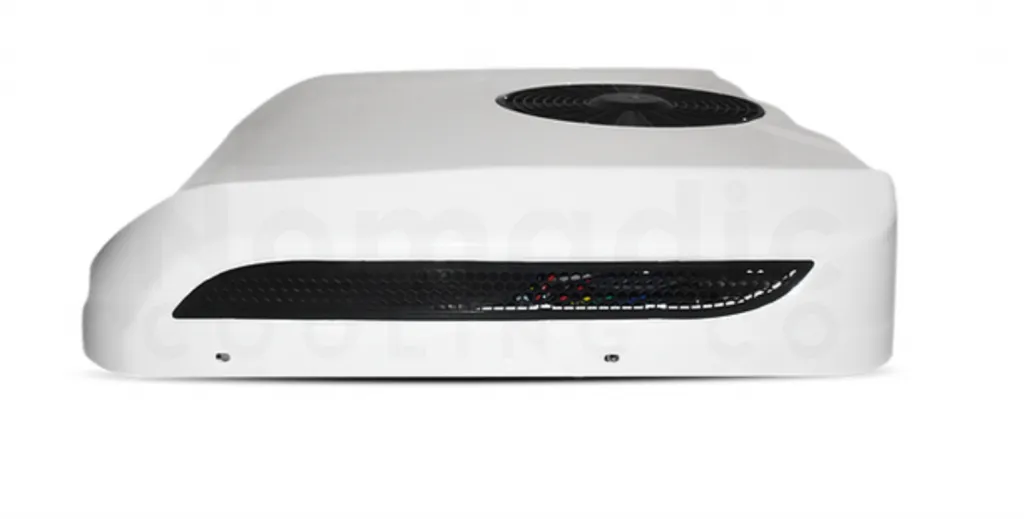 Nomadic Cooling, the pioneers of 12V cooling for vans and campers, produced the Nomadic Cooling 2000 12V RV Air Conditioner. The compressor on this RV air conditioner is 75 amps, yet it only draws 35-40 amps in Eco mode. It has a 9830 BTU cooling capacity.
The Nomadic Cooling 3000 12V Air Conditioner, which is significantly larger, can produce up to 11,830 BTU while using 100 amps.
Furthermore, since it does not vibrate and the noise level is below 60dBA, the sound is unlikely to be distracting.
Fortunately, it includes everything you'll need to put it up on the roof. The 2000 model costs $3,890, while the 3000 model costs $4,290 — quite a bit more than the Dometic RTX for an air conditioner. These types, on the other hand, offer substantially greater BTU capabilities and would be better suited to bigger setups.
If you don't feel like completing the installation yourself, you can pay these men in Arizona $750 and they'll take care of everything for you.
#3. Oblo, Aircon, and Cube 12V Air Conditioners – Sleeping Well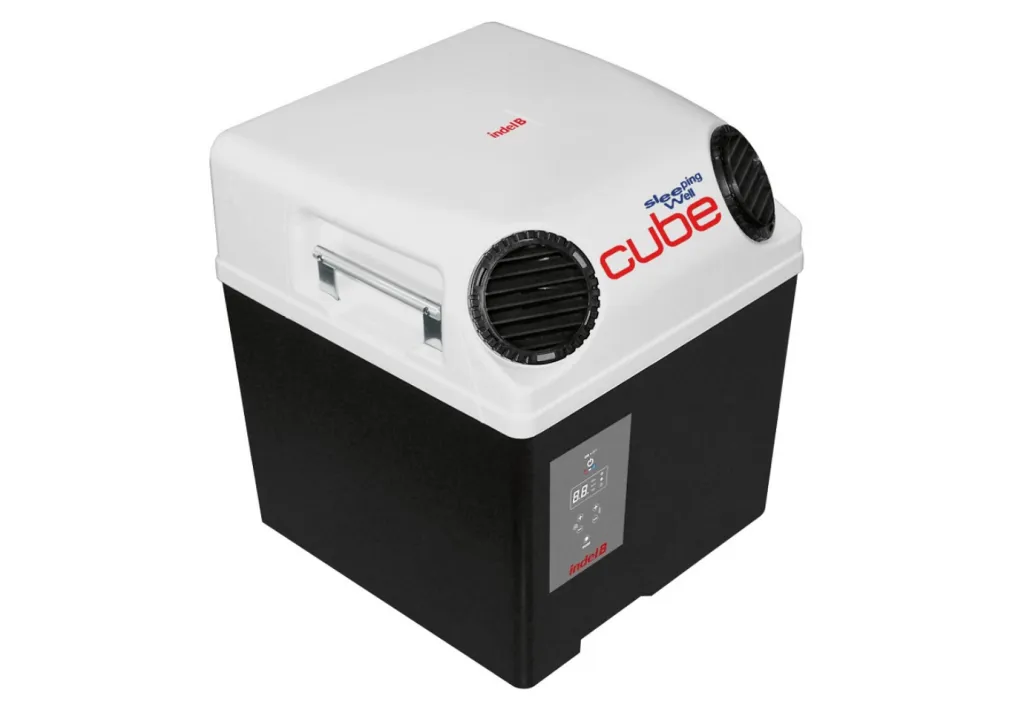 The SW Oblo, the SW Aircon 1600, and the SW Cube are three versions of "Sleeping Well," or SW, 12V air conditioners made by the Italian manufacturer Indel B.
To provide safe and silent cooling, these units all employ the highly efficient 12V Direct Current Secop (previously Danfoss) compressor. The air conditioners have two modes: Turbo and Eco. The cooling capacity is 3250 BTU.
Unfortunately, these models are not readily accessible from a major distributor in the North American market. If this is the route you want to go, you'll most likely need to figure out how to ship/import from a European distributor, and here's one in the UK you may check into.
#4. 12V Compact Refrigeration Cooling Systems
The Rigid 12V Cooling System is more of a do-it-yourself 12V air conditioning system. A driver board, condenser, capillary small rotary compressor, and evaporator are included in this kit.
It has a cooling capacity of 1535 BTU despite its maximum power input of 150W. As a result, it's best suited to extremely tiny, compact campers, such as off-road campers and vans. It might even be used to cool a single room in a medium-sized RV.
The cost is around $770.
Recommended reading: Best Air Conditioner For A Campervan of 2023
12V Air Coolers for RVs (Evaporative Or Swamp Cooler)
If you reside in dry areas, owning a swamp cooler has a few advantages. Consider the following choices if you desire 12V RV swamp coolers.
Turbokool 2B-0001 White 12 Volt Evaporative Swamp Air Cooler
With the purchase of a metal vent frame, the Turbokool 2B-0001 12 Volt Evaporative Swamp Air Cooler may be roof-mounted over an existing 14′′ x 14′′ roof vent or can replace an existing RV air conditioner.
Turbokool's creators claim that it can chill air by 20 to 30 degrees while only using 4.6 amps of 12v electricity.
It is not suggested for use in areas where the average relative humidity exceeds 75%, and you should anticipate performance to degrade as you move closer to that 75% threshold.
The price tag is roughly $600, and the video below gives you a clearer understanding of how it works:
MightyKool The K2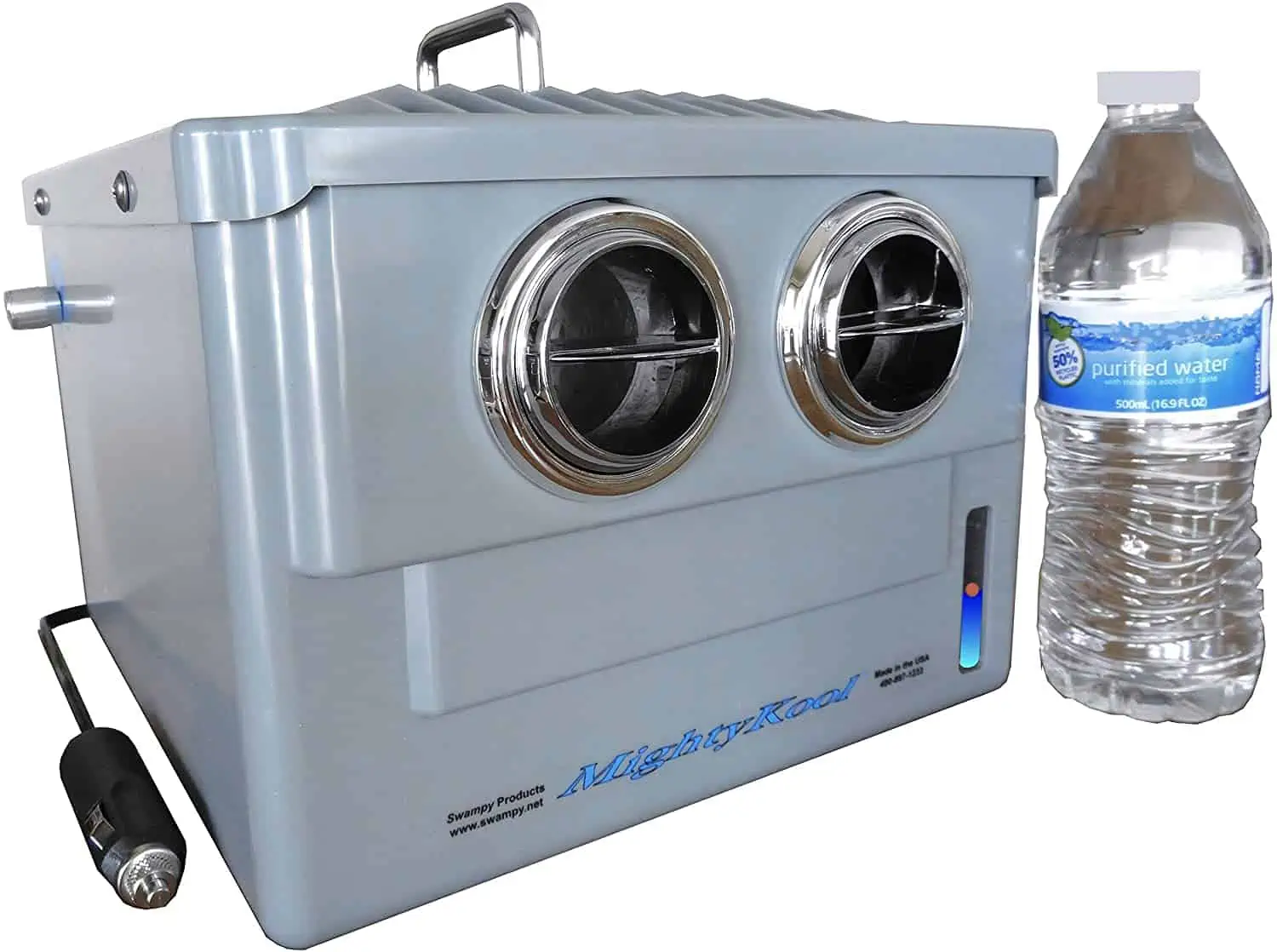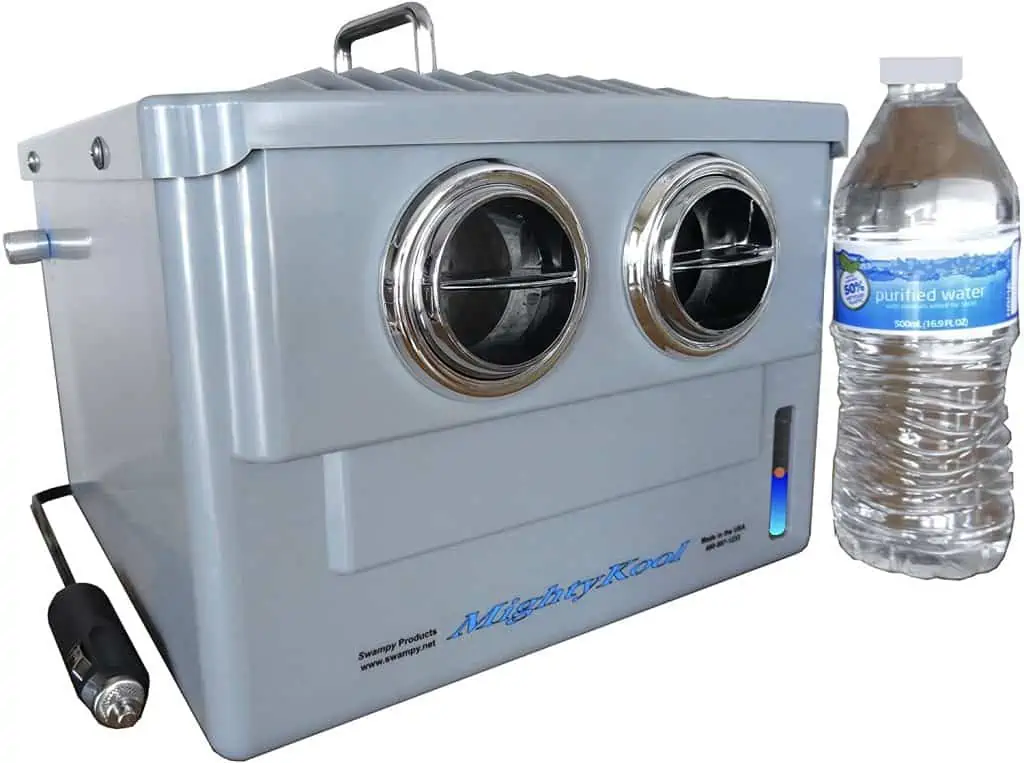 This MightyKool Swamp Cooler is a 12v swamp cooler, not an air conditioner. In fact, the manufacturer will not give it to you unless you confirm that you understand what you're purchasing!
Make careful to read the reviews and don't expect it to achieve anything it isn't capable of. Swamp coolers are best used in arid regions.
This model comes with two cool air vents that can blast humidified air at a speed of 25 miles per hour. It evaporatively cools humans and pets in non-moving compact enclosures like RV campers using water (any temperature) rather than ice.
Is 12V RV Air Conditioning the Way of the Future?
Although 12V RV air conditioners may not have the same power as 120V air conditioners, they are an excellent choice for a compact RV. These devices may be costly, so examine the benefits and drawbacks before purchasing.
With the increased interest in boondocking off-grid and the availability of lithium RV batteries, 12V air conditioners are gaining appeal in general. In the next years, we fully anticipate to see additional firms and models enter the market to accommodate the need for more efficient air conditioning.