If You're Looking For The Greatest RV Thermostat, You've Come To The Right Place. My Best Choices For Analog, Digital, Programmable, And Smart Thermostats Are Listed Below.
Are you looking for a new thermostat for your RV? You've come to the correct spot if you don't already have one or are looking for a new one to replace your old one.
I've looked at some of the finest thermostats developed exclusively for recreational vehicles.
My guide to several kinds of thermostats, as well as my favorite selections for each, follows!
We utilize affiliate links and may earn a small reward if you make a purchase via them.
Thank you very much for your help.
What Is the Function of an RV Thermostat?
It's similar to a house thermostat.
An RV thermostat functions similarly to a house thermostat.
An RV thermostat works with your RV's heating and cooling systems to assist adjust the temperature in your vehicle.
There are three kinds of thermostats available: analog, digital, and pre-programmable.
Typically, a single thermostat is installed that can control both the heating and air conditioning systems.
You may change the temperature as required or set it to heat and cool at specified periods throughout the day.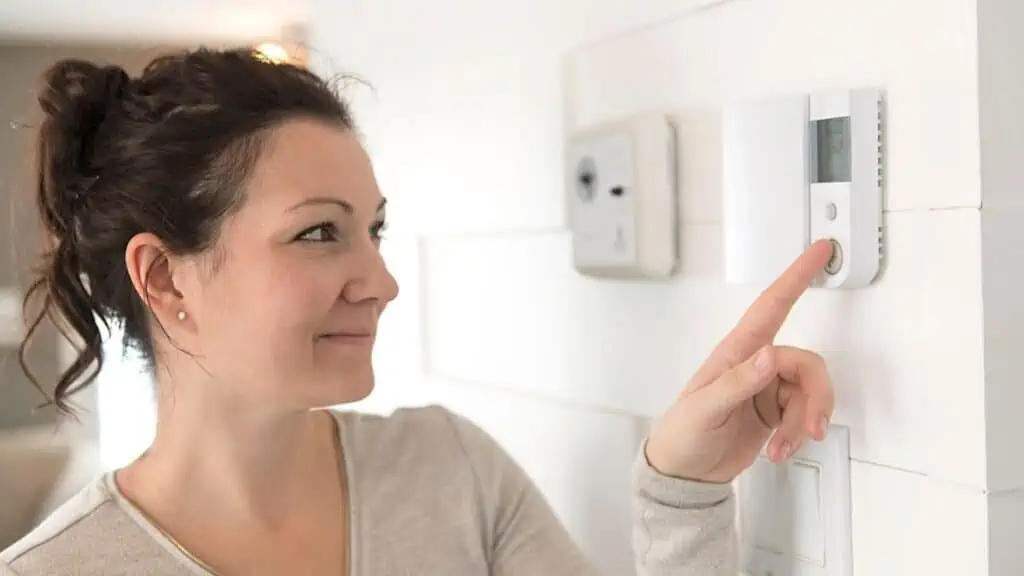 There Are Four Different Types Of RV Thermostats.
Because RVs have different electrical systems and components than a typical home, a particular kind of thermostat is required.
The wiring and voltage are most likely not the same as a regular domestic thermostat.
Analog, digital, and programmable thermostats are the three basic kinds of thermostats available.
#1. Analog Thermostats
The simplest basic kind to install is an analog RV thermostat.
An analog model isn't flashy, but it's typically rather reliable.
They're also cost-effective!
Heat-sensitive metal is used in analog thermostats, which bends as the temperature changes.
This bend makes contact with a switch, which activates the heating or cooling system, allowing for temperature control.
Because no electricity is required to run this sort of wall thermostat, it might be a terrific choice.
#2. Digital Thermostat
A digital RV thermostat is another excellent option.
Digital versions make it simple to check your temperature settings at a glance.
They also enable you to fine-tune your favourite settings.
Digital thermostats employ electrical temperature sensors, which means they, like other modern gadgets, need electricity to work.
Typically, this power source is drawn from the furnace's cables.
#3. Programmable RV Thermostats
This camper thermostat is regarded as the greatest option by some since it allows you to choose the precise temperature range ahead of time.
After a long day of touring, you may configure your system to heat or cool at pre-determined periods and return to a perfectly temperate rig.
You'll also save money since your system won't be operating while you're away.
#4. Smart Thermostat
This is the fourth sort of thermostat worth mentioning since it can take your preset settings while also monitoring the outside weather.
This may help you save money on power since it will function as efficiently as possible.
You just set the temperature you want, and it takes care of the rest.
What's the greatest part? Using an app, you can monitor and manage your thermostat from your phone! When you get home after a trek or trip, you may crank up the heat (or the air conditioning).
The Best Thermostats for RVs
For you, I've discovered the top five best RV thermostats!
Top Picks for Analog Thermostats
The following two thermostats are both inexpensive and easy to set up and operate.
The Dometic RV thermostat is the finest choice for an analog thermostat since it is simple to install and economical.
This basic temperature gauge enables you to alter your setting by sliding a slider to the appropriate temperature.
It may not have a lot of bells and whistles, but it can get the job done quickly and inexpensively!
This one from Coleman is another excellent analog option.
It has a simple interface for controlling the heating and cooling system and is inexpensive.
The straightforward design makes it simple to use for anybody, and you won't have to worry about a difficult setup or operation.
Because it comes with easy-to-understand color-coded wiring that you line up to the wiring in your rig, many users even install it themselves!
The Best Digital Thermostat
When it comes to digital thermostats, this is my top pick.
When it comes to digital thermostats, Honeywell is my first option.
With a lighted, easy-to-read digital display, this digital thermostat is faultless.
Your thermostat settings, as well as the current interior temperature, are easily visible.
With the touch of a button, you may easily switch between the heating and cooling systems.
Finally, maintain it functioning by using the easy-access battery door.
Top Pick: Programmable Thermostat
Take a look at my top recommendation for a programmable thermostat.
Are you ready to make the switch from an analog or digital thermostat to one that you can set to turn on or off while you're not at home? The Dometic Duo Therm Comfort Control 2 is a fantastic option.
It has simple button controls and an easy-to-read LCD that make it straightforward to establish your temperature settings.
You may also utilize its clock mode to observe the time at any moment while within your setup.
The Best Smart Thermostat
If you're searching for a Smart Thermostat, I recommend the following.
The Mirco-Air Easy Touch is my last top selection.
This wireless is one of the top models on the market, with a variety of features that provide the highest level of efficiency and technology.
Set your settings or operate the thermostat from your smartphone using the huge display.
You may change your settings while you're out and about!
When compared to the affordability of analog thermostats, this modern technology comes at a premium.