Summer is a season that everyone looks forward to, and the prospect of long, warm days makes us all eager to go out and enjoy life.
When the weather outside begins to heat up, though, maintaining a comfortable climate in your vehicle may be difficult.
Although many high-end Class B campers come with Van air conditioning, not everyone can afford it.
Fortunately, there are a plethora of cooling solutions for your vehicle.
We've identified the greatest air conditioners for a campervan, ranging from low-tech swamp cooler options to high-end campervan AC systems, all of which should have you feeling fresh as a daisy and ready to confront van life on even the hottest of days!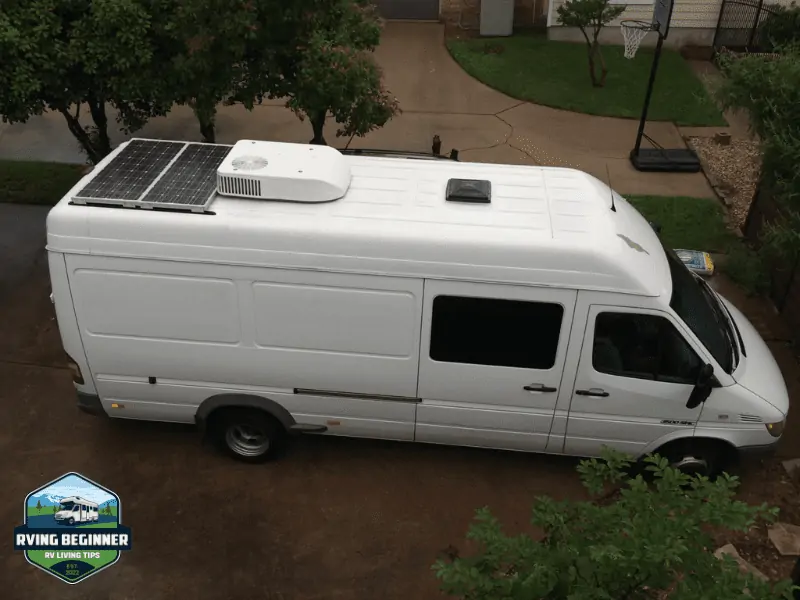 Getting your campervan's air conditioner to work (AC vs DC units)
Before we get started, a short note. Many campervan air conditioners on the market, particularly those found in Class B RVs, operate on AC electricity.
Solar panels and battery banks often can't keep up with the power demands of a campervan air conditioner that works on 120 volts, the same as your home plug. If you want to use your air conditioner for extended periods of time, you'll need to connect to shore power at a campsite or use a generator.
12-volt air conditioners are much more costly than AC units that run on 120-volts, but they consume far less energy and can be used off-grid with your van's solar power and battery bank. For the finest campervan air conditioner that operates on 12 volts, you may expect to spend up to four times the price.
In this article, we'll look at both kinds of air conditioners, as well as one portable air conditioner and a swamp cooler.
Recommended reading: 6 Smallest Portable Air Conditioners for RV in 2023
The Best Air Conditioning Units for a Campervan (120 Volt)
Air conditioners for campers that operate on 120 volts — the same voltage as a household socket – are substantially less expensive than 12-volt models. To keep things operating for an extended amount of time, you'll need to hook them into shore power or use a generator.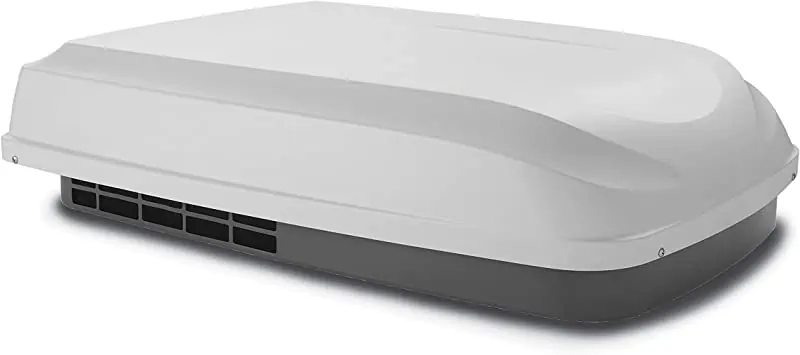 When it comes to campervan air conditioners, Dometic is a household brand, and the Penguin II is one of their most popular models.
99 pound weight
Cooling capacity: 11,000 BTU/hour Power draw: 3,000 Watts Dimensions: 29 x 40 x 9.5′′
115V AC is the power source.
Price range: $900 to $1100
The Dometic Penguin II best air conditioner for a campervan has a low profile, adding just 9.5 inches to the roofline of your van, so you won't have to worry about drag impacting your fuel efficiency.
In fact, we believe this van air conditioner is very cool and would look great in any campervan!
Despite its size, the Penguin II is rather straightforward to install and comes with manual, electronic, and wall thermostat controls.
The usage of R410 refrigerant, an environmentally friendly choice that releases heat more effectively than other AC systems, is one of the greatest features of this best campervan air conditioner.
The Penguin II features a 3-speed blower, and although it isn't the quietest van air conditioner, owing to its 11,000 BTU/hour cooling capability, it will undoubtedly do the job of cooling off your van on the warmest days.
Pros
Design that is both attractive and small
Produces minimum drag and comes with a two-year guarantee.
Cons
It's possible to be pretty loud.
There are no instructions included.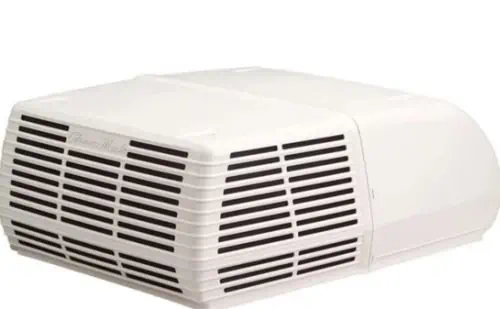 The Coleman Mach 15 is a campervan's most powerful air conditioner. No matter how hot it is outside, this amazing air conditioner will always work.
90 pound weight
15,000 BTU/hour cooling capacity
1,800 Watts of power consumption
115V AC is the power source.
Price range: $900 to $1100
This Coleman Mach 15 Campervan Air Conditioner has a powerful 1/3 horsepower fan that blows cold air at a rate of 325 cubic feet per minute.
Best of all, even when the fan is running at full power, the device is quite silent.
The Coleman Mach 15 also has a heating element, and its durable design, which includes all copper tubing, gas-flux brazed joints, and a sealed shaft to keep the elements out, ensures that this campervan AC unit will last.
Although the Mach 15 Campervan Air Conditioner is lighter than comparable systems, installation may be difficult, requiring at least two people and a few hours.
This Van Air Conditioner is intended for ducted systems, but it also includes an adapter for non-ducted systems, such as those used in campervans.
Pros
Power consumption is rather low.
Design that is long-lasting
It may also be used as a heater.
Cons
It is possible that installation may be difficult.
On the expensive side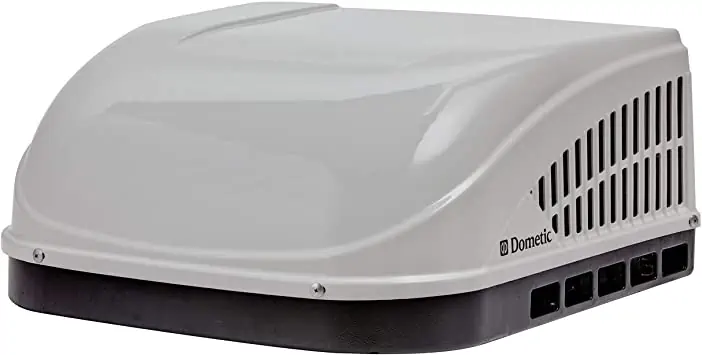 Dometic is a dependable and trustworthy firm that has been assisting NASA in improving their air conditioning systems for years. As a result, the Dometic is the obvious winner when it comes to the finest air conditioner for a camper van.
77 pound weight
Power draw: 2,800 Watt
Cooling capacity: 13,500 BTU/hour
Power source: 115V AC
Price range: $700 to $800
The Brisk II is a tough, lightweight campervan air conditioner with aircraft-grade components that is built to endure.
This finest campervan air conditioner is simple to install and includes a gasket that fits a standard 1414 aperture.
Because of its vibration-reducing technology, the Dometic Brisk II is one of the quietest units on our list.
Although this van air conditioner does not have the maximum BTU rating, it is more than capable of cooling a campervan.
The Dometic Brisk II has a 3-speed blower, washable filter, and remote control, so you don't even have to get out of bed to change the temperature!
Pros
It runs quietly.
Design that is both strong and light.
Installation is simple.
Cons
Short wires have been reported as a cause of malfunctioning evaporator coils.
The Best 12-Volt Air Conditioning Units for Campervans
12-volt campervan air conditioners are expensive, but they operate on batteries that are charged by your electrical system. Off-grid operation of these machines would need a large solar system and battery bank, but it is conceivable. The weight of several 12-volt equipment is smaller than that of their 120-volt equivalents. There are a number of alternatives available.
#4. Nomadic Cooling 3000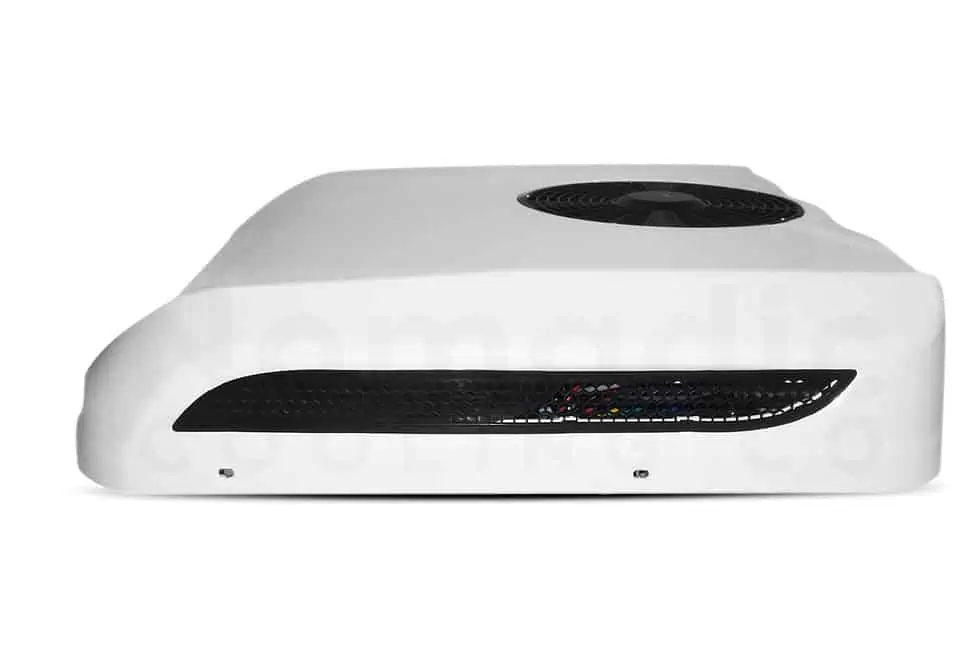 The only 12-volt air conditioners that may be used off-grid are the Nomadic Cooling AC units.
61 pound weight
11,830 BTU cooling capacity
35-120 Amps of power draw
12 volt power source
Cost: $4,200
We've discovered that the Nomadic Cooling campervan air conditioning unit is the only one that functions on 12-volt electricity. This item is pricey, but it's what you pay for a true off-grid air conditioner that operates on your van's batteries, ideally lithium.
The Nomadic 3000 operates on actual refrigerant and fits into a regular 1414 opening.
Depending on the outside temperature, this campervan AC unit has two modes: Eco and Powerful. Eco Mode is the default and is recommended up to 85 degrees outdoors. On a hot day, you may select Powerful Mode for brief spurts to truly cool down your vehicle. Because Powerful Mode consumes a lot of power, it's not a long-term solution.
Pressure, high/low voltage, motor over-current, and motor temperature protection are all included with the Nomadic Cooling 3000. A 2000 unit, which consumes less electricity, is also available.
Pros
Off-grid operation
Genuine refrigerant
Fits into standard 14×14 opening
Cons:
Extremely costly
High-capacity draw
#5. B-Cool 9000RM 12 Volt DC Air Conditioner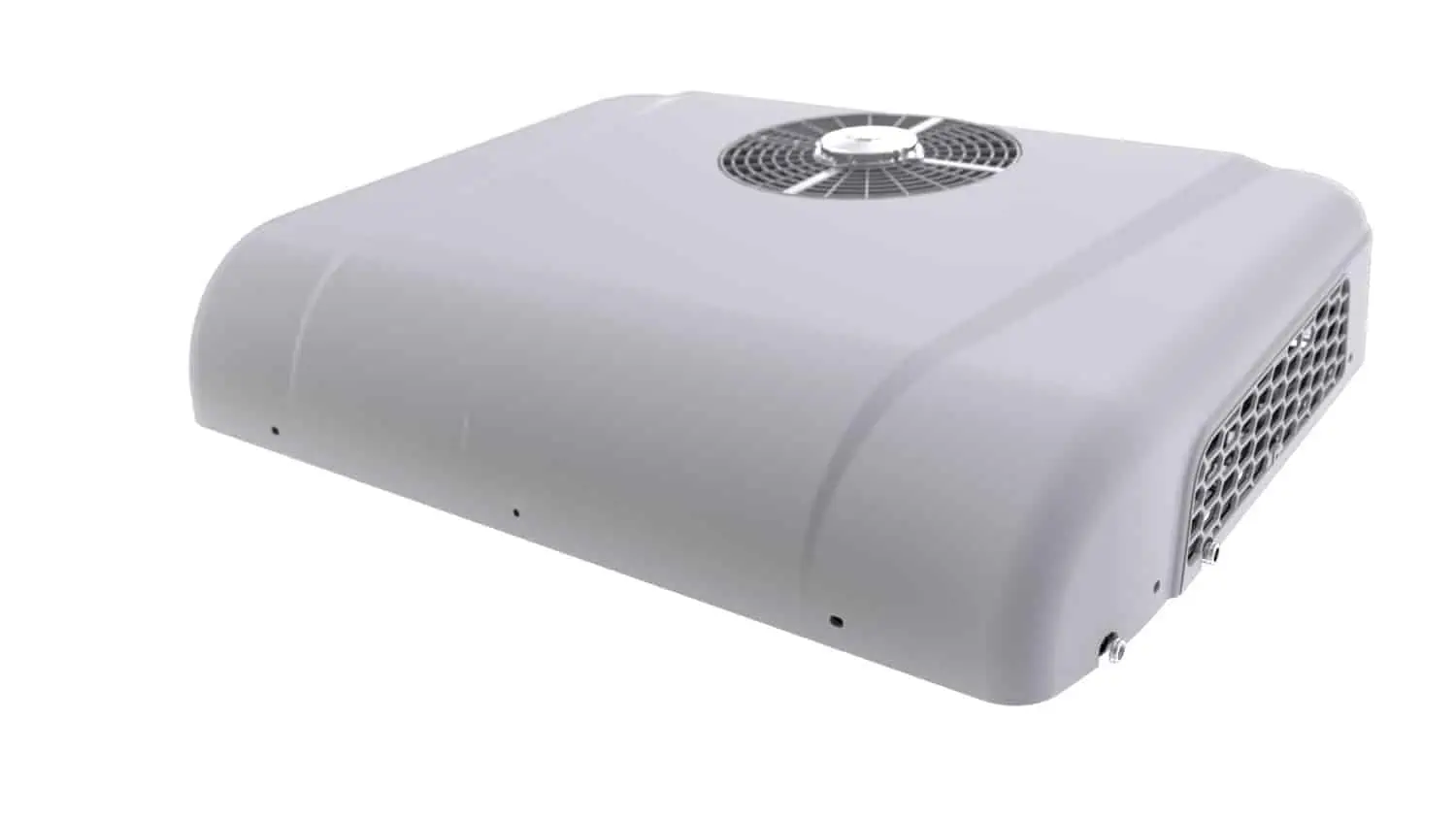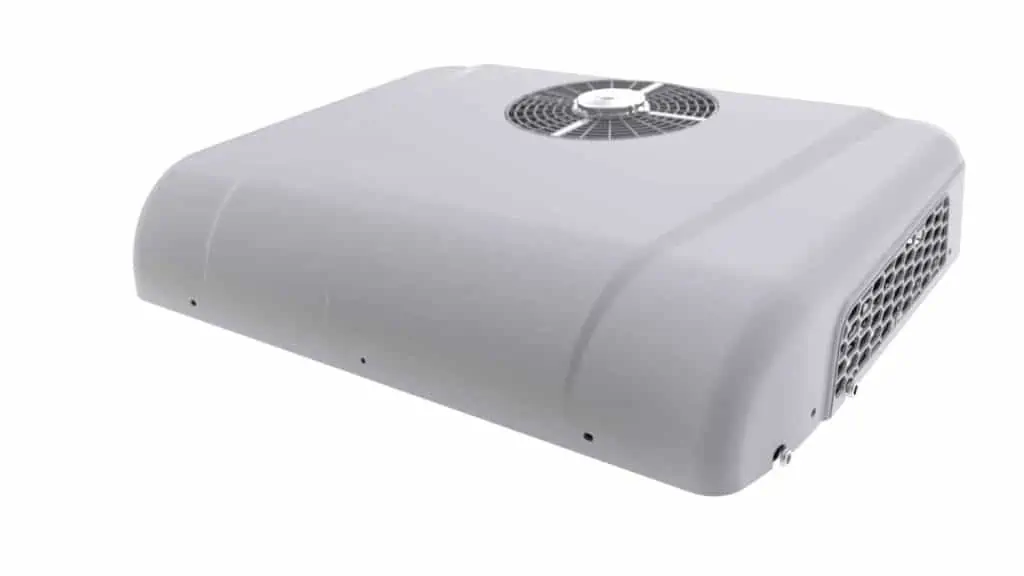 The B-Cool 9000 RM is a super-efficient way to keep cool while you're off the grid. Plus, because of its low profile, you won't notice much of a change in the fuel efficiency of your van.
83.75 pound weight
37.8′′ length x 28.35′′ broad x 6.5′′ 19.7′′ height Rooftop Unit
Interior Dimensions: 19.7″ length, 13.4″ broad, and 4.5″ tall
Power draw: 50-70 amps Cooling capacity: 10,230 BTU/hour
12 volt DC power source
Cost: $2,449
The B-Cool 9000 RM isn't cheap, but if you intend on spending a lot of time off the grid in hot weather, it'll be well worth the money.
Because of the low power demand of this 12-volt camper van air conditioner, you may operate it from the batteries in your van.
However, you'll get the finest results if you use deep-cycle lithium batteries. For simple installation, the B-Cool 9000 RM comes with a wire harness and a watertight gasket. For those idle days, it also comes with a remote control!
Although this camper van air conditioner doesn't have the most powerful cooling capability, it's more than capable of keeping you cool.
Pros
Off-grid operation
Installation is simple.
Warranty is for two years.
Cons
Expensive
Not the most powerful cooling system
#6. Dometic RTX2000 12V RV Air Conditioner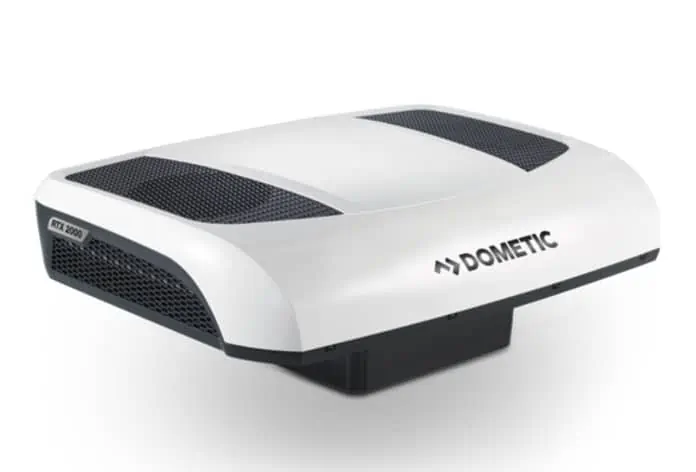 Dometic's excellent 12-volt device is both efficient and small, making it an excellent option for off-grid cooling.
25.4 x 33.9 x 6.6″ Dimensions
6,824 BTU/hour cooling capacity
Power consumption: 10-58 amps
12 volt DC power source
The cost is $2,875
The Dometic CoolAir 2000 RTX has been available in Europe for over a decade, and now it's accessible in North America!
Because of its very low power usage, this might be the greatest camper van air conditioner for living off the grid. This is accomplished via the use of a variable speed inverted compressor, which delivers excellent cooling performance while also being very energy efficient and silent.
The 2000 RTX only consumes roughly 19 amps in eco mode, which is significant when you're running it off your van batteries. A turbo option is also available for fast cooling in short bursts. This camper van air conditioner includes everything you'll need to get started, including a handy remote control.
Pros
Ideal for usage while you're not connected to the internet.
Extremely quiet
Mode of rapid cooling
Cons
Cooling capacity is limited.
Expensive
#7. Mabru Air Conditioning Unit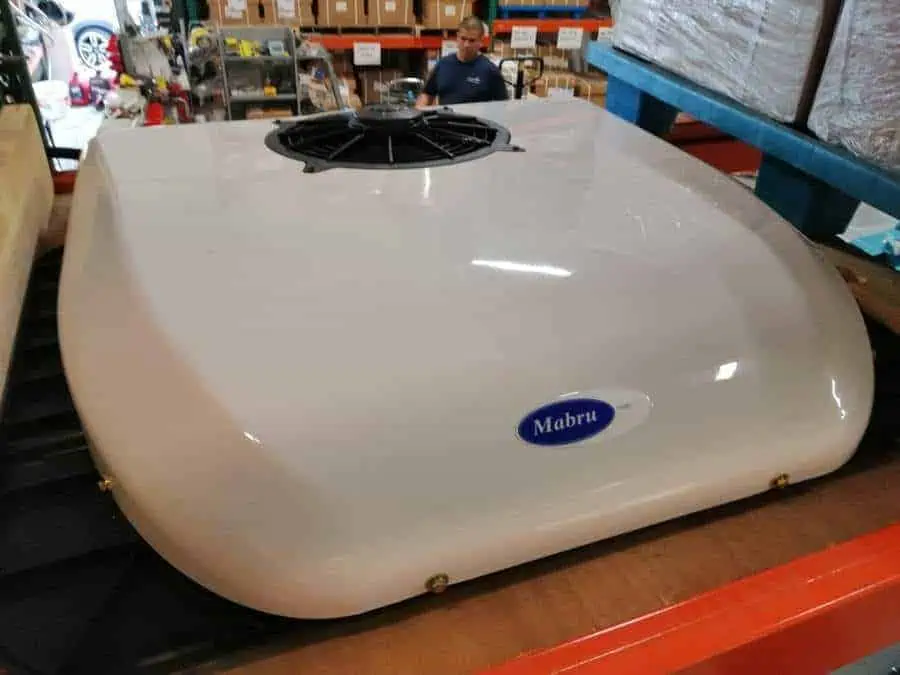 This Mabru rooftop unit is highly energy efficient and powerful. This 12-volt van air conditioner has a cooling capability of up to 12,000 BTU/hour!
59 pound weight
Rooftop unit is 38.2 inches long, 33.8 inches wide, and 6.5 inches height.
18.1′′ broad x 11.4′′ long x 2.8′′ tall inside unit with vents and controls
12,000 BTU/hour cooling capacity
22-55 amps of power demand
12 volt DC power source
The cost is $2,599
If you can afford the Mabru RV 12000, you'll be able to keep cool in your van for as long as you want to remain off the grid. This roof-mounted 12-volt van air conditioner is sleek and streamlined, and it cools your van down rapidly.
Although Mabru is new to the RV and van air conditioner industry, they have years of experience creating cooling systems for boats and yachts, so they know what they're doing. You'll be able to use this machine for hours on end on your lithium batteries thanks to its very low power drain.
Three fan speeds and three settings, including an environmental option, are available on the RV 12000. The RV 12000's sole drawback is that it won't fit into a typical 14′′ x 14′′ roof opening and is said to be difficult to install.
Pros
Exceptional cooling capacity
Super-efficient
Effortless design
Cons
Installing it is difficult
Requires a significant cost.
Other options for a campervan air conditioner
If you don't like the idea of placing a hefty air conditioner on top of your campervan, one of these options could be worth considering.
#8. Zero Breeze Mark II is the most Portable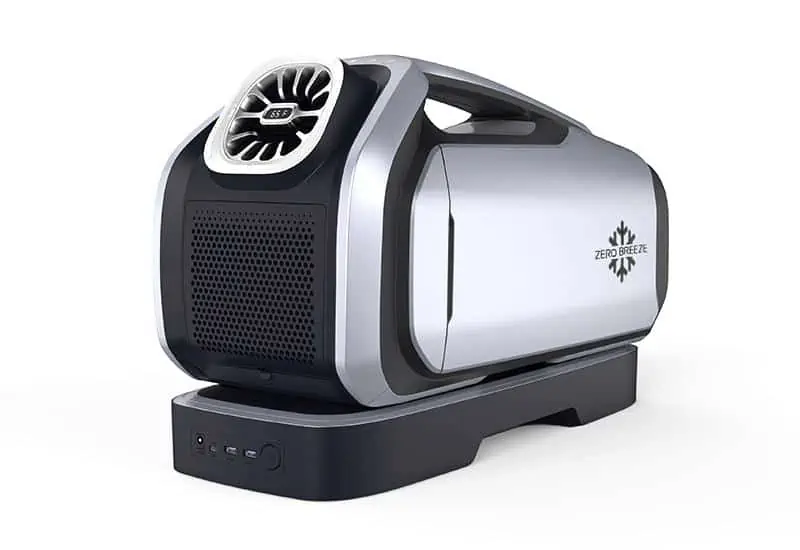 16.5 pound weight
2,300 BTU/hour cooling capacity
650 Watts of power consumption
Battery/240V AC power supply
Cost: $1,400
Despite the fact that the Zero Breeze requires ventilation, the little exhaust pipe may simply be inserted via a window.
This stylish cordless van air conditioner features compact, powerful compressors and a high BTU rating for its size.
The Zero Breeze is certainly pricey, but if you're seeking for a unique answer to your van air conditioning requirements, this may be the one for you!
In only 10 minutes, the Zero Breeze campervan AC unit promises to reduce the ambient temperature by 30 degrees. It is not a swamp cooler since it utilizes refrigerant.
A Zero Breeze's optimal cooling area is 24-40 square feet, which is suitable for a vehicle.
Pros
Small
Battery-powered
Cooling capacity is impressive.
Cons
Expensive
Larger areas may be difficult to cool.
For a portable machine, it's rather heavy.
Loud
#9. Fresair 12-Volt AC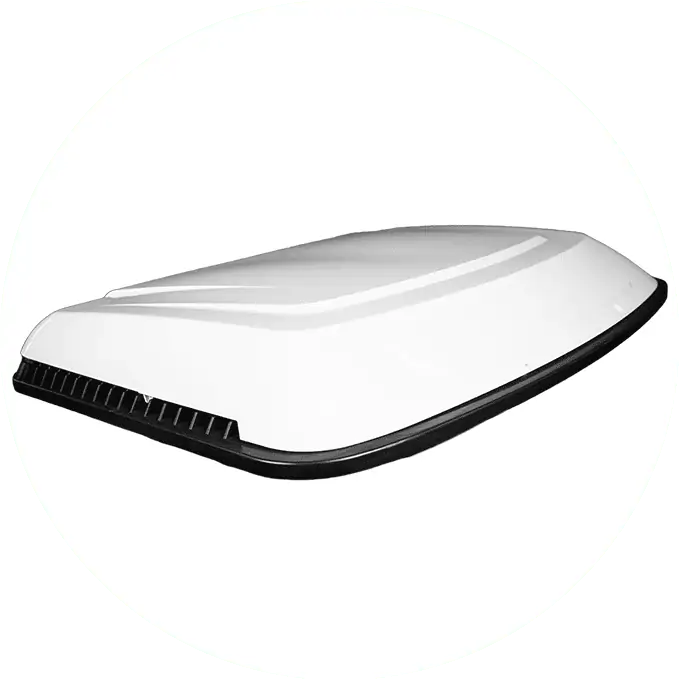 This finest air conditioner for a campervan operates on water and needs very little electricity, making it an environmentally friendly alternative.
25 pound weight limit
Capacity of cooling: N/A
10 amps/hour maximum power demand
12V DC power source
The cost is $1,495
When utilizing an evaporative cooler as a campervan air conditioner, one of the major worries is that it would produce a lot of moisture, which might lead to an unpleasant climate as well as mold and mildew.
The Fresair S6 rooftop evaporative cooler combats this by using a cutting-edge filter that is antibacterial and antifungal, as well as allowing the Fresair to create cold, dry air.
This van air conditioner operates on water, making it an environmentally friendly solution that also consumes very little energy.
The device has a dedicated 18L water tank and fantastic adjustable ceiling vents.
Although the manufacturer boasts that the Fresair can reduce air temperature by 40 degrees, the truth remains that this is an evaporative cooler, which means it will only be useful in very low-humidity situations.
Here's a chart from Fresair's website that illustrates how well the unit will perform in terms of humidity.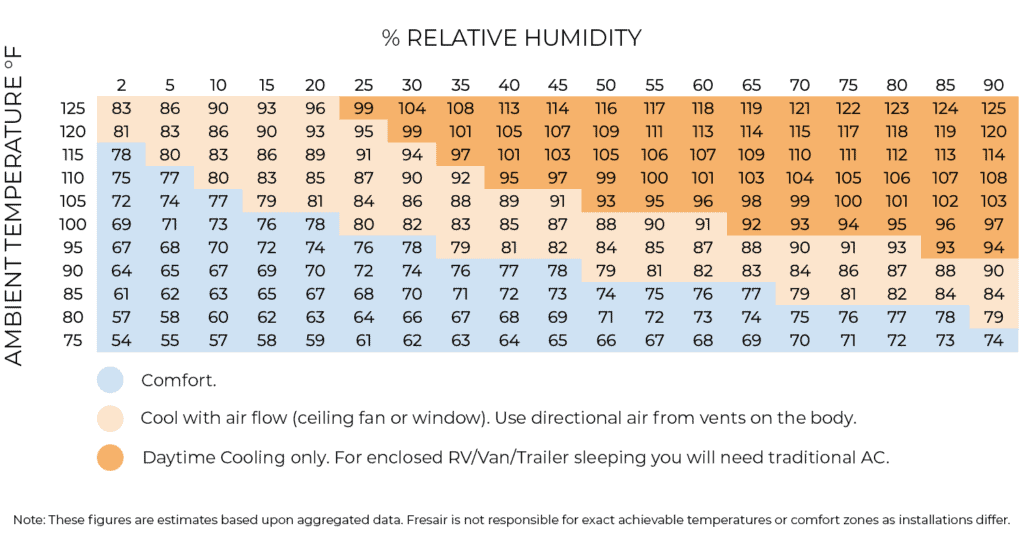 Pros
Lightweight and simple to set up
Low electricity consumption
Eco-friendly
Cons
Extremely costly
Only works in dry conditions.
BTU Ratings for Campervan Air Conditioners Explained
When shopping for the best air conditioner for a campervan, you'll note that the BTU value of each unit is clearly stated. What does this signify and why does it matter?
The heat transmission capability of the air conditioner is measured in BTUs, which stands for British Thermal Units.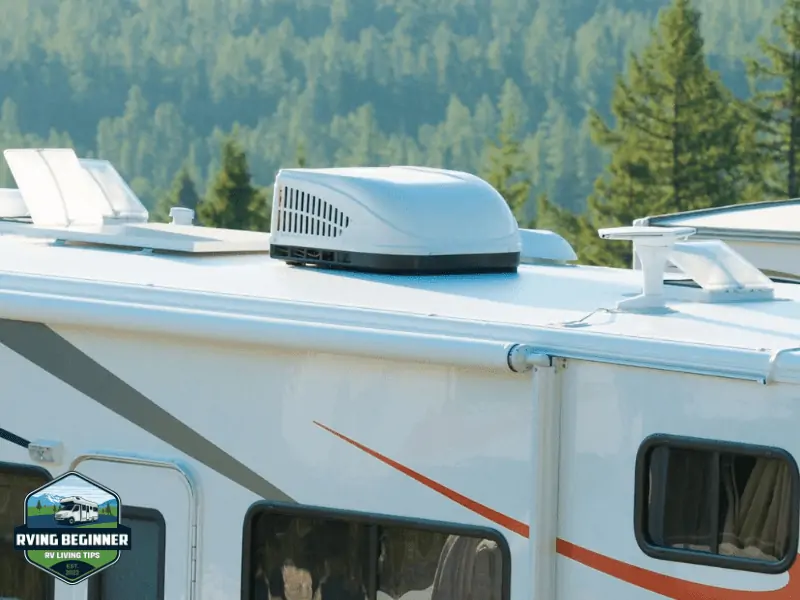 The amount of heat required to increase the temperature of one pound of water by one degree Fahrenheit is defined as.
In other words, the higher the number, the faster and more effectively the van AC unit can chill the room.
In actuality, the effectiveness of the best air conditioner for a campervan is determined by elements such as the space's size, insulation, and outside temperature.
A BTU value of 10,000 to 13,000, on the other hand, will keep your vehicle cool even on the hottest of days.
Air Conditioners for Campervans of Various Types
There are a variety of methods to keep your campervan cool, and deciding which sort of van air conditioner would work best for you might be challenging. The following is a rundown of the many sorts of campervan air conditioners.
Air Conditioners for Campervans with Compressors
For a rooftop air conditioner for a van, this is the most preferred choice.
A compressor van air conditioner draws hot air in and cools it using refrigerant. Cool air is pushed back into your home, while heated air is vented to the outside.
The finest air conditioners for a camper van may be ducted or non-ducted, and although they're the greatest choice for swiftly decreasing the temperature inside, their biggest disadvantage is the amount of electricity they use.
It's doubtful that your solar and battery system will be adequate to operate this sort of campervan AC unit for an extended period of time unless you intend on utilizing a separate generator or connecting to shore power.
Another factor to consider while shopping for a campervan air conditioner is the unit's weight.
You'll need to make sure your van's roof can support the increased weight and that there's adequate room for installation.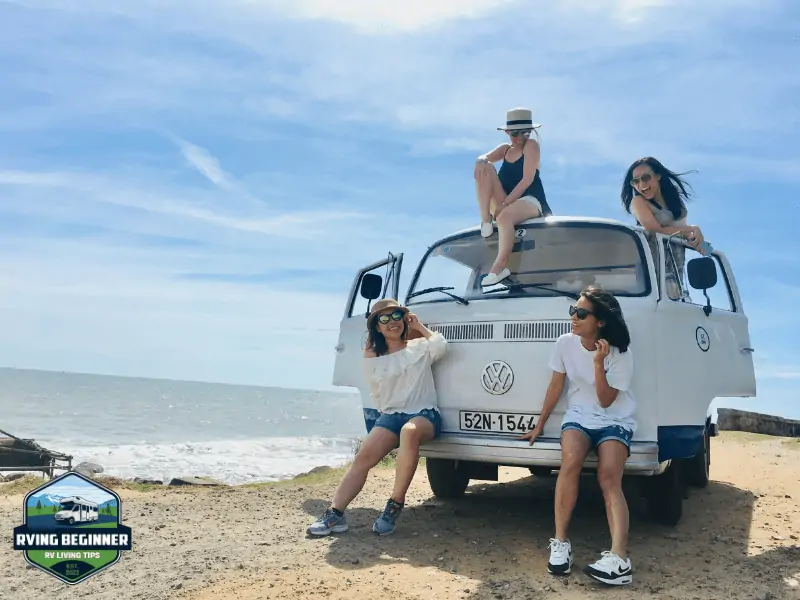 Campervan Air Conditioners with Evaporative Coolers
These van air conditioners, sometimes known as swamp coolers, chill the air by evaporating water.
Hanging a damp towel in front of a fan is the easiest method to produce this form of cooling, albeit this will create a very humid atmosphere that might lead to mold and mildew.
Many van residents utilize the wonderfully cool rooftop evaporative coolers that are available.
However, there are certain drawbacks to this sort of campervan air conditioner.
An evaporative cooler works best in low-humidity situations, which is excellent if you're just going to use it in the desert, but not so great if you're heading to Florida!
An evaporative cooler also requires a lot of water to operate, which might be a significant disadvantage.
Portable Air Conditioners for Campervans
If you want something for occasional usage that can be stowed when not in use, this sort of machine might be the perfect air conditioner for a campervan.
Household models are bigger and have plenty of cooling capacity for use as a campervan AC unit, but they must be vented outdoors, which will need some ingenuity with your vehicle.
Smaller portable air conditioners are a great choice, particularly for confined spaces.
Although you won't be able to chill down your whole living area with a portable air conditioner, they are simpler to vent, more inexpensive, and frequently operate on battery power.
Window Air Conditioner for Campervans
Window air conditioners aren't meant to be portable, but due to their superior cooling capacity, they remain a favorite choice among van dwellers.
Although a window unit is large and cumbersome, it may be the finest air conditioner for a campervan, particularly if the arrangement of your van is designed to accommodate it.
When the Temperatures Start to Rise, here's How to Keep your Campervan Cool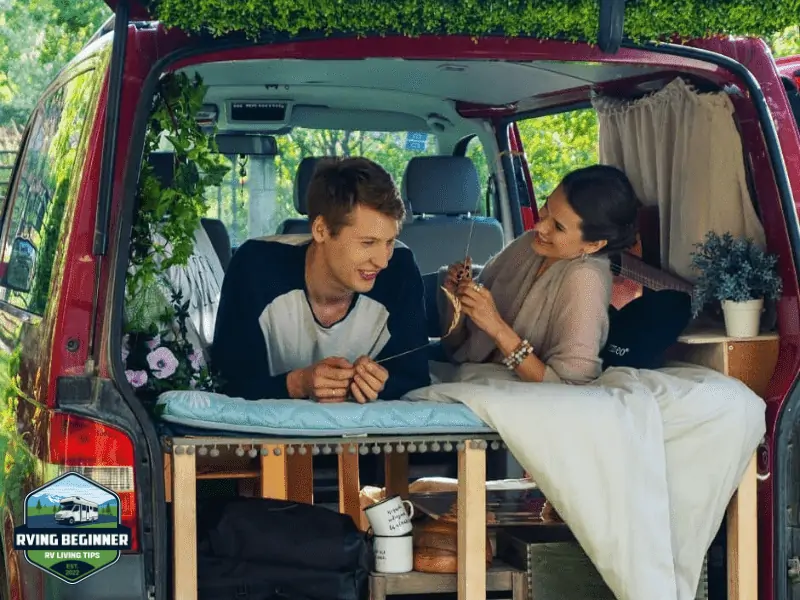 There are a number of things you can do to make your camper van more comfortable, whether or not you're utilizing the finest air conditioner for a camper van.
Some of them may seem apparent, while others may look redundant, but when the heat is on, even little adjustments may make a big impact!
Window Treatments/Curtains
Aside from providing privacy, employing reflective window coverings and curtains in your vehicle may significantly reduce the temperature inside, often by as much as 10 or 20 degrees.
Windows with Vents
If you're outfitting a van, you should absolutely consider venting the windows. There are a variety of choices available, including sliding windows and crank-open windows.
A mesh screen will keep out unpleasant creepy-crawlies while still allowing for critical ventilation, particularly if a vent fan is installed.
Portable fans/roof fans
A fan will not be able to cool the inside of your vehicle on a hot day, but it will bring the temperature down to equal the outside temperature.
The Maxxair and Fan-Tastic are the two most popular roof fans for van living, and either one will provide much-needed air circulation. A modest, USB-powered fan may also make a big impact and is an inexpensive, space-saving method to circulate air within your truck.
Insulation
Insulating your camper van is critical not just for keeping the heat in during the winter, but also for maintaining a pleasant climate during the summer, particularly if you use a van air conditioner.
Shade While it may seem obvious, parking your van in the shade may make a significant impact on even the warmest of days.
Parking in the shadow will protect your vehicle from the sun's rays and limit the temperature from rising too high.
Take a Trip to a Cooler Location
Remember that you have the option to leave! If you're feeling hot, there's usually someplace nearby that will be cooler.
Driving to the seaside is frequently the best option, since evening temperatures are normally considerably more comfortable at higher altitudes.
The Best Air Conditioners For A Campervan Conclusion
When it comes to heat tolerance, everyone is different, and although some people like the sensation of a hot day, others may go for the air conditioner.
A campervan air conditioner is essential if you're traveling with dogs or children, particularly during the summer months.
Taking the edge off the heat, whether with a powerful rooftop air conditioner or a tiny, portable one, can make life in your van much more comfortable.
We hope you found this article to be informative. Please feel free to ask any questions in the space below!