RV air conditioners are a specialty item that has sparked a craze among buyers. This is due in part to the limited product choices, which means that depending on your demands, you may have to think outside the box. That's particularly true when looking for the quietest RV air conditioners, as our team of specialists discovered firsthand.
The Quietest RV Air Conditioners: Our Top Picks
Although everyone's hearing is different, and what is loud to one person may not be to another, most experts and customers consider any air conditioner below 60 decibels "silent." With this in mind, we selected a system mix that won't wake you up, whether you're sleeping in an RV or attempting to cool down in a travel trailer.
Because it's built with noise reduction in mind, the #1 RV air conditioner on our list is a no-brainer. The Coleman-Mach 45203-8793 is part of the company's Quiet Series, although it has all of the same characteristics as a Mach 10 system.
The Quiet Series air conditioners will enable you to enjoy your RV's cool interior without being distracted by sounds from above. While the corporation does not go into great depth about what goes into this system, operational noise reduction methods are used to reduce decibel levels. At a campground, this means you may have a discussion without shouting and listen to music without disturbing others.
This is the Mach 10 NDQ edition in terms of technical specifications. It has a 13,500 BTU rating and a 265 CFM airflow rate, and it's designed for non-ducted installations. This rooftop air conditioner has a modest profile, measuring 38″L x 11.8″H x 26.2″W and weighing just 80 pounds. This model does not include any accessories, so keep that in mind unless you're simply replacing your present system.
Verdict
The Quiet Series from Coleman-Mach seems to be popular with RV owners, and we believe it has a reasonable price tag for what it offers. If the Mach 10 45203-8793 isn't for you, the Mach 15 and Mach 3 Plus are also available in this category. This air conditioner comes with a 2-year warranty and a textured shroud in black or white.
We discovered numerous quiet systems from Dometic throughout their different lines in our Dometic RV Air Conditioner evaluation. However, their NXT series air conditioners are the quietest of the group, and the Dometic is a rooftop air conditioner that can be used no matter what the weather is like outside.
With a cooling capacity of 15,000 BTU, this air conditioner can keep you cool even on the warmest days. The cooling capacity and airflow have improved by 15% over the previous generation, and the shroud and base pan are constructed of injection-molded high-impact polypropylene. While it has plenty of power and a built-in heat pump, the noise-cancelling technology is the major lure.
On NXT series AC units, Dometic bracketed the motor, compressor, and evaporator together. With two rubber bushings, this decreases operation noise and vibrations. A carbon steel foundation offers strength, while EPP foam in the housing, combined with heavy-duty sheet metal, helps to decrease weight and noise.
Verdict
This rooftop air conditioner belongs to the premium category, and although it's pricey, it's well worth your time if you require a powerful unit with heat. You'll also want to consider the unit's height, which is around 14.5″. This system is available in a 13,500-dollar version, as well as ones without heat.
Portable air conditioners come in a variety of sizes, ranging from 5,000 to 14,000 BTU or more, but the bigger the system, the more room it takes up. With Whynter ARC-12S, Whynter managed to cram a lot into a tiny box, making it the perfect alternative for smaller RVs and trailers that need a portable system.
The ARC-12S, like other portable air conditioners, is a 3-in-1 appliance that can chill, dehumidify, or circulate air as a basic fan. This air conditioner, unlike a standard rooftop system, can filter the air using a pre-filter and carbon filter. It also includes a front-facing digital display with a few controls that is simple to see.
You may set a timer, alter the temperature, and choose a mode from the control panel. According to the latest requirements, this system has three speeds and a 5,000 BTU rating. At 188 CFM, it's strong enough to handle spaces up to 400 square feet, although it's not as powerful as a rooftop unit. A remote control, an LCDI connector, and an auto-start capability in the event of a power outage are further noteworthy features.
This portable air conditioner is lighter than comparable models, weighing just 62 pounds and leaving a tiny footprint. It's 31″ tall but only 17″ broad, so it's a bit narrow. With a decibel level of 52dBA and a self-evaporative mechanism to assist eliminate moisture, it's one of the quietest portable systems on the market. A protective cover and a window kit with a flexible hose are included with this air conditioner.
Verdict
While Whynter offers smaller systems, the ARC-12S is efficient, lightweight, and packed with functionality. We particularly like the 3-year compressor guarantee, since this is normally the first component to fail. Aside from the fact that dual-hose units are available for a similar price, this air conditioner has no notable drawbacks.
Our second Coleman air conditioner is a little different from the first. This low-profile AC unit has lots of pop and a built-in condensate pump, but it doesn't have the same attention to detail when it comes to noise reduction.
This air conditioner stands out from other models on the market today just by looking at it. It's an understatement to say that the Coleman-Mach 47223B876 is sleek. This system fits into any regular RV roof opening and measures 41.1″L x 28.4″W. However, it stands just 8.25″ tall, with big vents running around the back and sides of the unit.
This aerodynamic rooftop air conditioner will not get stuck in an underpass, and it is quieter than bigger systems. With 13,500 BTU, it's not the company's most powerful device, but it can give full cooling power at both speeds. The airflow rate is reported as 300 CFM, and the weight is kept to 90 pounds thanks to a molded one-piece fiberglass body.
Verdict
The Coleman-Mach 47223B876 rooftop system is reasonably priced given its size, although it is much shorter than comparable 13,500 BTU rooftop systems. We like the general design of this device, and the condensate pump is a nice feature if you've ever had to deal with pooled water on your RV's roof.
De'Longhi is known for producing elegant products with a contemporary appearance, and their portable air conditioners are no exception. The De'Longhi Pinguino meets the criteria well, and it's built for huge environments that need cooling and quiet.
While the look of this system is stunning, the technology within is the main appeal. When compared to the competition, the firm uses Arctic Whisper technology to reduce noise to a minimum, resulting in a noise reduction of up to 4dB. While we don't have a valid decibel number, people seem to agree that Quiet Mode creates 50% less noise.
The Eco Real Feel system with Cool Surround is another hallmark of the De'Longhi Pinguino. It can automatically monitor the temperature and humidity in a room when used in conjunction with the smart Bluetooth remote, ensuring you remain comfortable regardless of the weather outside your RV. It also works as a dehumidifier and includes a venting outlet at the rear with a 5″ hose.
With a weight of 83 pounds and dimensions of 34.4″H x 20″W x 18″D, this is one of the largest portable systems. It is, nevertheless, simple to maneuver and has enough of power for bigger recreational vehicles. This system is rated at 8,600 BTU and can cool spaces up to 700 square feet, according to current DOE regulations. A two-year guarantee, a window kit, a dust cover, and an accessories bag are included with this item.
Verdict
With the Pinguino PACEX390, De'Longhi created an exceptionally intelligent system. It's energy-efficient, consuming up to 30% less energy than comparable versions and including extra features like a monitoring remote and motorized louvers. This system will look just as nice inside your RV as it would in your house, but if you need something smaller or don't want all of the high-tech capabilities, it may be overkill.
How to Find a Quiet RV Air Conditioner
Noise. Some individuals can't fall asleep without some background noise, while others are startled awake by even the tiniest noise. If you fall into the latter type, an air conditioner system may be your worst nightmare, since they aren't renowned for being very quiet.
It might be difficult to provide extra cooling in a compact space, such as a recreational vehicle or trailer. In these sorts of places, noise is increased, and your alternatives are restricted in comparison to residential homes. With that in mind, here are some pointers to assist you in selecting the appropriate system for your recreational vehicle.
Which is better: an RV, a camper or a trailer?
While our tutorial focuses on RVs, an RV air conditioner may be installed in a variety of vehicles. Caravans, fifth-wheel trailers, and campers are all frequent places to locate overhead units. You can cool it if it can be transported behind a truck, albeit some systems are noisier than others.
When choosing an air conditioner for an RV or camper, the physical dimensions should come first, followed by noise levels. A too-large rooftop unit might do more damage than benefit, and even the most portable system will need to be stowed when not in use. Take into account your use and how frequently you want to use an air conditioner in your RV or caravan.
Recommended reading: 8 Best RV Air Conditioners To Buy In 2023
Rooftop Air Conditioners vs. Portable Air Conditioners
While a half-dozen models of air conditioners may "function" in an RV or camper, only two are really designed for them. That would be rooftop air conditioners and portable air conditioners, each with its own set of advantages and disadvantages.
Rooftop air conditioners are designed to supply greater electricity while also freeing up more floor space. These units may also be ducted to circulate air throughout a recreational vehicle, although they are more expensive. With these systems, you must also consider extra accessories like as installation kits, thermostats, and ceiling assemblies.
Instead of having 4-5 manufacturers with very comparable systems, there are more possibilities with portable air conditioners. There are also additional functions like as timers, dehumidifiers, and even Wi-Fi if your RV is linked. On the flipside, a portable system will only chill one area of your RV and will take up important inside storage space.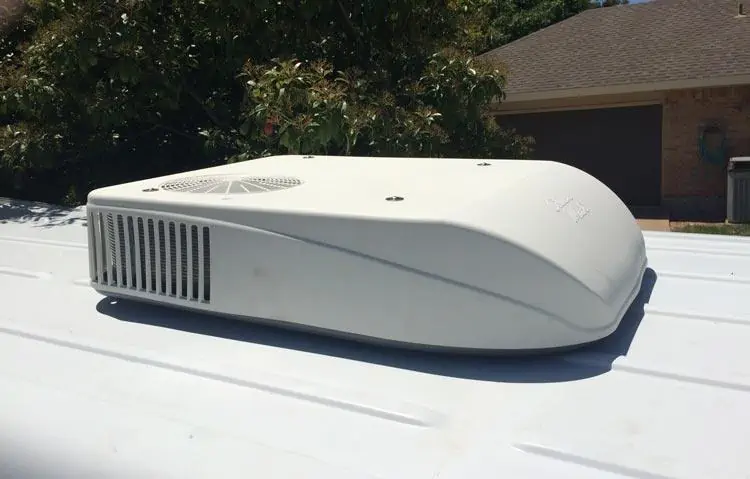 Recommended reading: 5 Best RV AC Covers and Why You Should Use One
Sizes of Air Conditioners
British Thermal Units, or BTUs, are used to quantify heating and cooling power in HVAC equipment. It's a rating that can be found on every window air conditioner and central HVAC equipment, as well as portable air conditioners and rooftop versions.
A 14,000 BTU air conditioner will provide greater cooling power than one rated at 8,000 BTU, but cooling an RV is not the same as cooling your house. If you choose a rooftop model, you'll find that it only comes in a few sizes, which you may categorize as small, medium, and big to make things easier. The biggest versions are 15,000 BTU, while the mid-range ones are 13,500 and 10,000 BTU. A few variants with an 8,000 BTU rating are also available.
Portable systems have a wider range of options, however most peak out at roughly 12,000 BTU. Because such units may be rather big, those ideal for recreational vehicles usually range from 5,000 to 8,000 BTU. We've got you covered if you want to learn more about BTUs and how they're calculated.
Recommended reading: Is it Possible to Get a 12V RV Air Conditioner?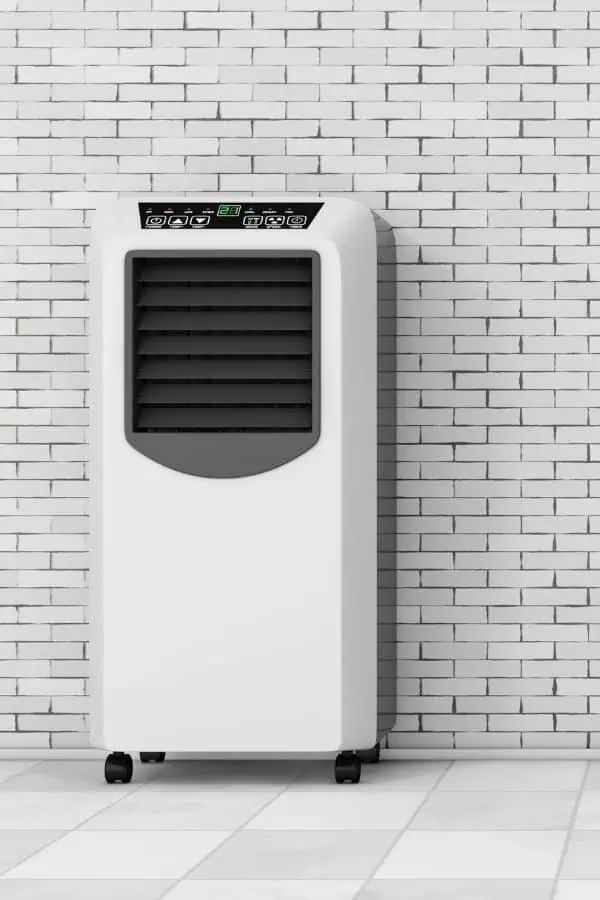 Levels of Noise
The noise level should definitely be considered by consumers searching for a quiet air conditioner. Unfortunately, this isn't always simple to come by on rooftop or portable systems. Finding a trustworthy rating was hit or miss across the board with businesses large and small, according to our study.
If you do come across a system that has a rating, the decibel scale is simple to comprehend. Lower levels are preferable, and many individuals find sounds over 65dBA moderately irritating. An average discussion may be between 55 and 60 dB, but a motorbike can reach well over 80.
We've seen some huge rooftop AC systems in that range for recreational RVs, albeit most are around 60 dB. Budget-friendly portable air conditioners, on the other hand, may be just as loud, particularly if poorly made.
Features
The features of air conditioners designed for RVs vary based on the system type. With rooftop versions, manufacturers promote construction quality and design, but with portable air conditioners, the picture is clearer.
There are many alternatives with portable air conditioners, whether you want one with a 24-hour timer, a remote, or a built-in air filter. Many of them have various settings or smart features, yet they all come with the same price. In other words, you get exactly what you see.
When it comes to rooftop air conditioners, things are a little different since many ads are ambiguous about what's included. This has resulted in a slew of negative reviews for otherwise excellent devices. Additional accessories, including multi-zone thermostats, heat strips, and high-tech ceiling assemblies, provide the majority of the high-tech capabilities found in rooftop versions.
Warranties for Air Conditioners
We won't spend much time on this since warranties for both portable and rooftop air conditioners are quite basic. With the exception of a few manufacturers that provide graded warranties for the compressor or other components, most businesses offer 2-year warranties on their systems.
If you're worried about the warranty's duration, search for a well-built system with high-quality components. We also suggest looking into replacement components for rooftop models, since there are a variety of parts available that may help your unit last longer. Given the cost of these systems, extended warranties are also a possibility.
Conclusion
As you can see, choosing a quiet air conditioner for any RV is straightforward if you follow our recommendations and remember to consider size. A good air conditioner will make your trip more pleasurable and is a wise investment that will keep your family cool for years.