You should use an RV AC Cover whether you're in chilly weather or putting your RV away for the winter.
This inexpensive RV item might wind up saving you a lot of money
In this post, we'll look at the advantages of RV Air Conditioning Covers and recommend our top five choices. Let's get started.
What Is An AC Cover For An RV?
An RV Air Conditioner Cover is a piece of plastic that covers the outside of your Air Conditioner. When you store your RV or won't be using it during the colder months, these Coverings will keep it safe.
They are often made of waterproof materials such as vinyl. Elastic bands or drawstrings keep things in place, and they're simple to use.
RV Air Conditioner Covers Have Many Advantages
It's a good idea to Cover your RV Air Conditioner if you won't be using it for a long period. Here are our top reasons for doing so.
Protects Against Pests
To begin with, an AC Cover protects against pests. Bugs and rodents may sneak into AC units via microscopic gaps and build a nest or eat through cables.
You won't have to worry about cleaning out nests the next time you turn on your Air Conditioner if you use a Cover.
It shields you from the elements.
The most apparent advantage of an Air Conditioner Cover is weather protection. UV radiation from the sun may make the RV Air Conditioner's surface brittle, making it more vulnerable to damage and breaking.
You can't avoid UV exposure in the summer, but you can reduce it if you don't use it every day. They also keep hail, branches, ice, and tree sap at bay.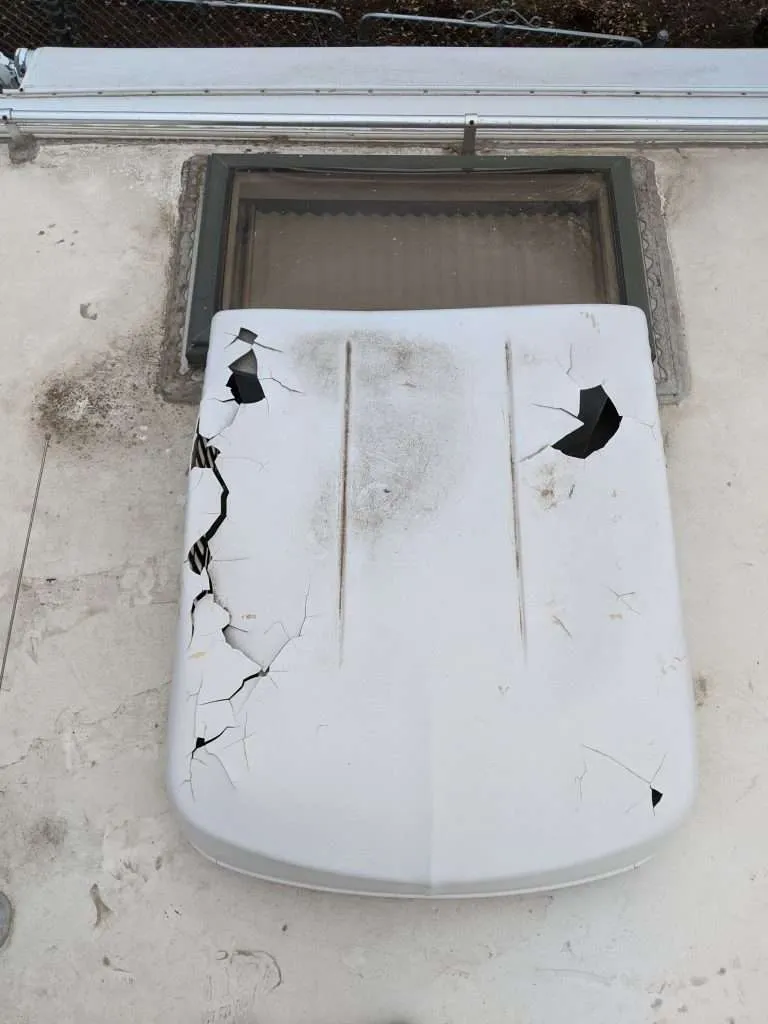 Allowing this to happen to your Air Conditioner is not a good idea! RV Air Conditioner Covers may help protect your equipment from harm.
Drafts are reduced.
RVs may become quite chilly in the winter. Allowing chilly, drafty air into your home by leaving your Air Conditioner unit open.
While outside air can not enter the RV, cold air may enter the exchanger, which is often not well insulated. Your RV will be better insulated with a Cover.
The 5 Best Air Conditioner Covers for RVs
You may want to get an RV Air Conditioner Cover now that you are aware of the advantages. Here are five of the finest RV Air Conditioner Covers available.
Recommended reading: 6 Smallest Portable Air Conditioners for RV in 2023
#1. Air Conditioner Cover by Camco
Camco is a well-known and dependable RV accessory manufacturer. This vinyl Air Conditioner Cover is available in a variety of colors and sizes.
Camco manufactures Covers for Dometic, Coleman, DuoTherm, and other Air Conditioners with comparable dimensions and sizes.
With a drawstring, you can quickly fasten this waterproof Cover to your rooftop unit.
#2. Air Conditioner Cover by ADCO
A drawstring pull rope ties this white vinyl Cover from ADCO to your rooftop unit.
It only comes in one size, however ADCO has various sizes listed on Amazon. This RV Cover fits Air Conditioners with dimensions of 26 inches wide, 13.5 inches deep, and 37 inches long.
ADCO is a well-known RV accessory manufacturer that offers a variety of AC Cover sizes, so you're likely to find one that fits your vehicle.
#3. Curved RV AC Cover from Classic Accessories
This RV Air Conditioner Cover from Classic Accessories will suit Dometic Brisk RV systems as well as other major RV AC types.
A three-year guarantee is included with this heavy-duty vinyl Cover. It attaches to your rooftop Air Conditioner with a drawstring for fast and simple setup.
The vinyl is malleable and washes off easily to remove material such as bird excrement, tree sap, and other contaminants.
#4. Squared RV AC Cover from Classic Accessories
Classic Accessories' squared RV Air Conditioner Cover is constructed of heavy-duty vinyl and fits the Coleman Mach Air Conditioners.
It will also fit other RV Air Conditioners of comparable size and dimensions. This black Cover comes with a one-year standard guarantee.
This Air Conditioner Cover will only fit squared Air Conditioners, so double-check the form and dimensions of your unit before buying.
#5. Dumble Camper Air Conditioner Cover
Another popular Amazon choice is the Dumble Camper AC Cover. Coleman rooftop RV air conditioning systems are compatible with this camper AC Cover.
The Dumble Cover is made of waterproof vinyl and includes a drawstring to secure it to the AC.
This Cover protects your RV's Air Conditioner from UV radiation, reduces drafts, and keeps bugs out.
Recommended reading: Best Air Conditioner For A Campervan of 2023
An RV AC Cover will keep your Air Conditioner safe.
The manufacturers on this list make the finest RV Air Conditioner Covers available.
We've included several that suit particular sizes and models, but if yours isn't on the list, conduct a fast Amazon search.
We advise avoiding buying a universal or one-size-fits-all Cover since they tend to droop and allow bugs and moisture to seep through.
Many RVers may benefit from an RV AC Cover, and it's not only for while you're storing your RV.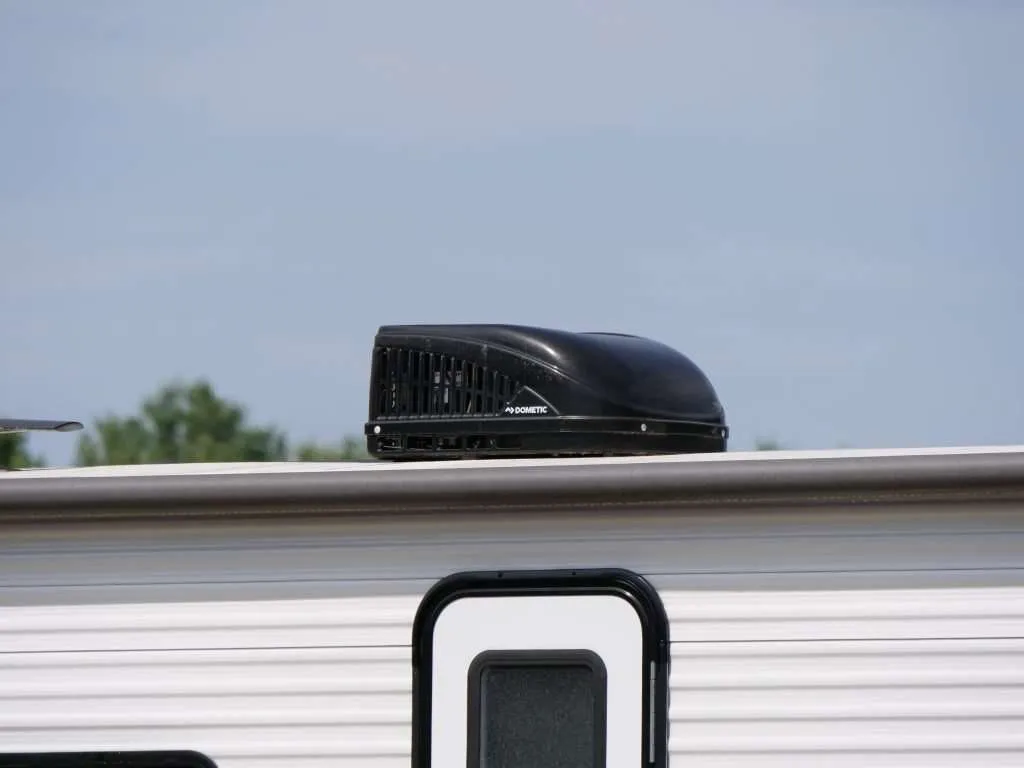 Air Conditioners for RVs come in a variety of designs and sizes. Make sure you choose a Cover that fits your particular device.
Reading suggestions: Top 6 Best Portable Air Conditioners For RVs In 2023
Frequently Asked Questions About RV Air Conditioners Covers
Do you need a cover for your RV's Air Conditioner?
No, an RV Air Conditioner cover is not required, and many RVers do not use one.
The low purchasing price and simplicity of storage, on the other hand, aren't a bad combination.
Do you travel in your RV during the winter months?
If that's the case, you'll almost certainly need a cover to aid with writing.
The risk of road debris and exposure to the weather may make the purchase beneficial if your RV is kept for lengthy periods of time, particularly in bright sunlight or among trees, or if you drive long distances.
If you choose an Air Conditioner cover, be sure it's made of UV and mildew-resistant material and has a strong fastening method.