One of the major advantages of living in an RV is the little amount of cleaning required.
The floor, on the other hand, is something that RV campers are continually cleaning.
RV flooring are constantly coated with sand and dirt after days spent hiking and playing on the beach.
As a result, for every RV owner, a vacuum is a must-have cleaning item.
The 15 Best RV Vacuum Cleaners are listed below to keep your flooring clean!
If you're new to RV travel or living, make sure you check out our complete list of must-have RV gear to ensure you're ready for an unforgettable road trip.
Is it Necessary for RVers to Have a Vacuum?
Yes, to put it simply.
When we originally moved into our fifth wheel RV over five years ago, we gave our expensive Dyson vacuum to a friend before hitting the road.
Unfortunately, we quickly discovered it was a major oversight.
We were frequently dragging sand and dirt into our little house as pet owners with an outdoor-focused lifestyle.
The broom worked OK on our vinyl floors, but we were continually cleaning and the carpets were filthy.
We now have a little, lightweight vacuum that assists us in keeping our RV clean and neat.
Consider the size of the vacuum while downsizing for RV life, but don't eliminate one entirely.
The Characteristics of a Fantastic RV Vacuum
A vacuum cleaner with many key characteristics is ideal for use in an RV.
While there aren't many cleaning products designed exclusively for RVs, campers should consider the following characteristics when choosing the finest RV vacuum cleaner for their rig.
The Best Rv Vacuum Cleaners Should Be Small.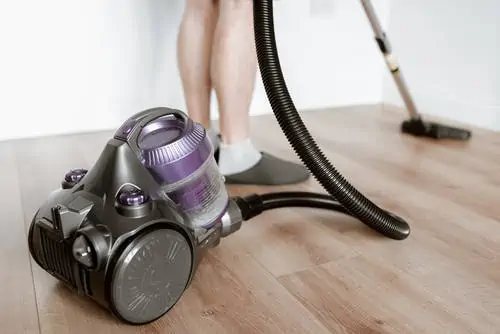 #1. Dimensions and Storage
Size and weight are important concerns when purchasing for RV houseware.
Compact vacuum devices, such as handheld or stick vacuums, are ideal for RV owners.
These compact vacuum cleaners may be conveniently hidden in a cupboard, behind a door, or in the RV's basement storage room.
Robot vacuums are likewise small, but since they can't negotiate tight nooks and corners, they're not the greatest option for small spaces like RVs.
#2. User-Friendliness
The simplicity of usage is just as crucial as the size.
Vacuum cleaners that are simple to move in confined places are ideal for RV campers.
Swivel heads, high suction, and attachments for tiny areas are all important usability aspects in the finest RV vacuum cleaners.
Cleaning in hard-to-reach spots and behind slide-outs necessitates the use of a crevice tool attachment.
Attachments for dusting and cleaning upholstery will be included in the finest vacuums.
#3. The Design Is Cordless.
Models of cordless vacuum cleaners are great for cleaning RVs.
In a compact location, long vacuum lines may quickly get tangled, limiting movement.
Other important RV characteristics, like as a compact design and rechargeable battery, are more likely to be found in cordless devices.
If you buy a vacuum cleaner with a cord, make sure it's retractable for simple storage.
#4. Batteries That Can Be Recharged
Even while boondocking in the desert, RV campers need to be able to vacuum their floors, so electricity is a crucial concern.
A vacuum with a rechargeable battery may be charged and operated during dry camping while connected to shore power.
The longer the battery life of the vacuum cleaner, the better it is for RV lifestyle.
Look for vacuums that can operate for an extended period of time so that you may clean the whole RV numerous times on a single battery charge.
#5. Filters That Can Be Washed
Replacement components are not required for the finest RV vacuums.
It might be difficult to acquire precise filter or bag replacements whether traveling across the nation or camping in the woods.
Look for vacuums that come with washable HEPA filters rather than disposable ones.
#6. The Level of Noise
A loud vacuum, like any other item, may be irritating.
RV owners who live and work in confined quarters with close neighbors may find noise especially unpleasant.
Check internet reviews to make sure your RV vacuum isn't too noisy.
#7. Attachments and Suction Setting
Vacuum cleaners in RVs are utilized for more than just floor cleaning.
Vacuum cleaners are very useful in RV air conditioning maintenance.
A vacuum may be used to clean the air filters and evaporator coils in your RV's air conditioner.
Select a vacuum with a low suction setting and a long attachment for cleaning air conditioning components.
Vacuum Cleaners for RVs: The Best Handheld Vacuum Cleaners
Because they are so small and can easily be kept in a cupboard, a handheld vacuum cleaner is an excellent option for RVers.
Another advantage of handheld vacuums is that they may be used for a variety of tasks.
Handheld vacuums may be used to clean your furniture and tow vehicle in addition to RV flooring.
Handheld vacuums are ideal for RVs with sweeping vinyl flooring.
Purchase an upright vacuum if your RV has a lot of carpet.
Cost: $69.99
Our best selection for a high-powered portable vacuum is the Bissell Pet Hair Eraser.
It is an excellent choice for all RV owners, regardless of the number of dogs they have.
The Pet Hair Eraser is designed to get rid of imbedded dirt and pet hair.
This Bissell portable vacuum comes with numerous attachments, including a crevice tool, for cleaning hard-to-clean surfaces and tight areas.
The dirt bin is wide and simple to empty, and the 14 volt lithium-ion battery gives prolonged operating time.
Cost: $42.99
The cordless handheld vacuum from Black & Decker is an excellent cleaning equipment for RV campers at a reasonable price.
It also has a crevice tool for hard-to-reach locations, as well as lithium battery technology for longer operating times.
Large material, such as kitchen crumbs or pet food, may be easily picked up with the broad opening.
This Black and Decker vacuum is incredibly portable because to its lightweight construction (it weighs less than two and a half pounds).
Cost: $29.99
If cost is your primary concern, this cordless, portable vacuum from Beyond by Black & Decker is an excellent value.
The charger for the vacuum may be attached directly to the wall, making it a charging station as well as a storage option.
The dirt bowl capacity of this vacuum is less than our other recommendations, at 11 ounces, so it will need to be emptied more regularly.
Vacuum Cleaners for Upright RVs
The finest vacuum cleaners for RVs are often lightweight, compact stick vacuums with a full-size vacuum.
These tiny vacuums take very little room but have a lot of suction power.
Stick vacuums are also great for getting underneath RV furniture without getting down on your hands and knees.
Cost: $594.00
The Dyson V11 Torque is the finest RV vacuum cleaner if you want the power of a premium brand.
This stick vacuum, according to Dyson, has double the power of any other cordless cleaner on the market.
It has enough battery life to vacuum your little house many times with a 60-minute run duration.
With the touch of a button on top of the vacuum, cleaners can readily see how much battery power is remaining.
Cost: $154.99
The Eureka RapidClean Pro Lightweight Essential vacuum is an excellent mid-priced option for RVers who want a high-quality vacuum but can't afford a Dyson.
The Eureka stick vacuum has a high dust cup and swivel steering, making it ideal for cleaning under living room furniture.
It has a 40-minute non-fade run time, which is more than enough to vacuum your RV many times.
Cost: $29.99
The Bissell Featherweight Stick Vacuum provides excellent performance at a low price.
It's a two-in-one vacuum cleaner with a removable bottom piece that may be used as a handheld vacuum cleaner.
This lightweight vacuum cleaner has tremendous suction, making it ideal for RVs.
The Bissell Featherweight is now available in a variety of bright colors, including blue, green, and purple.
The Best Canister Vacuum Cleaners for RVs
Another fantastic design for cleaning RVs is the canister vacuum cleaner.
Although canister vacuums are heavier than upright stick vacuums, they feature bigger dust containers that don't need to be emptied as often.
RVers can also reach every little spot or tight nook because to their lengthy hose design.
Canister vacuums, on the other hand, are virtually all corded, so they're perfect for RVers who don't boondock or dry camp.
Bags are still used in many canister vacuums, so opt for a bagless type for ease of usage.
Cost: $329.99
The Bissell Pet Hair Eraser is a strong vacuum with a small footprint.
This bagless Bissell vacuum intelligently identifies the floor type in RVs with both carpet and vinyl flooring and adjusts its suction force appropriately.
Another plus is the vacuum's tangle-free brush, which is great for getting rid of pet hair and other dirt.
There's also a crevice tool and a dusting brush attachment.
Cost: $89.03
Another wonderful bagless canister vacuum for RVers is the Eureka Whirlwind.
The vacuum's suction force may be switched from carpet to upholstery or hard surfaces with the flick of a button.
The Whirlwind is ideal for RVs since it is lightweight and features swivel steering for maneuvering through tight places.
The crevice tool is built into the hose handle, so it won't go misplaced.
Cost: $59.00
For RV owners, the Bissell Zing is the finest value canister vacuum.
It also features a long handle to reach narrow spots and under furniture and weighs less than eight pounds.
The power is switched to the suitable suction for carpets or hard surfaces through a switch.
A crevice tool, a dusting brush, and a multi-surface floor tool are all included with the Zing vacuum.
With the push of a button, the vacuum's 15-foot power cable is automatically retracted.
The Best RV Wet Vacuums
Water is an RVer's worst enemy, as every camper knows.
RVs are susceptible to water damage, which may be costly to fix.
When draining the holding tanks, it's all too simple to overflow your recreational vehicle.
Wet vacuums are available on the market that enable RV campers to simply suck up water and prevent water damage.
In addition to one of the regular vacuums we've previously recommended, I strongly advise all RVers to buy a wet vacuum.
Cost: $288.00 (with 20V battery included)
Cleaning up water leaks in an RV with the Dewalt 20 Volt Max Vacuum is an excellent alternative.
This vacuum may be used in any camping setting since it has cordless battery or corded power choices.
Its high capacity of 20 gallons is suitable for swiftly clearing up significant leaks and averting catastrophic water damage.
The vacuum comes with a crevice tool and broad mouth attachments, so you can use it anywhere in your RV.
Cost: $174.99
Tineco's iFLOOR Cordless Wet Dry Vacuum Cleaner and Mop is a versatile all-in-one cleaning equipment for RVs.
The iFLOOR can clean up water and be used as a mop in addition to being a conventional upright vacuum.
The cordless vacuum has a run duration of 22 minutes.
This vacuum can't manage significant leaks as well as other wet-dry vacuums since it only has a 0.4 liter dirty water tank.
Because this vacuum also doubles as a mop, it's excellent for RVs without carpeted flooring.
Cost: $54.50
Another fantastic tool for cleaning up water is the Armor All HP Wet-Dry Utility Shop Vacuum.
The 2.5 gallon vacuum has ample capacity to sweep up large volumes of water at once without taking up too much room in an RV's storage compartment.
It comes with many accessories, including a crevice tool.
The vacuum on the downsize is corded and needs be plugged in to operate.
The Most Effective Robot Vacuum for RVs
RV Campers Should Avoid Robot Vacuums
Robot vacuums are not recommended for RVs.
Even while robot vacuums are becoming better, they are still too big to clean all of the tight nooks of an RV or compact house.
Because most robotic vacuums can't climb stairs, they have to be manually carried into any elevated portions of the RV, such as slide outs.
For RVs, the Best Steam Vacuums
Steam vacuums are popular because they are chemical-free and may eliminate germs and bacteria.
Steam vacuums, on the other hand, are not a good option for RV cleaning.
Steam vacuums may occasionally distort the laminate and vinyl flooring present in most RVs due to the heat they emit.
However, if your RV has a lot of carpet, the steam vacuum shown below could be an excellent cleaning tool.
Cost: $119.99
For steam cleaning in an RV, the Bissell SpotClean ProHeat Portable Spot & Stain Carpet Cleaner is the ideal alternative.
Because the SpotClean was designed to be portable, it is tiny and light.
It is effective and can remove ingrained stains in carpet or upholstery despite its small size.
The inside of your tow or toad vehicle may also be thoroughly cleaned with this portable cleaner.
RVs with Central Vacuum Cleaners
What Is A Central Vacuum Cleaner, And How Does It Work?
A central vacuum cleaner is a cleaning device incorporated into the RV to enhance cleaning power while using little space.
In these setups, the vacuum is housed in a cabinet or storage bay.
The hoses that come with the kit may be connected into an input valve, which is usually found in the kitchen.
With the provided hoses, RVers can quickly clean and dust their vehicles, and the dirt and debris is collected into a vacuum bag.
When the bags are full, they must be emptied or replaced.
Installing a Central Vacuum Cleaner in a Recreational Vehicle
If your RV does not come with a central vacuum, it is rather simple to install one yourself.
After purchasing a central vacuum system, RVers must choose the optimum location for storing the vacuum equipment and its hoses.
After that, all you have to do is mount the vacuum in the proper spot.
Central vacuums may be installed on any floor, wall, or the inside of a cabinet on the top side.
For RVers, the 9880 Dirt Devil Central Vacuum System is a comprehensive package.
At 14.5 x 7 x 6.25 inches, the primary vacuum box is rather small.
The Dirt Devil vacuum, on the other hand, has a larger capacity than other compact vacuums, holding up to one gallon of dirt and debris.
An upholstery tool, dusting brush, crevice tools, and a mesh storage bag are all included.
With a flow rate of 100 cubic feet per minute, the flow is vigorous.
Other Cleaning Equipment for RVs
While vacuum cleaners are the most critical cleaning item for recreational vehicles, every RV owner should invest in a variety of additional cleaning products.
There are, however, several RV cleaning products on the market that you do not need to purchase.
For example, several firms provide Black Streak Remover for RVs, but soap and water work just as well as the specialised treatments found in RV supply shops at eliminating black streaks.
Cleaning Supplies for RV Interiors
Cleaning the inside of RVs is similar to cleaning any other house.
When it comes to cleaning supplies, storage space is the most critical consideration, as it is with everything else in RVs.
Multi-Purpose Cleaner: A multi-surface cleaner is ideal for RVs since it can be used in the living room, kitchen, and bathroom all at the same time. The delightful perfume of Mrs. Meyer's Lemon Verbena cleanser will keep your little house on wheels smelling lovely.
Compact Broom: Cleaning dirt and sand off your vinyl flooring with a broom is the easiest method to keep your RV clean in between vacuums. When the Camco Adjustable Broom is in the storage position, the telescopic handle reduces the broom's length to only 24 inches.
Dirt-Collecting Door Mat: The easiest method to keep dirt out of your RV is to keep it out of it in the first place. The honeycomb-shaped holes in Sellmer's rubber entrance mat capture sand and grime from the bottoms of shoes. Outside or inside the RV, the mat may be utilized.
RV Cleaning Supplies for the Outside
While cleaning the inside of an RV does not need specific equipment, there are several things that will make cleaning the outside of your RV much simpler.
Biodegradable RV Wash: When camping in a natural setting, it's essential to use a biodegradable RV wash that won't pollute the environment. Star Brite produces a biodegradable, concentrated RV wash that is appropriate for use on RV exteriors.
Adjustable Wash Brush: One of the most challenging aspects of cleaning an RV is reaching high spots. The best way to clean your RV safely is using a telescopic brush. Cleaning bushes from Camco range in length from 43 to 71 inches.
Portable Air Compressor: To avoid problems and preserve efficiency, RV equipment must be cleaned on a regular basis. Cleaning RV equipment using clean, compressed air is an excellent method to remove dust and dirt without harming them. Tire pressure may also be adjusted with the use of a portable air compressor. For additional information, see our guide to RV water heater maintenance.
Cleaning Supplies for Holding Tanks
Emptying and flushing the holding tanks is a unique cleaning procedure that is necessary on RV journeys.
See our beginner's guide to RV tanks for complete advice on how to clean your grey and black tanks.
Reverse Flush Valve: A reverse flush valve is a device that connects to the sewage outlet on your RV to assist break up jams. It works by forcing water back up into plumbing lines to clear obstructions. You won't need a flush valve every time you clean your tanks, but having one on standby for severe blockages is always a good idea.
Holding Tank Treatment: Tank treatment should be used every time you empty and flush your tanks to aid in the breakdown of waste and toilet paper. Easy-to-use pills from Porta-Pak may be put to the tank by flushing them down the toilet.
If you've made it this far, you're probably dreading the housekeeping chores that come with RVing.
But don't worry, one of the nicest things about living in an RV is that even a thorough cleaning seldom takes more than an hour.
Choosing the finest RV vacuum cleaner and other accessories will make the job much simpler!
What RV cleaning products would you suggest to other campers? In the comments area below, tell us about your favorite cleaning products.