Summer is a fantastic season to travel in an RV. Summer brings with it the chance to make lifetime memories, but it also comes with it the heat and humidity. There are choices even if you don't have a rooftop air conditioning unit that can keep up with the summer heat. Today, we'll take a look at a couple of the smallest portable air conditioners that are capable of keeping you cool this summer.
Why would you need a Portable Air Conditioner in RV?
While modern RVs are required to have at least one RV air conditioner installed, many older RVs do not. Installing a traditional rooftop air conditioner is a major project, so adding one of the smallest portable air conditioners is a smart choice.
Even RVs that come equipped with air conditioning sometimes struggle to keep you cool. In hot regions, it might be difficult for one air conditioner to keep up. Furthermore, during the warmest months, one or even two rooftop air conditioners may not be adequate for bigger RVs.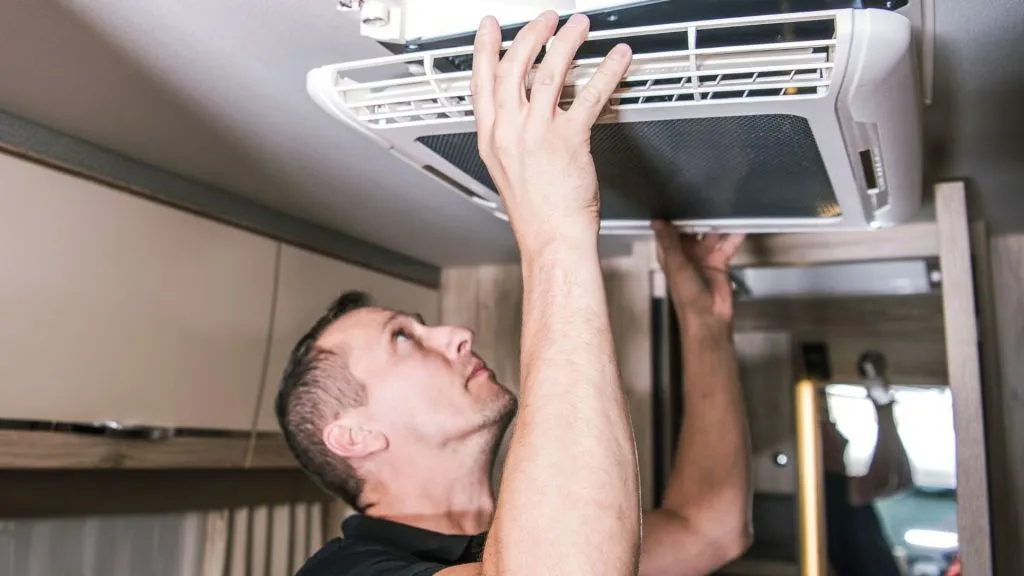 Those who have a toy hauler RV may benefit from an extra cooling device that may be placed immediately in the garage.
Can you use any Portable Air Conditioner in RV?
In an RV, you may use any portable air conditioner, however some function better in certain weather conditions than others.
If you use a ventless portable air conditioner, the humidity will be pumped back into your RV since it uses water to chill the air.
Ventless air conditioners chill the air by using humidity, thus they only function in dry conditions. For individuals who already have to deal with humidity in their RVs, this design would be a poor option.
A hose will often be added to a vented version to drain the surplus moisture gathered during the operation.
Auto-evaporation is a feature on certain vented choices that tries to evaporate moisture into the exhaust air.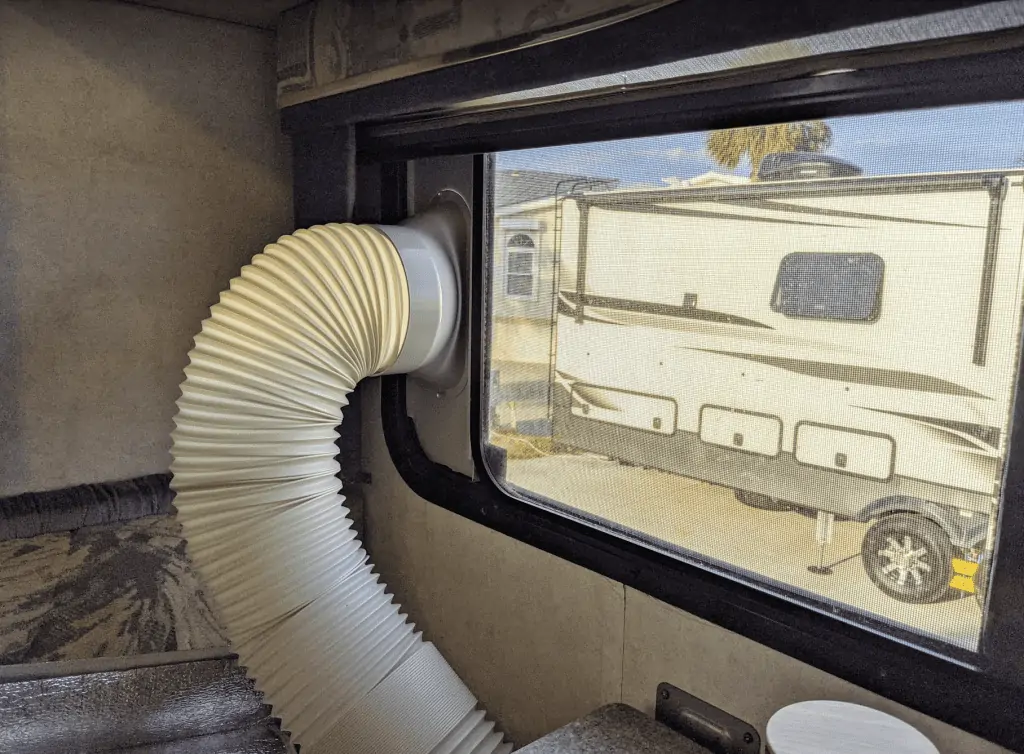 What Are the Benefits of Small Portable Air Conditioners?
This isn't the product for cooling a complete typical house.
You'll be pleased if you want to chill a little area or room. They work well in the environments for which they were created.
Portable air conditioners often perform poorer per BTU than mini-splits or even window air conditioner units because part of their heat is rejected back into the room.
Some vented portable air conditioners also work as dehumidifiers, which is a bonus when using one in an RV. Even the tiniest portable air conditioner may make a big difference in your comfort.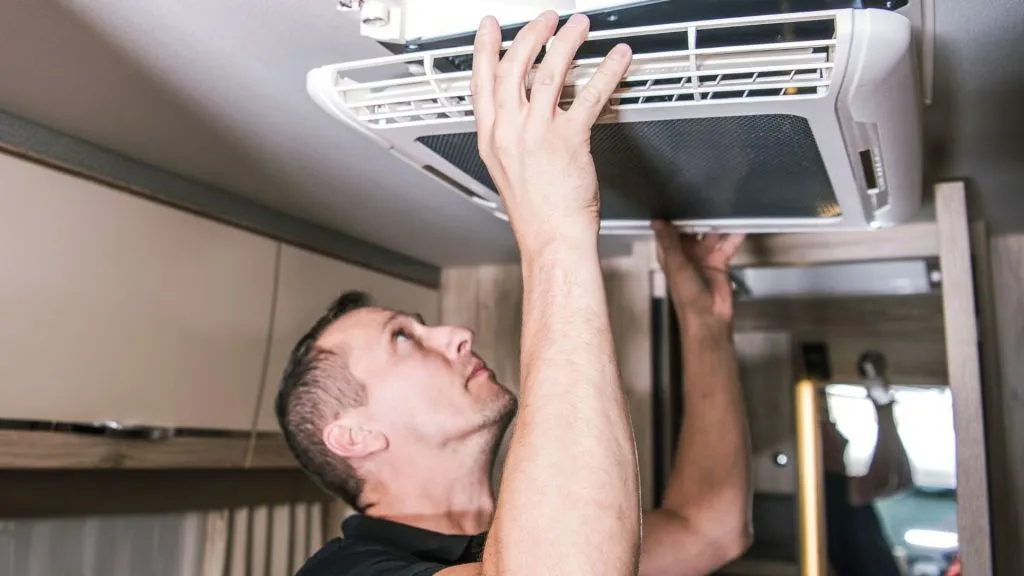 6 of The Best Smallest Portable Air Conditioners for Tight Spaces
Maintaining a cool temperature might be the difference between a pleasurable vacation and one cut short due to a desire for a cooler atmosphere.
It's fantastic to have a portable cooling alternative in an RV, but you could run out of room.
Let's take a look at a couple of our top recommendations for the smallest portable air conditioners to make it happen now that we've located an alternative to keep you cool.
While not strictly an air conditioner, improved ventilation in the RV is occasionally required. This device fits nicely in a tight area due to its height and slimness.
7.7 x 7.7 x 40.1 inches in size
The Dyson Pure Cool Tower has ten airspeed options, allowing you to customize the airflow to your specific requirements.
The oscillation setting on this cooling tower ensures uniform cooling. It also comes with a remote control, so you can change the settings from anywhere!
There's also a sleep timer and auto shutoff on the Dyson.
When using an inverter, you may configure it for a specified period to help save your home batteries.
If the device tips over, the auto shut-off feature may provide you with piece of mind.
This portable air conditioner's ability to clean is a major selling factor.
According to the manufacturer, the HEPA filter removes 99.97 percent of allergens and contaminants.
A second layer of charcoal filter aids in the removal of odors from the air.
Users may relax knowing that they are inhaling cleaner air.
The Zero Breeze Micro Air Conditioner is your best choice if you absolutely need to chill a tiny area.
However, when we say little, we mean small – like a single room in an RV.
It is, however, distinct from other tiny portable air conditioners on the market in that it is compressor-driven and vented.
8.3 x 0.9 x 1.6 inches in size
The zero breeze device may run on batteries or be linked to the RV's 120V AC power supply.
Its cooling capacity is limited, but if you just need to cool a small area and want to operate on batteries, this device might be ideal!
Although this unit is marketed for campers and tents, it's vital to remember that it's a very little, low-powered unit that won't offer much cooling; yet, we've seen it work well for extremely compact settings and one person.
Recommended reading: Best Air Conditioners For Pop Up Campers
The evaCHILL Personal Air Cooler is a tiny air cooler with three functions.
This humidifier cools itself via evaporation and will only function in dry conditions. The machine cools, humidifies, and purifies the air, and it can cool a 45-square-foot area.
This makes it ideal for use in front of a computer, bed, or sofa.
The portable air conditioner operates at the press of a button, making it simple to switch on and off.
6.5 x 6.5 x 6.5 inches in size
This portable air chiller also serves as an air purifier, ensuring that you breathe pure air.
Those who want moist, chilly air will like what this device has to offer, especially when combined with the humidifier function.
The machine can humidify the air for up to nine hours thanks to the huge water basin.
This item is small enough to be placed on a table or a counter.
Although a standard home-style ground-based portable air conditioner would be a suitable fit for an RV, many of them are fairly big and take up a lot of room.
The Black and Decker ZBPACT08WT is a smaller unit, particularly in terms of height.
16.5 x 11.5 x 26 inches in size
Because it's just 26 inches tall, it could just fit under a table if you need a compact air conditioner.
This device is especially perfect for RVs since it doesn't need a drain and tries to evaporate any condensation via its vent hoses.
Overall, this is a popular air conditioner that we've seen in a lot of RVs.
A strong full-size portable air conditioner may also be a suitable solution for a small place if you have the space.
18.9 x 15.7 x 31.3 inches in size
It's never a terrible thing to have too much air conditioning. Honeywell is a well-known and dependable company.
You can vary the fan speeds on the Honeywell Portable Air Conditioner to suit your requirements.
Digital controls, sleep mode, and a remote control with a digital display are all included.
There's a washable filter, which eliminates the hassle and expense of having to purchase new filters.
Unless you're in excessive humidity, there's no need to empty the bucket with auto evaporation.
With the continuous drain option, the built-in dehumidifier can eliminate up to 80 pints of moisture in 24 hours.
With its 4-foot hose for drainage, you may set the device close to a window.
The Honeywell Portable Air Conditioner includes a window venting kit, so you can start using it right away.
Portable Air Conditioner with 10,000 BTUs
To change the temperature at which you should be sleeping, use the sleep feature.
Ability to remove 2.5 pints (1.2 liters per hour) of water every hour.
Related: Top 5 Quietest Air Conditioners for RVs
The TOSOT compact Portable Air Conditioner has a peak sound level of 49 decibels, which is roughly the same as the sound of light rain on your window. This ensures that you will have a peaceful night's sleep when using the unit. It can be moved easily from one location to another, it has a programmable timer, and it is one of the most effective little air conditioners now available on the market.
Maintain Your Cool With The Help Of A Portable Air Conditioner!
Summer heat is great for swimming and boating, but it's not so great for sitting inside a hot and humid RV.
When you have one of the tiniest portable air conditioners, the summer heat doesn't have to make you unhappy.
Choose one that best suits your requirements, and you'll be much more at ease during the summer!
Recommended: Is it Possible to Get a 12V RV Air Conditioner?