Choose one of the finest RVs with washing and dryer combinations if you want to travel or live in an RV year-round to avoid having to stop at a laundry every other week.
The good news is that a lot of contemporary travel trailers, fifth wheels, and RVs are equipped to manage your laundry requirements while you're on the road.
Your desire to wash laundry in your trailer will increase as your RV adventures make you radder (and dirtier!).
It's very convenient to have a washer and dryer in your mobile home, particularly if your RV, travel trailer, or fifth wheel serves as your main dwelling.
Choosing an RV with a washing and dryer is only challenging because there are so many different models available.
And if you want to get an RV that really meets your requirements, you'll need to have a thorough list of your priorities—ideally in decreasing order.
RVs also come with a variety of washing and dryer models.
So, you must be aware of which kind best suits your requirements.
Additionally, it's crucial to understand some of the main benefits and drawbacks of having a washing and dryer within your camper.
For your benefit, we've conducted extensive research to provide you a variety of RVs with washers and dryers.
To make it much simpler for you to choose the one (or ones!) that appeal to you the most, we've also arranged them according to their best uses.
Then let's get going!
RV Washers And Dryers: Benefits And Drawbacks
While having a washing and dryer in your RV is strongly recommended if you're a full-timer, there are several circumstances in which it may not be practical.
To help you determine whether an RV washer and dryer is perfect for you, it makes sense to start by outlining some of its benefits and drawbacks.
The Advantages Of RV Washers And Dryers
Here are some certain benefits of having a washing and dryer set in your RV:
#1. Easy and Practical
While not everyone enjoys multitasking, I do! Therefore, simplicity and ease are the main benefits of having a washing and dryer in your RV.
I can start a load of laundry in my RV and then start preparing supper or reading a book instead of having to wait at a laundromat while the machines do my laundry.
The timer on my washer will always be audible to me while I'm inside my RV, so I won't have to worry about forgetting to transition my clothing from the washer to the dryer.
And since I have a washer and dryer inside my vehicle, I can even quickly run a small load of towels after dinner in case someone made a surprise mess.
#2. Reduces The Need Of Using Shared Laundry Facilities
In RV parks and resorts, laundry facilities might sometimes be overlooked.
I can see why park workers would not make maintaining the washing facility spotless and organized their top priority given the number of other facilities they need to maintain.
But before I can put my clothing in the dryer, I don't necessarily desire to clear out a lint trap with lint from someone else's laundry.
Additionally, I have no idea what sort of soap is being used or where the other people's clothing were kept before we shared a washer and dryer.
So I truly like the independence of owning an RV with a washing and dryer inside and avoiding communal laundry facilities.
#3. Reduces Unplanned Stops
The absence of clean clothing may derail even the most well-laid expedition plans.
Even if breaking out of your usual cleaning regimen is a part of exploring, nobody loves to wear the same unclean clothing every day.
However, if your RV lacks a washing and dryer, you'll likely need to make unforeseen pauses to wash your clothing.
Having to change your travel plans in order to clean clothing is inconvenient, whether those stops are at an RV park with a washing facility or a laundromat in the city.
It's usually simpler to remain on the road and have the option to do laundry in your mobile home, unless you also need to use a laundromat for their WiFi network.
#4. Lowers Laundry Costs
Yes, your RV washing and dryer will still need water and power to operate, but you won't need to insert pennies to switch them on.
While some RV parks provide free laundry services, the majority of them use coin-operated machines to extract a few more bucks from your wallet while you're a guest.
Overall, buying an RV with a built-in washing and dryer unit will save your laundry bills.
Additionally, if you run out of quarters when it's time to do your next load of laundry, you won't have to deal with the hassle of trying to locate a location to acquire change.
The Drawbacks Of RV Washers And Dryers
However, the following are some drawbacks to buying a travel trailer with a washing and dryer unit:
#1. Higher Gas, Water, and Energy Consumption
Obviously, washers and dryers are not self-running.
Both the dryer and the washer will need an electrical connection to function.
The water system of your RV must also be linked to the washer, and the dryer almost certainly needs a gas hookup.
All of this adds up to two more substantial appliances that will switch on and use power, gas, and/or water each time.
In order to avoid depleting their onboard energy reserves, many RVers who own vehicles with washers and dryers only use them when they are connected to full hookups at an RV park.
#2. Size of the Washer/Dryer
RVs, travel trailers, and fifth wheels are substantially smaller than residential homes because of their mobility.
This implies that washer and dryer sets made for use in RVs have substantially smaller capacities than those designed to be placed in bigger homes.
You may only be able to put a few days' worth of dirty clothing in one of these washer and dryer machines, depending on how rapidly you go through your items.
It may be necessary to run many loads consecutively to clean everything.
For bigger families living or traveling in an RV, washing and dryer units may not be the most practical option.
#3. They Occupy a Lot of Room
If your RV is already on the tiny side, adding a washing and dryer would only make the space seem more smaller.
To be honest, you could favor other RV equipment above having a washing and dryer.
Additionally, in certain circumstances you could choose additional storage space over a laundry appliance.
I can think of more effective ways to utilize inside space if you don't intend to do lengthy RV journeys where doing washing would be necessary than a washer and dryer.
#4. Growth of Mold and Mildew
It may be challenging to get your washing machine to completely dry out after each load, depending on where you're going or where you're staying in your RV.
Many owners of RV washers and dryers have since complained that, after just a few short months of operation, their equipment tends to gather mold and mildew.
Of course, if you live or visit in an area that is really humid, this is going to be much more probable.
And if that's the case, you may have to invest in a sizable RV dehumidifier and install it to ensure that your washer and dryer don't remain moist after each cycle of washing.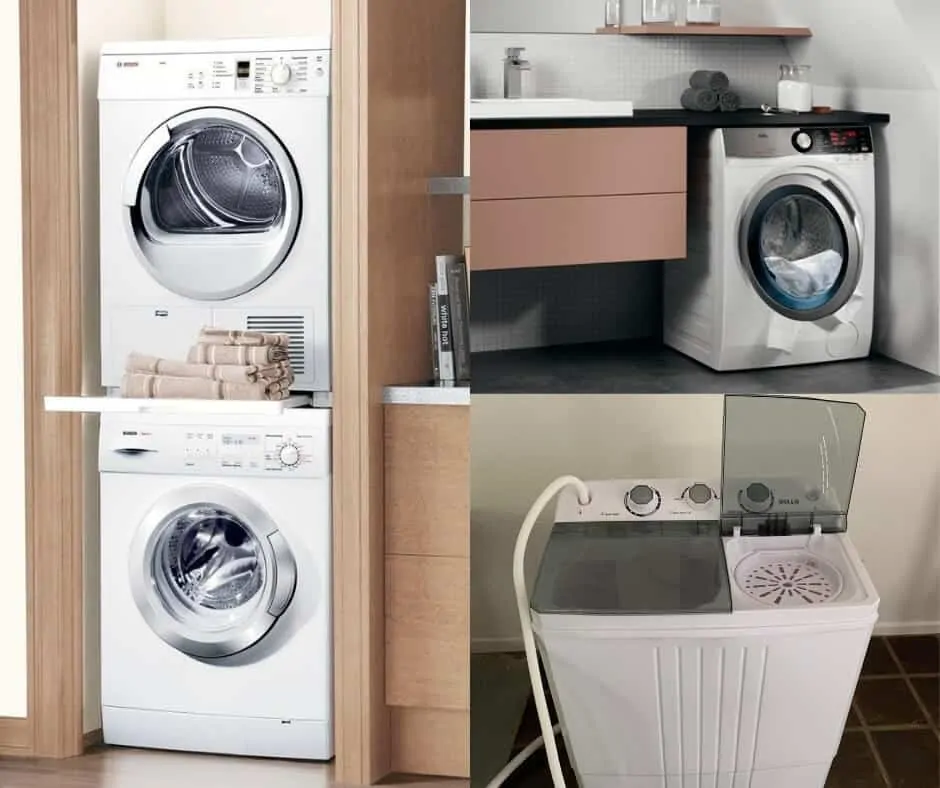 RV Washer and Dryer Types
You'll undoubtedly note that there are several RV washer and dryer designs available as you browse through various RV, travel trailer, and 5th wheel floor layouts.
Let's clarify the various sorts of RV washers and dryers before highlighting our preferred mobile homes with these appliances.
#1. Washers And Dryers That Stack
In order to save room in terms of breadth, stackable washers and dryers are made to stack vertically.
The stackable units you'd find in a residential house are significantly larger than the types made specifically for RVs, but most of them have the washer on the bottom and the dryer piled right above it.
These units are far lighter than the typical residential unit, making it simpler to relocate them if you need to replace your old one.
However, they will still weigh a lot more than a portable washer and dryer for an RV.
The standard load size for stackable RV washing and dryer sets is 12 pounds.
They enable you to multitask effectively by allowing you to run the washing and dryer at the same time.
A stackable design is also a fantastic option if you're seeking for an RV washer and dryer with a greater load capacity.
#2. Mobile Dryers and Washers
Compared to stackable units, portable RV washers and dryers are often lighter and more portable.
A load of laundry may be run through them anywhere you can connect them to an electrical outlet, a water connection, and a drain, as their name implies.
They are a preferred option for smaller and older RVs that lack a bigger washer and dryer due to their reduced size and increased mobility.
They also provide full-time RVers the flexibility to put up an outside washing area rather than taking up room inside an RV, travel trailer, or fifth wheel since they are mobile.
Nevertheless, these units' smaller sizes also result in lower load capacities.
This means that you won't be able to put much more than a few days' worth of clothing in a single load, and you'll certainly need to think outside the box if you want to wash larger linens like sheets and towels.
However, the flexibility of a portable machine to do laundry fast is another benefit.
These portable washer-dryers can complete a cleaning cycle in just 20 minutes by running fewer loads.
Additionally, you may wash laundry without increasing your utility cost if you pick a type that uses manual "human" power rather than electricity.
#3. Dryer/Washer Combos
Combination washer-dryers provide an excellent compromise between portable and stackable machines.
These appliances have a single drum that may be used for both drying and washing.
They don't have the same size and weight as a stacked washer-dryer, but they can carry more weight than other portable versions.
One of the great features of many contemporary washer-dryer sets is their ability to be programmed to transition from the washing cycle to the drying cycle once the former is finished.
Because you don't need to be there to transfer your dirty clothing from the washer to the dryer, this greatly improves the ease of living in an RV.
I'd love to be able to start my washer-dryer in the morning, go for a full day of activities, and come home to clean, dry clothing in the afternoon.
I'm an RVer who loves adventure and really likes to spend most of his time outside of his RV.
The main drawback to these combinations is that a full cycle takes considerably longer to finish than it would for a portable washer-dryer.
But three hours to have clean clothing or linens doesn't actually seem that horrible to me when you take into account that the whole cycle includes both washing and drying.
Washer-Dryers With Vents Vs Those Without
To be clear, depending on how they were designed, all three of the washer-dryer kinds we previously described might either be vented or not.
However, it's crucial to understand if a vented or non-vented washer-dryer makes more sense for your particular mobile home in addition to their size and mode of operation.
So let's briefly go through some specific advantages and disadvantages.
#1. Washers And Dryers With Vents
The air inside your RV (or outside if you set up your portable model that way) is used by vented washer-dryer combinations to dry your clothing.
Because they often use less water and power than non-vented ones, this is a popular option for RV usage.
To prevent a buildup of heated air within your rig, you will need to connect them to an air exhaust vent.
Additionally, if there isn't a vent easily placed nearby where your washer and dryer are put, you'll need to consider cutting a vent, which will undoubtedly require more time and work than you had anticipated.
#2. Dryers and Washers Without Vents
Because non-vented (or ventless) washer-dryers heat the air within the drum to dry your clothes rather of depending on air from the outside, you do not need to connect them to an air exhaust vent.
Although it may seem superior in principle, more seasoned RVers tend to steer clear of this particular washer-dryer combination for a few reasons.
For one thing, they'll probably use more propane than a vented one since they have to heat the air within the drum.
These designs also often consume more water throughout the washing cycle and take a lot longer to dry clothes than a standard vented washer-dryer cycle.
However, for RVers who aren't concerned about increasing their water and propane gas use or their laundry taking a long time to clean and dry, this might be a suitable choice if you don't have the time or the ability to install a vent.
[Year]'s Top Rvs With Washer/Dryer Combos
We're now approaching the enjoyable portion! For each of the five main kinds of RVs, we have chosen our very ideal design that includes a washing and dryer.
Find the RV, travel trailer, or fifth wheel with washer and dryer that best suits your way of life on the road by scrolling down.
The Best Class A Motorhomes With Washers And Dryers
Of all the classifications of drivable RVs, Class A RVs usually provide the largest interior room and deluxe amenities.
They also often possess some of the biggest and most effective washers and dryers due to these factors.
Here are our picks for the top Class A recreational vehicles with washers and dryers:
#1. Fleetwood Flair 35R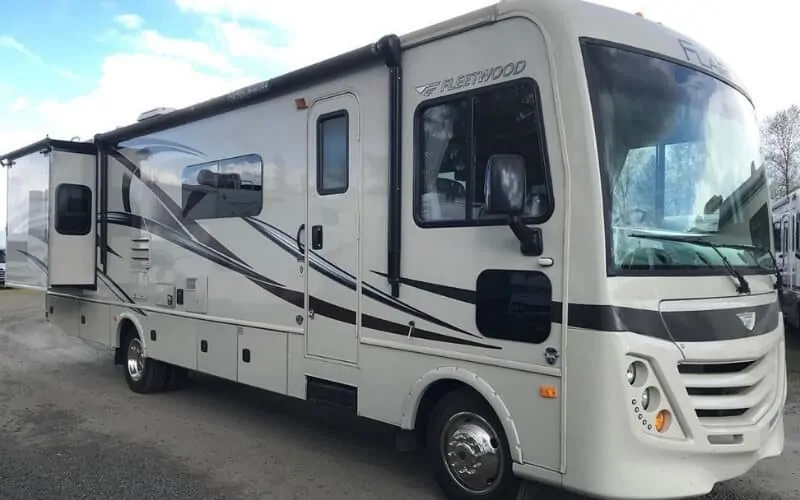 In the ultra-luxurious Fleetwood Flair, you may select whether to have a stacking washer and dryer or a washer-dryer combination.
The main bedroom of this 36-foot long RV has a Serenity Series king bed that spans 72″ by 74″.
Additionally, it includes a 68-inch jackknife couch in the living area and a drop-down queen-sized bed in the front cab.
There is a full-sized patio awning for outdoor lounging, a 50-inch outside television, and the option to do laundry from the convenience of your master bedroom.
A backup car may be towed behind you with this RV's 8,000-pound hitch rating and six-person sleeping capacity.
#2. Forest River Berkshire XL 37A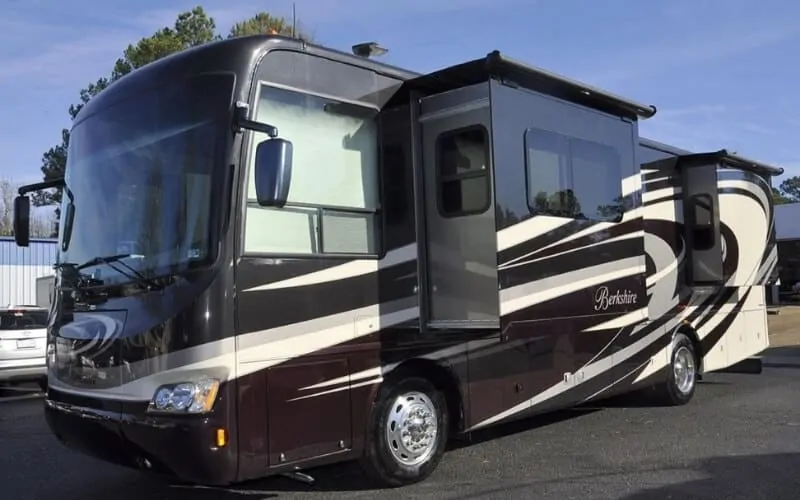 A two-piece washer and dryer are included as standard in the master bedroom of this class A Forest River Berkshire diesel RV, and they are conveniently located on the rear wall.
It is 38'10" in length overall, and the living room has optional theater seating for up to three people.
A queen-size hide-a-bed couch with lots of overhead storage for games or cooking supplies is included as standard furniture across from the dinette.
There is a full-height closet, a big dresser, and a wardrobe for extra clothes storage in addition to a lot of ceiling storage.
Additionally, there are two televisions—one 43 inches above the dinette in the living room and one 32 inches in the bedroom.
#3. Coachmen Sportscoach SRS 365RB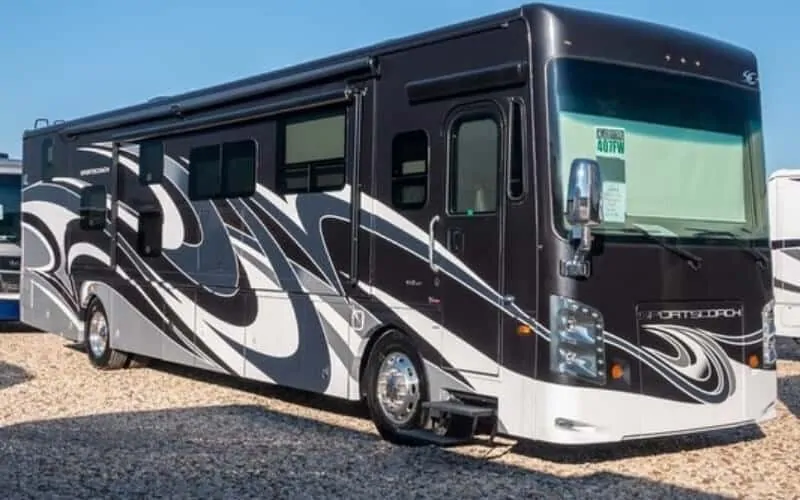 In the Coachmen Sportscoach, the washing and dryer are two independent units that are hidden behind the shelf that holds the LED television in the main bedroom.
Two slide-outs on this enormous 40-foot diesel Class A RV offer you more living space.
The master bedroom has one, and the kitchen, living, and dining areas all have another.
Speaking of the kitchen, this RV boasts a farm sink that makes cleaning up after meals so much simpler.
For ample cold food storage, the RV also has two restrooms and a residential-sized refrigerator.
For additional entertainment and ambience, there is a fireplace hidden behind a second LED TV in the living room.
RVs of the Class B with a washer and dryer
One of the smallest and most manageable RV sizes available is the Class B.
They are primarily designed for adventurers who want to travel light and discover dry camping in more secluded areas.
While it would be convenient to have a washing machine and dryer in some of those spots, most class B RVs just don't have the room for one.
Because of this, some Class B full-time RVers may buy a portable washing and dryer to set up outside of their trailer while they're parked in one place for a few days at a time.
You may be interested in a couple of these portable washer-dryer units if you drive a class B RV.
#1. Magic Chef 0.9-Cubic-Foot Washer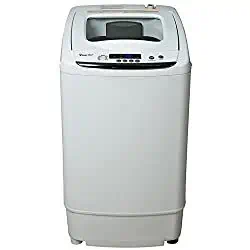 You can adjust your wash cycles using this portable dryer's five wash cycles and three water levels.
Its measurements are 20.5″ x 20.5″ x 33.1″ and it weighs roughly 44 pounds.
It is a top-loading washer that needs a 120-volt AC power supply.
Check Amazon for pricing on this fully automatic portable washing machine.
#2. Giantex Full Automatic1.34 Cu.Ft Laundry Washer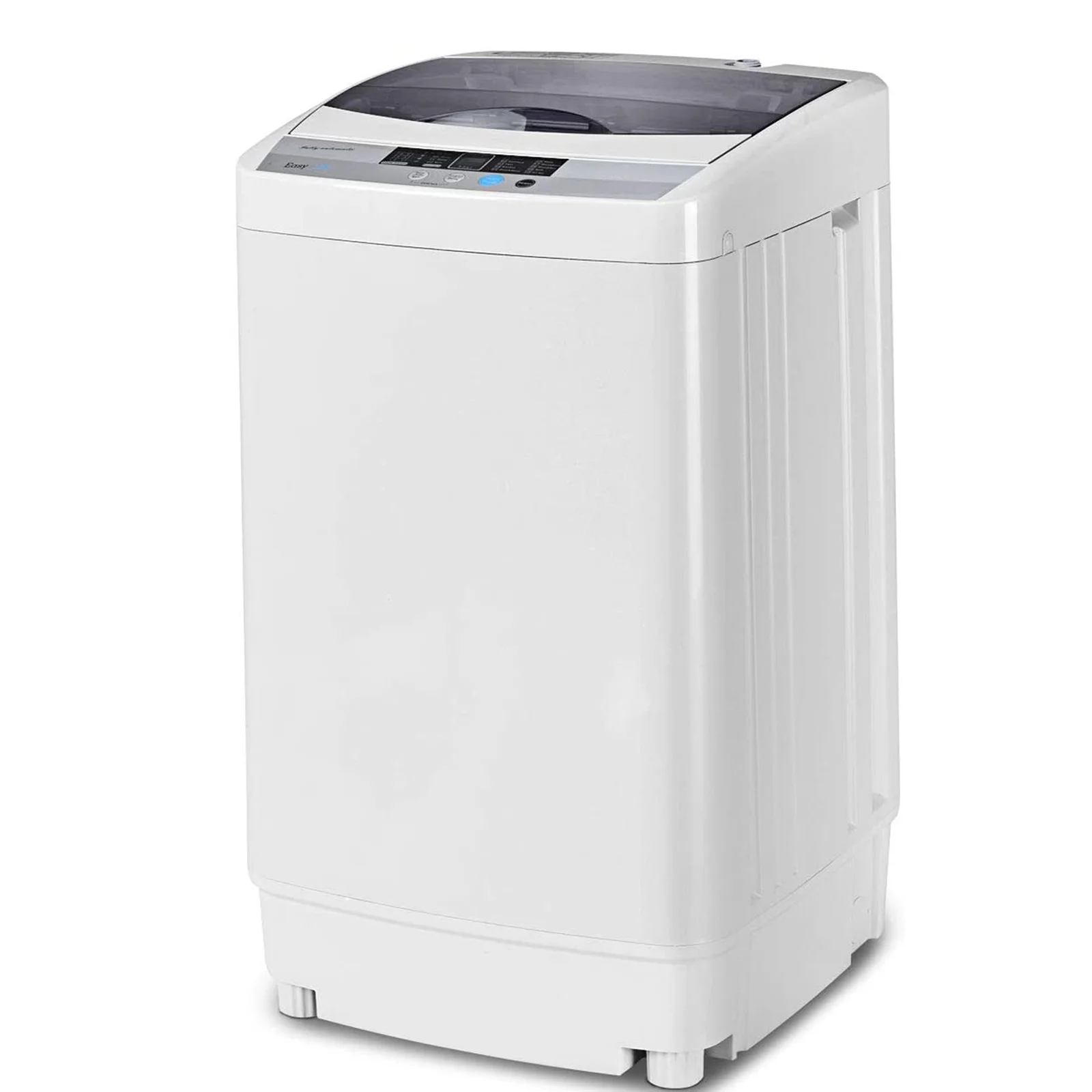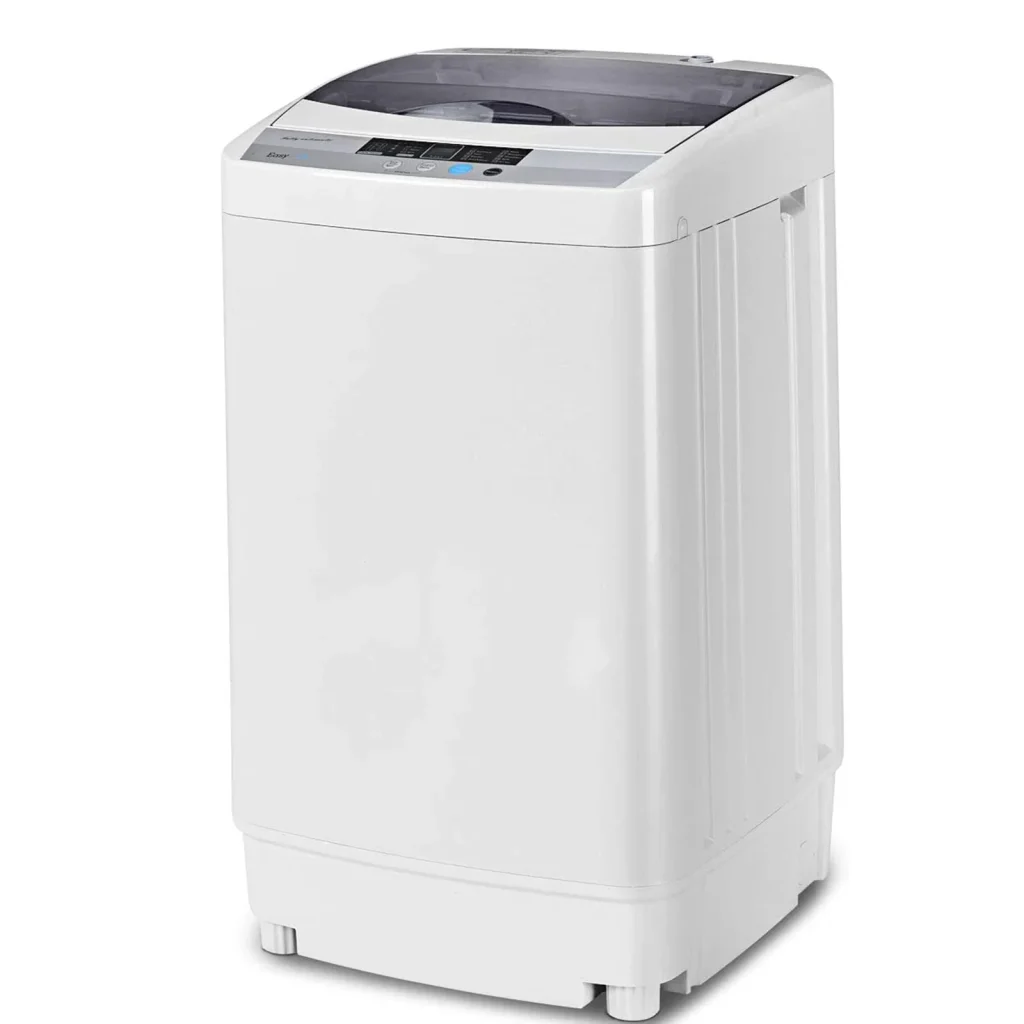 This fully automated washer includes a drain pump to eliminate additional water during the spin cycle and a 1.34 cubic foot load capacity.
When you hang your clothing to dry, it dries more rapidly as a result.
This 51-pound washer has an LED display, can be completely customized to your preferred water level, spin cycle, timer, and kid safety features, and weighs 51 pounds.
#3. Panda Compact 1.60cu.Ft Washing Machine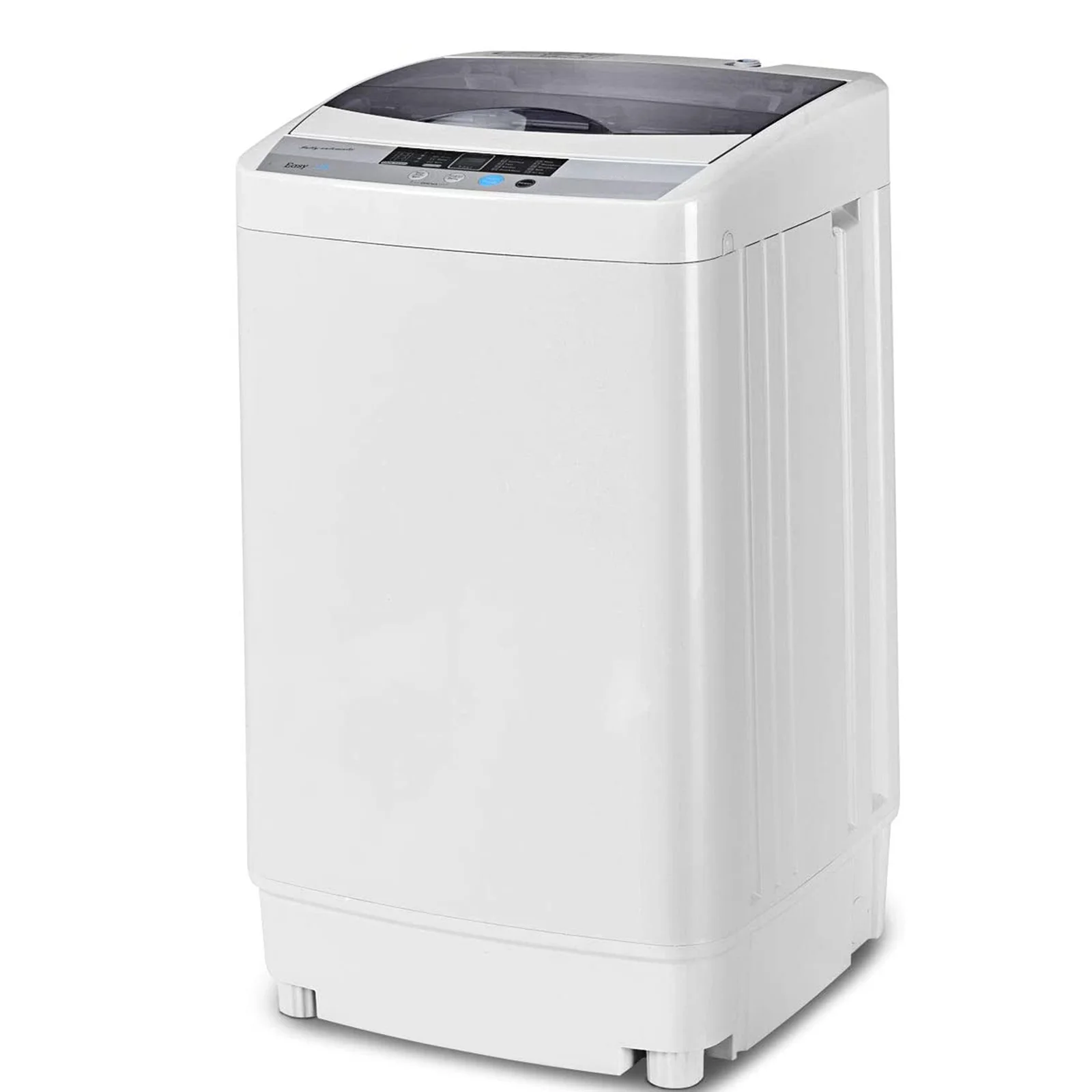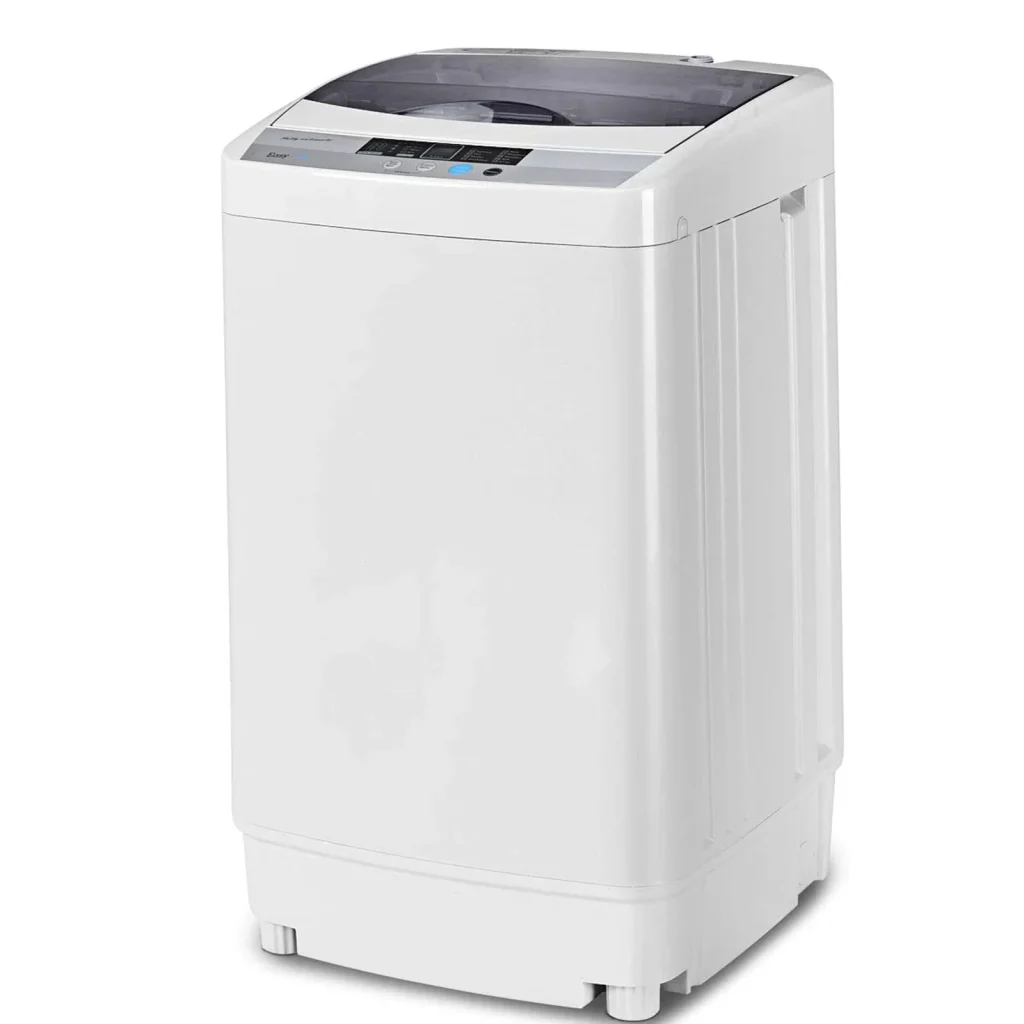 The Panda Compact Washer, which has a total capacity of 1.6 cubic feet, is the biggest of these three portable washers.
It weights a total of 63.8 pounds and has two built-in rollers for improved movement.
With the fast connect adapter kit and hoses included, you may also connect this portable washing machine to the water tank of your RV via two rear inlets.
Best Class C RVs With Dryers And Washers
Many class C RVs have more sleeping space than other RVs, travel trailers, or fifth wheels because of their cab-over construction.
In order to keep up, they will need bigger washer-dryer units.
We've included our top picks for Class C RVs with washers and dryers below:
#1. Jayco Seneca 37HJ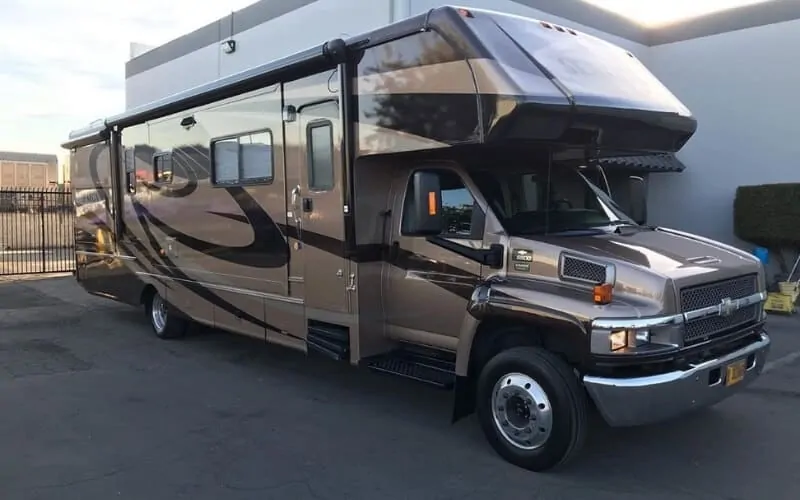 The Jayco Seneca 37HJ class C RV is completely furnished and equipped, and with its stackable washer and dryer, it's prepared for relaxing vacations or comfortable full-time RVing.
It has power theater seats in the living room and a 12 cubic foot refrigerator.
Over the fireplace, there is a 39″ flat-screen LED television that will keep you toasty in the colder months.
The master bedroom has a king-sized bed as well as a lot of storage space in the form of cabinets, dressers, and closets.
Additionally, the washer-dryer is located there, making it convenient to take clothes out of the unit and fold it on your bed rather than having to move it from one side of your RV to the other.
#2. Thor Motorcoach Magnitude RB34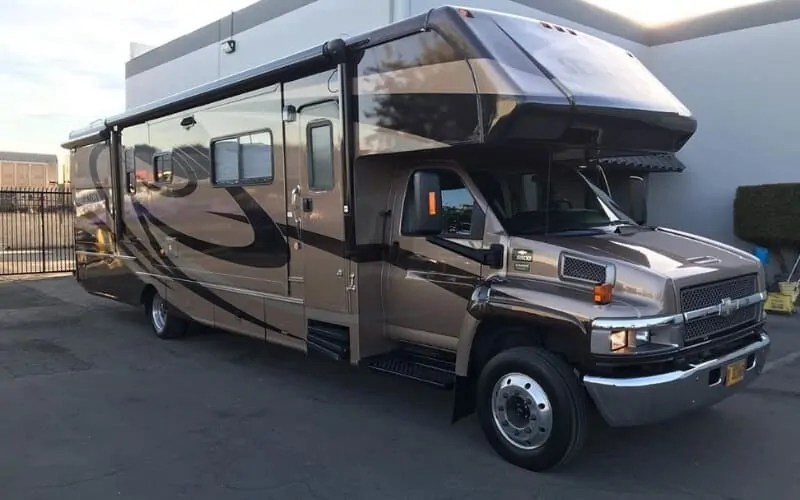 The Magnitude RB34 includes some extremely cool outside elements for pleasant indoor-outdoor living, as well as a washer-dryer combination in your master bedroom.
For outside amusement, there is a 32-inch television and an outdoor kitchen.
The kitchen and entertainment area are covered by a 20-foot motorized awning so you won't get wet when grilling or cooking.
It has an overall length of 35'6″ and can accommodate eight people thanks to its over-the-cab bed, rear master bed, fold-down dinette bed, and bunk beds that may be used as a closet.
Additionally, it has theater seats for times you simply want to unwind, and the residential-sized refrigerator has plenty of room for storing cold food.
#3. Coachmen Leprechaun 311FS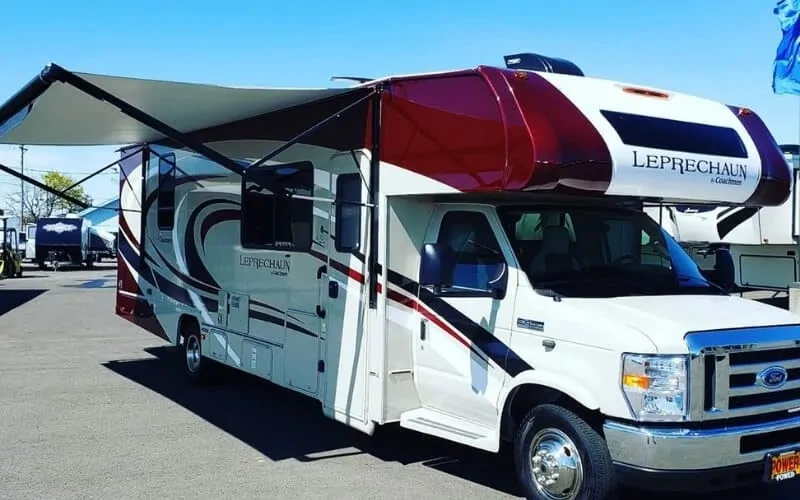 This 31'10" Class C motorcoach has plenty of overhead cabinet storage and the possibility to add a washer-dryer combination in the bathroom.
It will allow you to comfortably sleep at least four people, and the kitchen is very functionally planned.
The kitchen has two sizable pantry spaces for storing food, and the refrigerator is big enough to hold a lot of perishables.
There is a walk-in closet in the master bedroom at the rear of this RV, which is perfect for full-time RV life.
Top Travel Trailers With Dryers And Washers
Travel trailers make it easy to remain indoors for long periods of time or go dry camping.
However, if you want to stay in a travel trailer for more than a week at a time, you will definitely need one with an interior washer-dryer connection.
These are the top travel trailers with a washing and dryer, in our opinion:
#1. Coachmen Catalina Legacy Edition 343BHTS2QB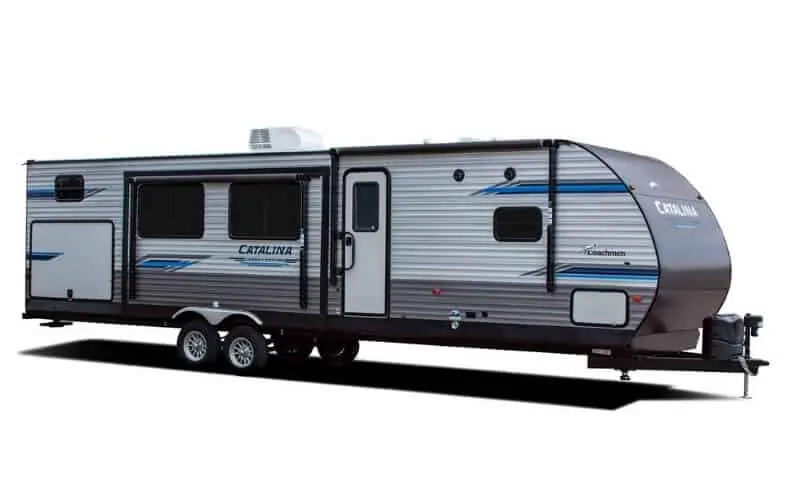 The stackable washer and dryer in the bedroom of this travel trailer let you do your laundry as you unwind in bed.
As a matter of fact, the two separate queen beds in the rooms at either end provide excellent sleeping comfort.
Its hitch weight is 1,154 pounds and its overall length is 37'9″.
A 21-foot motorized awning on one side of the trailer offers great outside lounging area, and there is a ton of external storage space beneath the trailer's front.
The entertainment center is a basic feature in the main living space, but if you don't watch much television while camping, you may choose a fireplace instead.
Additionally, the living room's two recliners provide you with a cozy place to unwind after a day of exploration.
#2. Highland Ridge Open Range OT338BHS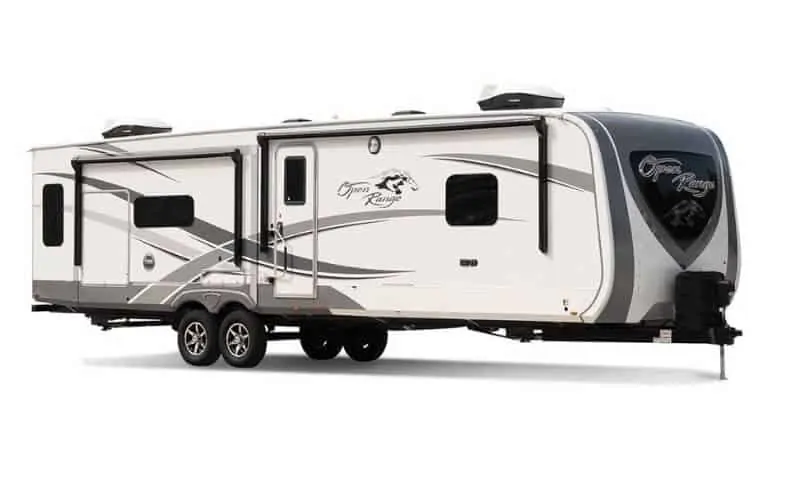 The stackable washer-dryer in this Open Range travel trailer is placed next to the sizable, full-height closet in the master bedroom, and it is packed with practical amenities.
To expand the amount of space in the master bedroom, kitchen, living area, and second bedroom, it includes a total of four slide-outs.
For a four-person sleeping capacity, the second bedroom is furnished with both a hinged and a normal bunk bed.
A 60″ x 80″ queen bed with nightstands on each side may be found in the master bedroom.
Two 11'6″ power-operated awnings on the outside of the travel trailer provide shade for comfort on hot days, and an outdoor shower makes it simple to clean up after a morning surf session.
#3. Palomino SolAire Ultra Lite 320TSBH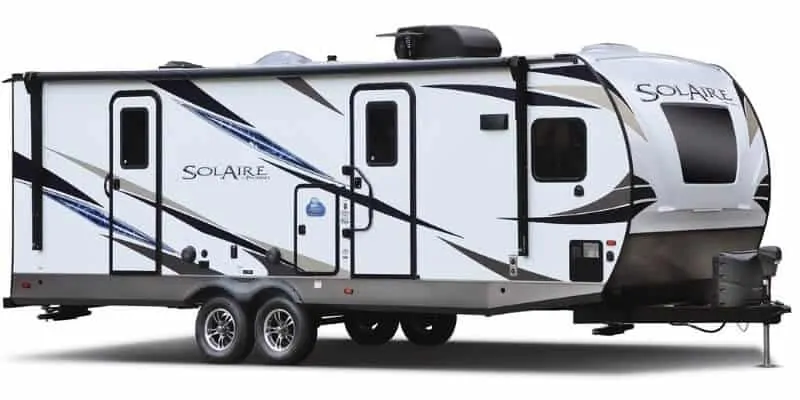 You have the option to put a stackable washer and dryer in the laundry prep area of the Palomino SolAire so you can keep your laundry equipment neatly tucked away in the corner of the master bedroom.
Despite being 36'3″ long, this travel trailer only weighs 1,085 pounds when hitched.
That means you won't need a powerful F-250 to pull it; instead, you may do so conveniently with a smaller vehicle.
It includes three slide-outs in total on one side, considerably expanding the living area while parked.
The separate bedrooms on each end of the trailer each have a slide-out.
With the dinette and couch sleeper in the third, the whole living area is expanded.
Additionally, the outdoor kitchen at the rear allows you to cook both inside and outdoors.
#4. Jayco Jay Flight Bungalow 40RLTS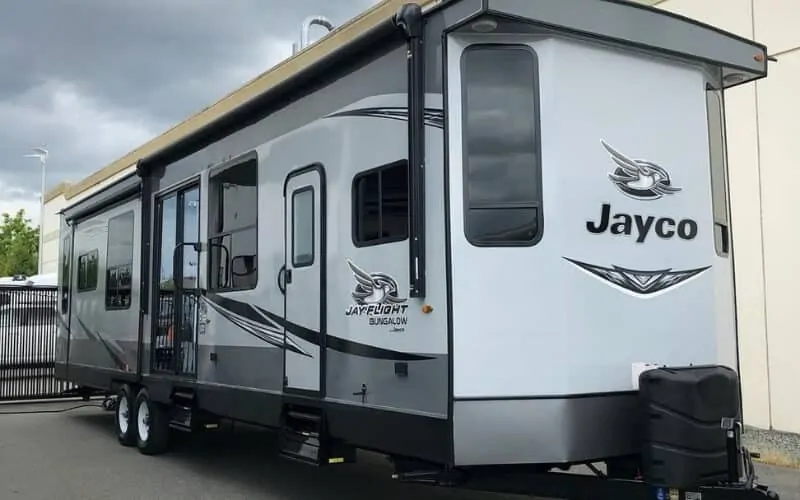 The bathroom of this Jayco Bungalow travel trailer includes a laundry space.
You can wash your clothes and yourself at the same time thanks to the stackable washer and dryer that is conveniently located directly next to the shower.
You may take use of a large kitchen space with a central island for food preparation and dishwashing in the living area.
A 40-inch LED TV is installed above the fireplace in the living room, and you may choose to put theater seats across from the TV or two dual recliners.
A queen-sized bed is the default setting in your master bedroom, but you may choose to upgrade to a king bed if you'd like additional space for resting.
#5. Grand Design Reflection 315RLTS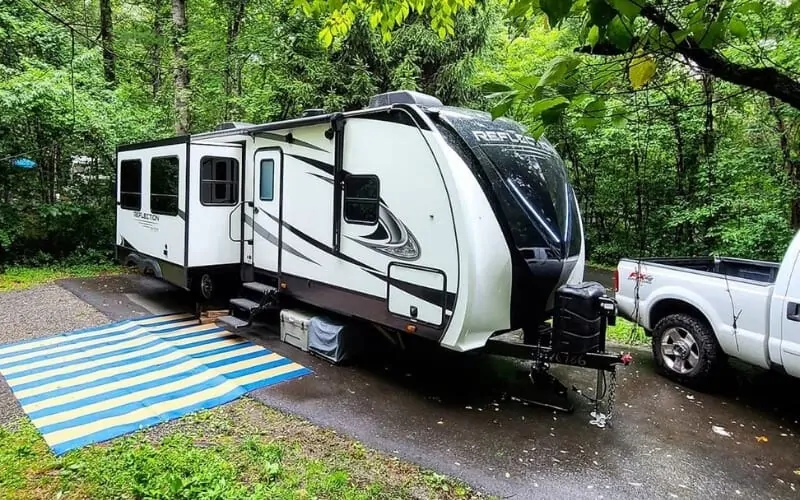 There are all the comforts of home in this compact travel trailer.
A large laundry area with separate washer and dryer units on each side is located in the master bedroom.
The master bedroom has a queen-sized bed as well as a shoe closet, dresser, and plenty of overhead storage.
In this camper, the kitchen is also well equipped for preparing delicious meals.
It features a household refrigerator with a 12 cubic foot capacity in the middle.
Between the refrigerator and the convection oven/range is a wine rack, and the entertainment center has a 40-inch LED television mounted over the electric fireplace.
Best Fifth Wheels With Dryer And Washer
If you have a fifth wheel with a washer and dryer, you may reconsider whether you really need a full-sized residential house.
Although there is a ton of room and incredible luxury facilities in these mobile homes, having a washer-dryer combination hidden away in a corner is always a great touch.
So, the following are our picks for the top fifth wheels with washers and dryers:
#1. Heartland Elkridge 37 BAR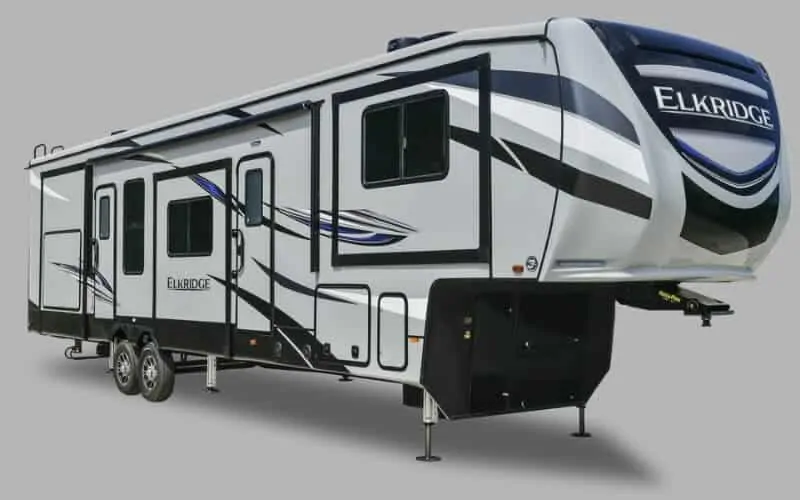 A washer-dryer combination that occupies little space on the Heartland Elkridge's front wall is located in the master bedroom.
The kitchen in this fifth wheel, though, is one of the coolest we've seen in a fifth wheel to date.
You also have the choice to add a small entertainment center across from the bar seating so that your visitors won't notice while you're burning supper.
It includes an L-shaped countertop with bar seating.
Due to the abundance of seating possibilities in the lounge area, it may take some time for you to choose a spot that you like.
Although the enormous pull-out couch may seem like the obvious option, you also have two side-by-side reclining chairs that could be more comfortable for eating supper and watching your favorite TV series or sporting events.
#2. Shasta Phoenix 392BL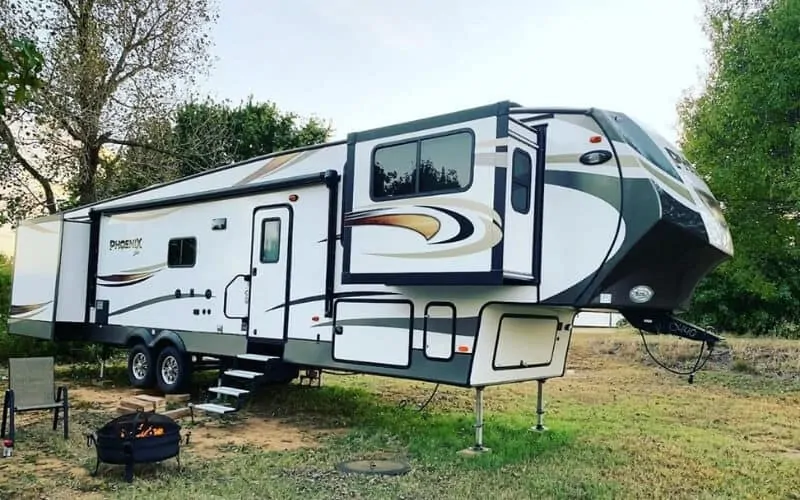 In the Shasta Phoenix, the laundry fun takes place in the main bedroom.
There are two roomy closets and a stackable washer and dryer, giving you plenty of room for your clothing.
This vehicle is 41'9″ long and weighs 2,434 pounds in total at the hitch.
Additionally, this fifth wheel provides a ton of covered outside lounging area with its 20-foot awning.
But staying inside, it has two tri-fold couches for extra sleeping space and a kitchen island that will inspire your family's chef to prepare amazing dishes every night.
In addition to the kitchen/living space, this fifth wheel has two separate rooms.
Therefore, it's ideal for families with one or two older children who need their own private sleeping area.
#3. Forest River Sabre 38DBQ
You may reach a sizable laundry area with separate washer and dryer units from the Sabre's master bedroom closet.
This huge 42'7″ exterior length fifth wheel has a hitch weight of 2,030 pounds, two bedrooms, and two bathrooms in total.
The extra-large living room, which also has theater seating and a four-person dinette space for dining, makes it a great option for full-time 5th wheel living.
The main bedroom at the front of the fifth wheel has a queen-sized bed by default, but you have the option to upgrade to a king if you so choose.
After a long day of outdoor enjoyment, this fifth wheel also offers you the extra pleasure of washing off in a walk-in shower.
Choosing the Best Truck Camper with a Dryer
Truck campers with a washing and dryer are rather uncommon, much like class B RVs.
Laundry facilities at campsites or laundromats are used often by full-time truck campers.
However, one model has a layout that lets you choose to include a prep space for the washing and dryer.
Campers Mammoth as Hosts 11.5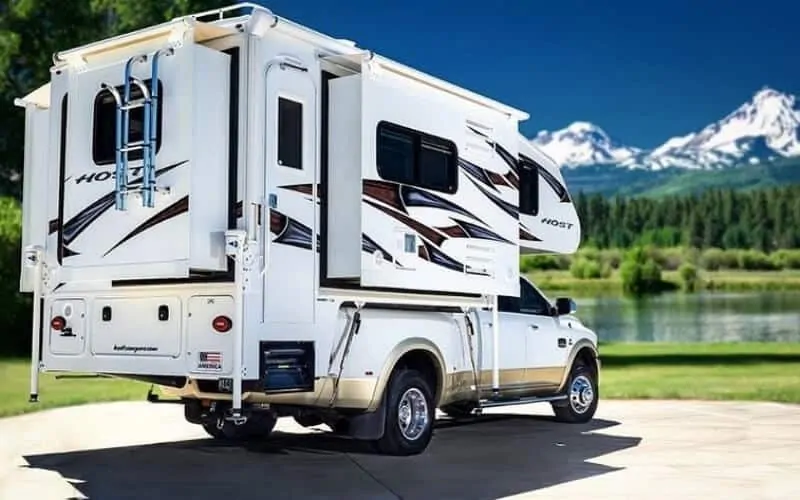 This "mammoth" truck camper doesn't come with a washer-dryer room as usual, but you have the option of upgrading to get one with more storage space.
In exchange, you'll get bigger storage cupboards near the washer and dryer instead of the little couch that is already there along with the dinette.
It also has three slide-outs in total and a side-entry door, allowing you to tow a second compact trailer or maintain a bike rack fixed to your truck's hitch.
It comes with a normal 65-gallon fresh water capacity and a 15-gallon L.P.
gas capacity, and its base weight is slightly under 4,000 pounds.
Conclusion
A completely self-contained mobile home is one of the safest ways to continue traveling and discovering your own nation, especially in these unsettling times.
Additionally, a mobile home cannot be considered fully self-contained without a working washing and dryer installed inside.
We hope that this list helped you choose an RV, travel trailer, or fifth wheel that you enjoy that has a washing and dryer.
There are numerous options available, but these five stood out to us the most, so we felt compelled to share them with you.
As usual, we also wish you luck on your planned road trip excursions!