Some of the links below are affiliate links, which means we will get a fee if you buy anything via them.
There is no extra cost to you, and the proceeds assist in the continued operation of this website.
For further information, see the Affiliate Disclaimer.
Some of the links below are affiliate links, which means we will get a fee if you buy anything via them.
There is no extra cost to you, and the proceeds assist in the continued operation of this website.
For further information, see the Affiliate Disclaimer.
At least one RV roof vent fan is included in almost every new recreational vehicle.
That should demonstrate how crucial an RV vent fan is, as well as why you should research different manufacturers and alternatives before installing a new roof vent fan or replacing your present RV vent fan.
In this post, I'll go through the many RV vent fan alternatives as well as why I think the best RV vent fan is.
The greatest RV vent fan, in my view, is the MaxxAir MaxxFan Deluxe, rather than keeping you guessing.
The MaxxFan Deluxe range, which is manufactured by RV components business Airxcel, has numerous versions, including the MaxxFan 6200k that I placed on our pop-up truck camper.
If you want to learn why MaxxFan Deluxe is the greatest RV vent fan, as well as alternative roof vent fan choices and how to install an RV roof vent, keep reading.
The RV vent fans discussed in this article are designed to suit a 14″x14″ roof cutout.
The most typical camper vent fans are these.
Smaller fans are available for smaller locations, and I'll mention some possibilities at the conclusion of this piece.
What Is The Purpose Of An RV Vent Fan?
Any fan in an RV that vents air outdoors is known as an RV vent fan.
These fans are often located on the top of the RV and come with a cover that opens and shuts, as well as a screen to keep pests and debris out.
Roof vent fans for RVs come in a variety of sizes, with 14″x14″ being the most popular.
Some of the smaller vent fans available for purchase may be mounted on the RV's side.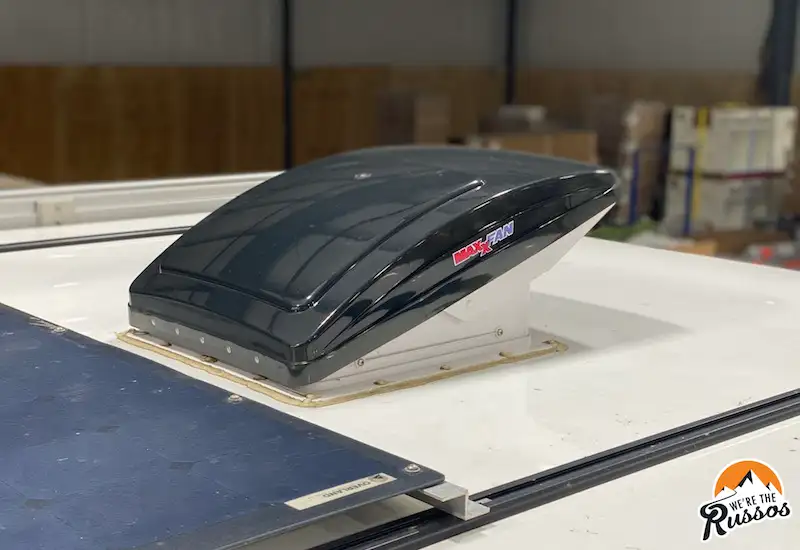 Vent Fan Benefits for RV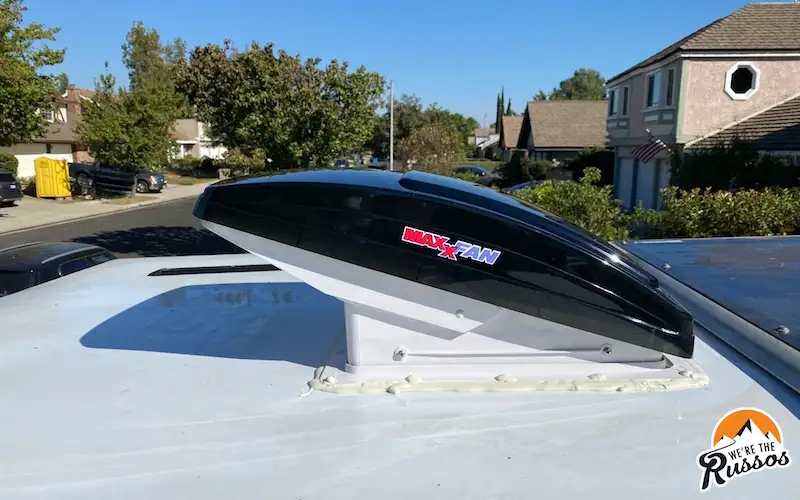 #1. Freshen Up the Air in Your RV
You may open the windows and let fresh air into your RV with the help of an RV vent fan.
After preparing a meal or visiting the restroom, this will help prevent odors from remaining inside.
They also aid in the reduction and prevention of condensation inside your RV, which helps to avoid mold and mildew.
Most fans are capable of moving so much air that they can quickly replenish all of the air in the RV.
#2. Assist In Keeping The RV Cool On Hot Days
Most RV air conditioners are noisy, and you may not always have access to shore power to power them.
We've discovered that if we close the blinds and turn on the vent fan, the RV stays cooler than it does outside on most hot days.
When we used to run the air conditioner, we liked being able to turn it off in the evenings when the temperature fell and turn on the vent fans to bring in cold, fresh air.
When the air outside is stagnant and there isn't a wind to assist circulate air through your RV, this is a must-have feature.
#3. Lowest Possible Power Consumption
We've been able to operate our roof vent fans all night with low demand even while boondocking on restricted battery juice.
Features of an RV Vent Fan
Let's take a look at some of the many features offered before we go into particular RV vent fans:
#1. Control from Afar
Wireless remotes for RV vent fans enable users to operate the roof fan from anywhere in the camper.
This function is useful for folks who are in bed and notice that the RV is becoming too chilly or hot and wish to control the fan without getting out of bed.
The vent's remote control usually includes a cradle that may be fixed on the wall.
Wall controls for certain camper vent fans are hooked directly to the vent fan.
The controls are identical to the wireless versions, except that once placed, they cannot be moved about the RV.
The controls for RV vent fans without a remote are positioned directly on the fan, so you must be able to reach them to activate it.
Some persons may not be able to reach the manual controls without taking a step depending on the RV's ceiling height.
What if you misplace the remote, it breaks, or your dog decides it needs a new chew toy while you're away? Remote-controlled RV vent fans will also include manual controls on the vent fan so that users may operate the fan without using the remote.
#2. Open Using An Electric Or Manual Opener
Some RV vent fans include an electric motor that allows them to open and shut.
This function is usually included with a remote or wall control as well as a rain sensor.
If the motor fails or the RV loses electricity, the built-in manual crank may still be used to open and shut the vent.
An automated or electric RV vent fan is another name for this sort of fan.
A crank is used to open and seal the RV roof vent with the manual vent fan option.
#3. Rain Detector
When the rain sensor detects wetness, it will immediately shut off the RV vent fan.
Some vent fan models with an electric motor come with this function.
Some rain sensors may be switched off depending on the brand and manufacture of the RV vent fan to avoid the fan from shutting in very humid situations, for example.
#4. Cover/Shield from the Rain
When the RV vent fan is open, a vent cover for the fan may assist keep rain out of the camper's interior.
When it's raining, the cover enables you to use the RV vent fan, which is useful if you want to cook or just bring in fresh air during a storm.
If you wish to keep the fan open during high winds or while traveling, the RV vent cover may assist protect it.
The MaxxAir MaxxFan Deluxe RV vent fans include a built-in rain screen, but Fan-Tastic and other manufacturers offer additional RV vent covers that may be put above the fan.
If your camper currently has an RV vent fan and you don't want to replace it, the add-on vent covers are a fantastic solution.
The add-on vent covers have one disadvantage: they raise the height of your RV, but the RV vent fan with integrated cover has a lower profile when the cover is closed.
#5. Controlling the Speed
The majority of RV roof vent fans feature three to fourteen different speeds, with some even having variable speed settings.
You can fine-tune the loudness and volume of air produced by the fan by using additional speeds.
The first speed on a three-speed fan, for example, can be similar to the third or fourth speed on a fan with more settings.
#6. Thermostat
Some fans include an integrated thermostat that turns the fan on and off depending on the temperature.
Certain fans have a fixed set temperature at which they will turn on, while others allow the user to choose the temperature.
#7. Exhaust and Intake
Basic RV vent fans are solely capable of exhausting air from the camper.
Others have the ability to both ingest and exhale air.
The intake option is ideal for people who like having air blowing on them, or for those who have two fans and want to optimize airflow throughout the RV by setting one to intake and the other to exhaust.
The RV vent fan may be operated when the lid is closed on the MaxxAir MaxxFan Deluxe versions to assist circulate the air in the RV.
When the lid is closed on Fan-Tastic vent fans, a pressure switch shuts the fan off.
#8. What Features Do I Require?
Based on numerous years of living in various kinds of RVs, here are my comments on RV vent fan features.
A rain cover is one of our favorite features of any RV vent fan.
In our Class A RV, we added a Fan-Tastic vent cover over the kitchen vent fan, and it was one of the greatest enhancements we did, and one of the major reasons we replaced the Fantastic vent with a MaxxAir MaxxFan Deluxe 6200 with the built-in cover in our truck camper.
While having a remote to operate the vent fan while laying in bed is useful, we prefer a fan with fewer functions.
The more complex an RV vent fan is, the more likely something will go wrong.
We also won't have to bother about "where is the remote?" questions.
Rain sensors have proven to be more bother than they're worth.
While they're fantastic if you leave your RV vent open and a rainstorm strikes while you're gone, they also have a tendency to turn off the fan if there's a lot of humidity in the air…especially while you're having a shower.
Most of the time, we found ourselves turning off the rain sensor.
We've never utilized the thermostat option, even though it looks like a wonderful concept.
It was easy for us to just switch on the fan and leave it running, regardless of the temperature.
Vent Fans in RVs: What We've Learned
Two RV vent fans were included on our first RV, a Newmar Bay Star Class A motorhome.
Then we downgraded to a ProMaster Class B van with just one vent fan.
Our newest RV is a 4×4 truck camper that we customized with one RV roof vent fan and one roof vent without a fan.
All of these campers come with factory-installed Fan-Tastic roof fans and vents.
In 2017, the Dometic company began selling the Fan-Tastic vent brand.
We've used a variety of Dometic/Fan-Tastic versions, ranging from the most costly model, which included a rain sensor and a remote to open and shut the lid, to the most basic one, which was simply a manually controlled vent with no fan.
After all of our experience with Fan-Tastic vent fans, we've come to the conclusion that they're not all that great.
We had to replace the motor on both fans numerous times in our Class A because the bearing would go bad after approximately a month of steady usage and the fans would whine at lower speeds.
We experienced the same issue with the fan in our Class B, but we decided not to replace the motor since we'd had bad experiences with it in the past.
The top on our Fan-Tastic vent in the truck camper recently dislodged itself from the fan housing.
After removing and examining it, I discovered that the rivets holding the lid in place were very tiny and had become loose, causing the lid to fall off.
I was able to fix this myself by using a rivet gun to put new rivets.
We also discovered that with the wind, both of the vents in our truck camper rattled a lot, waking us up in the middle of the night.
When we saw that a friend of ours had replaced his Fan-Tastic vent fans with the MaxxFan Deluxe, we were impressed.
Not only was the vent fan substantially quieter than the Fan-Tastic fan we had, but it also seemed to be much better made and featured a built-in rain cover.
We then decided to replace two MaxxAir MaxxFan Deluxe 6200ks with our Fan-Tastic/Dometic 1250 and vent.
I provide a review of the MaxxAir RV roof vents in the video below.
Why Is The MaxxFan Deluxe Superior To The Fantastic/Dometic As The Best RV Roof Vent Fan?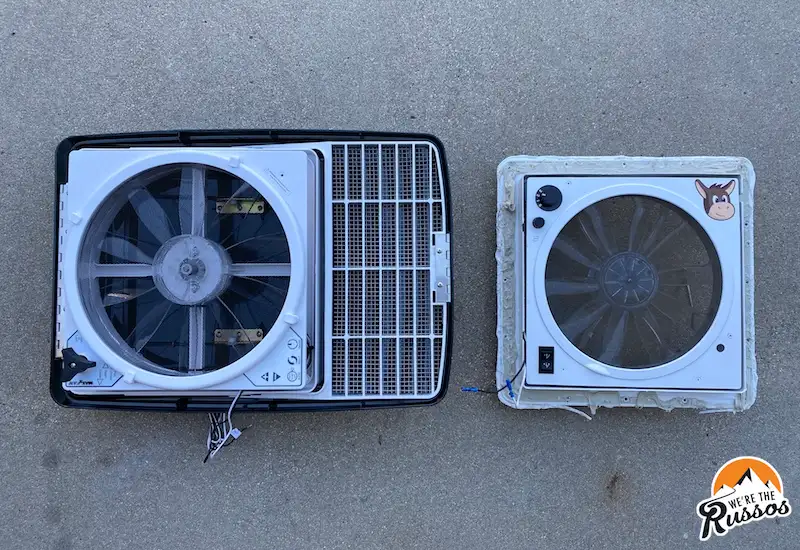 #1. The MaxxFan Deluxe Has A Lot Of Advantages.
It's peaceful. The MAXXFAN Deluxe is noticeably quieter than the Fan-Tastic 1250 that it replaced. The fan was loud at the lowest level since the 1250 only has three speeds. The MAXXFAN has ten speeds, and even at the lowest setting, the fan is hardly audible. We used to have to operate our Fan-Tastic 14-speed fan at higher speeds owing to the squeak it made at the lowest setting.
Lifting Arms in a Pair. The MAXXFAN's two raising arms provide extra stability for the fan's cover in high winds and when driving. We've discovered that the lid rattles very little even in heavy gusts. In comparison, the Fan-lid Tastic's rattles rather loudly even in a hard wind.
Rain shield is built-in. When the lid is dropped, the rain shield of the MAXXFAN Deluxe retracts, resulting in a substantially lower profile. Because RVs are already pretty tall, a low tree branch or overhang may easily yank a permanent cover off.
It is simple to remove the screen. The MAXXFAN's screen includes four tabs that twist out of the way, allowing the screen to be removed for cleaning. The screen of the Fan-Tastic fan is kept in place by clips, and in order to remove it, you must tug hard on it, which has resulted in one screen break.
Customer service is really important. When a component on our MAXXFAN failed, we contacted customer care, who was extremely helpful and swiftly sent us a replacement part. We've had some issues with our Fan-Tastic fans, but we've also had positive experiences with their customer support.
#2. The MaxxFan Deluxe Has Certain Drawbacks.
Failure of the Board of Directors. After humidity built up in our RV, the circuit board on our MAXXFAN stopped operating. When we switched on the fan, the dampness had collected a little on top of the circuit board, and it shorted and stopped working. While customer support was helpful, and I was able to repair this myself with a screwdriver and wire strippers, I discovered through my investigation that the circuit boards aren't conformally coated — a coating that protects circuit boards from moisture and dust.
I ordered a can of conformal coating to address this problem.
Before I installed the new board, I used painter's tape to cover the plugs and sprayed it with the coating.
I also sprayed the board on our second fan after removing it (this was brand new and not yet installed).
While I'm not sure whether Fan-Tastic vent fan boards are coated, we've never had a condensation problem with them.
Price. While the MaxxFan Deluxe vent fan models are more costly than equivalent Fan-Tastic vent fans, the cost of a vent fan cover for a Fan-Tastic vent fan is around the same.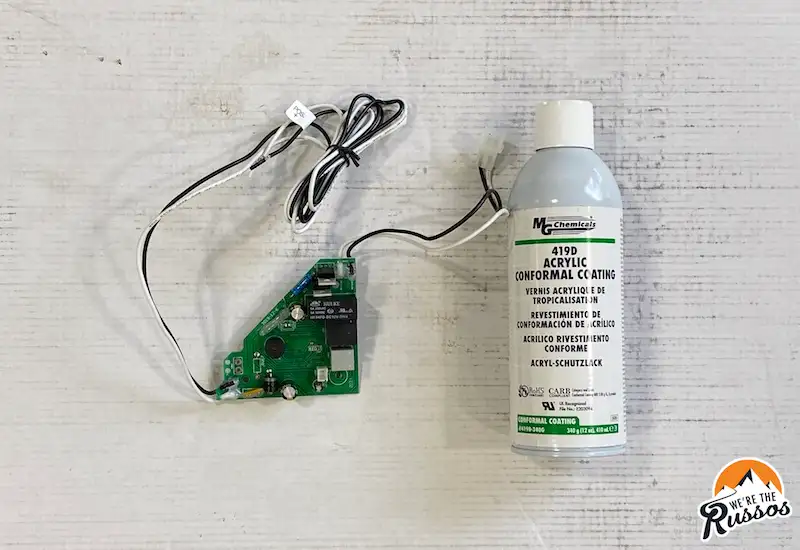 #3. Is It Possible To Update Or Replace My RV Roof Vent Fan?
Yes, you certainly can! Swapping a Fan-Tastic vent with a Maxxair vent is a simple process that may be done by a DIYer or a professional RV repair specialist.
A 14″x14″ cutout on the roof and 12v electricity are required for most RV roof vent fans (positive and negative wires).
If you're replacing an existing vent fan and it's the same size as the new one, the installation will be rather simple.
Because each vent fan is unique, you'll need to read and comprehend the instructions, as well as observe all safety measures and have the necessary equipment.
If you want to improve your present RV vent fan, I propose the following things.
A Philips screwdriver and a socket wrench of the suitable size
Knife for applying putty
Ruler or tape measure
Several-Meter (this is the Multi-Meter I have)
Self-leveling lap sealant from Dicor
Butyl tape is a kind of butyl tape that is
Gun for caulking
Wire cutters and wire strippers are tools that are used to cut and strip wire.
Trim the inside facia that comes with your new fan to fit your ceiling using a small saw or other instrument. I used a Dremel with a tiny cut-off wheel to install our MaxxFans.
Each adjustment to our RV vent fan took a couple of hours.
Removing all of the old sealant from the roof and preparing the area for the new roof vent fan takes the most time.
#4. What Is The Best Way To Install A New RV Roof Vent Fan?
Cutting a hole in the roof and connecting 12v wire to power the vent fan is not for the faint of heart when installing a new RV roof vent fan when one was not previously installed.
My recommendation is to get a professional to do this job to ensure that it is completed appropriately and that the work is warranted.
However, if you hire a professional to cut the holes and run the cables, you may save some money by installing the RV vent fan yourself.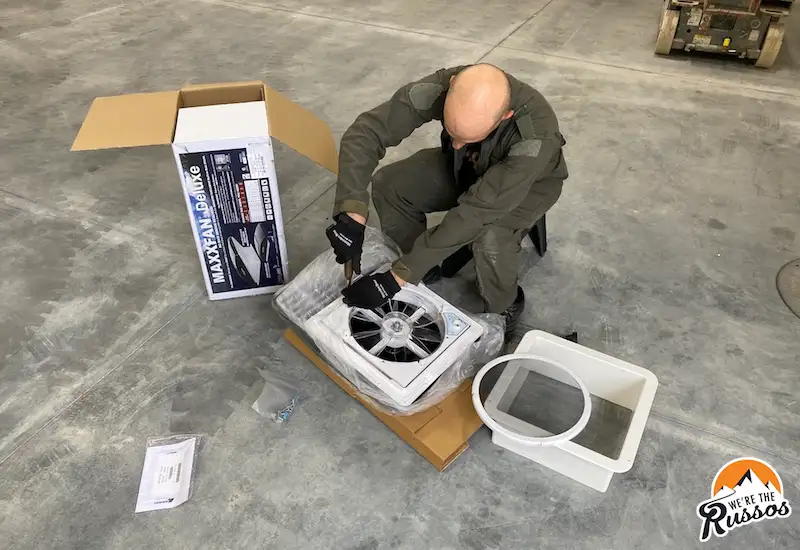 Smaller Vent Fan Options for RVs
While bigger 14″x14″ fans are common in many RVs, not all campers, particularly in the bathroom, have the space.
Due to the arrangement of other accessories on the roof, there may be restrictions on where you may put a vent fan.
These tiny RV vent fans are designed for narrower places, thin roofs, and may even be put in an RV's sidewall.
MaxxFan Dome Vent
This little 12v 6″ fan may be placed on a roof or sidewall with a thickness of 1-6″.
This fan has a lockable lid, cover, and screen, making it ideal for ventilation and moisture control.
Solar Roof Fan
A modest solar-powered fan can be a decent choice if you don't want to hook up a 12v fan.
SOLATEK's fan needs a 5″ cutout, and the optional battery enables the fan to function for 6-8 hours after the sun sets.
Summary
By circulating the air and keeping it cool within your camper, a new or improved RV vent fan may greatly enhance the comfort.
I hope this article was useful in your search for the finest RV vent fan for your camper.
Best RV Vent Fan Video Suggestions From Youtube