Technology develops quickly.
Living in a technologically advanced society has certain challenges.
The rate of advancement makes it impossible to amass the body of troubleshooting knowledge in the same length of time.
The only option left for you is to get in touch with the business if an updated heater or other item breaks on you.
Finding the root of this problem may need considerable diagnostic expertise.
The thermal cut-off switch may sometimes be faulty or to blame for your issue.
The only way to solve your problem is to replace the switch.
Read this post to learn more about this problem with Dometic water heaters.
In order to provide you the most knowledge necessary to repair your problematic water heater, it investigates the problem.
Spend a few minutes seeing whether this knowledge may assist you in resolving your hot water heater issues.
Fixing a Dometic Water Heater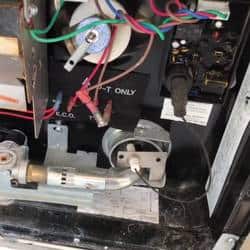 As we have often advised over the years, start with the simplest issues first when you have mechanical issues with your RV or trailer.
By doing this, you will avoid any embarrassing situations when the repairman plugs in the water heater or finds another basic problem that needs fixing.
Unfortunately, there are a few things on the Dometic water heater that might fail or go faulty at any moment.
Check your winterizing valve first, however, before you look at those potential sources.
It's possible you forgot to shut it, which is why water is escaping from the appliance.
All you need to do to get hot water is turn the valve in the proper position.
You must go on to the next option if that is not the answer.
Making a list of potential failure points for components is helpful.
This list will enable you to do your repairs and diagnostics more quickly.
Dometic Electric Hot Water Heater Not Working
The thermal cut-off switch that was previously mentioned as well as the thermostat are two potential origins for this issue.
The only genuine fix available in the event that any component fails is the replacement of both components.
A good suggestion is usually to replace both, albeit it may sometimes be one or the other.
You won't need to enter the water heater area again in this manner.
The Compass Connect control panel can also be an issue.
Sadly, because the technology behind that item is still relatively new, it might be difficult to find accurate information from the usual reliable sources.
If this is the issue, Lippert Components will be your sole source of information.
Other professionals who are familiar with that equipment and know how to troubleshoot it could exist, but it might be difficult to locate them right now.
Water Heater From Dometic Won't Turn On
If you take it to your repairman, you can feel humiliated in one of those circumstances.
Verify if the water heater is receiving electricity.
This might be as easy as a fuse blowing, a breaker switching off, or your batteries being dead.
There can be an obstruction in the propane gas line if you are using the heater on gas and it won't ignite.
It won't operate if there is no gas going to the igniter.
That is, if the heater clicks when you attempt to turn it on.
There is an issue with the spark if you don't hear the clicking sound and there isn't any illumination.
A defective circuit board will be another cause.
If there is electricity to the switch but nothing else is occurring, you will discover that issue.
Here, replacement is a possibility.
Water Heater From Dometic Won't Stay Lit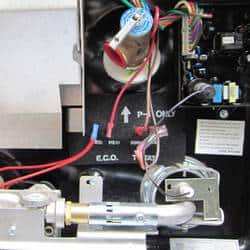 There are two key factors at play here that contribute to the problem.
The thermostat control valve will be the first component to be examined.
Your heater will not operate correctly if this component is faulty.
This component just needs to be replaced.
The thermocouple is the second component that may be the source.
When functioning properly, this component detects the flame and returns the correct voltage signal to the gas valve.
When something isn't functioning properly, the thermocouple won't give that signal, and the gas valve will typically cut off the flow of gas.
The thermocouple will ultimately burn out since it is placed directly on the flame.
Check to see that the flame is clear and properly contacting the thermocouple probe's end before replacing the component.
Your only option is to have the probe replaced by a certified technician since testing and other adjustments need specialized equipment.
The Dometic Water Heater Manual For Download
You may access a website with practically all manuals possible by clicking this link.
There is one for the Dometic water heater, and you ought to have no trouble locating the one for your particular model.
The disadvantage of this site is that downloading the handbook can need you to pay a little cost.
Here is a direct link to a gas water heater model made by Dometic.
On its website, you should be able to get all the information you want.
Then, it is usually advisable to contact the water heater's manufacturer immediately.
To get the appropriate documentation on Dometic's website, you may need to know your model and serial number, but it's worth it.
Additionally, there are additional possibilities available to you if you do a simple manual search for the particular Dometic water heater model.
This is only the beginning.
Diagram For a Dometic Water Heater
A wiring schematic should be available to you at all times if you prefer to handle tasks on your own and feel safe working with gas and electricity.
These diagrams should be included in the various manuals, and if you utilize the links provided above or do a fast search, you should be able to locate one that does.
Click on this link, however, if you don't want to go through a lot of pages before getting to the diagram.
To make sure you have the correct schematic for your water heater model, it provides a ton of diagrams that you may download, expand, and scan.
To be sure you have chosen the best alternative, all you need to do is browse the available choices.
If you have a decent printer on hand, printing these diagrams out for convenient usage shouldn't be an issue.
Water Heater By Dometic Blowing A Fuse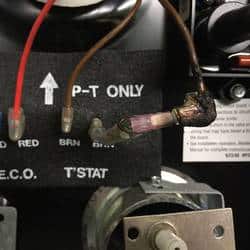 A loose connection or many loose connections in your heater's system might be the easy issue causing this problem.
Verify again to make sure all connections are secure and appropriate.
Unless the fuse is too small for the amps flowing through the system, a blown fuse is, of course, only a symptom of the true issue.
Start looking for shorts, power overloads, and, in the case of the thermostat fuse, too much heat when a fuse breaks.
A blown fuse always denotes an electrical problem, thus it's possible that one of the two previously stated components, the thermocouple or thermostat, has failed.
Hire someone who doesn't mind working near electricity if you don't enjoy it.
If you're not cautious, one error might surprise you quite a bit.
How Long Is the Anode Rod on a Dometic RV Water Heater?
No, and the Dometic Atwood water heaters would also fall under this conclusion.
Aluminum is used to construct the water heaters in this design.
It is difficult to tell whether or not this is a superior system.
An anode rod is included with Suburban brand water heaters, which are also designed for RVs and trailers.
They have one since the company's water heaters are built of steel with a porcelain lining.
The anode rod is crucial because of this distinction.
The Dometic design actually reduces the number of potential failure points.
The new tankless water heaters are a well-liked alternative.
These allow other significant pieces of equipment to take up less weight and space.
Additionally, they ought to make fixing those models easier for you.
In comparison to using a conventional RV water heater, they are simpler to locate and likely provide you more area to move about.
Finding a Replacement Dometic Water Heater Element
One of the best locations to get a new element is directly from Dometic.
It is unknown whether the Dometic Guy is connected to the business; clicking this link will lead you to a website with that name.
If not, visit the Dometic website to see what components are on sale using their shopping cart and payment process.
They may not sell directly to their clients, in which case you could need to come up with a backup strategy.
You may try out a different business by clicking on this link.
Given that the second alternative is less expensive than the first, it merits consideration.
You should be able to find additional possibilities on the internet with a second simple search.
Alternatively, you may acquire a replacement by bringing your old component to a hardware shop, large box retailer, RV dealer, or parts outlet.
Bug Screen for Dometic Water Heater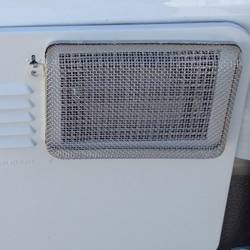 These things are easily accessible.
A 20 by 1 1/2-inch variation is available on Amazon for less than $10.
It comes in a set of 3 and is simple to install, so you may have extras on hand in case you need them.
These displays are produced by several companies.
They are accessible via many component retailers, including e-trailer and others.
You should comparison shop to get the greatest deal.
There will probably be a good assortment at some of the better large box retailers, too, like Lowe's or Home Depot.
Since they are not specialized things, you should be alright with almost whatever brand you choose to purchase.
Alternatively, if you like using your hands, you may try making your own.
If you are boondocking and not too near to a city where you can pick several up, DIY could be your best choice.
It's also a good idea to have extras.
They don't weigh much or take up much room.
A Dometic Water Heater's Lighter Procedure
Before you begin lighting your model, locate the power switch if it has one and turn it on.
This power switch is often located on the bottom left-hand side of the device.
To supply the heat source, turn the dial to the pilot position and then grab a match, lighter, or long mechanical lighter.
Turning the dial to the on position should keep the gas flowing and the pilot light burning once it has been ignited.
The knob may need to be turned and held firmly in place for a short period of time before the pilot light stays lighted.
Don't turn off this knob too rapidly or you could have to start again from scratch.
Dometic Water Heater Draining Instructions
The procedures are not that difficult.
As your neighbors may not enjoy the notion of water draining next to their RVs, you should do this when you are not in a populated area.
Step #1: Turn off the water heater's electricity.
Step #2: If the water heater has been running for a while, let it cool.
Step #3: Open the pressure release valve gradually.
By doing so, residual pressure will be released from the system, making it safer to drain the heater.
Step #4: Remove the plastic drain cap, then let the water to run out onto the ground.
Using a bucket to collect the water can help if you're doing this in a busy area.
Step #5: After the water has been removed from the heater, you may put the plug back where it belongs.
But wait to use the heater until you've filled the tank.
When you put your RV in storage for the winter, you may leave it empty.
Dometic Water Heater Reset Procedure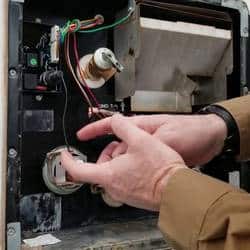 A malfunctioning thermostat is one of the causes for the reset button to trip and prevent your heater from heating water.
For this issue to be resolved, a new thermostat must be installed.
A short in the system, faulty wiring, an excessively high temperature, and other factors might also cause the rest button to trigger.
The switch cannot be reset until the issue's root cause has been identified and fixed.
Once the root of the issue has been identified, all you need to do is press the button for it to reset and resume regular operation.
You should consult your owner's handbook for detailed information on how to reset and resolve simple issues; it is not a difficult operation.
Turn off the gas valve and wait a few seconds if you don't have any issues but the reset button still tripped.
Flip the valve on and the reset should be complete after that little period of time.
Location of the Dometic Water Heater Reset Button
The reset button is often located on the top thermostat.
You only need to press the button back in to reset it, which should be easy to find.
You have a water heater issue if the reset button keeps popping out.
The reset button does not, however, indicate where the issue is, so you may want assistance in locating it.
Also, the plate that covers the top thermostat can have a reset button on it.
It is there if you don't immediately notice it.
Adding Water To A Dometic Water Heater
The bypass system must first have the water turned off.
Close the valve to allow water to fill the tank.
The decision of how to fill it comes next.
Two choices are available.
You may utilize the municipal water or the fresh water tank you have.
While the municipal water option should automatically flow into the tank and throughout your system, you will need to activate the water pump in order to utilize the fresh water tank.
Turn on your hot water faucet until water begins to flow out of it to make sure it is full.
Final Thoughts
Your RV will constantly experience some kind of problem.
It's just how things are in our world, and RVs are no different.
Your vacation will be better if you know how to troubleshoot your hot water heater since you won't need to hire a repairman.
Only contact them if you are still covered by a warranty or if you are unsure about the issue.