The convenience of having home comforts close at hand, with hot water being one of the primary ones, is one of the finest benefits of RV camping.
Let's focus on electric water heaters now that we've covered how to ignite a pilot light on an RV water heater.
This fast tutorial will walk you through each step of turning on an electric water heater in an RV.
Learn some crucial advice as well to avoid damaging your water heater in the process.
Let's get going!
How to Turn on an RV Water Heater that is Electric
The most difficult parts of turning on an electric water heater in an RV are often locating the on/off switch or determining if you have a gas or electric (or both) water heater, which we'll discuss below.
Important: NEVER try to switch on an electric water heater in an RV without any water in the tank.
The electric heating element will be quickly destroyed if this happens.
For detailed procedures, go to our tutorial on how to fill an RV water heater.
Let's now see how to activate your electric water heater for your RV.
We'll use the well-known Suburban SW6DE as an example.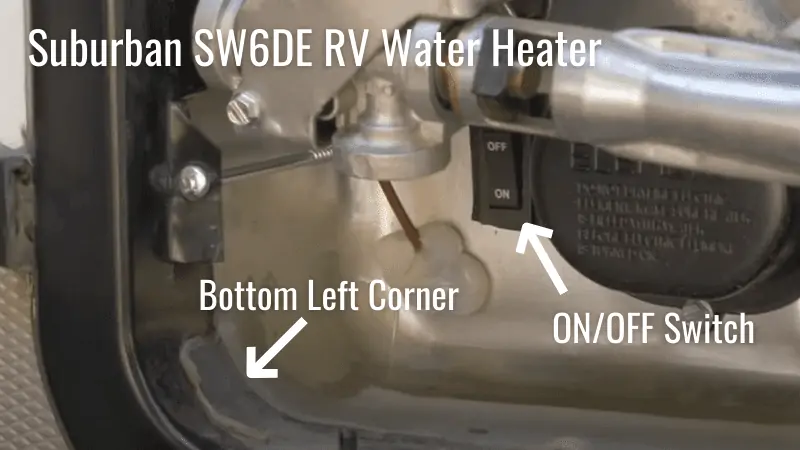 Before continuing, make sure the hot water tank is filled with water.
Find and remove the access panel for your hot water heater, which is normally located outside of your RV.
On the panel, locate the on/off switch for the RV water heater. Typically, it's at the bottom left corner (see image above).
The switch should be turned on.
As each brand and model may change significantly, we advise you to always refer to your owner's handbook for the precise, step-by-step instructions on how to switch on your water heater.
Here are links to several popular RV water heater manufacturers that may be found in campers like Forrest River, Keystone, Jayco, and other well-known brands if you misplaced your manual or need to get in touch with them:
Suburban
Dometic (formerly Atwood)
Tankless water heaters by Fogatti
Guide for Troubleshooting RV Electric Water Heaters
Check the following first if your RV electric water heater isn't functioning correctly after you turn it to the "on" position:
Make that the motorhome's circuit breaker has not tripped.
The ON/OFF switch should have 120 AC on it.
Reset the device by pressing the button, which is usually found on the control panel next to the water heater on/off switch.
After doing everything listed above and the heater is still not functioning correctly, turn off the power and inspect all wire connections (if necessary, consult your owner's handbook for a wiring diagram).
Finally, use a voltage meter to examine the heating element for continuity. If the component is broken, replace it.
Contact a licensed RV technician if you're still experiencing problems.
FAQs
Are RV water heaters electric-powered?
Electric, propane, and electric/gas combination heaters are the three different kinds of RV water heaters.
Of course, electric water heaters need power to heat water.
In electric/gas combination water heaters, you may heat your water using either gas or electricity singly or simultaneously.
How Can I Tell whether the Water Heater in My RV Is Electric or Gas?
Consult the owner's handbook for the particular brand and type of heater you have to see if your RV water heater is gas or electric.
If you don't have your owner's handbook, you may determine the kind of water heater it is by looking at the model number: is it an electric, gas, or combination water heater? (which you can find on the access panel).
Utilize the table below to determine the kind of heater you have after you have that number.
How to Drain an RV Water Heater may be of interest to you as well (Quick Step-by-Step Guide).
How To Turn On Electric Water Heater In RV Videos Suggestions From Youtube