Regular trips to the laundry might really interfere with your preparations for a getaway.
Additionally, unless you save money and buy a portable washing machine, which is perfect for RVs, camping, and vacations away from home, it might needlessly cut into your camping budget.
Why is it a good idea to have a portable washing while camping?
For lengthy family camping trips, long-term overlanding, and full-time RVers, a portable washing machine is a wise purchase.
You may start a load of laundry while getting ready in the morning and put it off until you come home in the evening.
It will do away with needing to gather quarters to use coin-operated machines while waiting in laundromat parking lots.
It might be frightening to buy for a compact camping washing machine, regardless of how you intend to use them.
Fortunately for you, whether you are camping or traveling full-time in an RV, we have put together a list of the top five portable washing machines so you can wash your clothes whenever you want, wherever.
Look them up!
The Top 5 Portable Washing Machines for RV and Camping
Each of these mobile washers has its own purpose and setting.
In other words, there's undoubtedly one here that fits your camping preferences and requirements far better than the others.
Pay special attention to the bullet points for each portable washer if you're fast skimming.
You'll have a better notion of which models you can develop after that!
The top 5 portable washing machines for doing laundry while camping and touring are listed below:
Best Overall: Giantex Full-Automatic Portable Washing Machine
Best Twin Tub Design: Garatic Portable Compact Mini Twin Tub Washing Machine
Best Non-Electric Option: Lavario Manual Non-Electric Portable Clothes Washer
Best Budget-Friendly Design: COSTWAY Mini Washing Machine with Spin Dryer
Best For Larger Loads: Giantex Mini Compact Twin Tub Washing Machine
#1. Best Overall: Giantex Full-Automatic Portable Washing Machine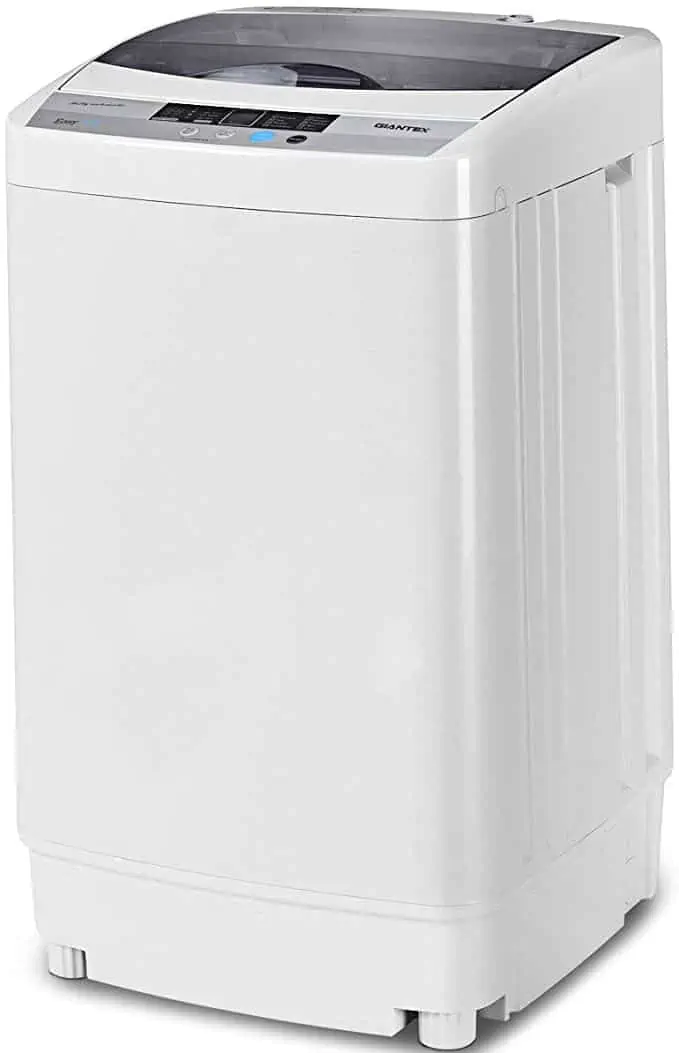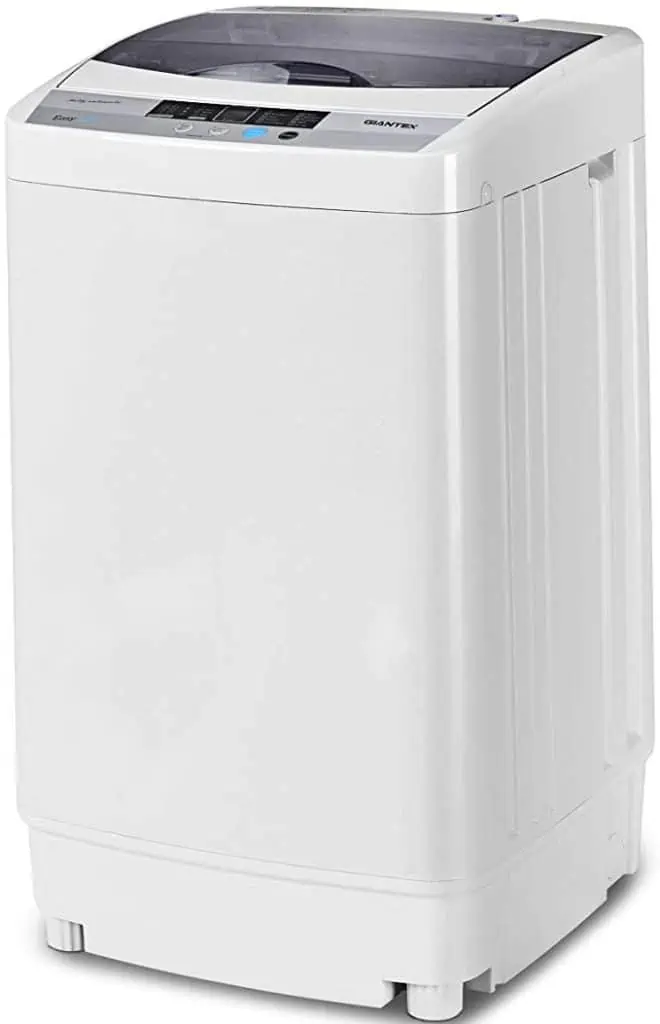 Capacity: 9.92 pounds
Weight: 51 pounds
Dimensions (L x W x H): 19.7" x 19.8" x 33.6"
This Giantex washing machine resembles a typical top-loading washer in appearance.
It was struck by a shrink ray!
It has a glass top and stainless steel tub that make it simpler to see the water level throughout the cycle.
It lets you to choose from 10 pre-programmed settings and load roughly 10 pounds of clothing in a single load.
It also has a kid lock and a visible LED display so you can see how much time is left.
The machine's movable feet on the bottom are another feature you'll like.
This is crucial for RV washers since every time you relocate and find a new location, your vehicle will likely be slightly tilted in a different direction.
Additionally, this device has an integrated drain pump that automatically empties the tub during the spin cycle.
Additionally, it has an air-dry function that does away with the need to hang your garments outside to dry after each cycle.
Additionally, it has a water intake pipe that is 39.4 inches in diameter and an exit pipe that is 78.8 inches in diameter, giving you some versatility when installing it in your RV.
Items We Enjoy
Adjustable feet and automatically adjusting imbalance
10 programs and 8 options for water level
Door swing is eliminated by top loading.
Automatic drainage provided by a built-in drain pump.
Things That We Dislike
Lacking a heated dry function
This model is the heaviest on our list.
#2. Best Twin Tub Design: Garatic Portable Compact Mini Twin Tub Washing Machine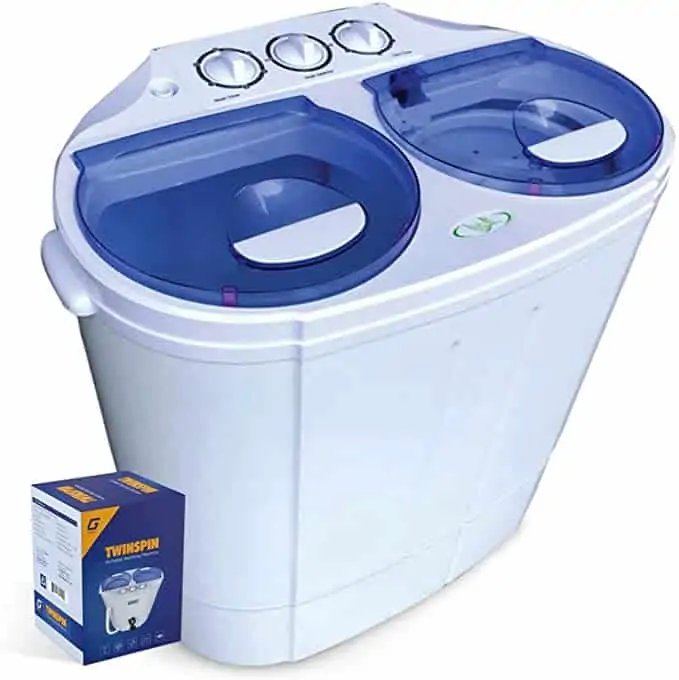 Capacity: 8 pounds (washer); 5 pounds (spin cycle)
Weight: 25 pounds
Dimensions (L x W x H): 23.75" x 25" x 16"
The operation of the Garatic Twin Tub washer comes as near as it can to that of your home washer and dryer.
By enabling you to start a second wash cycle while you spin the first cycle's dry, the twin tub design will also save you time.
For washing, this type offers a single cycle, and drying is controlled by a separate timer.
The drying duration may be adjusted for a maximum of 5 minutes every cycle, while the maximum wash timer runs for up to 15 minutes.
The important thing to remember is that these faster cycle times are intended to help you save water when camping.
The idea behind these cycle periods is to strike a balance between having continuously filthy clothing and using all of the water in a washer or dryer after one wash cycle, even if they may at first surprise you (compared to the cycle times for household washers and dryers).
This machine's whole body is made of plastic, removing any potential areas for rust or corrosion.
For tiny RVs or camper vans, it is also among the smallest and lightest alternatives.
Items We Enjoy
Having two uses (you can wash and dry at the same time!)
The plastic construction guarantees a lifetime of no rust.
Minimalistic and light
Short cycle periods promote water conservation
Things That We Dislike
Various capacities for washing and drying (what do you do with the excess when it's time to dry?
Lacks an intake hose when purchased (must fill from an external source)
A brief outlet hose (some users had trouble draining it adequately and needed to explore adding a hose extension)
#3. Best Non-Electric Option: Lavario 1214 Manual Non-Electric Clothes Washer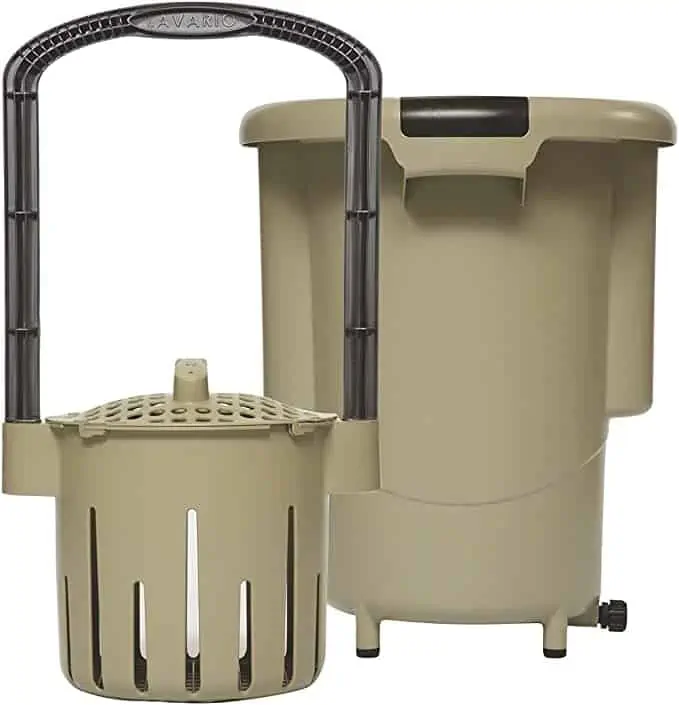 Capacity: 5 gallons
Weight: 10 pounds
Dimensions (L x W x H): 19" x 19" x 31"
The Lavario model is your best choice if you're looking for something that doesn't need a power supply.
Due to the fact that it won't significantly deplete your battery like many of the alternatives, this is definitely the best choice for overlanding or distant camping.
Even though it has a top loading mechanism, its design is rather distinctive.
Basically, it consists of a five-gallon bucket that you fill with water and the detergent of your choice (we hope you choose something biodegradable!).
After that, you fill the basket with your clothes and close the lid.
You wash your clothing in a smooth up-and-down motion as the basket slips into the bucket.
After a little while, take the laundry basket out and discard the contaminated water.
To thoroughly rinse the soap off your clothing, add new water and repeat the procedure.
This washer will typically use 10 gallons of water for each cycle.
To finish your procedure, you will also need to hang your garment after wringing it dry.
The wash bucket features a drain lid at the bottom for your convenience so you won't have to raise and dump it as it fills with water.
Additionally, the feet on the bottom are rubberized to keep it from sliding and dumping your clothing onto the unclean ground.
Items We Enjoy
No electricity is needed (makes it great for remote camping and overlanding)
Simple yet efficient procedure
Every time you wash laundry, the drain stopper protects you from having to hoist a bulky pail of water.
Rubberized feet at the bottom that are non-slip
Things That We Dislike
Roughly 10 litres of water are needed for each cycle.
Clothes must be manually wrung out, then hung up to dry (or pay for a dry cycle at the closest laundromat)
#4. Best Budget-Friendly: COSTWAY Mini Washing Machine with Spin Dryer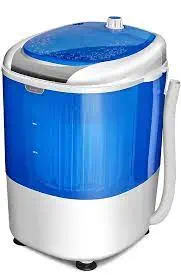 Capacity: 5.5 pounds (washer); 1.1 pounds (spin dry)
Weight: 13.98 pounds
Dimensions (L x W x H): 22.44" x 15.94" x 14.57"
I'd definitely suggest taking a look at the COSTWAY Mini Washing Machine for those of you who want to test if a portable washer makes sense for you without spending a fortune.
It is both the most cheap and one of the lightest models on our list.
Even though it is designed for smaller loads, it has a spin cycle so that you won't have to deal with drenched clothes after the wash cycle is through.
The timer for the wash cycle may be set for up to 10 minutes, and the timer for the spin cycle can be set for a maximum period of 5 minutes.
These brief timers, like the Garatic model, are intended to promote water conservation in outdoor situations.
Due to its small shape, this choice saves energy and has a glass lid for monitoring loads.
The tub is likewise emptied between cycles via a drainage tube, however this variant also requires manual filling from an outside source.
Items We Enjoy
Budget-friendly
Short cycle timers promote water conservation
Foot caps made of rubber prevent slipping
low-key operation
Things That We Dislike
Do you really need to run five spin cycles for each and every wash load?
Requires manually filling the water level as opposed to using an intake tube.
#5. Best For Larger Loads: Giantex Mini Compact Twin Tub Washing Machine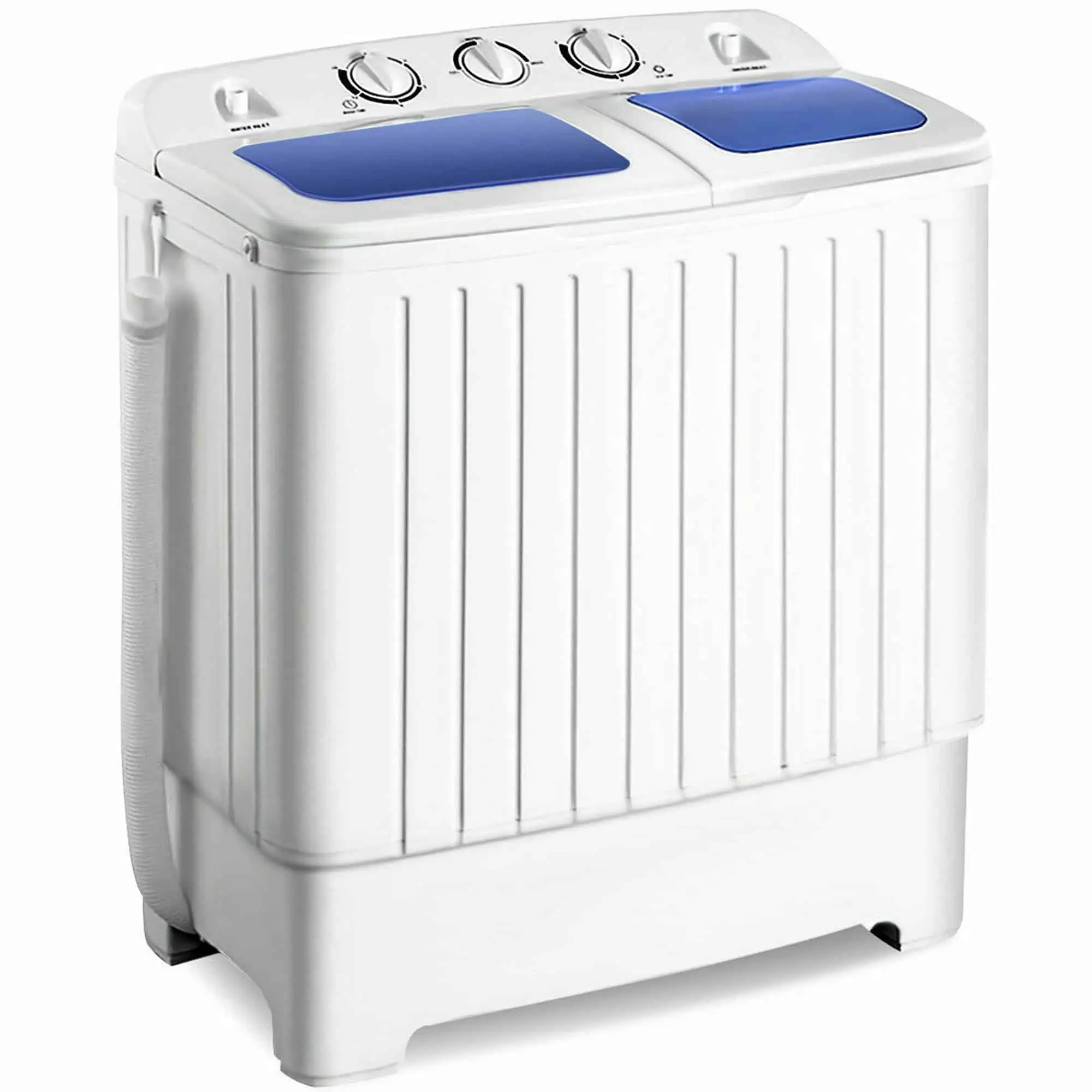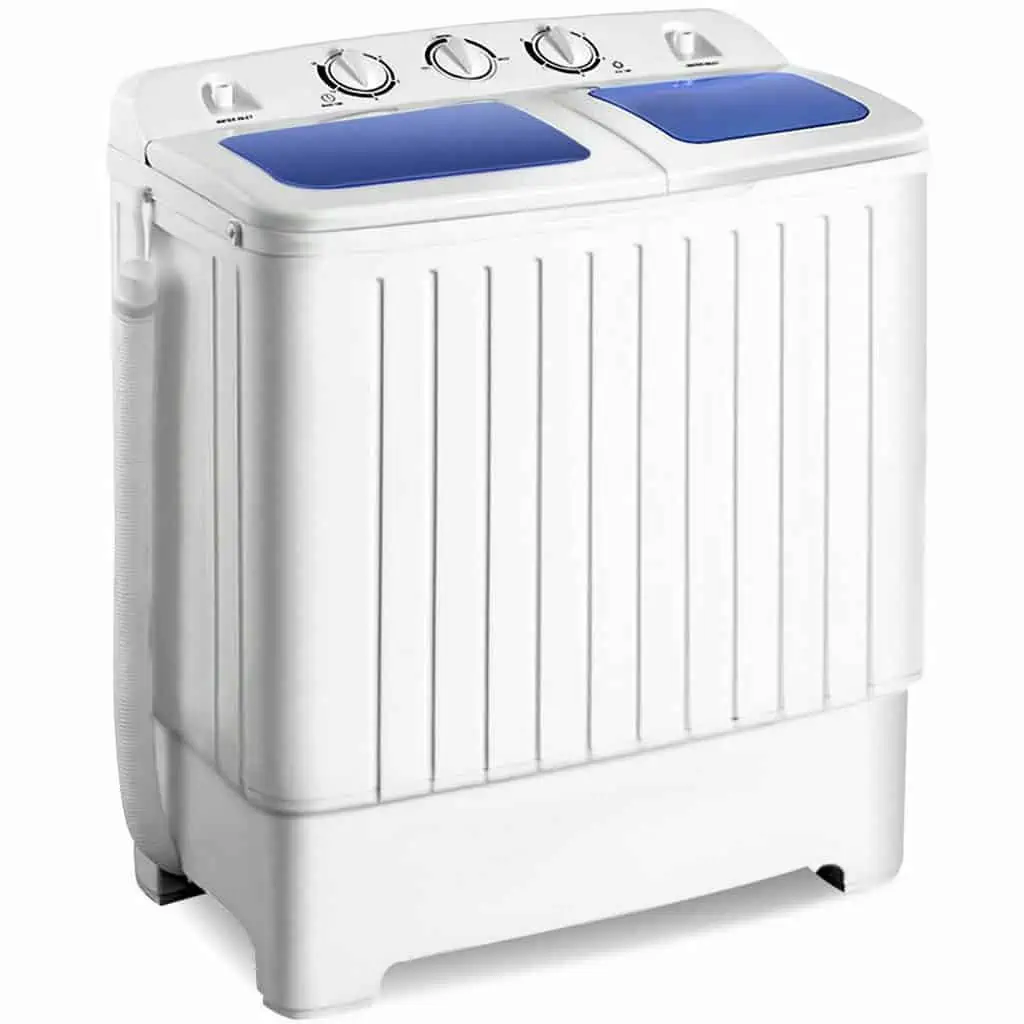 Capacity: 17.6 pounds (Washer = 11 pounds; Spin Dry = 6.6 pounds)
Weight: 28 pounds
Dimensions (L x W x H): 24.8" x 15" x 28.5"
Among the models we've identified so far, the Giantex Twin Tub Washer is arguably the best suitable for families.
With its very big load capacity and dual tub design, you can do more loads in one day.
You may also choose to run a "regular" or "soft" wash cycle with this appliance.
For those of you anxious about your delicates becoming damaged in one of these portable machines, it will thus be best.
The "drain" setting is the third option, and it's used to drain the tubs in between cycles.
It also has a wash timer and a spin dry timer to hold you accountable for completing loads quickly and effectively.
The dry timer allows for rapid cycles of up to 5 minutes at a time, while the wash timer has a maximum setting of 15 minutes.
The Mini Compact has a water intake and a drainage hose, much like its Giantex relative that we previously discussed.
This eliminates the need to be concerned about the wash tub being overfilled and makes it simple to put clothing in and preset your chosen setting.
Items We Enjoy
The model with the highest load capacity on our list
Enables simultaneous washing and drying
It has a drainage hose and a water intake.
Quite light for a washer of its size.
Things That We Dislike
There are varying load capacities for washing and drying.
It may be more difficult to accommodate the bigger unit in smaller campers.
What to Consider When Purchasing a Portable Camping Washing Machine?
The features and requirements you need to search for in a portable camp washing will be determined by your vehicle, your family size, and a number of other crucial variables.
This purchase guide will help you choose which of the aforementioned machines will best suit your requirements by breaking down some of those elements.
#1. Dimensions And Max. Load
The ability to run bigger loads will need more room for a washer, thus these two variables go hand in hand.
Considering where you will put one of these up or keep it in your RV is a natural place to start.
To save room inside their tents when camping, some individuals actually put them up outdoors.
However, you will need adequate storage room to securely store it in one of your RV's underground storage compartments.
The most sensible place to put one of these appliances is in a bigger 5th wheel or luxury class A diesel pusher RV that comes with a washer-dryer setup.
To determine the size of a machine you can fit there, measure the area.
Always remember to allow some space around the machine on all sides, in front, and behind it.
This will make it simpler for you to move hoses and grab those annoying socks that can't make it from the hamper to the washer.
Additionally, consider how you have been using that area.
You may not want a particularly tall unit that limits your hanging area, for instance, if you have been using it to hang long clothes.
The load capacity of your vehicle will also depend on how many passengers you regularly transport.
Family-sized load capacity may take up more room in your trailer to store, but they will eventually save you time and water.
#2. Requirements For Power
Many portable washers need to be connected to an AC outlet in order to work.
Some operate on DC, but the majority are designed to plug into the wall outlets inside or outside of your RV.
You've now seen that there are other transportable solutions that just use human power.
These choices will take more of your time and effort, but they might be wonderful if you don't usually camp at established campsites.
Remember that in order to use an electric washing machine in your RV, you will either need to be operating your generator or hooked into shore electricity.
And if you don't want to overload a circuit, you'll need to be careful about what other appliances you use while a load of laundry is already running.
#3. Meet The Requirements
Some of these devices need you to get water for the tub from somewhere else.
Others enable you to connect a water line to them so you may fill them directly.
The latter seems to be considerably more practical for RVers who live full-time or for those who want to use their new washer often.
On the other side, you may be constrained by the length of the hoses the device comes with and it will need a more involved installation procedure.
Because of this, many people who only seldom use their machines will choose a design that requires manual water loading.
In addition to keeping your unit more transportable when you need to relocate it, it is actually not that difficult to accomplish.
#4. Drain Hose Size
You don't need to worry as much about the length of your drain hose if you want to set up your portable machine outside of your RV.
You may put it in a location where it will naturally drain away from your campground.
Drain hose length is crucial for the remainder of you who wish to install a unit inside your RV.
You only need enough drain line to connect to the outlet that will drain water into your RV's grey water tank if it already has a washer-dryer setup.
If your RV is older and doesn't have a washer-dryer prep, you may need to go outside the box.
I've seen individuals carve outlets out of the side of their trailers so they can use them to drain their washers.
Though it is technically conceivable, the simplest solution is to just set it up in your bathtub.
No matter how lengthy the washer's drain line is, you can then quickly empty the tub into your grey water holding tank.
#5. Audible Output
Even while I wouldn't advise attempting to wash laundry when you (and the rest of your family) are asleep, noise output may be important to you for other reasons.
The good news is that the majority of these mobile washing machines typically produce between 40 and 80 decibels.
That spans from the typical dull hum of lights or fans in the quietest room in your home (40 dB) to the jumble of noises at a busy intersection in your area, for the purpose of comparison.
You'll need to search a bit harder if you're seeking for a machine that is really quiet.
However, as a general guideline, you should search for a model that, in its loudest mode of operation, produces less than 50 decibels.
FAQs
Purchasing one of these devices is great, but without you know how to use it, it won't be much use to you.
In our last piece, let's cover that problem as well as some of the other most often asked issues concerning camp washers.
How do I use a portable washer?
Each model's procedure is different, but the fundamentals are the same.
Place your laundry in the machine, add water and detergent, choose the appropriate setting or duration of the timer, and push start.
When it comes to understanding how much water is sufficient (and how much is too much! ), certain units call for a bit more complexity.
If you add too much soap and it starts to overflow with suds, some will need you to watch them attentively and put them into "drain" mode.
Unfortunately, not all of these devices provide the most thorough manuals.
In order to understand more about the best ways to use a particular model, we thus recommend that you search YouTube for videos on it.
What distinguishes a portable washing from an ordinary RV washer?
Size is the key distinction.
A full-size washing machine is often close to four feet tall and can hold up to 20 pounds of laundry.
When compared to residential washers, the small camp washer units' size and load capacity are less than half as large.
Additionally, the wash and spin processes for portable machines are cut down.
This will enable you to save energy and water whether camping or traveling by land.
Is a portable washer simple to clean?
The easiest approach to clean these washers of soap residue and the buildup of other junk is to run an empty wash cycle every two to three months using just hot water and white vinegar (it doesn't take much).
To neutralize the vinegar, repeat the hot water and baking soda cycle.
The fact that these devices are portable is another fantastic feature! If they truly need a good clean, you can even take them outdoors to be hosed down and scrubbed.
What is the price of a portable washing machine?
The cost of a manual camping clothes washer is around $100 (or perhaps a bit less), but the price of a fully automated unit often ranges between $150 and $200.
You could easily spend more than $300 on the finest portable RV washer available for heavier loads (and with added capabilities).
Conclusion
There may be no sensation greater than putting on clean clothing after you have gone many days without a shower (which is typical for many campers).
Additionally, having a portable washing machine in your vehicle makes handling unforeseen accidents when they unavoidably happen that much simpler.
We hope you liked reading today's reviews of these washers.
We genuinely hope you invest in one so you may be more independent and make life simpler at camp.
As usual, we'd want to say goodbye by wishing you the healthiest and happiest RVing experiences possible this season!