Isn't it true that everyone deserves a good night's sleep?
Nothing beats crawling into soft, plush RV linens after a long day of travel and learning, especially when on vacation.
Where, on the other hand, can one get camper bed sheets?
And where do you go for sheets that suit your RV's odd-sized bed? Finding the correct sized RV bunk bed linens, for example, may be a lot of fun.
It's not difficult, but there are a few things to keep in mind when it comes to RV camping linens.
Let's have a look at it.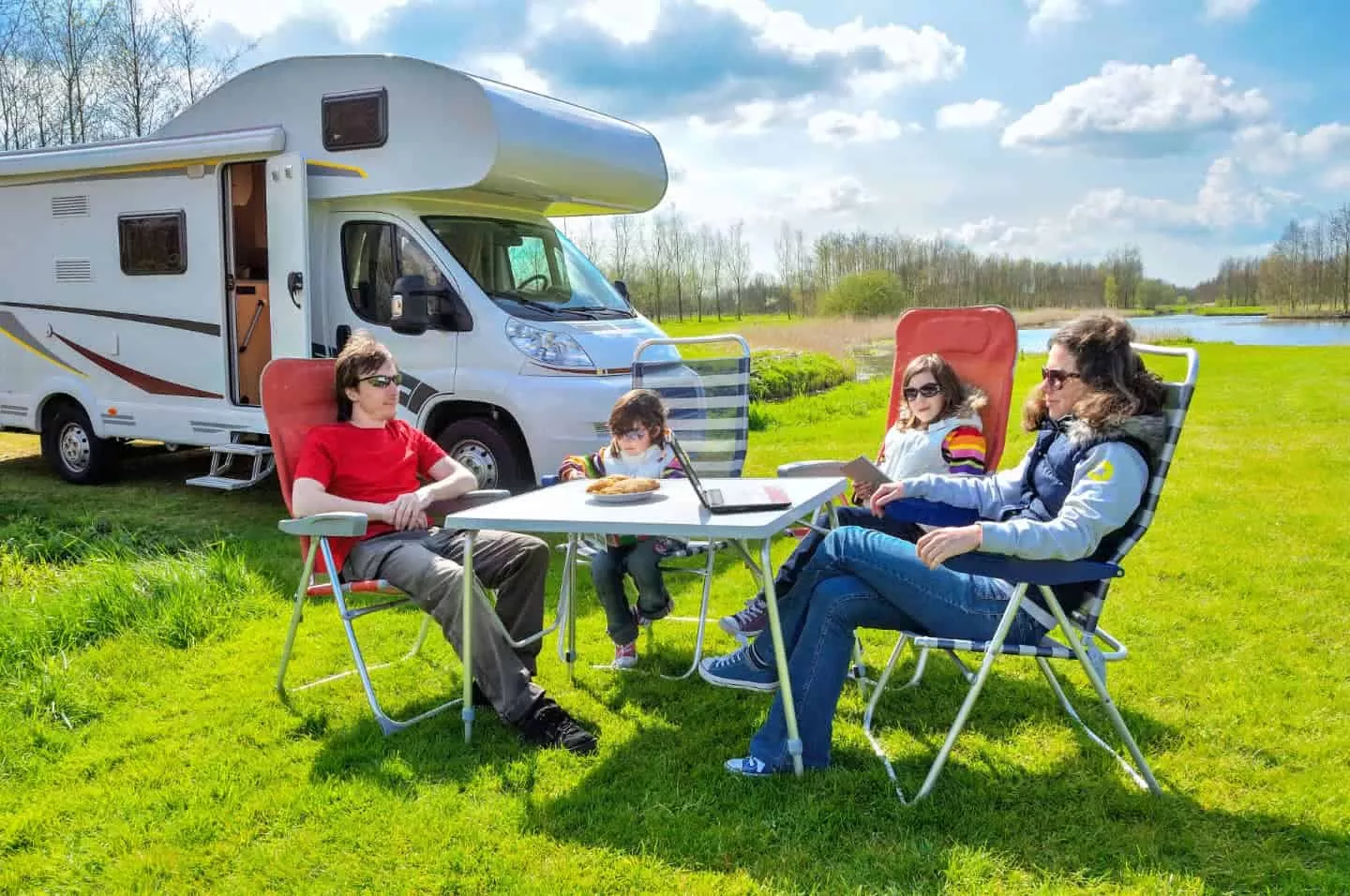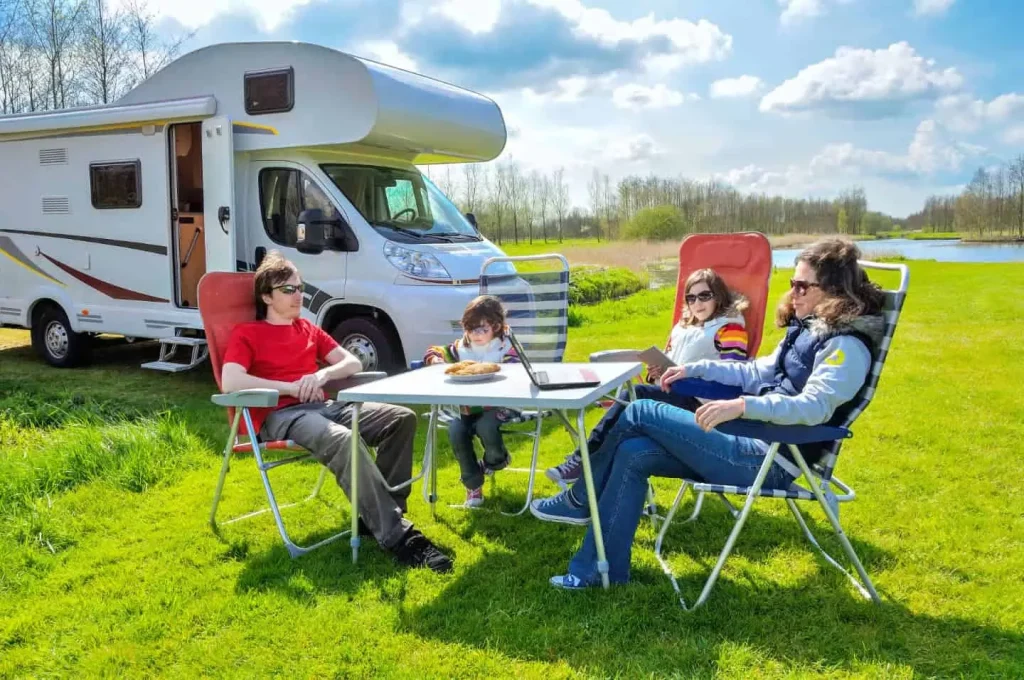 What Are RV Mattress Sheets All About?
RV sheets are similar to normal sheets in most aspects.
They don't need any unique abilities.
All they have to do is fit. They differ from conventional sheets in the following ways:
The measurements are where camper bedding vary the most from 'conventional' sheets.
Some recreational vehicle mattresses aren't the conventional size you're accustomed to seeing.
As a result, the 'hardest' element of selecting sheets for your RV mattress is determining its measurements.
And that isn't a difficult task. To the rescue, the tape measure!
Don't assume that your queen-sized mattress is really a queen-sized mattress.
In RVs and travel trailers, queen mattresses may be referred to as 'Queen shorts,' or they may be larger than a conventional queen.
As a result, measuring your mattress is nearly a must. You may continue after you've determined the size.
This leads to the following question:
Related: 5 Best RV Sheets of 2023
In an RV, can you use regular queen sheets?
If your RV bed is the same size as a traditional bed, you may use ordinary queen sheets (or twin/king/full) (60″ x 80″).
Otherwise, you won't be able to use the sheets in your RV since they don't have any magical properties.
Is your RV equipped with a conventional queen mattress?
If that's the case, any queen sheet from Walmart, Bed Bath & Beyond, Marshall's, Ross, or another retailer will suffice.
However, are there any characteristics that sheets may possess that would allow for a better overall camping experience?
Sure! Let's take a look at a couple of them.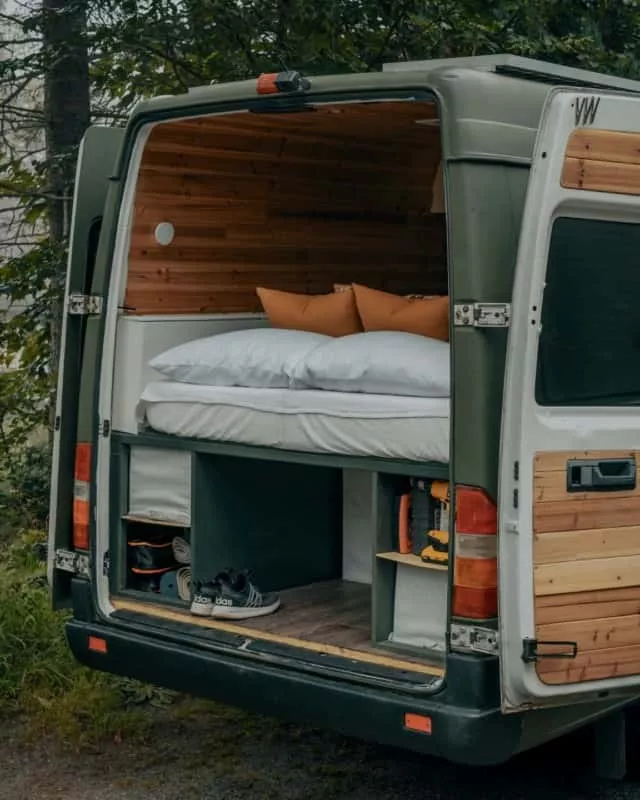 Check For These Features In RV Bedding And Sheets
When it comes to RV bedding, camper beds typically provide their own set of issues.
It's possible that the bed is against a wall.
It's difficult to create if you can't walk all the way around the bed.
It may be a daybed that folds up into the wall when not in use.
It might also be an unusual size.
However, unless making your bed is a chore, there isn't much you need to look for in terms of RV sheet characteristics.
There are alternatives to a traditional camper sheet set, as well as technologies that might help you create (and strip) your bed more quickly.
Next, we'll talk about it.
Related: Here Are The 5 Best Places To Buy RV Short Queen Sheets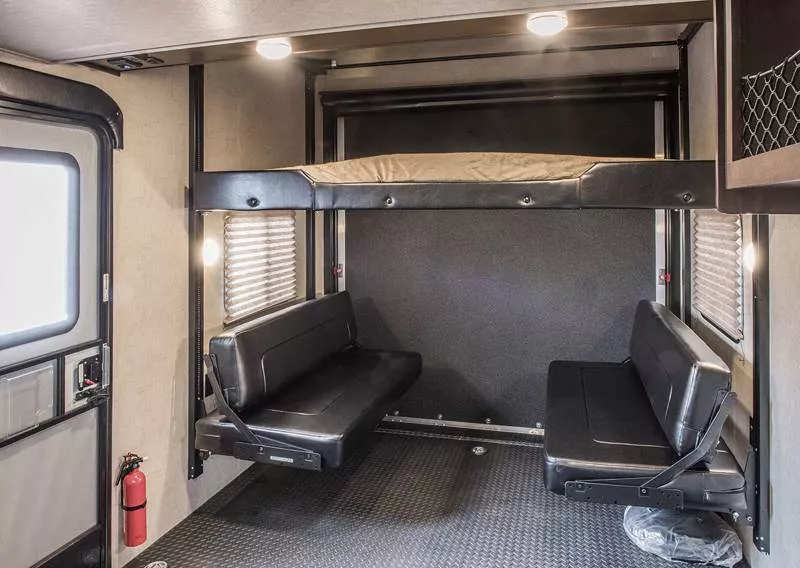 This sort of Toy Hauler bed is an excellent choice for the next type of bedding solution we'll discuss.
Bedding that is simple to make and remove
If your camper bed is against a wall (or three), utilizing different types of'sheets' will make things simpler.
Here are two excellent choices:
Fitted Sheet "QuickZip"
The QuickZip makes stripping and making any bed a breeze.
Because you have to elevate the mattress to get it down there, changing the fitted sheet is generally the most difficult aspect.
The QuickZip is a fitted sheet with zippers that enable the horizontal portion of the sheet to be removed for washing. Because, after all, you never touch the sides, right?
As a result, the sides don't become as filthy as the top!
If you ask us, this is a brilliant innovation.
SO MUCH EASIER TO CHANGE THE FITTED SHEET!
I'd want one of these for my own bed.
(QuickZip is available on Amazon.)
The advantage is nicely shown in the video below.
Beddy's
Beddy's is a sleeping bag that functions like a fitted sheet.
You set this full piece on top of your mattress rather than separate sheets.
It has the sheet and comforter connected and fits your mattress like a fitted sheet.
It's completely made out of one piece.
You just zip up the bed to make it.
Simply unzip the bag, get into the sack, and call it a night.
This makes getting out of bed in the morning a lot simpler.
Related: How To Short Sheet A Bed?
The Advantages Of Sheet Materials
To be honest, any RV linen material will suffice.
When making this selection, there are simply a few things to consider:
Which kind of materials do you prefer? (soft, breathable, wrinkle-resistant, wick away moisture, etc).
In what temperatures will you be camping the most of the time? (flannel or lightweight).
Which climates will you be camping in the most?
Whether or not you need a corner-type bed solution.
Regular-sized sheets are available in a variety of fabrics. Some are more resistant to wear than others.
Some are more effective at keeping you warm than others.
In terms of pilling, the longer the fibers in the fabric are, the less likely it is to pill.
This results in more costly bedding, which is understandable.
Natural materials are less likely to pill than synthetics. (Bamboo, silk, linen, and other natural fibers)
Here's a list of some of the most common materials you'll come across:
Egyptian Cotton is a kind of cotton that comes from
True Egyptian Cotton is a 'premium' fabric (hello, opulent travel trailer linens!).
Egyptian cotton is a fiber that is twice as long as normal cotton.
Because of its tiny diameter, it makes a very smooth and soft fabric.
However, be wary of phony advertising.
Look for the letters ELS (extra-long staple) on the packaging to know it's Egyptian cotton.
Otherwise, the cotton was most likely cultivated in Egypt.
Long-staple Egyptian, long-staple Pima, or Supima cotton are all terms used to describe genuine long fiber cotton.
Cotton
Cotton bedding are inexpensive, breathable, comfy, and long-lasting.
They come in a variety of thread counts, so keep that in mind when you purchase.
A greater thread count does not necessarily imply better quality. As previously stated under Egyptian Cotton, the comfort level is determined by the fiber length.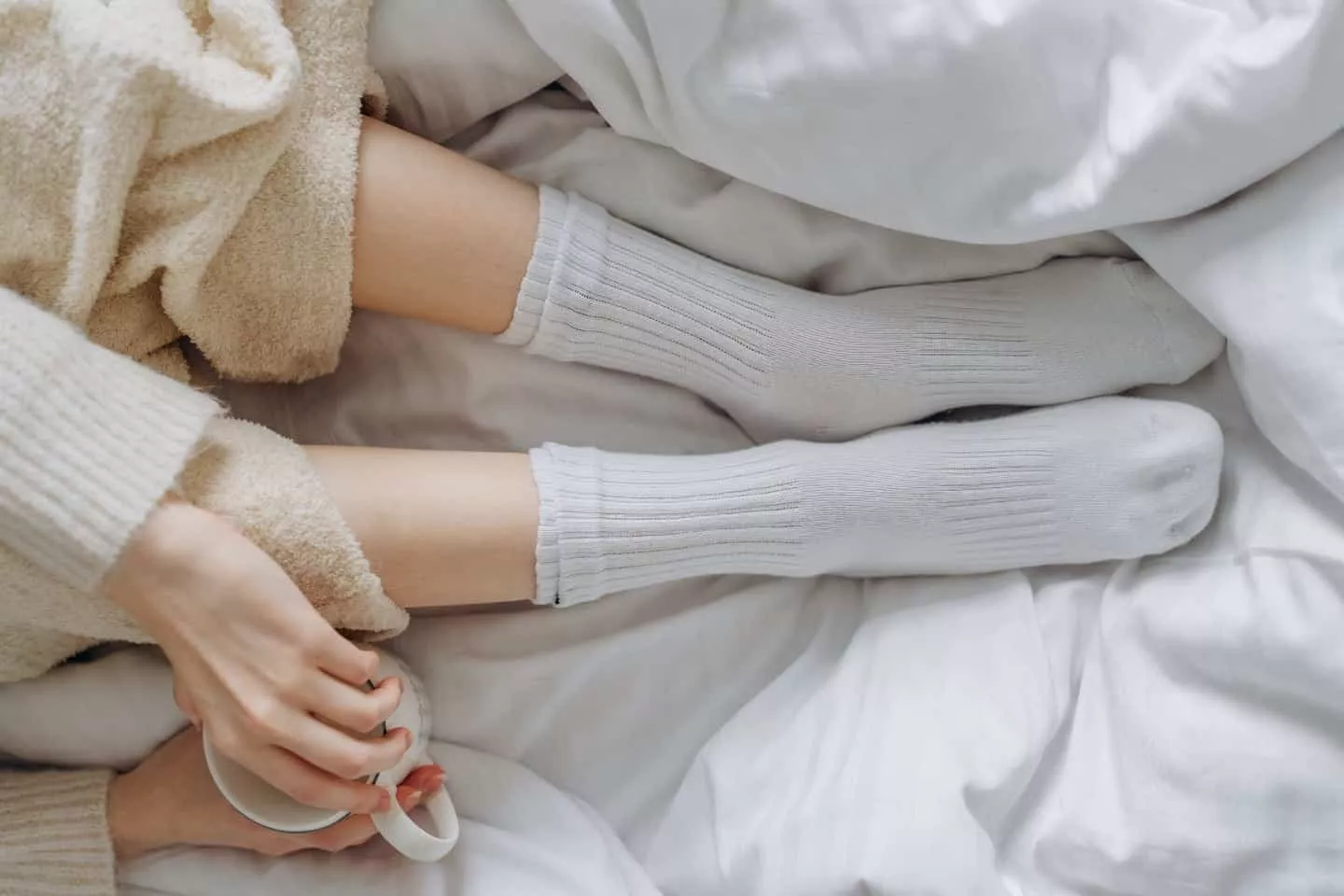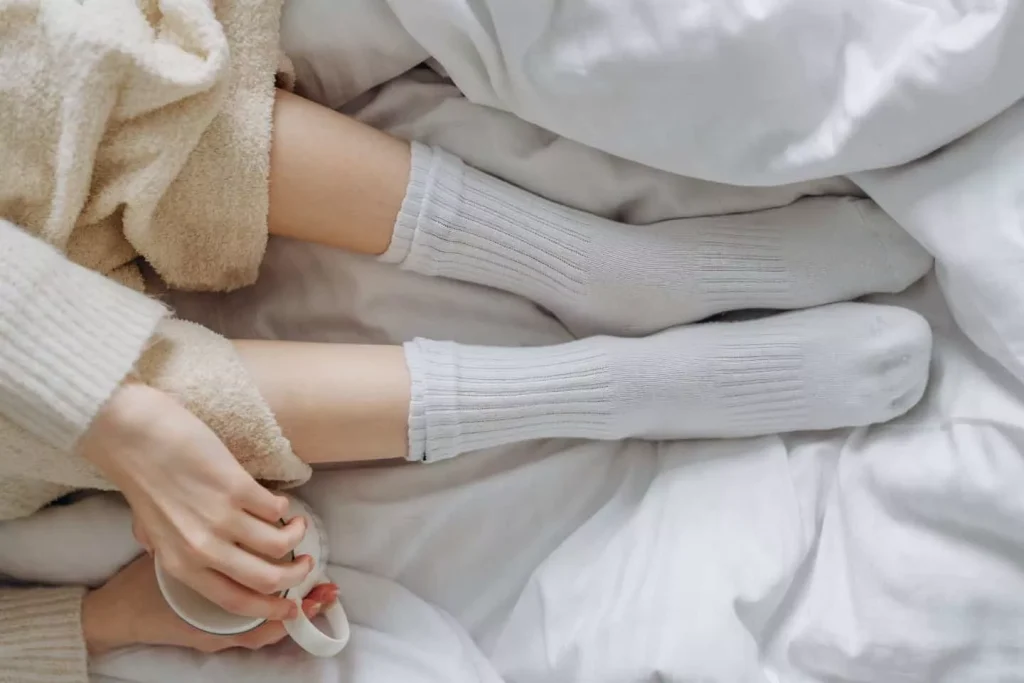 Microfiber
Synthetic materials such as nylon, wood pulp, and polyester are used to make microfiber sheets.
Microfiber has the advantage of being less prone to shrink and more wrinkle-resistant than natural textiles. Keep an eye out for the weaving.
Because a waffle weave traps heat and absorbs moisture rather than repelling it, a flatweave is the ideal option.
Microfiber sheets are a fantastic option since they are soft and cheap.
Polyester
Polyester is a plastic-based synthetic fabric that is generally generated from petroleum.
Polyester is used in a lot of today's apparel.
This fabric may irritate the skin, because it is less absorbent than cotton and wrinkles more quickly.
These are likely to be less expensive than cotton, but they will sleep hotter.
When it comes to finding comfy linens for RV beds, this may not be the ideal choice.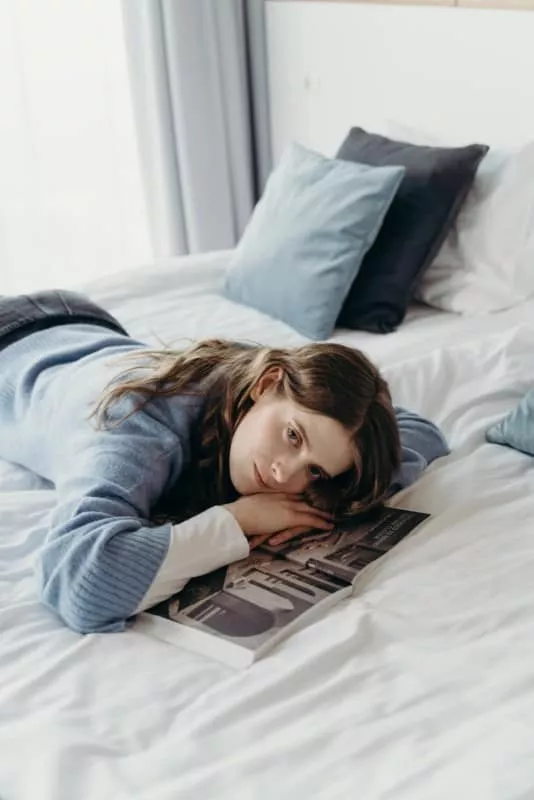 Flannel
Cotton flannel is a kind of fabric.
It retains heat better than the majority of other popular materials.
It does, however, take a breath.
Even so, flannel motorhome or travel trailer bed linens are great for camping in colder locations since they keep you warm while you sleep.
A sheet set might cost anything from $30 to $200.
Mattress Pads with Temperature Control
This is a fantastic addition to help your RV seem more posh!
Naturally, you'll need 120-volt electricity or a 12-volt pad.
At the very least, you may use this pad to warm up the bed before jumping in, and then turn it off.
You may even leave it on all night if you like.
Just make sure your electrical system isn't overloaded.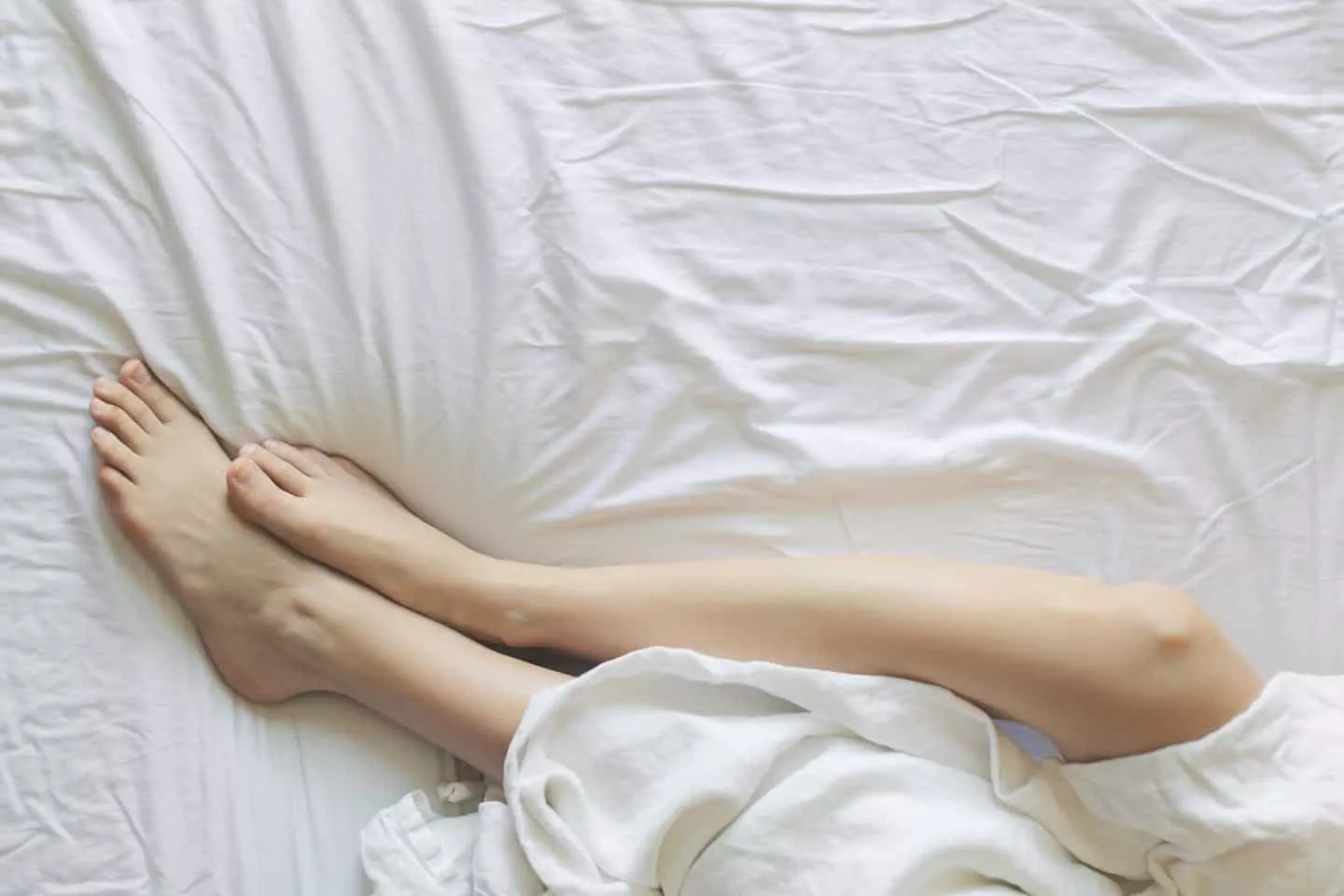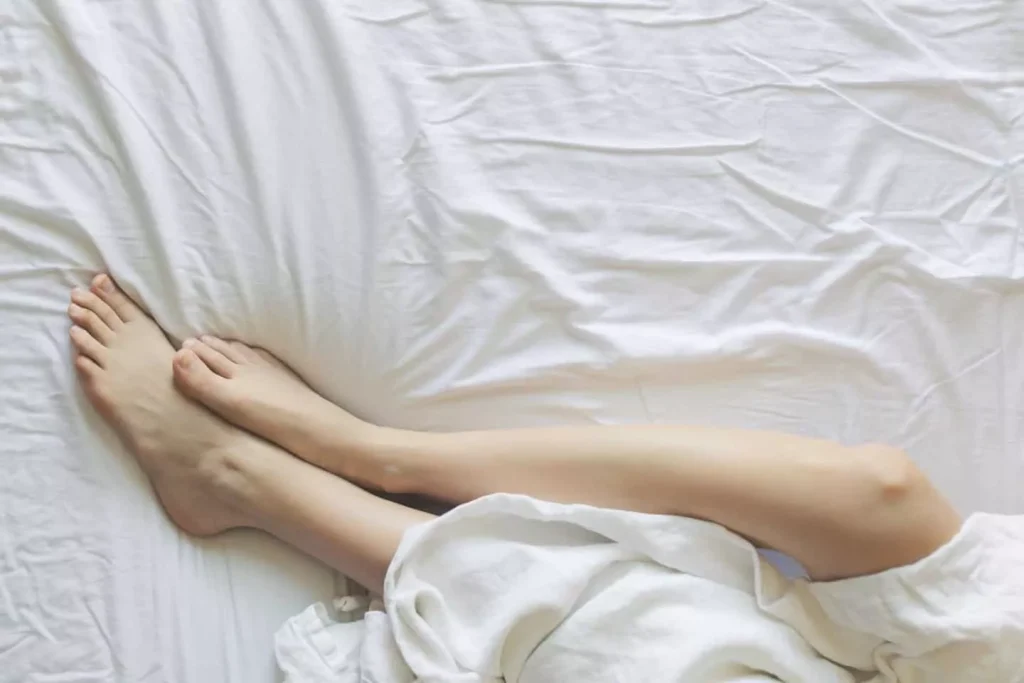 What Is The Difference Between RV and Regular Bed Sheets?
The size difference between RV bed sheets and standard sheets is sometimes the sole difference.
There's no need that the sheets contain a magical potion in order to be in your rig.
In other words, ordering specialized RV camper linens may not be essential.
All they have to do is work for you and fit!
I'm looking for RV sheets, but I'm not sure where to get them.
Sheet sets for RVs may be found in a variety of sources.
Keep in mind that some stores only provide standard RV sheet and mattress sizes.
If you have a strange-sized mattress, you'll either have to purchase bespoke or design your own solution, or you'll have to make do with the closest size.
The finest RV bedding may be found at the following locations:
World of Camping
Camping World offers some in-store, but their website is likely to have a larger assortment.
You may have them delivered to your local shop (if applicable) or to your house when you place your purchase.
Keep in mind that they only supply ordinary and standard RV sheet sizes.
A snapshot of a couple of the several sheet sets available from Camping World.
Amazon
You can find almost everything for your RV bed here.
Standard mattress-sized sheets, RV-sized mattress sheets, and custom-sized sheets are all available.
Beddy's
Beddy's is a product that may be used to build difficult-to-make RV beds.
Even if your bed is not difficult to make, you may prefer this option.
Beddy's is a one-piece fitted sheet, sheet, and comforter! The sleeping bag type set features a zipper that opens and shuts.
All of it may be washed together. It's so much simpler to make the bed now!
Tochta
Tochta is a mattress manufacturer that specializes in bespoke and RV-sized mattresses.
They also produce RV blankets in bespoke sizes!
They also provide RV mattress-sized sheets, so if you have a Short Queen, they have that size available.
Related: How to Fold a Fitted Sheet?
Where Can You Get Custom-Fit Sheets For Your RV Mattress?
You may get custom-sized sheets for your equipment from a few of places:
Amazon
Tochta, tochta, tochta, to (you can customize just about any aspect of your RV sheets)
A simple Google search for 'custom sheets' will turn up a slew of different possibilities.
Why Should You Use RV Bedding And Sheets?
There are a few reasons why you should use RV-specific linens and bedding.
A few strong reasons include the ease of making the bed, unique size requirements, the necessity for more warmth, and the need for stain resistance.
Don't limit yourself to sheets if you don't want to. My RV mattress has a blanket on top of it, with a duvet on top of that.
That is all there is to it. There are no sheets!
How To Improve The Comfort Of An RV Mattress
To put it plainly, the majority of mattresses that come with a motorhome, travel trailer, or small camper are abysmal.
The mattress may be readily replaced.
Simply ensure that you purchase the proper size to ensure that it fits.
It's possible that you'll need to purchase a bespoke size.
Another option is to purchase a camper mattress topper.
A decent mattress topper may improve the feel of a poor mattress.
Latex, gel, and memory foam are the most common types.
There is no such thing as a "best."
It all depends on how you want to feel.
FAQs
Is it necessary to have special sheets for RV beds?
RV beds do not need specific sheets since, in terms of the material used and the manner they are constructed, a bed sheet is a bed sheet.
However, certain recreational vehicle beds have unusual proportions, necessitating the use of a particular sleeping set.
The sheets you use in an RV aren't very exceptional, save from maybe having a specialty size.
In an RV, can I use regular sheets?
If you have a mattress that matches the size of your home mattress, you may surely use ordinary sheets from home in your recreational vehicle.
In this scenario, there is no difference.
Pillowcases, a flat sheet, and a fitted sheet are all you'll need to add a comforter on top!
On a camper mattress, what size sheets should be used?
The depth and breadth of your camper mattress determine the size of sheets you'll need.
Measuring your mattress is the best approach to figure out what you need.
Then place an order for the relevant camper sheet set.
What Is the Meaning of "RV Queen Sheets"?
The term "RV queen sheets" simply refers to bedding that is the same size as a standard queen bed (60″ x 80″).
The only exception is if you have a short queen mattress, in which case you'll need 60″ x 75″ sheets.
What Size Sheets Fit A Queen Bed In An RV?
Any queen sheet (60″ x 80″) will fit a queen bed in an RV.
You'll need short queen sheets if you have a short queen.
The fitting sheet is used more than the top sheet.
The top sheet may simply be tucked in farther to align it properly.
Will Full-Size Sheets Fit A Queen Mattress That Is Too Short?
No, full-size linens will not fit a queen-size mattress in an RV.
The length of a short queen and full-sized mattress is the same, but the queen is 6 inches wider.
What Are the Dimensions of RV King Sheets?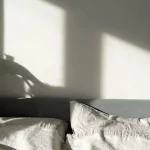 RV king sheets are 72″ x 80″ (regular king) or 72″ x 75″ (super king) (short RV king).
To figure out what size sheets you'll need, measure the size of your RV's king bed mattress.
What Is the Best Way to Wash My Sheets While Camping?
You may just go to the local laundry to wash your linens while camping.
A laundry is also available at some campsites.
If boondocking, sheets may be washed in the local river, but only using eco-friendly soap.
What About Those Camping Zippered Sheets?
Camping with zipped sheets is a terrific idea!
We mentioned a handful of manufacturers before.
Which Sheets Are Best For RVs?
You choose the nicest linens for your RV in the same way you do for your house.
The greatest RV bedding are those that allow you to sleep well.
After you've chosen the right size for the sheets, you'll need to decide on the material they'll be constructed of (more on materials above).
It all relies on your preferences, likes, and requirements.
You could like ultra high-end sheets that last the longest and are the most expensive.
Alternatively, you may only camp where it's chilly and there's no heat, in which case you'd choose flannel bedding
You'll have to find it out on your own.
What Size Sheets Are Appropriate For An RV Table Bed?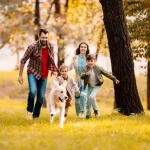 The amount of sheets required to make an RV table bed is determined by the size of the sleeping space created by the table.
When a camper dinette is converted to a sleeping space, the most common 'table bed' is made.
The resultant camper dinette bed may be any size, from small enough for a kid to large enough for two people.
In general, the larger the RV, the larger the dinette.
Because the dinette bed may not be the correct size for standard-sized bedding, you have a few options:
1. Purchase a set of custom-sized sheets in the proportions you want. You may only want to spend this money if you use the table bed regularly.
2. Use a standard pair of sheets that are near enough in size and tuck the extra beneath the bed if needed.
Conclusion
Sheets for your recreational RV aren't as simple to come by as they are for your home's bedroom bed.
You may have an irregular-sized mattress that necessitates the use of custom-made linens.
That, or your bed may be surrounded by three walls, making it incredibly difficult to make.
In this scenario, a different kind of sheet set that makes the process simpler would be appropriate.
You're in luck if your guest bed is the same size as your own!
You may simply purchase sheets or make do with what you currently have on hand.
Simply measure your mattress to determine what you have and what you need.
Regardless, this website has all you need to know about selecting the best sheets.
Get your sleeping bags, go camping, and have a great time!