Although they may be extremely expensive, RV water heaters are much wanted (unless you like cold showers).
They come in many shapes, with the tankless water heater and the typical 10-gallon water heater being the most popular.
But what constitutes "pricey"?
What is the price of an RV water heater? An RV water heater typically costs between $800 and $1,000.
A tankless water heater will cost around $1,000 whereas a normal 10-gallon water heater would cost about $800.
Everything depends on how much hot water you want in your RV and how much it can store.
In contrast to a tankless water heater, a regular water heater clearly stores considerably less water and heats up much more slowly.
Whether you intend to use it or not, the tankless water heater saves gallons of warm water for quick use.
Read on if you want to learn more about some of the specifics!
#1. Water Tanks Of 6 Gallons
When it comes to water heaters for RVs, conventional models (often 6-gallon tanks) have long been the norm, but the advent of tankless water heaters has fundamentally altered the landscape.
In addition to heating water on demand, tankless water heaters are excellent for the environment.
Nothing is more annoying than getting into the shower when you're already running behind schedule and discovering the water is still cold.
The typical water heater is enough for a weekend trip if you just anticipate using hot water to wash a few supper plates, but it is certainly insufficient for a weeklong family vacation.
Attempting to cycle everyone through the shower while you wait for it to warm up can take the whole day, depending on the size of your family.
By the time you are coated in bubbles and prepared to wash off, the water has often already become chilly.
#2. 10-Gallon Water Heater
The 10-gallon water heater tank is a significant improvement over the 6-gallon tank.
Even while it's often an improvement over the standard 6-gallon, it still takes this container an hour to heat back water after a shower.
Reduce the water flow slightly to make the most use out of your hot water and it will last longer.
You may take a whole shower with the 10-gallon water heater, but the person standing in line after you will have to wait a long.
For a smaller household, a 10-gallon container is a wonderful addition, but it costs around $800.
Although you have to wait the same amount of time for the hot water to reheat, you are getting a bit more use out of it.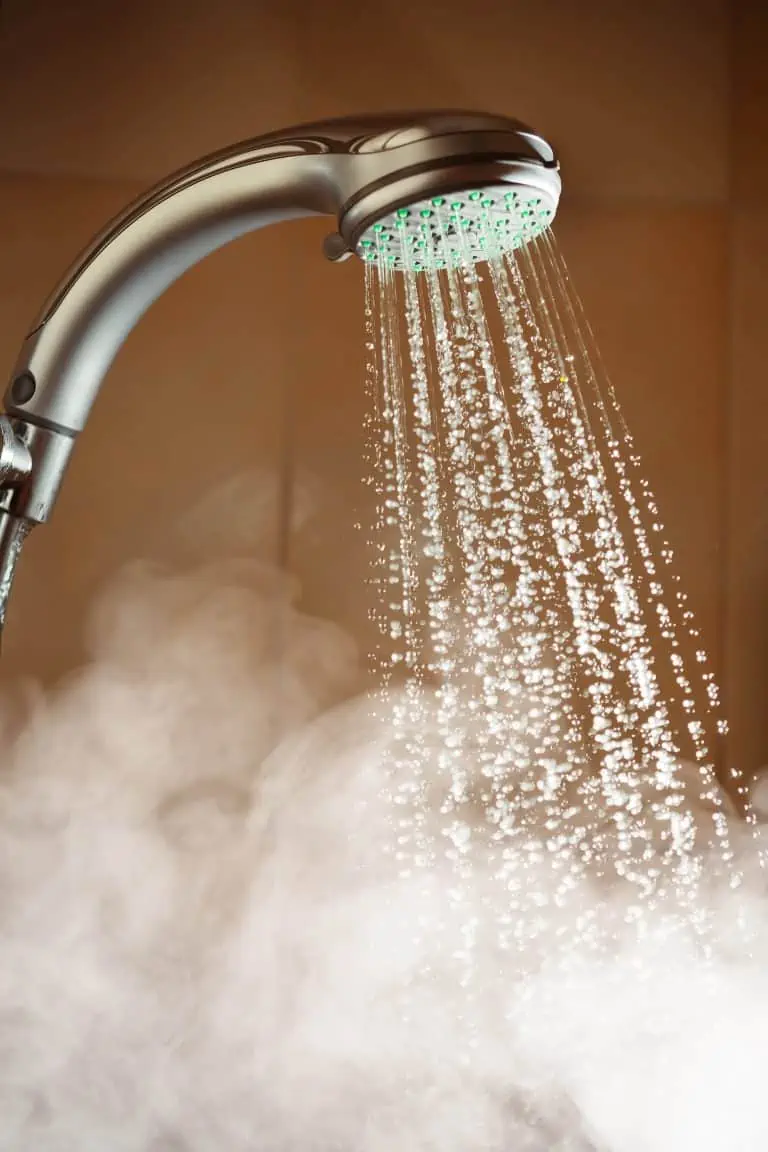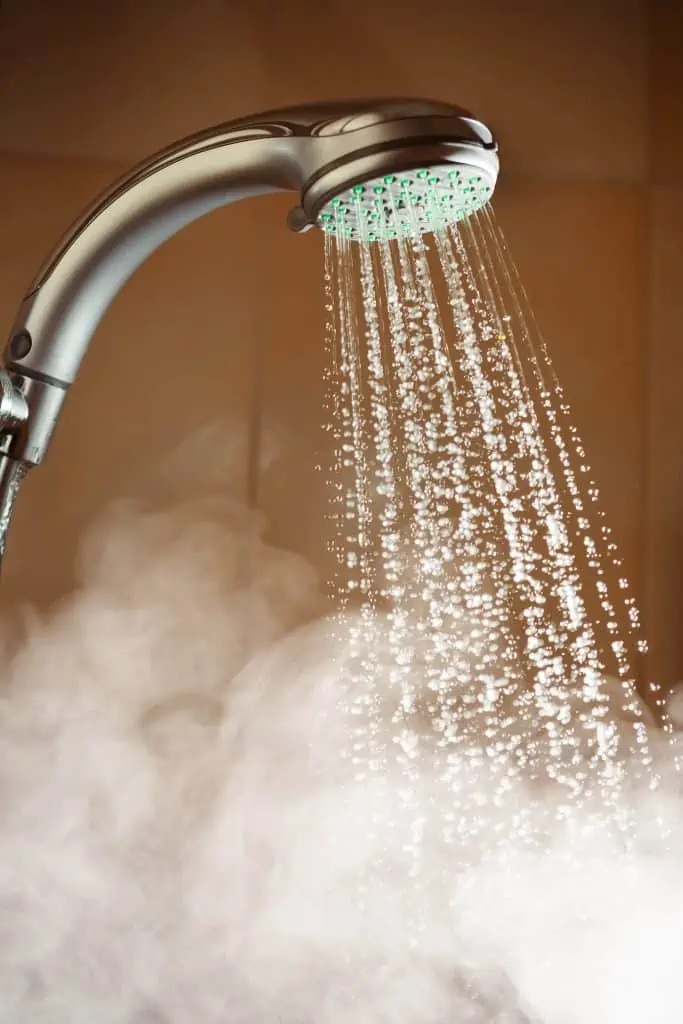 #3. Water Heater Without Tank
Consider having each member of your family take a hot shower one after the other, followed by dishwashing and laundry.
Sounds absurd, huh?
Your thoughts of taking a lengthy, hot shower will come true with a tankless water heater.
Although they aren't presently required for RVs, they may be upgraded for around $1,000.
Your water will heat as soon as you turn on the faucet using propane burners and sensors driven by 12V DC, much like your home's water heater.
The water heater recognizes the beginning of water flow and begins heating the water.
What happens if you are not connected to the municipal water supply is a common question when discussing tankless water heaters.
How does the water heater detect when you've run out of water if all you're doing is using water in your RV?
The device has a spinning blade that rotates when water passes through it.
Water stops flowing through when you run out, which causes the spinning component to cease revolving.
The system will then be safe until water flow is restored since the burner will then turn off or refuse to ignite.
The customer must choose between propane and electric tankless water heaters to choose the one that is best for them.
Electric water heaters use around 60% less propane than gas water heaters while being 60% quieter.
This is a fantastic choice if you want to go green.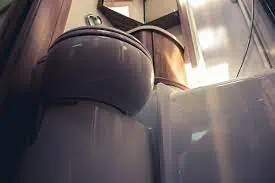 Pros
Standard
A typical water heater can be ideal for your requirements, depending on what they are.
Compared to a tankless water heater, it is far less expensive.
I would stick to the fundamentals here if you weren't intending to use the tankless water heater to its maximum potential.
The less costly choice would be ideal for infrequent trips to camp for one or two people.
Since your RV already has this basic water heater, you won't need to worry about upgrading it or shelling out additional money to have a new one installed if you don't actually need it.
Tankless
Tankless water heaters use 30 to 50 percent less energy than units with tanks, saving the typical family at least $100 annually while keeping the cost in mind (depending on the water usage.) By not having to maintain a water storage tank at capacity, they save money and energy.
The luxury of having instant hot water that is not restricted to a 20-minute shower is the biggest pro for most people.
For people who often camp or go camping with big groups, this is a major aid.
It is the least expensive water heater choice that is the easiest to operate.
They work really well at quickly heating your water.
Compared to tank heaters, they will last substantially longer.
They don't take up a lot of room.
Your power cost might decrease by up to 20% with a tankless water heater.
These heaters have up to four different settings and may be operated remotely.
Due to a busted tank, flooding won't be a concern for you.
The warranty on tankless water heaters' goods is often longer and may range from 6 to 15 years to a lifetime with certain manufacturers.
Cons
Standard
The absence of heat in a typical water heater is obviously a drawback.
Unfortunately, a complete shower cannot be heated with a 6-gallon or 10-gallon water heater, and it takes an hour to reheat the water.
A bigger group of campers may find this issue annoying and completely ridiculous.
If noise troubles you, these water heaters might also be loud.
Tankless
If you're wanting to upgrade, the tankless water heaters' price is unquestionably a disadvantage.
For some people, it is totally worthwhile, but getting the water heated on demand may be somewhat expensive.
It is an investment even if it ultimately saves money.
Savings
Standard heaters maintain hot water continuously while utilizing electricity, which ultimately increases your bill.
Tankless water heaters save you more money since they don't have to heat the full tank; instead, they heat the water as it flows.
FAQs
How can I switch a conventional RV water heater to a tankless one?
Look into several tankless choices to see if they would be a better match for your unique requirements.
It would be better to hire an electrician to replace it for you if you want to swap it out from a standard.
Which tankless water heaters for RVs are the best?
The Precision Temp RV-550 Tankless Water Heater, Eccotemp FVI-12-LP Propane Tankless Water Heater, and Excel Tankless Gas Water Heater are a few of the best-reviewed RV tankless water heaters.