The wrong place for contortion is in the too-small master bedrooms of RVs.
Sometimes it seems like you have to transform into "Flexo the Fantastic" in order to get into your camper's bed at night.
When you're in the right position, you may wonder what the RV engineers were thinking when they designed a master bedroom that was too tiny.
We'll go through the reasoning behind why RV master bedrooms in 25-35 foot travel trailers are too tiny.
You'll discover the extras that RV designers incorporated to the bedroom to make the area seem less cramped.
We'll demonstrate how to make the most of the most popular floorplans where customers have complained that the master bedroom in an RV is too tiny.
The 8 Best Examples of Spacious Small RV Master Bedrooms
#1. Coachmen Freedom Express Ultra-Lite 238BHS: Travel Trailers With Murphy Bed
Length: 25.9 ft.
Dry Weight: 5,314 lbs.
GVWR: 7,600 lbs.
Master Bed: Residential Queen-size Murphy bed
Residential Queen-size Murphy bed for the master bedroom
Although the murphy bed has been around since the 1800s, it wasn't used in RVs until the Modern Era (2008- Present).
Murphy beds are most often misunderstood as lacking "real" mattresses.
RV builders carve out a large space beneath the moveable frame to accommodate mattresses that are 10 inches thick.
The tiny RV master bedroom is not a problem with this sort of design during the day or at night.
The Freedom Express Ultra-Lite 238BHS by Coachmen fully utilizes the Murphy Bed as the supreme Space Saver.
The bed may be folded up during the day so you can use the couch as seating.
The jackknife couch just has to be flattened, the locks on the murphy bed only need to be pulled, and the bed won't need to be made again.
The area is not constrained by a wall at the foot of the bed, and you won't bump up against the sidewalls because of the room's broad sidewalks.
The youngsters may draw the privacy curtains so they can have their own pocket world and will appreciate their full-size 50″ x 74″ bunk beds.
You can adjust the LED TV above the kitchen counter with a set of Bluetooth headphones and end the night watching your preferred streaming program.
Related: 12 Best 3 Bedroom RV of 2023
#2. Winnebago Micro Minnie 2108TB: Travel Trailers With Dual Twin Beds
Length: 22.7 ft.
Dry Weight: 4,040 lbs.
GVWR: 5,500 lbs.
Master Bed: Dual RV Twin OR King with bridge pillows
What is outdated is updated.
A sizable section of the population believes that RVs with two twin beds are just for those retro "fuddy-duddies." The truth is that this layout is popular among "whipper-snapper" Millennials and other younger-at-heart age groups.
The two twin beds offer several benefits:
Compared to a double bed, there is greater storage below.
The bridge pillows allow you to convert the twin beds into a king.
It's simple to get in and out of bed because of the roomy space between the beds.
When you get out of bed, you don't wake up the person next to you.
If you travel with a companion and your relationship has clear limits, everyone may feel at ease and have their own space. See number 2 if the nature of the connection changes.
The Micro Minnie 2108TB from Winnebago has the additional advantage of being an RV with a rear bathroom.
The whole width of the integrated dry bath gives you a spacious shower and lots of space to roam about.
Additionally, Winnie positions the dinette on the slideout next to the off-door, leaving ample of space around the coach for wandering.
The Flying W also has a flip-up counter for more surface area for food preparation.
#3. Dutchmen Kodiak Ultra-Lite 201QB: Travel Trailers Without a Slideout
Length: 24.1 ft.
Dry Weight: 4,072 lbs.
GVWR: 5,500 lbs.
Master Bed: Residential Queen
The 201QB is a good option for couples seeking for a travel trailer to pull with their Rivian R1T for weekend excursions one or two hours away from home.
When you've finished that 15-mile walk or navigated those Class IV rapids, this tiny monster makes a great mobile headquarters.
To discover more about the Rivian R1capacity T's for towing, pick up a free copy of RV Camping Magazine's June issue.
You won't have to worry about inside walls or cramped side walks around the front residential queen-size bed thanks to the Dutchmen Ultra-Lite 201QB's open concept.
For a travel trailer that isn't more than 30 feet long, the inside room is enormous.
If you track in any mud and dirt from your expedition, the all-laminate flooring is simple to clean up.
You'll also appreciate the large corner shower as you "decontaminate" and reclaim your humanity.
Your vehicle is powering your Kodiak travel trailer's RV alarm system while you fall asleep that night while daydreaming about your fantastic excursion.
This time, the bear won't approach your campsite as often.
#4. Heartland North Trail 22RBK: Travel Trailers Without a Separating Wall
Length: 26.35 ft.
Dry Weight: 4,852 lbs.
GVWR: 6,900 lbs.
Master Bed: Comfort Select Short King
RVs with slideouts may also have open-concept floorplans.
They are most common in trailers under 30 feet, although families and couples may also have them from RV manufacturers.
The front master bedroom's privacy curtain is an addition made by the Heartland North Trail 22RBK.
The easiest method to prevent a master bedroom in an RV from being too tiny is to take the partition down altogether.
The off-door slideout's U-shaped dinette is to blame for this.
The huge dining set accommodates six people, allowing you to host dinner parties, utilize it as sitting when not in use, or even turn it into extra bedroom for two people by removing the pedestal table.
Look at that master bed size one more before you pass this mid-size RV by.
A king bed in a travel trailer under 5,000 pounds is quite uncommon.
Since it's simple to lower the dry weight of a lightweight trailer, most RV manufacturers will only allow a queen or short queen.
The extra-large mattress, king-sized dinette, heater, extreme freight carrying capacity (2,016 lbs.), and other amenities were instead installed by Heartland.
Heartland completes the concept with a back bathroom that is located next to an outdoor kitchen for an RV.
You'll discover deep cabinets with shoulder-level storage in the bathroom area.
The refrigerator, pull-out sink, and slide-out counter that make up the outdoor kitchen are stored behind the cabinets.
Related: How to Clean Your Bedroom in 15 Minutes
#5. Jayco Jay Flight SLX 8 267BHS: Travel Trailers With 2 Bedroom Entrances
Length: 30.4 ft.
Dry Weight: 5,840 lbs.
GVWR: 7,000 lbs.
Master Bed: RV Queen
Two entryways from the living area to the master bedroom were designed by RV makers.
Walking between the foot and the inside wall is no longer necessary thanks to this concept.
It's a design strategy that enables the owner of the master bedroom doors to better seal off the room than a curtain.
The side windows on each wall give the area a wider, brighter vibe.
Additionally, the paths are wide enough for you to change.
The bunkhouse travel trailer Jayco Jay Flight SLX 8 267 BHS has a 30 and a half foot length with an outside kitchen.
The coach's layout is ideal for an expanding family.
Toddlers can get clean up in the tub-style shower, and the dinette or jackknife couch makes a wonderful first bed.
With the exception of the foot corner, the double bunks are completely enclosed by walls to prevent them from rolling out.
The privacy curtain will be appreciated by your adolescents as a means of isolation from others who "don't get it."
#6. Keystone Springdale 274RB: Travel Trailers With Dual Entry Doors
Length: 31.7 ft.
Dry Weight: 7,026 lbs.
GVWR: 9,520 lbs.
Master Bed: RV Queen
The stroll area at the foot of the bed will surprise you in the Keystone Springdale 274RB.
A large portion of it is related to the secondary entrance.
The RV Industry Association (RVIA) and other organizations have established RV construction rules that state that every room in a motorhome or travel trailer must have two exits for safety reasons.
A second door must be used in place of an escape window in travel trailers longer than 30 feet.
RV makers employ the secondary door in some units as an entrance into the bathroom so that it may serve as a mudroom in order to make the most of these second doors.
In this instance, the front secondary door serves as a practical spot to keep your lengthy things when traveling.
For instance, the space between the bed and the inner walls may accommodate your bikes, kayaks, or other items that are too tall to fit in the pass-through storage area.
The additional room also reduces the need for acrobatics during the dressing process.
The walk-in pantry located next to the front entrance door is undoubtedly a fantastic feature.
The pantry is a fantastic spot to keep your tables and other equipment if you also use your travel trailer for tailgating.
Therefore, the RV's outdoor kitchen will surpass the other team's tailgate pre-game get-together any day of the week and twice on Sunday, whether you pull in for the big game or your kids' weekend playoffs.
#7. Lance 2465: Travel Trailers With a Rear Master Bedroom
Length: 29.5 ft.
Dry Weight: 5,875 lbs.
GVWR: 7,800 lbs.
Master Bed: Deluxe King
You'll discover that RVs with rear master bedrooms offer the required walk-around bed height, breadth, and space.
The Lance 2465 is a mid-size travel trailer with an office if you wish to work while on the road.
The long desk can accommodate two persons, but if you want a private area, the edge of the dinette doubles as a fantastic second RV workstation.
If you find yourself staying up late working, all you have to do is turn about in your office chair, and your king-size bed will appear.
Make sure to turn everything off before you do your zombie crawl into bed, even if you purchase the optional twin 190-watt solar panel system.
You won't enjoy the phrases your spouse uses to wake you up to show their irritation if they get up before you and are unable to use the coffee maker since you used all the house batteries.
Related: 25 Small Bedroom Ideas for Maximizing Space and Style
#8. Airstream Flying Cloud 30FB Bunk: Airstream North/South Master Bed
Length: 30.10 ft.
Dry Weight: 6,672 lbs.
GVWR: 8,800 lbs.
Master Bed: RV Queen (60-inch x 75-inch)
Lower Bunk- Residential Full (54-inch x 76-inch)
Top Bunk: Narrow Twin XL (30-inch x 78-inch)
The conventional and laminated fiberglass paneled travel trailers that make up the majority of the RV trailer category have been covered so far.
The longest variants of the double-hulled, molded fiberglass towables had living areas that are under 20 feet, so we didn't discuss them.
The Airstreams are a whole industry unto themselves.
Many details about the new Flying Cloud 30FB Office are available (see out the September edition of RV Camping Magazine), but some overlook the layout upon which it is built.
The office area of the 30FB Bed is situated between a nearly residential-size full-size bunk and an extra-long twin top bunk with a built-in roll guard.
The master bedroom's side bed pathway areas are larger than those of almost any other model.
It is simple to maneuver around the bed thanks to Airstream's rounded foot edges on the mattress.
Please keep in mind that Airstream only works with the greatest vendor brands before you think about upgrading the mattress.
The pillow top memory foam mattress satisfies the very strict requirements that the RV firm sets on its suppliers.
The Reason Why RV Master Bedrooms Are Too Small, According to Engineering
A demonstration is the most effective approach to demonstrate the mechanical reasoning for inadequate master bedrooms in RVs.
Grab some paper and a pen or pencil, then follow the instructions below.
In the center of the paper, draw a rectangle. Because you are creating the travel trailer's external walls, don't make the rectangle too tiny.
Draw a square to depict a queen-size bed in the middle of the short wall at one end.
On the other end, we will turn this unit into a rear kitchen layout, so make the countertop a long, thin rectangle that is placed against the short end of the inside wall. Next, put a tiny square for a refrigerator and a large rectangle for a dinette against one of the long edges.
Place a small rectangle to represent the entertainment center on the other wall from the couch, somewhere in the center of the inside trailer border. Remember to include the entrance door.
We came up with a straightforward design for the hypothetical back kitchen travel trailer.
However, it is the fundamental basis on which RV developers build their numerous models.
The challenging element is ensuring sure the coach meets goal weight requirements, adding additional amenities, and meeting timelines.
Of course, it is important to maintain production costs within reason.
You'll note that every brand in the category and subsector has the identical layout whether you browse online or visit an RV.
That is due to the design's success.
By the next model year, you'll see the identical design concept used by the other RV manufactures that an engineer has come up with.
Being the first to identify the design idea is the actual challenge.
Making The Most Of A Small Living Space Is Possible.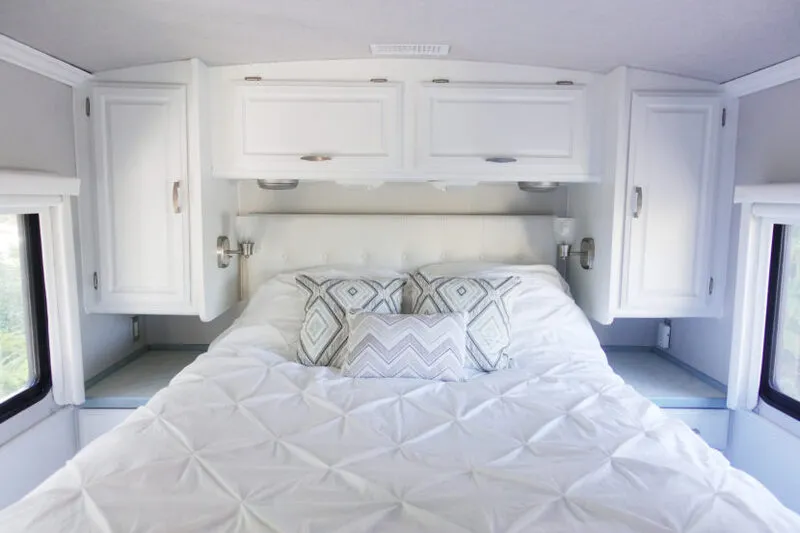 Making the most of every square inch of living space is one of the fundamental tenets that RV engineers follow.
Additionally, RV manufacturers anticipate that their clients want to use their coaches to the fullest when awake.
So they will move an inside wall if doing so increases the amount of living room space while staying within the bounds of authority and customer tolerances.
The master bedroom is mostly thought to be used for sleeping by RV manufacturers.
The benefit is a bigger living area with almost residential-sized furniture, appliances, and amenities that people use the majority of the time when they are awake, even if it may be a squeeze to get to either side of the bed.
RV master bedrooms are overly tiny as a result.
Through consumer feedback and surveys over the years, RV businesses have come to understand the value of adopting this strategy.
You'll discover that certain floorplans in the mid-size travel trailer segment are better than others at providing a spacious living area and reducing the issue of an inadequate RV master bedroom.
Adjusting the master bed's mattress size to provide the sides and end pathway up to 5 inches more room is one of the finest tactics RV designers utilize.
Related: 35 Gorgeous RV Bedroom Remodels for Cozy Inspiration
Using RV Bed Mattress Sizes to Save Space
RV bed mattress sizes are used by travel trailer builders to maximize space.
Have you ever attempted to make the queen-size bed in your RV using your own bedding? Did you discover that the fitted sheet wasn't properly sized? There's a rationale behind it.
A queen bed measures 60 inches by 80 inches in the realm of household mattresses.
You could have a full XL, short queen, RV king, or another variation in your motorhome or travel trailer.
Over the years, manufacturers adjusted RV mattress measurements, adding additional inches for cupboards, pathways, and properly shutting slideouts.
If your RV master bedroom is too tiny for comfort, you may be able to solve the problem by making your bed's mattress smaller.
Residential or short queen mattresses bigger than the bed platform are typical in mid-size travel trailers.
By switching to a short queen or full XL mattress, it could be simple to open up the side passageways.
For homes and RVs, our partners at Tochta make the greatest mattresses, both regular and bespoke.
A chart that displays the width and length in inches and explains conventional residential and RV sizes is provided:
| | |
| --- | --- |
| Size | Dimension |
| RV Twin/Bunk | 34 x 74 |
| Residential Twin | 38 x 74 |
| Twin XL | 38 x 80 |
| RV Full | 48 x 74 |
| Residential Full | 53 x 74 |
| Full XL | 53 x 80 |
| RV Queen (a.k.a. Short Queen) | 60 x 74 |
| Residential Queen | 60 x 80 |
| RV King | 72 x 78 |
| Short King | 72 x 80 |
| Residential King (a.k.a. East King) | 76 x 80 |
| California King | 72 x 84 |
Using Tochta memory foam technology, they can create a variety of personalized mattresses, including:
10 to 20 inches thick
88-inch width by two
200 to 200 inches long
If your RV has a rear corner bed, one of the corners may need to be softened or chopped diagonally to suit the area properly.
Many of the full-size bunks must have one corner chopped diagonally to make room for walkways.
You'll have the most chance purchasing bed linens on Amazon and at other camping shops if your RV has a mattress that isn't residential size.
The greatest solid colors and designs for RV linens are available to match the interior design of your motorhome or travel trailer.
There are also specific sheets with an RV theme.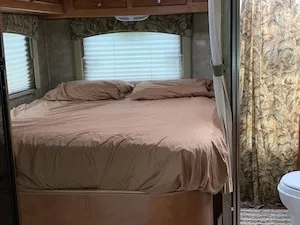 Where Can I Find Big Bedroom Travel Trailers?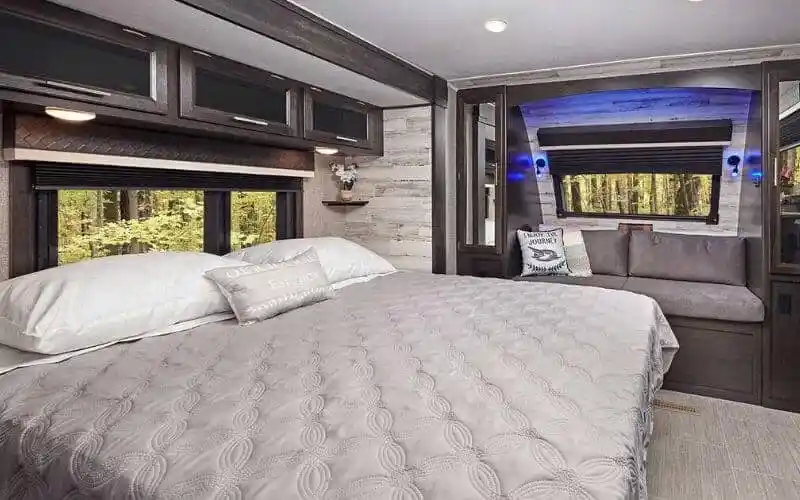 Set your criteria to full-length travel trailers to uncover trailers with spacious bedrooms or complete master suites.
If you're going to that level, consider a gas-powered 150/1500 series pickup truck or the Ford Expedition with the heavy tow package (9,300 lbs. towing capability).
For all that room and opulence to travel the American roadways, substantial power is required.
The RV master bedrooms in the aforementioned instances can be too tiny for comfort.
But now that you know why, you should also know how to unlock it.
Visit our Facebook discussion group RV Camping for Newbies to learn more about this issue from other RVers.
Subscribe to the RVBlogger YouTube channel if you want to watch additional midsize travel trailers, other sizes, categories, or RVs with other common characteristics.
We provide fresh information every week on some of the leading RV brands as well as other trending subjects in the RV industry.
Visit our RVBlogger website for the finest advice, trends, and information on all things RV.
There are numerous resources available to help you improve your RV experience, including information on the top travel locations, details on the many types of RVs, useful "How-To" books, the greatest training programs available to help you become an RV master, and many more.
In addition, you may find us on Instagram.
Don't forget to register for your free copy of RVBlogger's online magazine, RV Camping.
We publish interviews with the top YouTube RV Influencers once a month.
On a variety of cutting-edge subjects that are currently being discussed in the RV industry, we also have feature pieces written by guest authors.
Need assistance with upkeep or repairs? The National RV Training Academy offers simple advice for maintaining your coach's readiness for travel.
You'll like our articles on locations, renovating, and a host of other subjects.
Thank you for reading, and we'll talk to you soon!
Rv With Bedroom Videos Suggestions From Youtube