Residents in compact spaces, unite! You've come to the correct spot if you're looking for tiny bedroom ideas for a DIY makeover but don't believe you have enough space.
To make the most of the available space and demonstrate that small rooms can be attractive, we have some wonderful small room design ideas.
Don't forget that a bedroom's primary purpose is to be a place to relax and recharge, even while contemporary and opulent design concepts often tell you that you need to have a sitting area, tiny office, or a king-size bed in your bedroom.
And it takes very little effort to turn a plain place into a lovely one.
For a better night's sleep, your little bedroom could be a godsend.
The American Sleep Association advises against engaging in stimulating activities in bed.
They caution against using the internet, watching TV, or working while trying to get some shut-eye.
Therefore, you set yourself up for greater sleep by having less to accomplish in your bedroom.
How about it for clever design?
Here are some tips for decorating a small space that will show you how to make the most of your bedroom's available area.
Space-Efficient Creative Little Bedroom Ideas:
#1. Decorating Ideas For Tiny Spaces That Are Light And Lively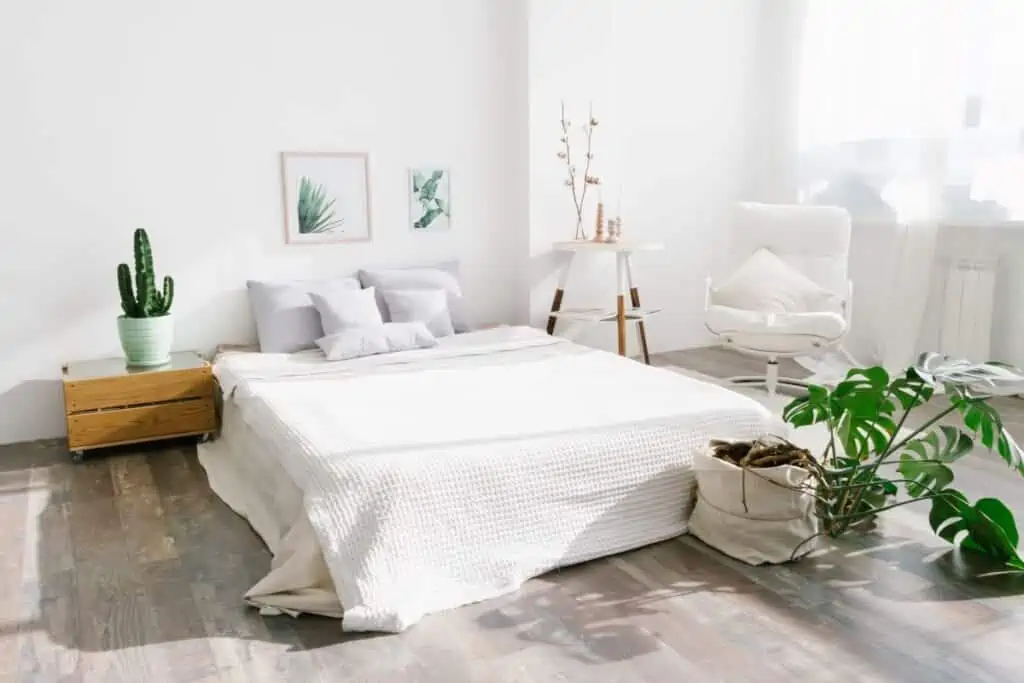 White is a broad and useful color option for modest bedroom design.
It prevents the room from seeming cramped or too cluttered.
Your bedroom will seem larger if you paint it white.
In order to make your area seem more spacious and bright, choose white or lighter hues.
Concerned that white paint may seem too stark? Layer your whites with various textures and white-on-white patterns for drama to prevent your tiny bedroom from looking sterile or devoid of individuality.
The bedroom above is transformed from sterile to fashionable with the simple addition of a patterned blanket and chrome bedside lights.
Related: 15 Best 2 Bedroom RV of 2023
#2. A Comfortable Corner Bed For Tiny Rooms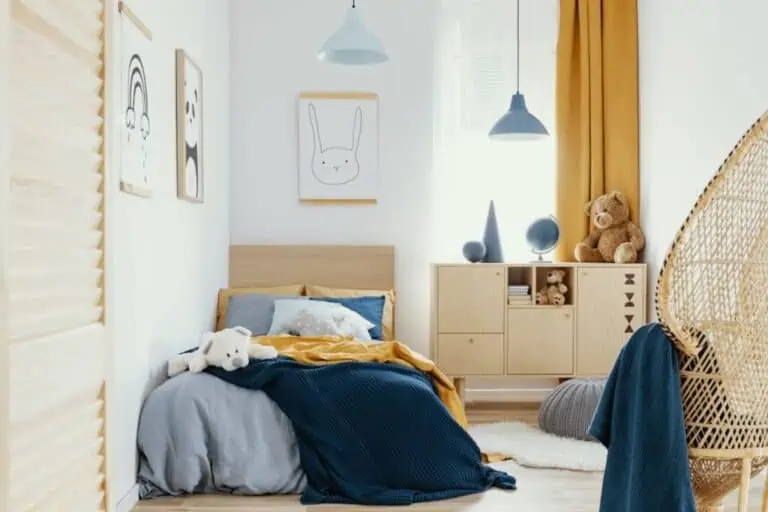 Most bed-centered bedroom decoration schemes highlight the bed.
However, constrained space and narrow floor designs sometimes need a different strategy.
Put your bed against a wall or a corner to optimize the available floor space.
This will result in a tight and comfortable sleeping space.
Add a two headboard corner system to give a bedroom a polished, sophisticated appearance if it seems too much like a hostel.
#3. To Maximize A Tiny Bedroom, Choose A Slim Headboard And Bed Frame.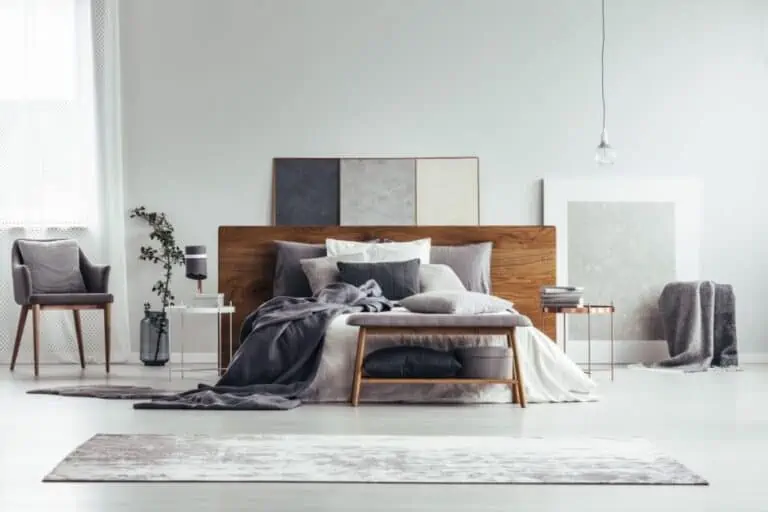 A few more inches of area may transform a compact bedroom into a sumptuous master suite.
To complete the design, get rid of your footboard-style bed frame and replace it with a straightforward contemporary platform bed.
#4. A Modest Master Bedroom In Minimalist Design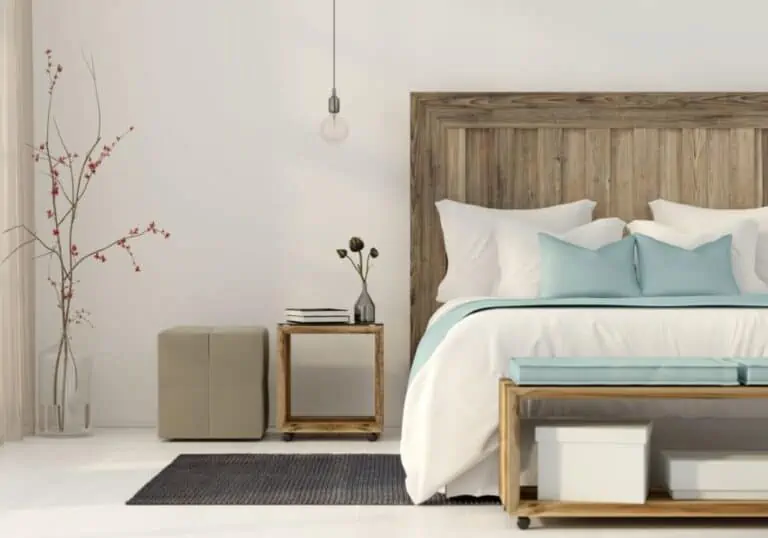 Reduce the number of items in your tiny master bedroom to only the things you love.
Keep the amount of furniture and other furnishings to a minimal since the bed is unquestionably the focal point of this room.
Better yet, add more storage with sleek, modern built-ins.
Built-ins enhance storage while ostensibly being invisible.
A well-designed built-in around your bed adds plenty of storage while forming a comfortable sleeping area.
#5. Mirrors May Enlarge A Tiny Bedroom.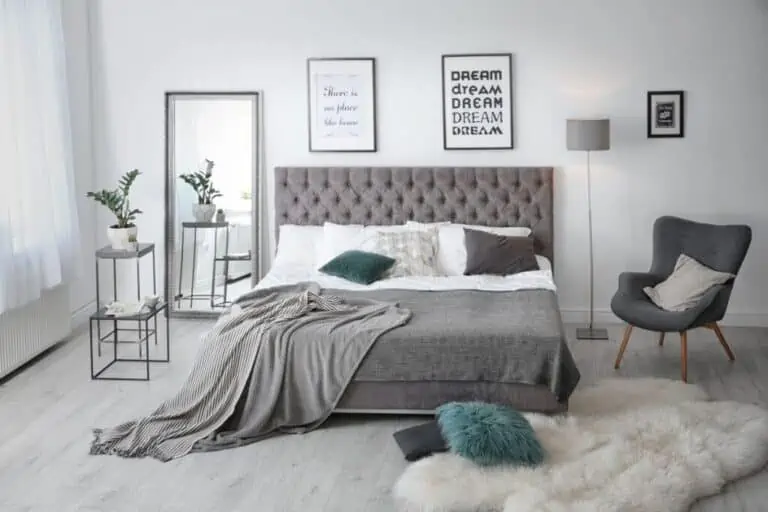 Mirrors enlarge a tiny bedroom by giving the impression that it is a larger space.
The only other technique to increase natural light in your room is to place a mirror such that it reflects the light coming from a window.
What is the simplest method to include a large mirror? Try out this simple method.
Locate a mirror that is body length and lean it against the wall.
Without holes.
However, for peace of mind, you should fasten it with wall sticky.
#6. Under-Bed Storage For A Small Bedroom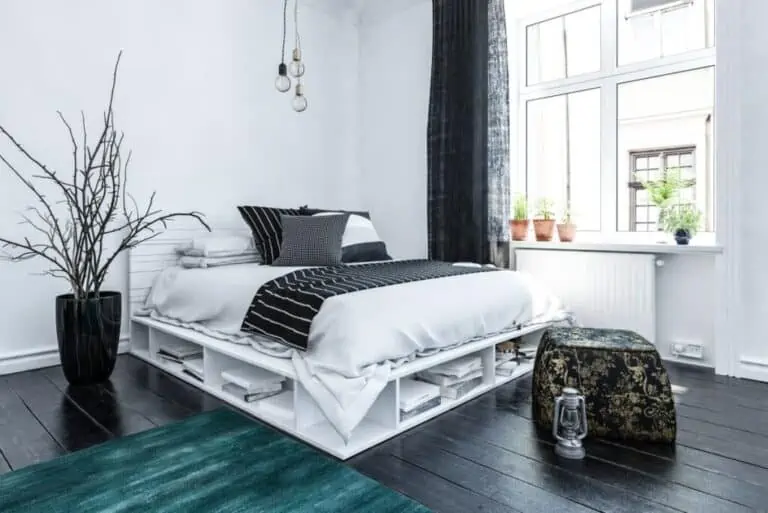 If you're shopping for a new bed, think about getting one with drawers below for more storage.
Use ornamental bins beneath your bed for extra storage if the area is so small that drawers would be difficult to access.
We like sturdy and attractive woven baskets like milk crates.
#7. Adding A Loft Lifestyle To Modest Bedrooms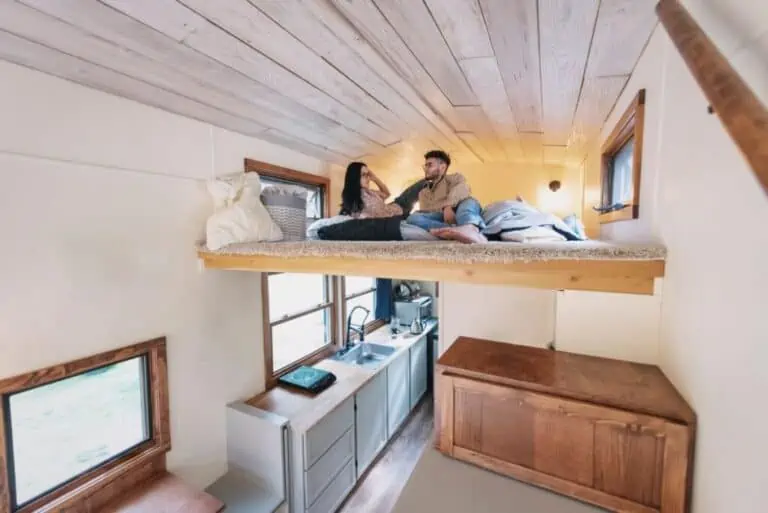 Consider constructing a loft or platform with storage or seats below if your floor space is restricted but your ceilings are higher.
Not everyone can use this arrangement, but for those who don't mind getting into bed, it may radically change the look of a tiny space.
Related: 11 Tricks to Make a Small Bedroom Look Bigger
#8. Ideas For Bold Wallpaper In Extremely Tiny Bedrooms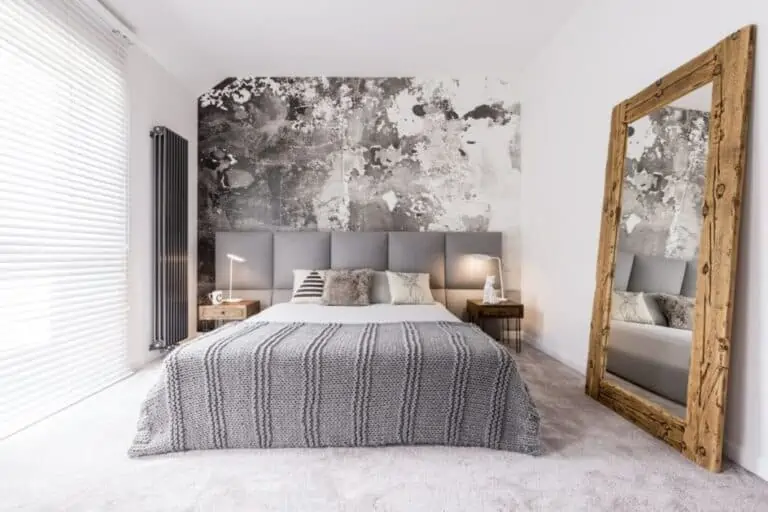 Your bedroom doesn't have to be drab just because it's tiny.
Give a prominent wall, such as the wall behind your headboard, a striking wallpaper design.
Although wallpaper sometimes has a bad reputation for making spaces seem cramped and crowded, adopting the proper design and method really has the opposite effect.
Give a prominent wall, such as the wall behind your headboard, a striking wallpaper design.
Choose a large-scale design rather than a tiny, busy one when choosing wallpaper.
Don't forget to match your bedding to your gorgeous, new wallpaper to create a unified design.
Renters, you too may experiment with wallpaper.
Visit our article on detachable wallpaper.
#9. Floating Shelves For A Minimalistic Bedroom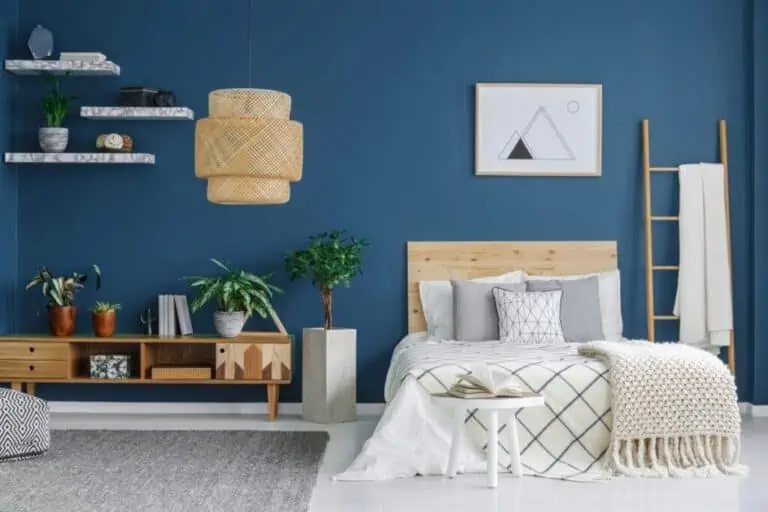 The adaptable floating shelf may be used in a tiny bedroom in a variety of practical ways.
Here are some bedroom decoration ideas for floating shelves:
A new bedside table
A front desk beside the door
A bookshelf
A laptop table
#10. Wall Nook
You may have storage space without taking up any floor area by using a wall niche.
Drywall is often hollow and supported by vertical 2 x 4 wood beams (studs) spaced 16″ apart in recent construction structures.
Use a stud finder to record the location of your wood wall beams so you can cut out an alcove if your bed is installed against a non-exterior wall.
Even though your new alcove may not be very deep, it could be sufficient for keeping little objects like an alarm clock or other personal belongings.
How to make the most of a tiny bedroom with little effort
#11. Ingenious Bedside Tables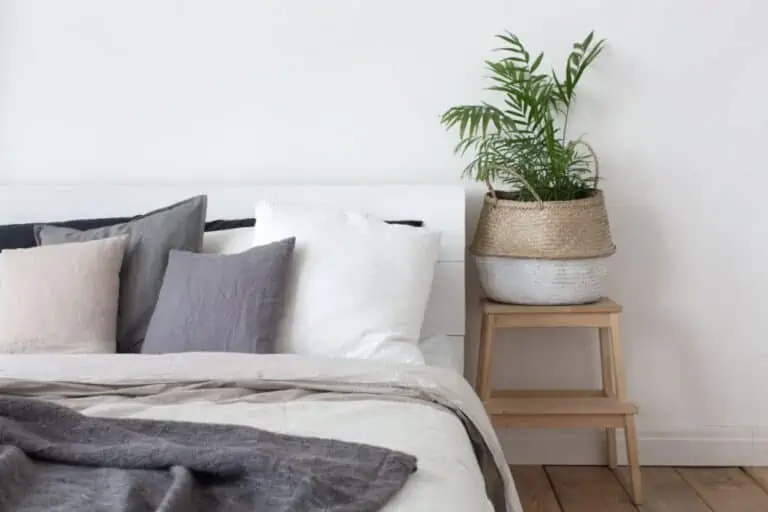 It might be challenging to choose the ideal nightstand for any bedroom.
When your bedroom is tiny and there isn't much space next to your bed, you have to be inventive.
Use a chair or stool for decoration.
#12. Desk That Floats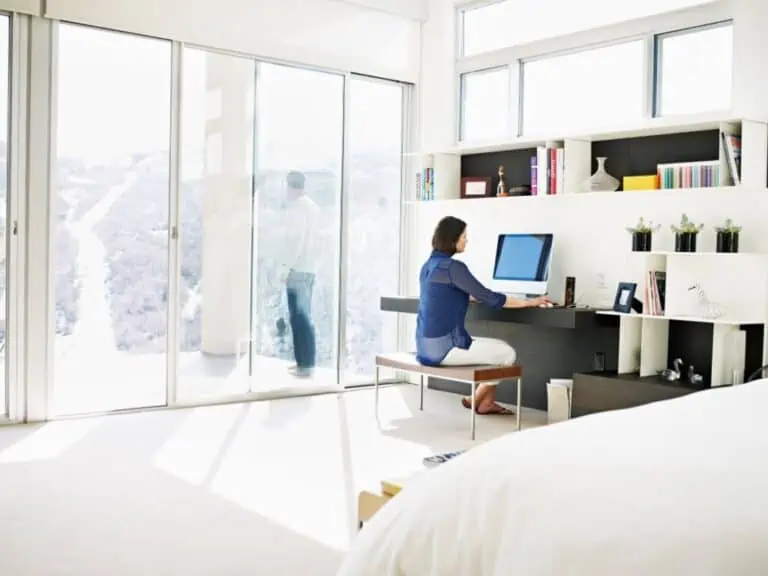 Is your little bedroom where you work from home? A floating desk, which is really a very big floating shelf, will help you make the most of your space.
By placing a piece of plywood on top of a few shelf brackets, you may make a floating desk at home.
Once a comfortable chair has been slipped beneath, you're done!
#13. Vibrant Decorative Pillows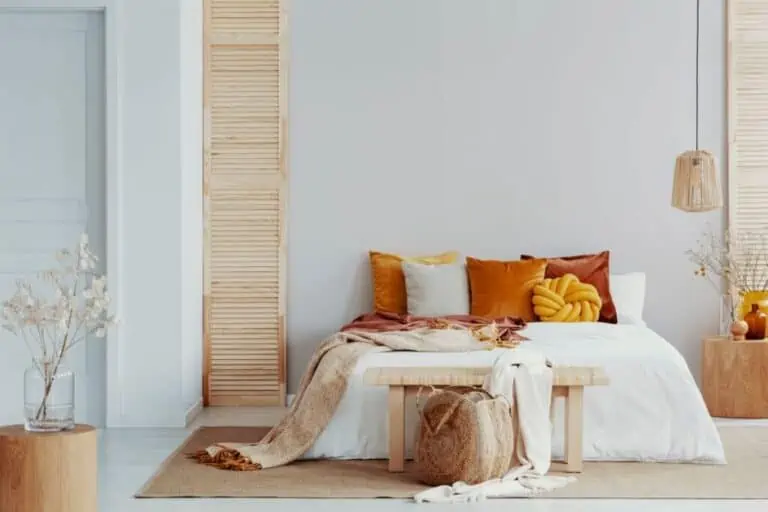 You don't have to make a compromise if you like color but would rather have an all-white place to make your tiny space seem larger.
Simply use colorful throw pillows to bring color to your space.
Related: 10 Products For Anyone with a Tiny RV Bedroom
#14. Stylish Chandelier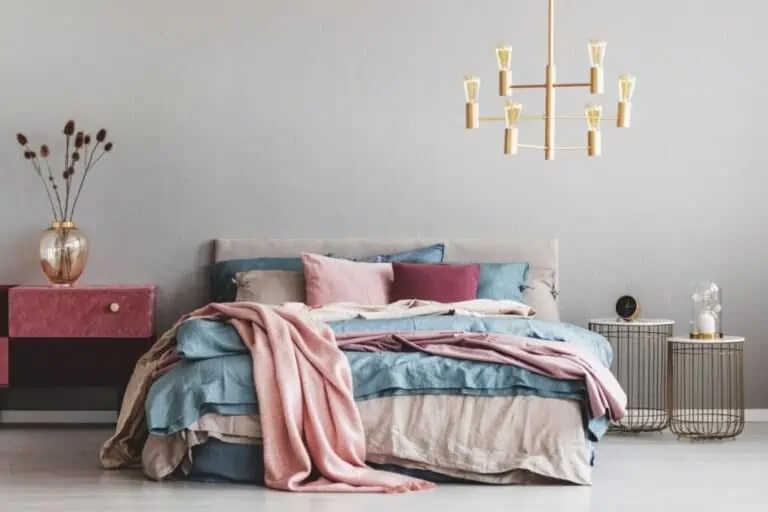 The alternatives you have for designing a tiny bedroom are improving.
A unique chandelier or pendant light is a great way to add some comfortable lighting and make a focal point in your home.
#15. Comfortable Area Rug Ideas For Tiny Bedrooms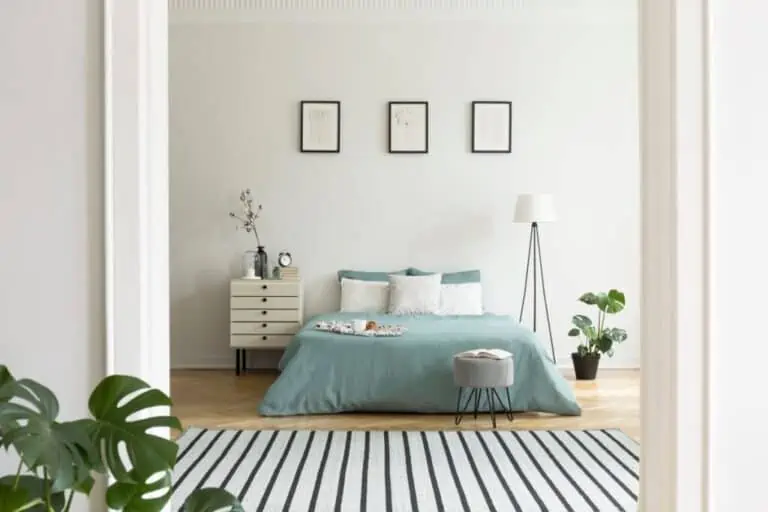 Walls, storage, furniture, and bedding are often the main focal points of bedroom decoration.
But don't overlook the ground.
A unique area rug may quickly bring warmth or a splash of color to a space.
Find a texture that feels nice on your feet and looks decent by experimenting with it.
#16. Storage for Bedside Tables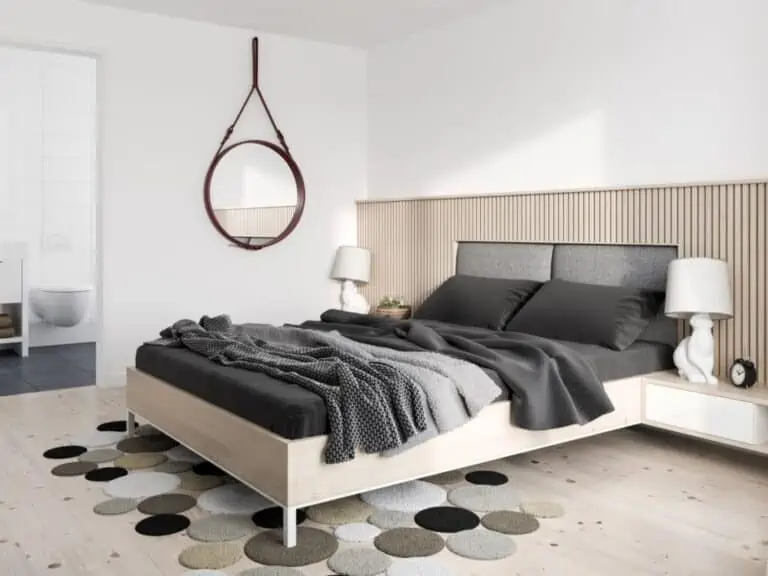 Shelving is a further bedside table concept.
A great nightstand alternative is a floating shelf.
If you do it yourself, you may have the shelf cut to the precise size that matches your bedroom and position them at the ideal height.
Additionally, floating shelves are available in a variety of materials, including metal, glass, and wood.
#17. Elegant Wall Lights For Compact Bedrooms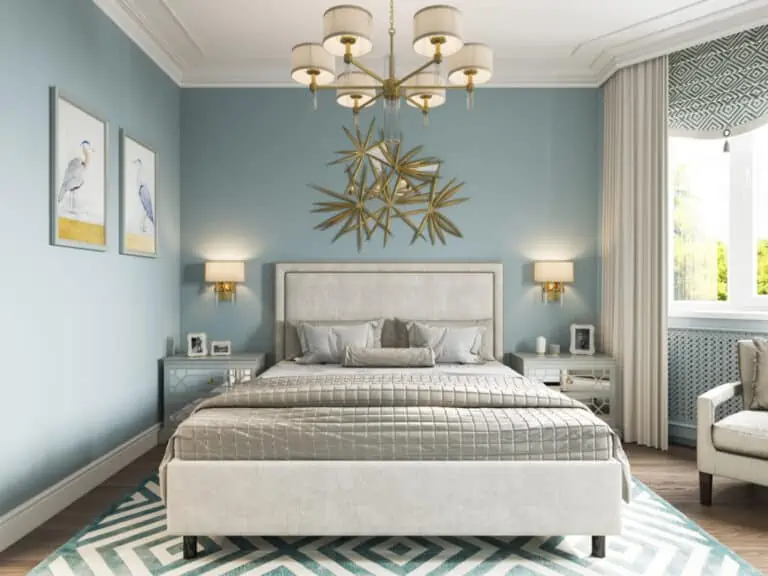 No space for a light beside your bed? A modest bedroom might benefit from reading light provided by wall sconces.
You may choose between a contemporary and classic design.
For an eclectic effect, go nuts and mix and match your sconces.
#18. Stunning Greenery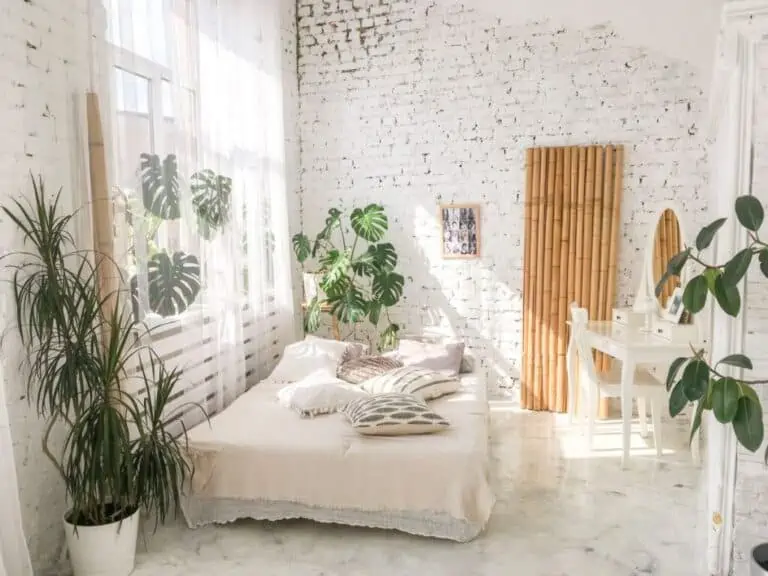 Create space for plants! The mere fact that your bedroom is tiny should not prevent you from including any vegetation.
Your space will feel more alive when you add houseplants, and they also assist to purify the air.
Try wall planters to make the most of your area.
Your plants become pieces of beauty thanks to them.
#19. Windy Drapes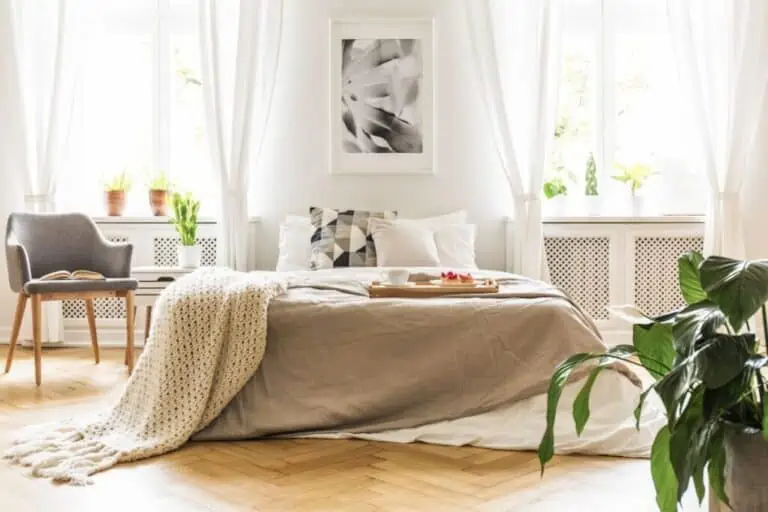 If there aren't many windows in a tiny room, you can still make it seem spacious by utilizing curtains as decoration.
Replace closet doors with curtains for two clever solutions, or use curtains to separate a space.
In any case, be sure to choose hues and textures that complement your surroundings.
#20. Glistening String Lights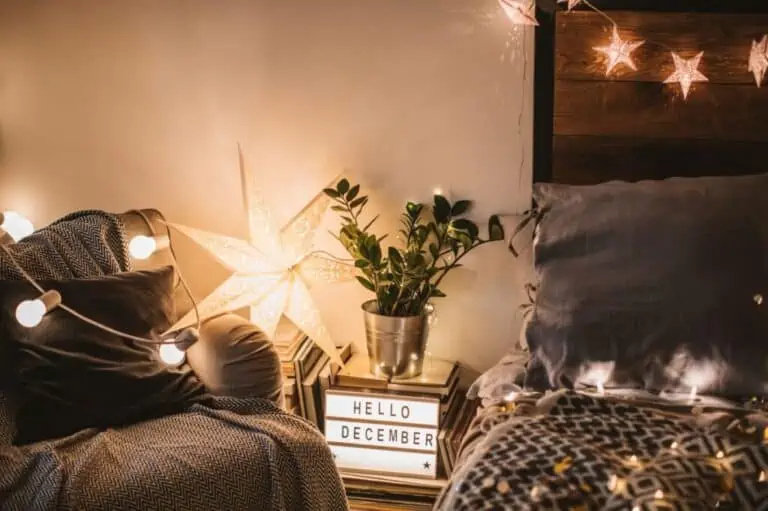 The use of string lights is not limited to the holidays.
They're a wonderful way to add eye-catching art or lighting elements to a little bedroom.
You may hang them wherever you like—on the wall, the ceiling, the headboard, etc.
And tiny lights are available in a variety of colors to give your little bedroom an even more enchanted appearance.
#21. A Color Palette With Plenty Of Contrast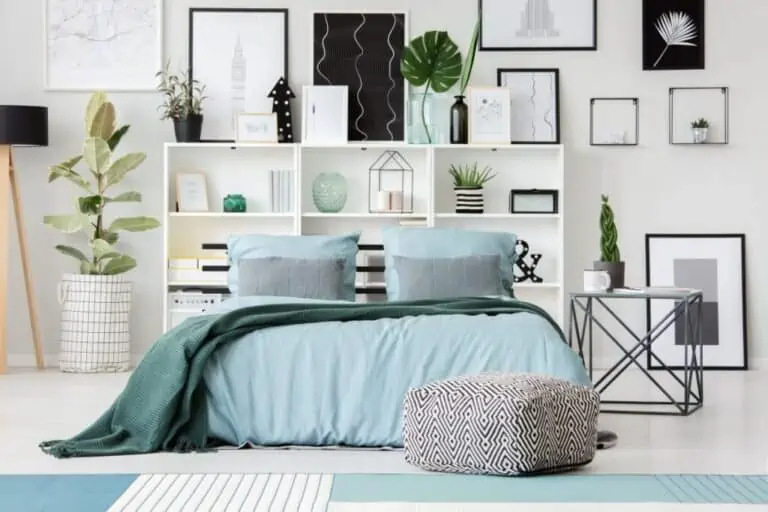 Decorating a tiny bedroom with white and a color with great contrast has a significant effect.
A dramatic appearance may be achieved by using only one strong hue and white.
Additionally, you may apply this high-contrast look to other items like carpets, wall paint, artwork, and beds.
Related: 8 Small RV With Bedrooms with Lots of Space
#22. Miniature Wall Art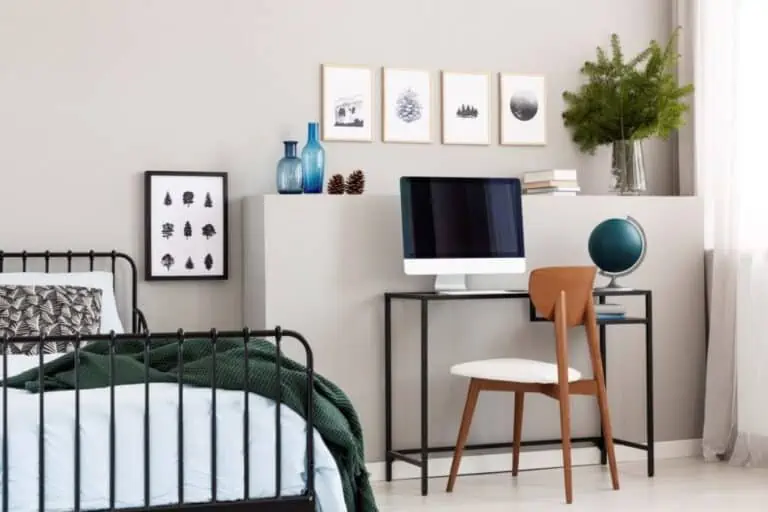 The smallest art gallery should be placed in a small space.
Find miniature paintings and prints by browsing thrift stores, art galleries, and home furnishing shops.
Then, for a diverse collection, put a lot of them on one wall.
Painting little canvases or canvases of various sizes that are on the smaller side is another way to create your own art.
The Conclusion
The lack of space in your bedroom should not imply that you have to forgo design.
There are several room design concepts that enhance your space while maximizing efficiency.
Finding solutions that suit your preferences and available space is the key.
FAQs
How should a tiny bedroom be laid out?
While planning your room.
To give the illusion that your space is larger than it is, use pieces that are bright and open.
Mirrors, decent lighting, and modern furniture all contribute much.
How large is a tiny bedroom?
Bedroom sizes and shapes may vary substantially.
A bedroom typically measures 11 by 12 feet.
How can I make the most of my little bedroom's space?
Selecting functional furniture with several uses is the best approach to make the most of your tiny bedroom.
How To Maximize Space In Small Bedroom Videos Suggestions From Youtube