If you have a motorhome, travel trailer, or fifth wheel, your vehicle likely has a full-size refrigerator.
However, there are occasions when you need to install a smaller refrigerator or even swap out a full-size residential unit for a more compact RV choice.
Fortunately, there is a wide variety of these cooling equipment available right now.
We offer you 12 kinds of portable refrigerators that will keep your food cool without using a full-sized home refrigerator, ranging in size from modest 12-V versions to huge propane-powered ones.
We advise you to read this page first if you're uncertain about the many kinds of RV refrigerators: Everything you need to know about RV refrigerators in relation to residential refrigerators.
Grab a hot beverage because we're going to turn the heat down as we start the list!
Portable Fridges Powered by 12-Volt Electricity
#1. Dometic Tropicool Thermoelectric Cooler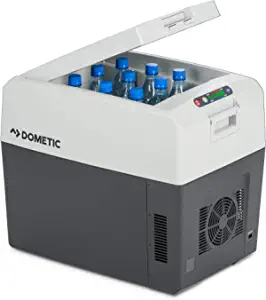 The wonderful thing about Dometic is that there are a ton of different models to pick from.
Every kind, size, and shape of refrigerator is made by Dometic to match your camper's requirements.
We settled on the fantastic Dometic Store as our first choice.
The phrase "dual-zone" refers to a special arrangement between a refrigerator and a freezer that makes use of several temperature zones.
The cutting-edge compressor technology can operate only on solar energy and achieve temperatures as low as -22 °C.
The Dual Zone's biggest feature is that it is effective enough to use solar power, effectively allowing you to live off the grid.
The device incorporates some outstanding electrical engineering, enhancing it with characteristics we didn't realize refrigerators were capable of.
One such innovation is the 3 Stage Dynamic Battery Protection System, which ensures that the performance of your camper truck is never compromised by turning the fridge off just when the battery is ready to expire.
But we didn't include this refrigerator on our list because of its sturdy electronics.
We were delighted by the refrigerator's strong lid liner, stainless steel hinges, and reinforced corners, all of which help the appliance endure large loads.
ideal for off-road excursions.
#2. The CFX40 by Dometic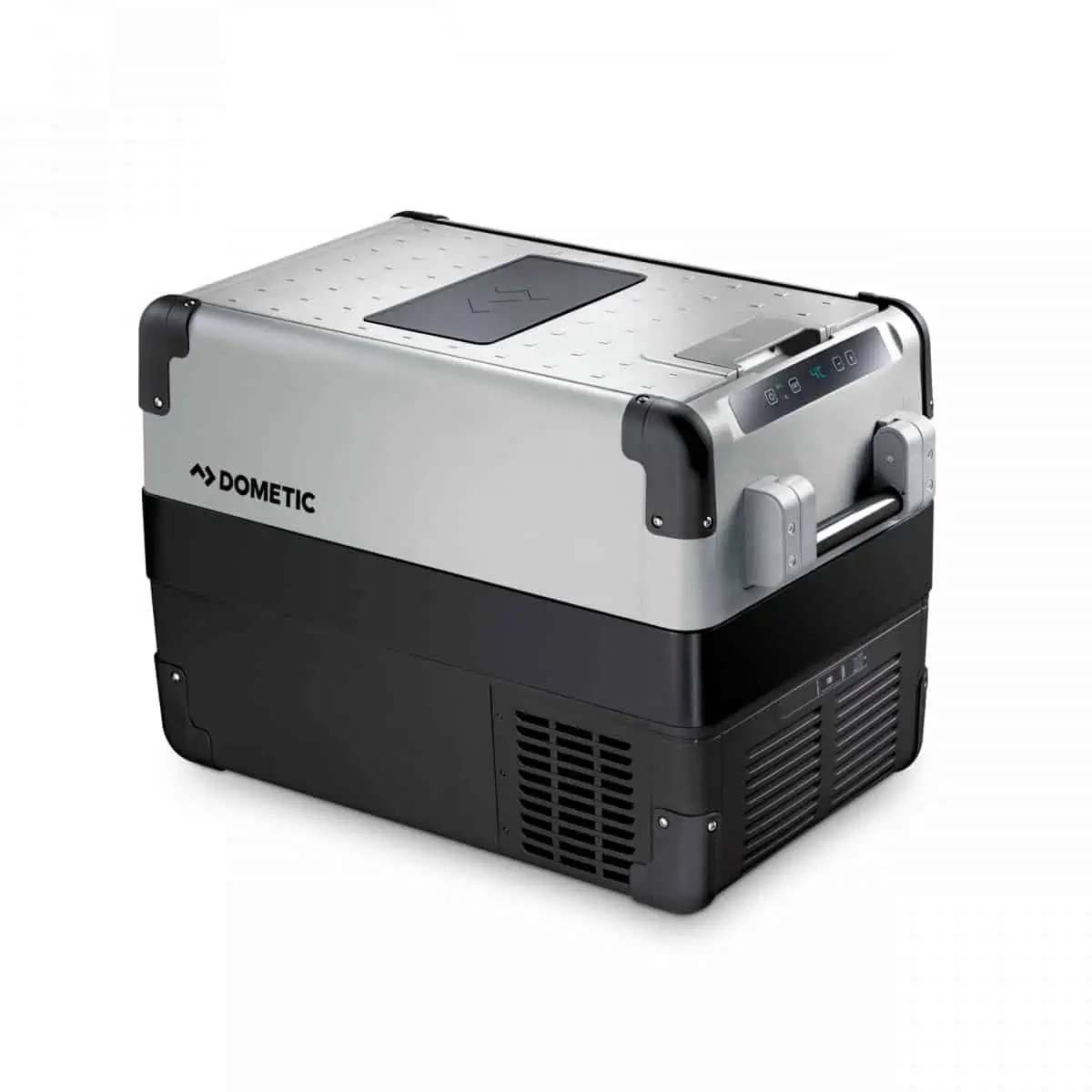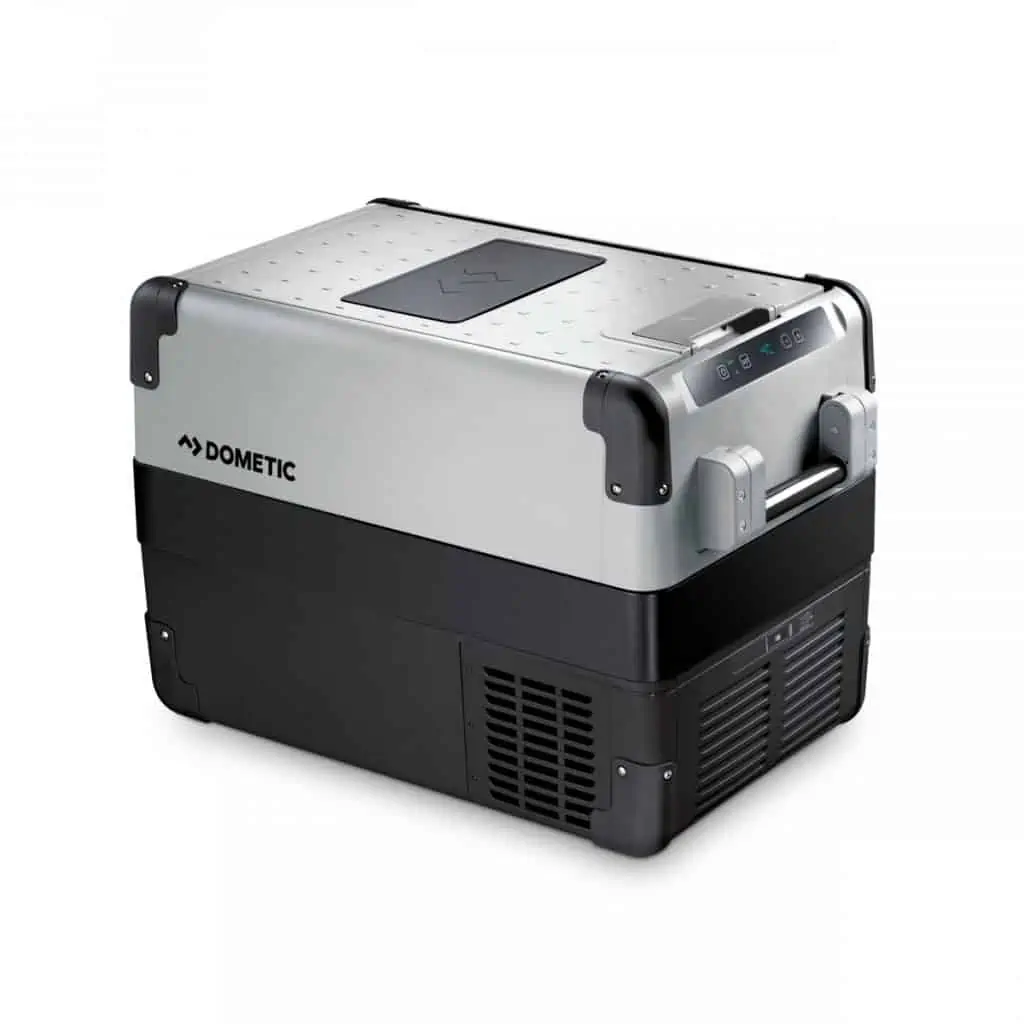 The Dometic CFX40 is the company's second camper fridge that has reached our list.
The only difference between this 12-volt electric-powered mini-fridge and the CFX75 is the absence of a separate freezer section.
It also makes perfect sense as to why it is priced less expensively.
The CFX40 is around 2/3 the size of a typical cooler, and it eliminates the need for ice, which is always a bonus.
So you can swap to the CFX40 if you ever need more storage capacity.
Dometic made careful to use solar-powered, extra-efficient compressors, making them ideal for retrofitting your RV with off-the-grid features.
#3. The MR040 by Engel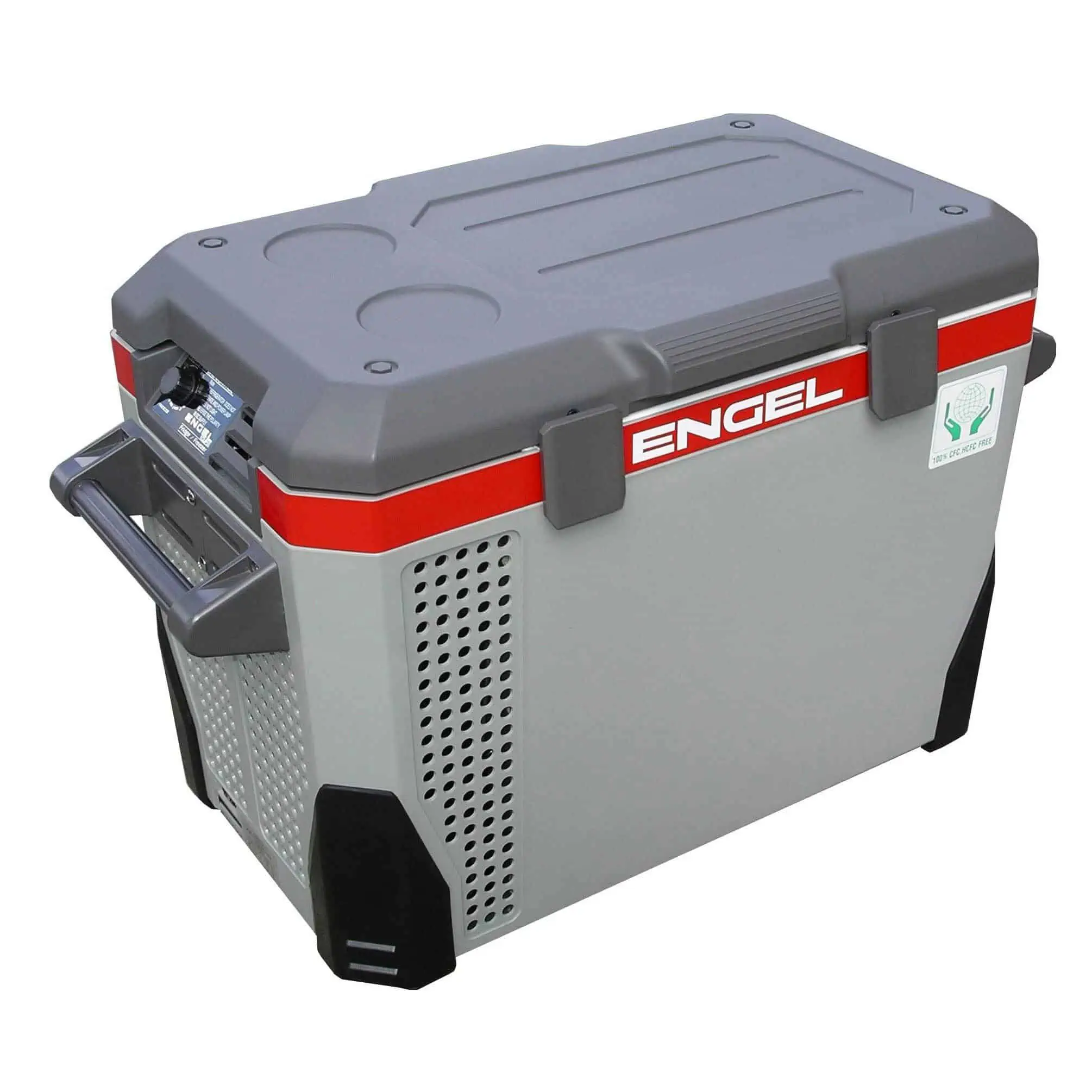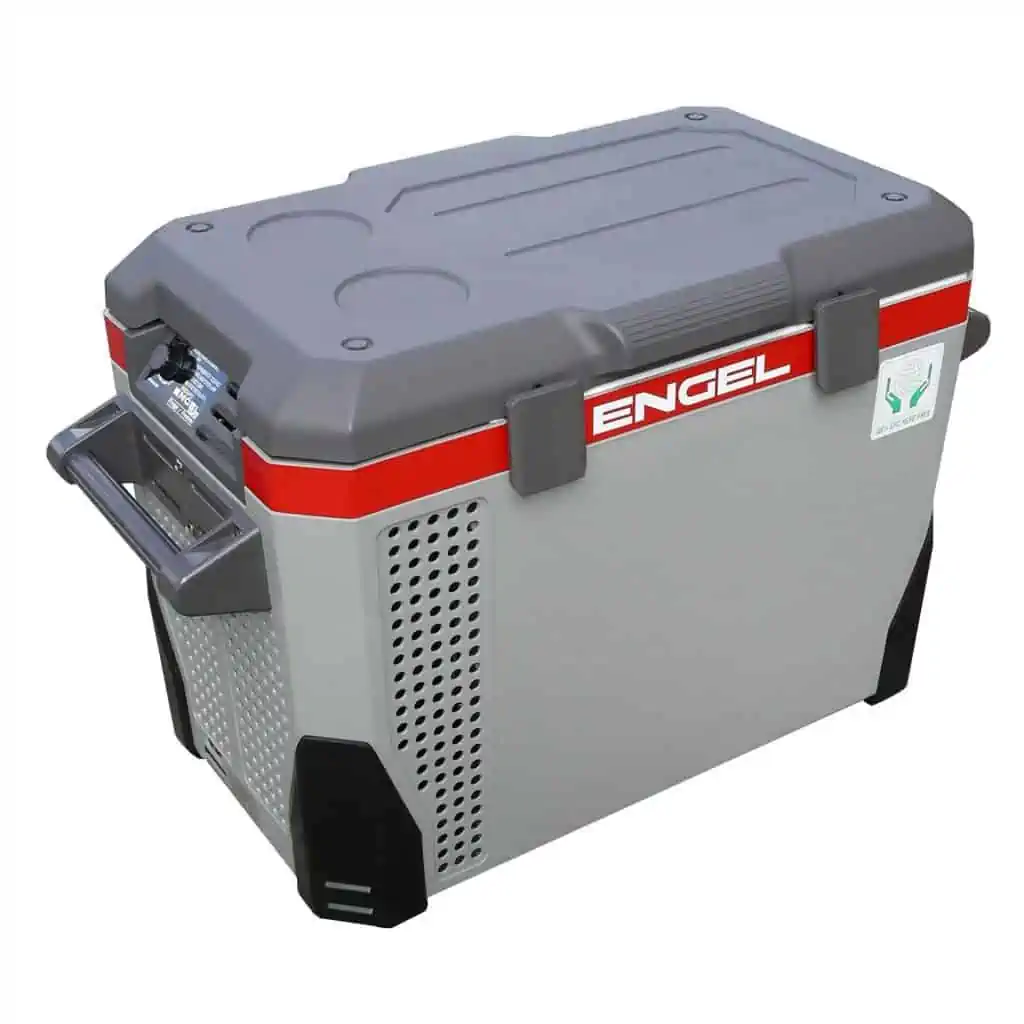 For a very long time, Engel has been developing portable mini-refrigerators.
They have enhanced their effective compressor technology throughout time.
With good cause, Engel boasts that their compressor is "the most vibration resistant compressor" available.
The Sawafuji Swing Motor, which is renowned for having only one working element and no cranks or bearings, was used in the refrigerator's long-lasting construction.
It is a true feat of compressor engineering, but few will recognize it.
So you can be confident that the MR040F won't be damaged if your off-road session becomes a bit too "adventurous" and you run into some additional bumps along the route.
Engel presently has 4 models in its 12v portfolio, with capacities ranging from 48 qt to 85 qt.
The compressor may be powered by the batteries in your camper and, in certain situations, is enough for 24/7 continuous use.
The tiny 45-watt power demand, however, doesn't hold back when it comes to freezing objects.
You may be surprised—or perhaps irritated—to learn that the MR040 has a tendency to freeze up situations a bit too rapidly.
#4. C15 Portable Refrigerator by Alpicool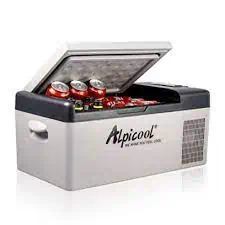 Budget-friendly refrigerators made by Alpicool are renowned for being highly robust, packed with features, and ready to compete with high-end small fridges.
Although the C15's capacity is on the low end at 16 qt, it isn't too concerning and is probably one of the least costly ones we could locate in this situation.
You can easily put 20 cans of your preferred beverages inside to cool to as low as -20°C.
The Alpicool C15's ability to function even under the most trying circumstances is a crucial characteristic.
For instance, the C15 will continue to operate normally even if you drive your camper up a steep 45-degree gradient.
And the Alpicool C15's three-stage vehicle battery protect mechanism doesn't reduce your camper's battery level if you're on one of those really lengthy off-road excursions and the car battery is ready to expire.
For longer journeys, we advise setting up a solar collector.
#5. 10800472 by ARB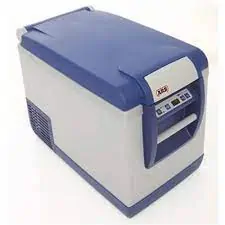 The ARB 10800472 model, which weighs just 2.98 pounds, is remarkably small and can fit anywhere.
It's perfect if you want to gaze out into the distance.
Due in part to the robust insulation, this ARB unit can keep all of your food and drinks cool no matter the outside temperature.
We were astonished by this refrigerator's low power consumption, which is just 0.87 amps per hour on a 12-volt supply.
It uses less energy than one headlight alone.
As a result, you won't have to be concerned about your camper's battery expiring soon.
ARB took care to employ the powerful Danfoss compressor to guarantee that your food and beverages stay chilled.
If your off-road excursion gets a bit bumpy, don't worry—this ARB refrigerator can withstand crazy angles of up to 30 degrees without losing dependability or functionality.
Mini-Refrigerators That Use Absorption (Propane Fridges)
#6. SMETA Mini Fridge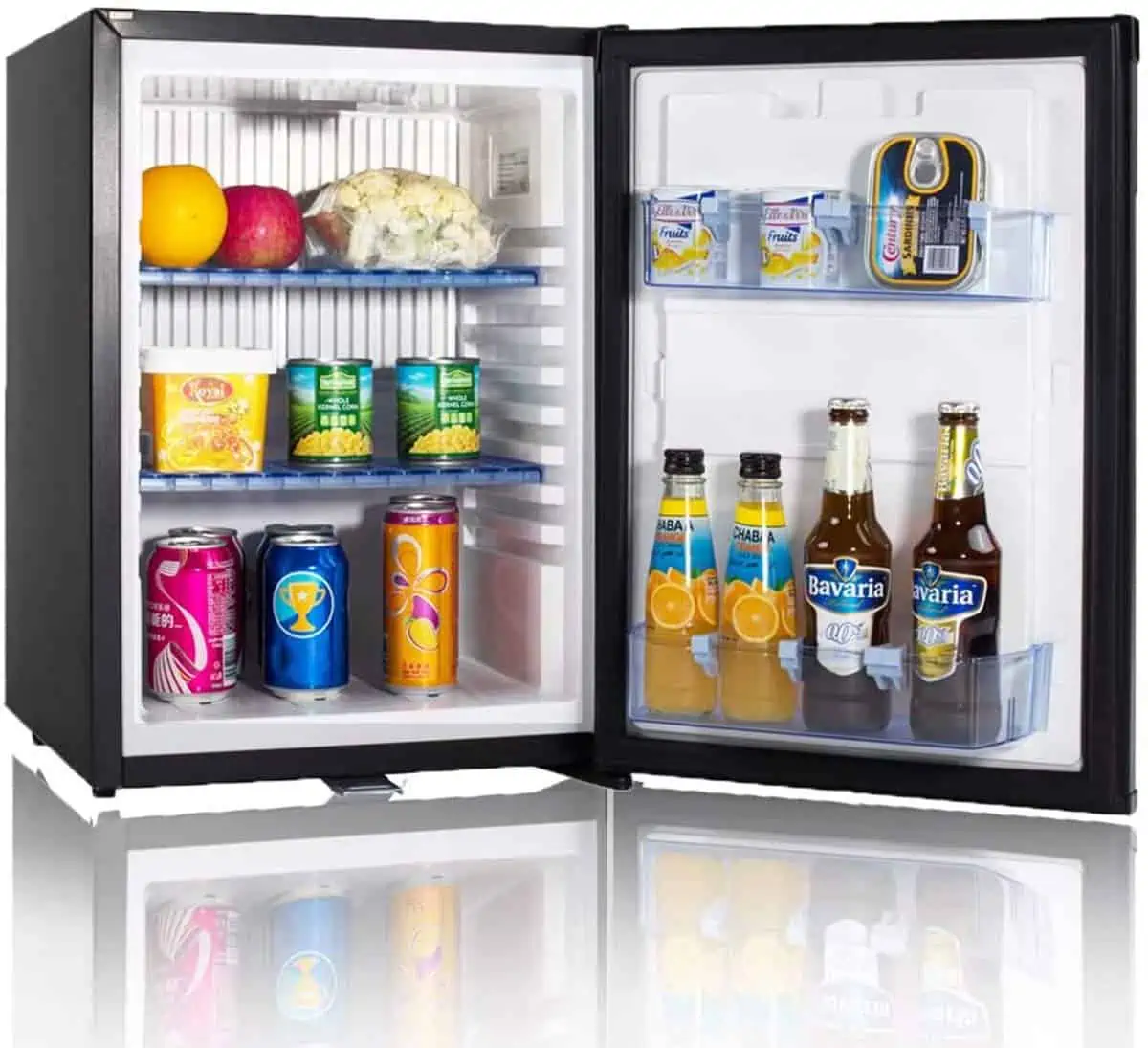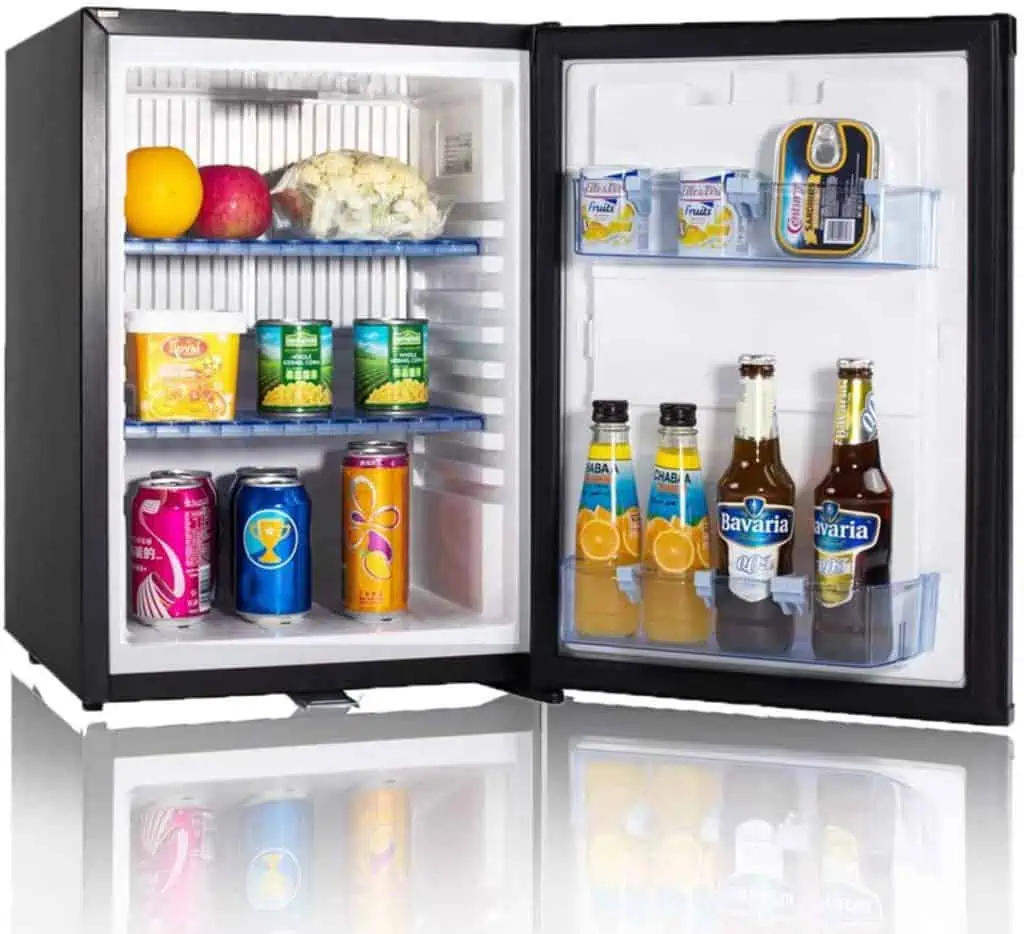 A portable absorption refrigerator with improved comfort and entertainment features is called the SMETA Mini Fridge.
The refrigerator uses propane liquid to keep its contents chilled.
Energy consumption is as low as 0.7 kwh, and 65 watts are needed for optimal cooling.
Although we were generally pleased with this fridge, our one caution is that for stability, you must install it properly in your camper.
Although it isn't as unbearably cold as some of the other products on our list, we believe that the 3–12°C range is good for most individuals.
#7. Massimo E-Kooler Electric Fridge Cooler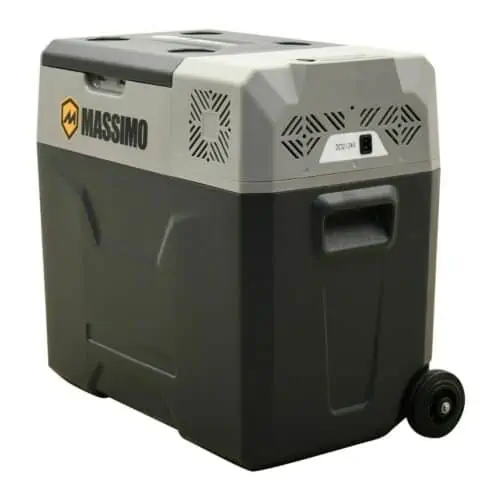 For well over 20 years, Massimo E-Kooler has been in the appliance industry and has amassed a wealth of knowledge, notably in the field of portable propane refrigerators.
The battery of your camper can provide 12 volts to operate this RV refrigerator.
However, we advise avoiding using the fridge for an extended period of time since it will eat up your camper's battery more quickly than other items on this list.
So you may not find Smad to be very helpful if you have any DIY off-the-grid tasks.
#8. Smad Propane Refrigerator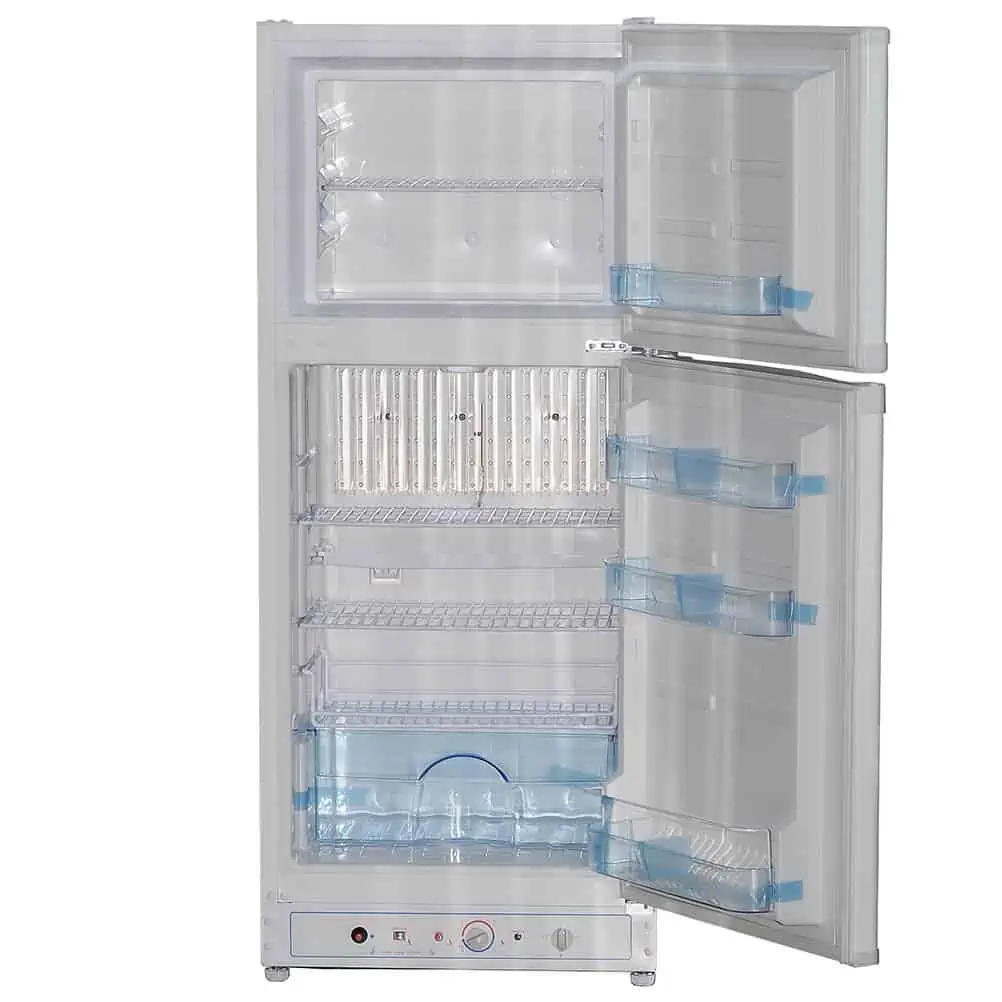 Smad came through once again with their camper-friendly propane fridge.
Absorption refrigerators are notorious for producing a lot of noise, but Smad used some clever engineering to make sure the noise level is as low as it can be.
There is plenty of storage capacity in this energy-efficient refrigerator for all your food requirements.
The freezer can go as cold as 3.2°F, while the refrigerator's temperature range is 32°F to 50°F.
But even during the blazing summer, you won't have to worry about your food being wet due to moving ice.
#9. RA7316PST by Avanti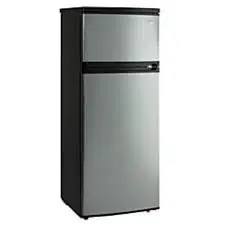 The RV refrigerator from Avanti is what you need if you want more multi-power adaptability.
For those who are often away from home, it can operate on solar power.
Given that it is a full-size refrigerator with lower dimensions, this appliance is perfect for the majority of campers, RVs, and vehicles.
Gas and Electric Combos
#10. N410UR by NORCOLD Inc.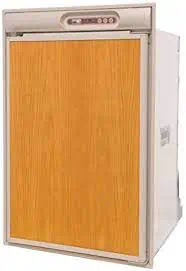 The N410UR is a great choice if capacity is a top priority for you.
In its class, it has the highest capacity.
Norcold weighs a surprisingly tiny 95 pounds, making it compact enough to fit in small spaces.
The N410UR is a cost-effective answer to all of your cooling demands.
#11. SMAD Electric Gas RV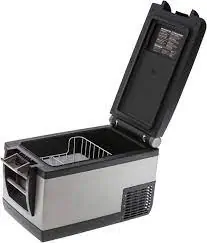 Do you want a fridge that can be fuelled by a variety of sources and is very versatile? The electric/gas RV from SMAD is just what the doctor ordered.
People who are always moving will find this device to be of great use since it can be powered by AC, DC electricity, and LP gas.
Because SMAD chose to shelve room for a freezer, this unit is significantly smaller in size, allowing it to fit in compact areas.
Therefore, if you wish to live in an RV full-time, this unit may not be for you.
It is very lightweight, weighing just around 49 pounds, making it quite portable.
The refrigerator's piezo ignition makes using it simple.
Thanks to cutting-edge cooling technology, this appliance operates quietly.
What Kind Of Mini-fridge Do You Want?
Here we go.
Are there any tiny refrigerators you can recommend? Post a comment and let us know! Apply the advice from our two manuals to make the most of any choice, regardless of size.