Winter will come sooner or later when you work full-time.
For warmer temperatures, my buddies and I normally spend the winter in Arizona, Nevada, or California.
Even though I often use many blankets and don't need a heater at night, I still need a way to stay warm in the nights.
When I have an electric hookup, I utilize modest ceramic heaters rather than my gas furnace.
I sometimes use my Wave propane radiant heater during certain times.
As for me, I adore it.
The greatest little RV space heater is this pricey one, and it is really worth it.
Compared to other kinds of propane heaters, it is much more efficient.
The furnace in an RV is the worst! I attach it to a little 1-gallon propane tank and use it to heat my camper in the nights; however, I must make sure I have adequate ventilation.
While you are not need to purchase the same heater that I do.
Everything ultimately comes down to personal tastes, available space, and financial constraints.
All you need to do is get a heater for your RV that meets your needs.
RV heaters are highly practical because of their excellent energy efficiency.
Simply put them into your electric connection, and you're good to go.
Another benefit that RV heaters offer is durability.
Additionally, RV heaters are quite economical.
They are the perfect choice for folks who reside in or visit RV parks since they are economical and energy-efficient.
There are several alternatives available, so you may choose one that meets your requirements.
Your space heater should last you a very long time if you know how to care for it.
You May Perform The Following To Increase The Lifespan Of Your Rv Heater:
When not in use, unhook the electric cable from an electric heater if you use one.
By doing this, you save energy and avoid overheating, which if kept plugged in for an extended period of time, might harm your heater.
Most heaters may be used overnight, but if it's not too chilly, think about putting on additional blankets.
Even a regular space heater, if left plugged in while you sleep, might pose a fire threat, despite the fact that it would seem sensible to simply leave it running overnight.
Make sure a fire alarm is installed.
Use a wet towel to clean.
Unplug the cable before cleaning your electric RV heater, then wipe away any dust or grime using a moist cloth.
DO NOT rinse it with water since doing so might harm the heater's heating element.
Simply brush off any lingering dirt or dust from your electric space heater using a vacuum cleaner with gentle bristles.
Invest in a cover for it.
Although a cover is often included with RV heaters, if yours is missing and you believe that purchasing one is required, go ahead and do so.
A cover may also deter tiny animals from entering your heater by preventing dust from gathering inside.
Taking Space Into Account When Purchasing RV Heaters
Before buying an RV heater, you must take a few things into account.
You should take your heater's size into account since RV inside space might be rather restricted.
Verify that the item you're purchasing will fit in the location where you want it to be.
Don't buy that specific type if there isn't enough space beneath or behind your bed to put the heater.
The incorrect size might cause your heater to overheat and get damaged.
This creates a fire risk, not to mention the chance that you may be burned or your RV could catch fire.
Keeping this in mind, selecting a heater with enough ventilation is also very important.
You may use a modest electric heater if you have complete hookups and power.
You will be better off using your furnace or a gas heater if you are boondocking.
You may wish to consider alternatives because your furnace consumes so much gas.
You must check that your smoke detector is functional before utilizing heaters.
A few feet above your heater, place the smoke detector.
Make careful you select a small heater with a high BTU output if you're using propane.
In the end, you want a tiny RV space heater that is both affordable and simple to use.
Additionally, you need something that won't take up a lot of space and can fit in small locations.
Additionally, it should not pose a fire risk and be simple to move about.
I discovered that they had the finest reviews.
Varieties of Heaters
RV heaters come in two varieties: radiant heaters and traditional heaters.
While convectional heaters heat the air around items in the room, radiant heaters heat the objects in the room directly.
Radiant heaters are less frequent than convection heaters.
Infrared Heaters
Because they don't produce hot air, radiant heaters are often safe to use near children and pets.
To prevent overheating or fire risks, ensure sure the space is well ventilated.
Make sure you get a heater for your RV that has a tip-over switch.
In this manner, if the heater tips over, it will switch off automatically.
Circulating Heaters
Because they function similarly to the furnaces found in the majority of houses, they are often advised for use in RVs.
A fan is present, and it uses a heating element to circulate air.
A portion of the warmer, lighter air will fall back down while the rest rises to the ceiling.
Until all of the air in the space has been circulated, this cycle is repeated.
#1. The Lasko 754200 Ceramic Heater
The most cost-effective but efficient RV heater is this one.
This is the best option if you want an RV heater that won't cost you a lot of money.
Enough warmth is produced by the Lasko 754200 ceramic heater at around 120 volts.
The range is from 900 to 1500 watts.
The fact that heaters are made to endure is one of their finest qualities.
Because of its compact size and low weight, it is also incredibly portable.
To improve safety, this ceramic heater has safeguards included.
You may also take advantage of the convenience of controlling the heat by selecting one of the manual settings, such as high heat, low heat, or fan alone.
You don't need to bother about maintenance since it's not necessary.
I used to own this.
When I have electric hookups, I sometimes even run this late into the night.
What I Find Appealing:
Affordable: It is the heater that is most reasonably priced on the market.
Portable: This device is lightweight and tiny, making it simple to move it from one location to another.
Security: For the users' safety, it has overheat protection included.
Lightweight: Lasko 754200 Ceramic Heater is lightweight, therefore no hard lifting is necessary.
Long warranty: A 5-year limited guarantee is included with the Lasko 754200 Ceramic Heater. This demonstrates the manufacturer's faith in the product's reliability and durability.
Manual Mode: Can be controlled manually with the options of high heat, low heat, and fan alone.
Protective Features: For increased safety, it has safeguards such a tip-over switch and overheat prevention.
Easy Maintenance: Maintaining something doesn't involve a lot of time or money.
Con(s):
Insufficient for huge RVs
Not suitable for many people.
#2. Ceramic heater at the Pelonis Tower

When compared to other RV heaters, the Pelonis ceramic tower heater retains a towering appearance that is distinctive.
It contains original characteristics that date back to the 1980s and is completely reliable.
Because of the tower designs, the heating levels are higher than those of current RV heaters.
Because to its small size and low weight, it is incredibly portable.
It has a large wattage range and warms up to 70 degrees rapidly.
Since it is silent while in use, it may thrive in a variety of settings.
What I Find Appealing:
Reliability: The heater is very dependable and durable.
Heating capacity: The heating capacities much exceed that of the majority of contemporary RV heaters. It warms up in three seconds.
Portability: It is lightweight and tiny, making it very portable.
Remote Control: I love that it comes with a remote control. I can just switch it on from my bed when I get out of bed in the morning.
Con(s):
Little more expensive than comparable tiny electric warmers.
#3. Wave-3 LP Gas Catalytic Safety Heater by Camco Olympian for RVs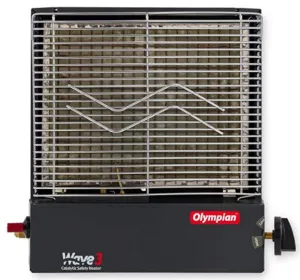 You may take advantage of cozy radiant heat with this Wave RV heater.
Although expensive, it uses less propane than a standard furnace.
There is just radiant heat; there is no flame.
Its size is also ideal since it can be put practically anywhere; you just need to figure out how to get propane to it.
Since the previous winter, I have been using this heater, and I adore it.
I have an extension to have the tiny propane bottle that I store outside coming in via the window.
Although it's not the ideal option, I haven't yet put up a connection from my propane tank.
I just use it in the evenings, and then I switch it off for the night.
What I Find Appealing:
Perfect size: Not too large or too little to fit in any space, the ideal size.
Fuel of choice: Since the majority of RVs come with a propane tank, this fuel is ideal for tiny RVs.
Effective: Heats up rapidly and effectively.
No fumes: Designed to stop combustion gases from entering your RV while it is in operation.
Safe: There is just radiant heat; there is no flame. To avoid overheating, it also incorporates a self-regulating radiant heating system.
Effective: For an infrared heater, this heater uses relatively little gas while it is operating.
Durability: The exterior is made of stainless steel, adding to the object's lifespan and protection.
Other features include: a digital remote control for simplicity of use and convenience. For your protection, it includes an automatic low oxygen shut-off mechanism built in.
Con(s):
You will need to purchase each essential accessory individually since this heater does not include with them.
Lighting it up is frightening. Flames sometimes emanate from it. It's OK when it is already turned on.
#4. Indoor-Safe Portable Propane Radiant Heater Mr. Heater Buddy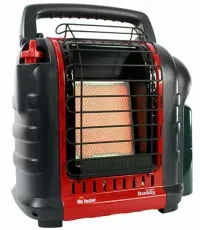 This liquid propane heater is the ideal choice for heating enclosed places like big tents or RVs since it attaches directly to a 1 lb. cylinder.
Simply turn the pilot knob to ignite the device, hit the button, and let the piezo sparkler handle the rest.
Its flames might be a little frightening.
Additionally, it is far less expensive than the Wave heater mentioned above.
It contains an Oxygen Depletion Sensor (ODS) and a safety shut-off for accidental tip-over.
You may be confident that this small heater will provide you with years of warmth.
What I Find Appealing:
Affordable: Less expensive than the Wave Heater, but it comes with certain safety measures.
Safety: It heats without a flame and has a tip-over safety shut-off and an oxygen depletion sensor.
Versatility: It works well in confined places like big tents or garages and is excellent for your RV.
Con(s):
Fire may be a bit frightening.
The 1 lb tanks are inadequate; you should consider connecting it to more substantial propane sources.
#5. Heater for the True North by Caframo Limited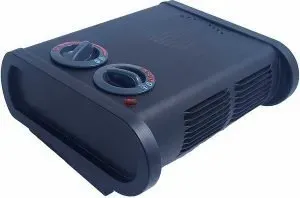 For compact RV spaces, the Caframo Limited True North Space Heater is the ideal heater.
It has five heat settings, dual overheat protection, and an anti-freeze function that activates at 38 degrees Fahrenheit (3 degrees Celsius).
This electric heater has a five-year guarantee and is durable and long-lasting.
What I Find Appealing:
Excellent value for the money: You get a lot of heater for your money.
Versatile: The Caframo Limited Space Heater can be used both indoors and outdoors, making it perfect for small RVs.
Good Construction: This heater is strong and long-lasting. A five-year warranty is included.
5 Heat Settings: You have a lot of control over how warm your environment feels thanks to the five heat settings.
Dual Overheat Protection: If the Caframo Limited Space Heater detects an overheat situation, it will turn off immediately. Knowing that the heater would turn off automatically if it becomes too hot offers me piece of mind.
Con(s):
Tips for Safe RV Heating
No matter what kind of heater you install inside your RV, safety should always come first.
Before plugging in your new heater or furnace, be sure your electrical system can support the load.
Call the manufacturer of your electrical system and inquire if you're unsure.
Make sure there is enough ventilation if you want to use any of these heaters in enclosed areas like garages or tents to avoid the buildup of carbon monoxide there.
Keep in mind that children or dogs may enter these areas.
Both kerosene and propane heaters have a significant carbon monoxide output.
Unplug your heater, let it cool, and then fill the tank with new gasoline if it's not operating correctly.
If it doesn't work, you ought to cease using it right away.