Have you been looking for a solar-powered RV refrigerator? Dispersed camping, commonly referred to as boondocking, is a very common style of RVing, so it makes sense that you'd want to have the greatest off-grid equipment possible!
If you're going boating or camping in your RV for a while and want to carry some beer with you, a solar-powered fridge may be quite helpful.
These refrigerators are highly practical and a fantastic method to balance the power in your RV since they are designed to function on battery or solar power.
But what more should you understand about solar fridges, and how can you decide which ones to buy for your requirements and forthcoming camping trips? I've included all the information you want along with a list of my personal favorites.
You can view my suggestions here if you simply want to go ahead and see what made the list:
How Solar Fridges Operate
12V fridges, commonly referred to as portable fridges, are what solar-powered refrigerators are like.
Is that what you mean? Instead of using shore power, these innovative gadgets are battery-powered!
If you have solar installed, your solar panels will immediately replenish and maintain the batteries in your RV.
Your refrigerator would theoretically be "solar powered" in this way since solar energy is easily able to drive DC or battery-powered devices.
12V fridges function similarly to conventional shore power fridges, although they often have more transportable features including manageable size and weight, wheels, and a handle.
If you have a solar fridge, it's crucial to equip your RV with a sturdy battery for boondocking.
Solar refrigerators are available in a range of sizes, designs, and features.
The majority of them contain freezer sections, plenty of space for cans or bottles, and some are even advanced enough to be managed by a smartphone app!
These refrigerators are designed to be tough and portable.
They are simple to install in a Class B van conversion or RV, so you can go without worrying about keeping your food cold.
What to Think About When Buying a Solar-Powered RV Fridge
When designing and installing a solar-powered RV refrigerator, there are several factors to take into account.
What, however, may some of those factors be? Let's spend a little minute looking at some.
#1. Size
Size counts whether you're in a new Class B van or an old travel trailer.
If you're not used to RV size, it may be challenging to cram all your comforts into a little area.
However, it is even feasible to locate a compact vehicle with a restroom and shower!
This is why it's crucial to think carefully about the size of your portable fridge.
Whether it's inside your RV or tow vehicle, you may only have a limited amount of room at your disposal, and that space will always be in high demand.
Where an old RV fridge formerly stood, certain DC-powered RV refrigerators may be placed.
Other portable refrigerators resemble a regular cooler or ice box more in appearance and operation.
This indicates that they may not be exactly what you were anticipating in terms of size.
It may be difficult to estimate how much room you want, in part because the majority of portable refrigerators are sized in cubic feet.
How much food can you fit, based on that? To obtain a decent estimate, I suggest measuring the refrigerator in your home.
Your budget will also be impacted by the size of your fridge.
Naturally, the price will be a little more if you're looking at anything bigger than the typical portable refrigerator.
However, if you're going camping in a big group or for a while, you may need to do this.
#2. Capabilities for Fridges or Freezers
Having the flexibility to do both with your 12V fridge may be quite useful for many RVers, whether you need it to keep your beer cool or to freeze your ice cream.
Knowing a portable fridge's fridge and freezer capacities is crucial for this reason.
Some portable refrigerators only have one huge compartment, making it impossible to use them simultaneously as a freezer and a refrigerator.
Many RVers find this annoying, but in the long run, you could end up saving some money.
However, there are portable refrigerators with two compartments so you may have fresh hamburgers for grilling on some of the top portable RV grills now on the market and frozen french fries for deep frying.
Everything depends on how you want to use your portable refrigerator! Since it might be difficult to decide between one or the other, the majority of RVers will buy a fridge that has both choices.
You shouldn't believe that doing so would restrict your alternatives for eating.
Whatever you do, take in mind the size of your refrigerator: the freezer section can be much smaller than the one you have at home.
The last thing you want is to find yourself with extra ice cream (though I suppose it would mean you'd have to eat it all, which is probably not so awful)!
#3. Optional Power Sources
While a 12V fridge can be all you need, some RVers might prefer the flexibility of being able to connect their fridge to other power sources.
For instance, shore power or 120V AC power will be much more effective to utilize than 12V DC power if you wish to plug in your portable refrigerator at home.
If you want a fridge or freezer with these features, you should look for one that has a specific power chord that can be plugged into a conventional outlet in your house rather than a cigarette lighter in a vehicle.
Even a more conventional three-way powered RV refrigerator could appeal to you.
These refrigerators may be powered by AC, DC, and propane energy sources.
This is the most adaptable choice, but since propane pipes are involved, you may not be able to move it as easily.
Such refrigerators are already present in a large number of RVs designed for boondocking.
Long-term food spoilage may be avoided by having as many power sources as you can, but it may not be what your present solar fridge objectives call for.
#4. Efficiency
What is the most crucial factor to take into account if you want to boondock or camp off-grid for an extended length of time? To improve your total energy use, you need think about how efficient your appliances are!
The electrical system in your RV may be harder to understand than you believe.
Before you hit the road and go off-grid, there are many things to learn and understand, such as your projected hourly amperage usage, the strength of your batteries, and if you have an inverter.
Before you start searching for a solar fridge, you need know how much electricity you have and how long it will last off the grid.
Then, you can start looking for fridges that will effectively fit into your anticipated amperage use.
When camping off the grid, choosing an energy-efficient appliance might be crucial, particularly if you want to do so for an extended length of time.
It's essential to have enough solar panels installed to properly maintain your batteries in order to avoid running them down.
#5. Where You Want to Keep It
It's important to consider where you'll store your solar-powered fridge when camping in addition to its size.
Yes, even in RVs with adequate capacity for two bathrooms, space is always at a premium!
When the weather is beautiful, many RVers may turn to storing stuff outdoors, which may include your off-grid refrigerator.
Consider a more sturdy alternative if you are unclear of where a suitable location for your fridge would be.
If you don't have enough room inside, you may store your solar-powered refrigerator outdoors in the weather.
This is particularly relevant if you want to prepare a large portion of your meals outdoors or if you're boondocking in a teardrop trailer equipped with an outdoor kitchen.
Some of these refrigerators should only be used inside; prolonged outside usage is not advised.
This is something to think about, and you could place toughness and durability rather high on your list of requirements!
#6. Needs for Overall Power
More bells and whistles on a solar fridge can need more electricity.
Get a fridge or freezer that will keep food cold for a long period, however.
When traveling off-grid, it might be difficult to plan a budget that includes adequate electricity for your fridge.
I strongly advise investing in a multimeter so you can accurately determine how much power anything requires.
These clever devices can measure several types of electric currents, including amperage.
If you have an RV, these are quite useful!
It might be challenging to figure out how many solar panels you'll need for your boondocking setup since you have to consider how much electricity each appliance will need to turn on and maintain operation.
Consider your power requirements and preferences carefully!
#7. Budget
Finally, it's critical to have an approximate idea of how much you can spend on an RV refrigerator.
The cost of these essential items might vary from a few hundred dollars to several thousand dollars.
For some of you, buying a portable refrigerator could be a significant expenditure.
A solar-powered refrigerator might have expensive initial costs as well.
You will also need to factor in the expense of installing solar panels if your RV doesn't already have them.
A more expensive converter may even be required of you.
However, these refrigerators are adaptable, portable, and useful in a range of situations.
You could be pleasantly surprised by how much you can put in them as well; perhaps you won't want a fridge as large as you first thought, allowing you to save money in the process!
Pros and Cons of a Solar-Powered RV Fridge
Everything has benefits and downsides, and RV refrigerators for solar power operations are no exception.
Let's consider a few of these options together.
Pro: They Run On The Sun's Energy.
Having a fridge that operates on solar power is a significant bonus if you are a renowned boondocker seeking to travel the road with no connections or hookups.
Only your battery life will need attention, and your solar panels should be recharging it every day.
RV solar has become quite popular for several reasons.
It might be liberating to have the freedom to travel anywhere you choose as long as there is sunshine.
And having a solar-powered refrigerator is even better!
Cons: If Your Fridge Runs Out of Power, It's Dangerous
One of the greatest dangers of losing access to shore power? What will you do if your solar panel breaks down or your battery dies? You face the danger of having spoiled food in your refrigerator or freezer.
Making the most of your solar system requires a thorough understanding of your RV's electrical system, including its converter and inverter.
It's important to know how many amps your appliances use, particularly before you hook up and go.
Pro: They Are Portable and Compact
Nothing beats an ice chest or cooler for days at the beach or on a boat.
Fridges powered by solar energy are also portable and may travel anywhere you want to take them.
You may bring your chilled goods as long as they are on wheels, have a handle, and a battery to power them.
Furthermore, you won't have to worry about where to store food while traveling if you have a small, portable RV fridge.
These refrigerators fit neatly into problematic spaces in your solo-traveler travel trailer or van conversion.
Cons: Occasionally, They're Too Compact.
What is the primary disadvantage of solar-powered RV refrigerators? Some of them are really tiny.
While some of these refrigerators and freezers offer big capacity, the average size of most of them is comparable to a typical ice chest.
Planning ahead is crucial, so think about how many items you'll need for a single camping trip in the fridge or freezer and if you can afford to resupply rather than bring everything at once.
Alternately, you could buy a bigger fridge, but it could take up too much room.
Pro: They Are Simple To Set Up.
Are you worried about how to connect your RV's solar-powered refrigerator? The finest feature of these tiny fellas is how easy they are to put up, which is deliberate.
The conventional cigarette lighter plug found on the majority of them may be inserted anywhere you want to use your refrigerator.
You should have no issue utilizing your solar-powered fridge as long as your solar system is operational (or maybe you have an onboard generator).
Additionally, several have short cool-down intervals, which is a benefit of these portable gadgets!
Con: They Can Be Expensive
Solar-powered refrigerators can grow pricey, much like many RV components and accessories.
They also come in a wide variety of costs, from $300 to $3,000 and anywhere in between.
Choosing a purchase, let alone determining if you can even afford one in the first place, may be challenging.
Replacement components or build outs for RVs usually cost money.
No exemption applies when switching out a normal RV refrigerator with a solar-powered one.
The price shock you could experience might be demoralizing while shopping.
The ability to get a refrigerator and freezer is a plus.
You don't have to limit yourself to just fresh food alternatives if you don't want to by getting an RV fridge with freezer options that runs on solar power! In case you need ice or more, these technical wonders might even include a tiny freezer area.
Your culinary options are almost endless if you have a freezer and a refrigerator available.
Make sure the propane is packed and that your propane regulator is up to date (check out our regulator instructions here if you believe you need a new one) before you start cooking.
The Best Solar-Powered RV Fridge
Are you prepared to look at some of the greatest RV refrigerators with solar power presently available? Let's start by assuming you are aware of the exact number of amps your RV solar system can provide for your new portable fridge.
#1. Best Overall: Dometic CFX3 Portable Refrigerator and Freezer
This portable fridge from Dometic, which comes in 7 different sizes, is a great option for those of you seeking to purchase another item under the Dometic name.
I personally trust Dometic since they have been a household name for many years in the camping and RV industries.
The fact that this specific portable fridge comes in a variety of sizes, has mobile app chilling capabilities, and uses an effective compressor cooling technology wins it the top overall ranking.
It can deep freeze to -7 degrees and is significantly lighter than many other coolers on our list!
The ordinary RV refrigerator sits somewhere on this list and lacks the advantages of mobility.
The sizes on this fridge vary from 25 liters all the way up to 100 liters.
The 35 liter capacity of this Dometic cooler can accommodate up to 50 cans, which makes it a popular choice.
This elegant matte black portable fridge can go everywhere you need it to since it is made of a strong but lightweight aluminum frame.
It boasts strong grips, a sharp display, and a Dometic mobile app that lets you see use history.
This effective refrigerator also features a freezer, and the larger ones have greater freezer space.
Even though they weigh around 80 pounds when empty, you probably won't need a 100-liter refrigerator for your future camping trip!
#2. Best on a Budget: SetPower 12V Refrigerator, 37 Quart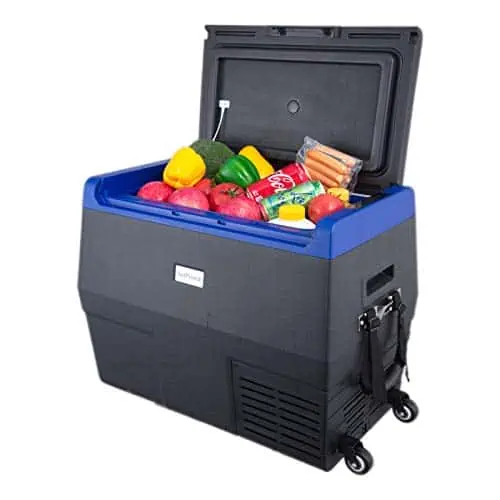 7 Reviews
SetPower 12V Refrigerator, 37 Quart
Simple on the wallet
Wheels that are removable and fantastic anti-tilt safety features
Freezes very quickly
No app, which is a drawback for IT enthusiasts.
Why spend more when you can get a portable refrigerator that is more affordable? You could find that this 37-quart fridge from SetPower is just what you've been seeking for since it includes practically all the features you want.
This cooler is equipped with battery protection, wheels, a handle, a removable top, and 30 degree tilt protection.
Allow your solar panels to chill your groceries by plugging it into a cigarette outlet in your vehicle or another position in your RV.
You can prevent your ice cream from melting with a chilling and freezing range of -4 degrees to 64 degrees.
This refrigerator is designed with your RV living area in mind; the wheels can be removed to prevent it from rolling away, and there are flush latches for securing it.
This cooler comes in a variety of sizes and has a convenient LED temperature control panel.
Its durability and ability to handle off-roading are often mentioned in reviews, which is undoubtedly fantastic news for many campers and explorers!
Thankfully, this fridge is simple to use despite the poor quality of the instruction booklet.
Additionally, it cools off quickly and won't put too much strain on your battery.
It is economical, quiet, and has a strong compressor.
What is better than that?
#3. Most Compact: F40C4TMP 12V Car Fridge, 30 Quart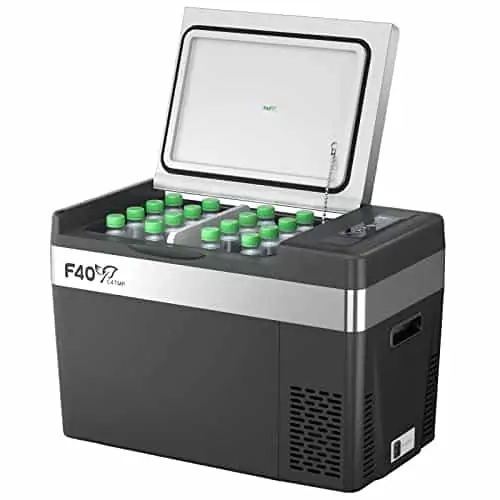 472 Reviews
F40C4TMP 12V Car Fridge, 30 Quart
Powered by a battery to safeguard your food
Power-saving eco-mode is accessible.
Very small and light
Little space separates the refrigerator from the freezer.
You want a compact, stylish, and effective cooler for your van conversion.
Check out this refrigerator from F40C4TMP; at around 30 pounds, it may be the finishing touch for your RV remodel.
Although this little refrigerator offers a ton of functions, let's start with the essentials: it comes with a two-year guarantee so you can be secure in your purchase.
In order to prevent your vehicle or RV batteries from being drained, it also has built-in battery protection.
It not only has a capacity of up to 40 cans, but it also has a small exterior.
It includes integrated handles, a magnetic door that is flat and stylish, and an easy-to-read LED display.
Additionally, it has a temperature memory feature, which means that the next time you switch it on, it will automatically use the temperature you last set.
While this refrigerator lacks smartphone management, it does include a useful eco option that will prevent it from using more energy than 45 watts.
The fridge itself seldom uses more than 60 watts, which makes it ideal for many solar applications.
It lacks a separate freezer and refrigerator compartment, which might be challenging for many RVers.
Nevertheless, it has certain inside chambers that could prevent your veggies from freezing.
#4. Most Versatile: ICECO JP42 Pro, 3 in 1 Refrigerator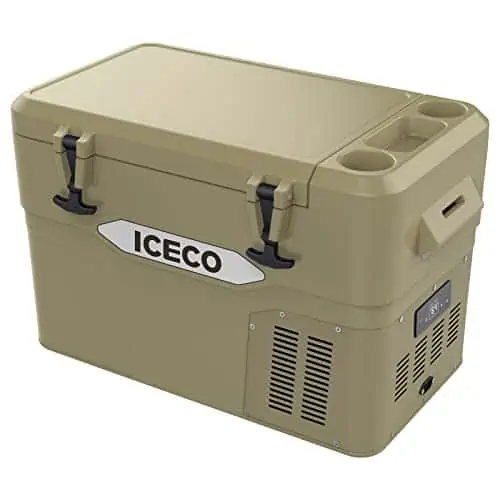 Sale
250 Reviews
ICECO JP42 Pro, 3 in 1 Refrigerator
For more versatility, it functions as a cooler, refrigerator, or both.
Up to 40 degrees of tilt adjustment and a handy drainage vent
There are several color choices so you can find the ideal combination.
While cooling down, may be a bit noisy.
This portable fridge from ICECO is not only functional and fashionable (it comes in three colors), but it also combines three goods into one.
With its thick, insulated walls and lid closing, this 44-quart refrigerator can hold up to 66 cans while functioning as a fridge, a freezer, and a cooler.
This refrigerator and freezer has three settings designed to safeguard your vehicle or RV battery and is capable of freezing down to 0 degrees.
Although they vary in power and intensity, none of them exceed 12.5 volts.
Regardless of how long you are camping for, this prevents your battery from dying.
This cooler can be tilted up to 40 degrees and still function, which is wonderful for RVers.
It is also ideal for storage in awkward spaces or boondocking with.
Traditional refrigerators fueled by propane are a problem for many RVers since they often run poorly unless the vehicle is flat.
Rubber locks that are strong and simple to open keep all of your food inside the refrigerator.
On top of the cooler, there are cup holders so you can use it as a table or another useful surface.
Additionally, the unassuming LED display is straightforward to operate and is located on the fridge's side.
This refrigerator has a five-year guarantee, an environmental setting, and a handy drainage spout.
The weight and noise of this refrigerator as it cools down are its biggest drawbacks, however the environmental mode is quite quiet.
#5. Best Freezer Capabilities: Everchill RV Refrigerator, 12V Fridge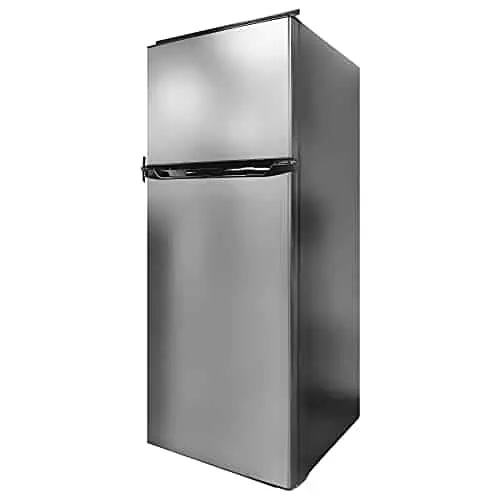 3 Reviews
Everchill RV Refrigerator, 12V Fridge
Large capacity, lots of room, and yet low power consumption
quickly get cold or frozen
A lot more space is available with many shelves.
Larger than some smaller RVs would choose
This particular solar-powered refrigerator is large—almost the size of a typical house refrigerator—and would work best if you were replacing an outdated RV refrigerator.
It could be your greatest option for freezing, however, if you can fit this fridge in your vehicle.
Why? because the freezer section is spacious and effective!
This refrigerator has enough chilling room for the whole family at 11 cubic feet.
It is designed for boondocking and has a minimum 40-hour battery or solar panel life.
It is designed to run off the batteries in your RV as it only operates at 12 volts.
You won't even feel like you've left home when you open this unit since it has five shelves, a crisper drawer, and inside-door racks for the fridge and freezer.
Additionally, this refrigerator and freezer combination can cool down and reach the temperature you've specified in less than an hour!
Even though it is undoubtedly not portable, this appliance is the ideal replacement for those of you whose RV refrigerator is outdated or faulty.
It is said to be simple to setup and has accessible customer support.
Additionally, it includes a ton of extra capabilities that you won't find in any other options for a portable fridge.
This refrigerator will make you feel as if you are at home since it has features like humidity control, water bottle shelves, locking doors for when your rig is moving, and adjustable legs so that you can match the height of your previous fridge.
Nevertheless, you get to travel and use your solar panels to power it!
#6. Best for Solo Adventures: Whynter FM-65G 65 Quart Portable Refrigerator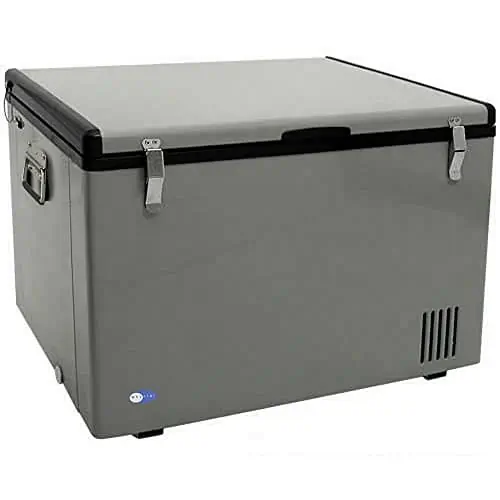 Sale
438 Reviews
Whynter FM-65G 65 Quart Portable Refrigerator
Extra baskets for greater room, a sturdy design, and a stylish build.
Rapid freezing capability
Well suited for solar applications
A tiny bit too broad
Check out this robust alternative from Whynter if you're an explorer at heart wanting to boondock and travel with a dependable fridge.
This alternative is tough and ideal for the daring solitary boondocker, despite the fact that it weighs approximately 60 pounds.
You can bring almost anything with you since it may freeze at -6 degrees.
And 65 gallons is plenty of room for a solitary party! With the help of detachable baskets, you may customize the inside of the refrigerator and prevent your fruits and veggies from freezing.
This device can get you where you need to go quickly thanks to its rapid freeze function.
This might be useful if you're traveling alone since you'll need to set up a lot of things on your own.
Additionally, this device may be plugged into either AC or DC power, giving you the greatest amount of freedom.
With locks and handles made of stainless steel, this unit has a modern light gray hue.
In order to prevent unintentional changes, the control panel is flush and placed close to the bottom of the appliance.
Many customers suggest utilizing this device in an RV or van conversion, especially for usage with solar panels and boondocking.
The RVer searching for adventure, whether alone or with company, will love this solar-powered refrigerator!
#7. Best for Families: RecPro RV Refrigerator Stainless Steel | 10.7 Cubic Feet
69 Reviews
RecPro RV Refrigerator Stainless Steel | 10.7 Cubic Feet
Low amperage and effective freezer/fridge combination
Rapid freezing capability
Really simple to defrost and clean
Maybe too big for certain RVs
This huge unit from RecPro is another excellent option for replacing your current RV fridge.
Similar to Dometic, RecPro is another well-known brand in the RV industry.
They provide a wide range of RV equipment, like heated tank pads and refrigerators, and this one could be ideal for you.
The complete family's food supplies and snacks fit well in this enormous stainless steel unit, which is practically apartment or residential size and has a fridge and freezer section.
Despite its bulk and weight of over 100 pounds, its power makes it ideal for many RV applications.
This refrigerator is effective and suitable for various solar power systems since it only consumes 1 amp constantly while requiring 7 amps to start up.
It operates silently as well, and it can chill to any desired degree in less than an hour.
The finest solar power fridge choice comes with lockable doors, reversible door panels, and more than five shelves between the fridge and the freezer—as long as you can fit this beast inside your vehicle!
RecPro offers a 1-year guarantee and service option, so you can buy with confidence.
This refrigerator also doesn't become frosty, thus the humidity is maintained managed.
With this fridge, regular defrosting and cleaning will be simple.
#8. Most Stylish: BODEGA 12 Volt Car Refrigerator, 27 Quart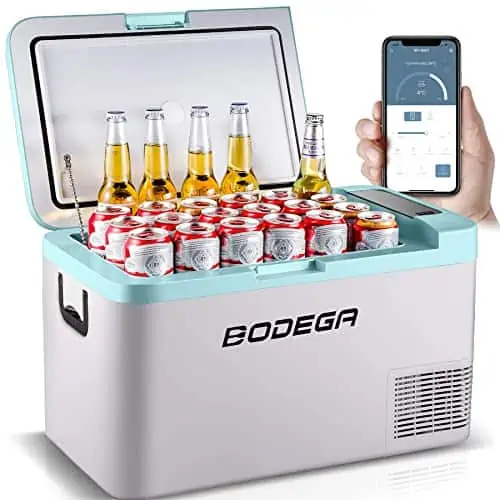 56 Reviews
RecPro RV Refrigerator Stainless Steel | 10.7 Cubic Feet
Live voltage updates are accessible through a mobile app, allowing you to carefully monitor everything.
3 color options allow you to discover the ideal combination.
Portable and simple to transport
It can be too small for some RV owners.
This fridge from BODEGA may be ideal for those of you not carrying too many groceries along with you since it is mobile app enabled, available in three contemporary and fashionable hues, and tiny as all hell.
Even though this fridge barely holds 27 quarts, it may nonetheless meet your demands.
This little refrigerator has a ton of functions, including real-time voltage reporting, quick cooling, an app control with battery protection, and -20 to -20 degrees Celsius chilling.
It can provide you with all the information and help you need.
If you don't want to download the app, this fridge freezer combination includes a handy drainage hole and a well-lit LED control panel.
Additionally, the handles are flush with the unit, and there's even an inside LED light so you can see inside at any time!
The makers of this refrigerator provide you a one-month free trial to test whether it works for you before providing a guarantee for another year.
For optimum flexibility, it may be hooked into a USB port, a normal outlet, or even a vehicle outlet—plus, the app will track it all!
The outside is adorable; it is available in trendy shades of turquoise, lilac, or burnt orange.
Additionally, it is strong—on maximum cold, it can chill your refrigerator in 15 minutes.
Even if it may not be big enough for every group, it makes a statement nevertheless!
FAQs
Do you still have concerns regarding the finest RV refrigerator with solar power? Let's first address some frequently asked questions before moving on to the items!
Do I Require a Solar-Powered RV Fridge?
No, you don't need need a solar-powered refrigerator.
There is no need not to update, however, if your RV is equipped with solar panels.
Fridges are often a barrier to RVers going entirely off-grid, which may be liberating.
You could have a strong enough converter to convert the AC electricity from a conventional refrigerator to a smaller amount of DC power, allowing you to operate your RV entirely off of batteries.
However, if you are unable to recharge your batteries, this drastically reduces your power use.
Therefore, having a solar-powered refrigerator may be useful, particularly if it's stocked with food.
Maintaining a cool environment is important, particularly if you are traveling from one place to another.
Which Fridges Use Solar Power Better?
Fridges powered by solar energy aren't always superior.
However, there are instances when they are more suitable than ordinary fridges for your lifestyle and RV.
If you routinely boondock and wish to disconnect from the grid, then this is unquestionably the case.
Although most solar-powered refrigerators are portable, they are typically smaller than RV refrigerators.
You can move these enhanced ice chests wherever you like thanks to their wheels and handle.
That's a tremendous benefit of these appliances, too.
How Much Power Will My Solar Power Fridge Require?
It will depend on the refrigerator you ultimately buy.
Some portable refrigerators use as low as 0.5 amps per hour, while others draw closer to 5 amps or more.
It relies on the capabilities of the refrigerator and freezer.
If you want to power your RV off the grid, you need think about a dependable, high-output battery.
Unless you've just bought a far more opulent machine, fixing your power system should be your first concern.
Once you get the hang of it, it's simpler than you may imagine!
What are a Few Reputable RV Solar Power Fridge Brands?
RV solar power refrigerators come in a wide variety of brands nowadays.
But certain names continue to be well-known and trustworthy.
Several reliable brands include: Dometic, RecPro, Whynter, Bodega, ICECO
These are only a few of the main brands that are now available; there are many more brands than those on this list.
You may even remember Dometic and RecPro from our rankings of the best RV air conditioners and other products for RVs!
Which refrigerator uses the least energy and is best for solar power?
What you require and how big of a fridge you need will determine which refrigerator is the most energy-efficient for solar power.
It's a good idea to keep a look out for refrigerators that operate efficiently, using only a few amps at a time to cool down.
Brands like Dometic, ICECO, and RecPro are among the most energy-efficient solar refrigerators on our list.
To determine efficiency, you should look at the operating amps and how often your refrigerator turns on and off.
What Number of Solar Panels Will Power My RV Fridge?
It depends depend on how much power the panels provide overall and how much power your RV fridge need to start up and operate continuously.
However, depending on the model, portable refrigerators often need between 200 and 400 watts.
This implies that if you want to keep your fridge powered on a camping trip, you need think about investing in at least three solar panels.
And that's just for the fridge; to power the rest of your RV, you'll need stronger panels and more of them.
However, the majority of RV producers can assist you with this.
It might be difficult to estimate just how many you would need, particularly if your demands change over time.
You may always think about investing in a generator to assist you in running your vehicle, particularly some of the top generators for your RV air conditioner!
Conclusion
If you like dry camping or going off the grid, investing in an RV fridge powered by solar energy is a fantastic decision.
Additionally, you may utilize the majority of these portable fridges both inside and outside of your vehicle for years to come at your next tailgate or party.