RV washers and dryers have benefits and drawbacks.
However, as technology has developed, the benefits and drawbacks have altered.
Nowadays, many new RVs come with popular conveniences like laundry appliances.
Either the appliances are already installed when they are delivered, or the RV is plumbed for future installation.
You may be familiar with individuals who owned some of the early models of RV washing equipment.
Perhaps you've heard complaints that the tubs were too tiny and that the wash and dry cycles took an eternity.
Some of the early models combined a washing and dryer into a single appliance.
These combination appliances weren't very big.
First, Some Negative Aspects With RV Washers And Dryers
Nowadays, most RV washers and dryers roughly mirror those in bigger homes.
They often arrive stacked, the bottom unit being a front-loading washer.
The front-loading dryer is often located above.
A few towels, some pants, some shirts, and a few pairs of underwear may be washed and dried in the tubs of both machines.
The cycle time is quite similar to that of household appliances.
RV washers and dryers have both advantages and disadvantages.
Let's begin with the drawbacks.
A washing machine circulates a large amount of water.
Your freshwater tank or holding tank for gray water will be put to the test.
If you don't have access to a sewage or water system, that is.
#1. The Use Of RV Washers And Dryers By Boondockers Is Not Recommended.
The washing and dryer can take up more space than it's worth for folks whose favorite camping method is boondocking.
It could still be simpler to simply wash many loads at once at the campground laundry facilities rather of doing several loads in your RV, even if you saved up the laundry while boondocking until you got to a spot with water and sewer hookups.
The dryer's power supply is another problem.
Again, using your gasoline and electricity to operate a dryer definitely doesn't make sense for boondockers.
The compact WonderWash, which uses less water and is powered by a hand crank, may be preferred by boondockers.
But not just boondockers experience the drawbacks.
We have spent a lot of time at RV parks without sewage connections but with electricity and water hookups.
That's just half the answer when it comes to RV washing equipment.
Your gray water holding tank might be filled quickly by utilizing a washer.
Additionally, the washer spin cycle might be annoying since it vibrates the whole bus.
Electricity is often billed in addition to the space rental costs and separately to campers who are part of long-term camping agreements.
Because the park's laundry room has larger washers and dryers, using it might be less costly and quicker because less loads would be placed on the park's energy.
#2. RV Washer And Dryer Capacity: Not Recommended For Washing Clothes For A Big Household.
As was already said, capacity is another drawback.
Your laundry pile may rapidly grow if you're camping with a family.
There were still stacks of clothing waiting for the next available washing at campsite laundry facilities where every washer was in use by the same camper.
That much laundry would require running the washing and dryer in an RV practically constantly.
In such situation, it could be simpler to just wash and dry many loads at once.
#3. A Significant Investment To Space
The area that the appliances take up is the last drawback of RV washers and dryers.
The less excess room there is for this equipment, the smaller the setup is.
Even in our 38′ Class A motorhome, there are numerous alternative ways to use the space the washing equipment takes up.
The usage of this room for that purpose may not make sense for folks who only use their RVs for weekend excursions and the odd vacation.
However, those who live in an RV full-time or who often take long journeys will find that taking up that much room with a washing and dryer is a convenience rather than a drawback.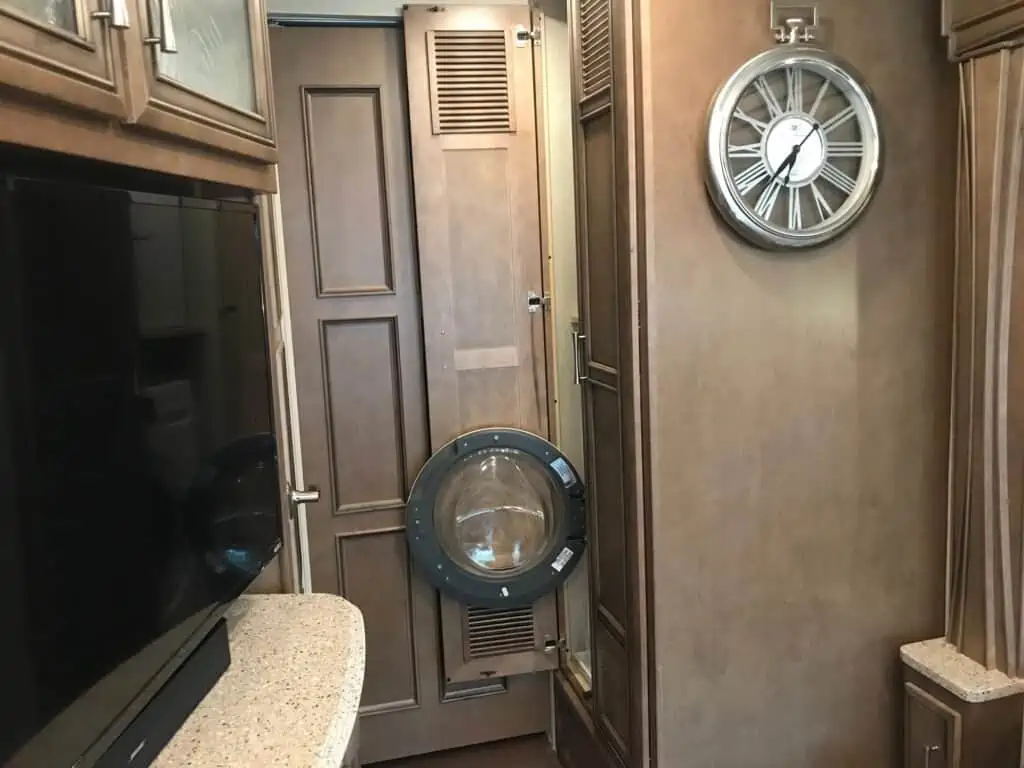 #4. RV Washers And Dryers In Toy Haulers And RVs
The washing and dryer are often located in the tow hauler section of fifth wheels so they are not in the mainlining space.
The appliances in the bathroom of certain Class A motorhomes are located at one end of the vehicle.
The washing and dryer are located in a cupboard just outside the living area and bedroom in our Class A RV.
It would be more than simply our laundry room if the washer and dryer had not been housed in that cabinet, which has a large, handy storage space.
#5. They Are Susceptible To Mildew And Mold.
One other drawback of RV washers ought to be mentioned.
To prevent mildew from growing in the leftover water in front-loading washers, they must be let to air out.
It's okay to leave the front-loading door open if your washer is placed in a remote area.
However, since the washer and dryer are located in the middle of the RV, it is not practical to always keep the cupboard door and washer door open.
We must keep in mind to leave it open at night so that it may air out.
It wouldn't even be a problem if the washer was in the rear (in the bathroom).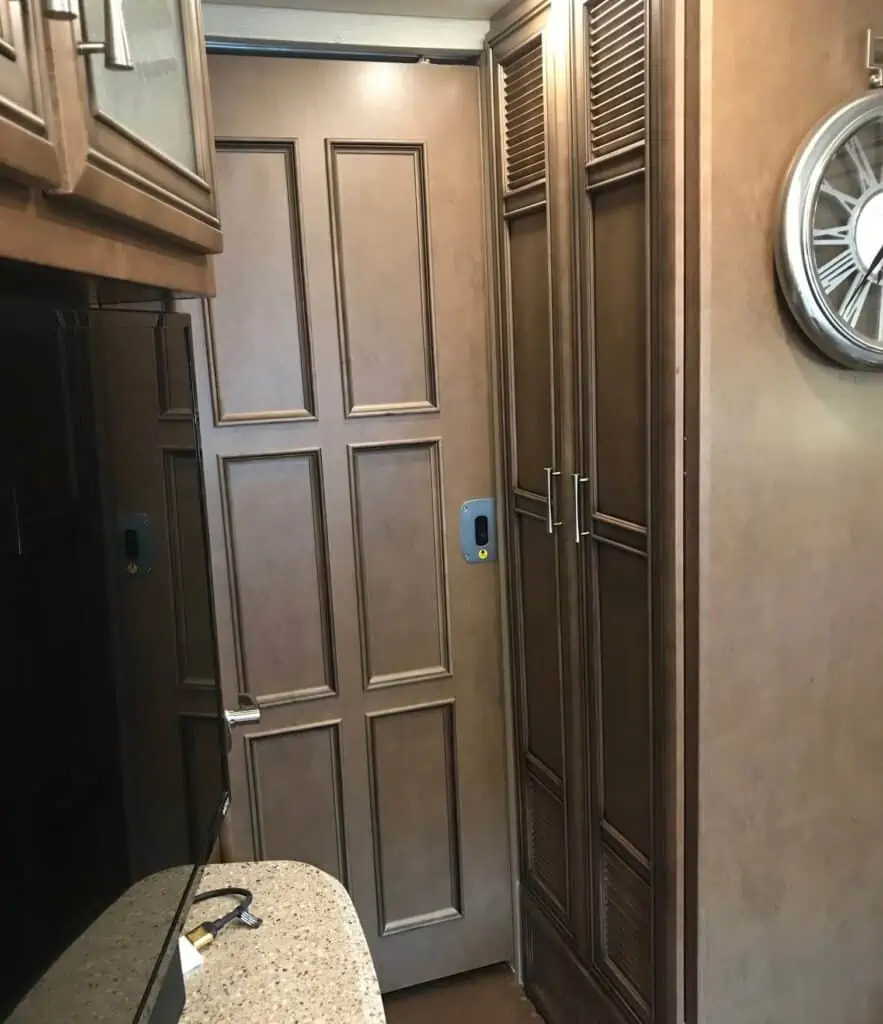 Here Are Some Advantages Of Rv Washers And Dryers.
On the other hand, there are several benefits to owning an RV washing and dryer.
Being able to do the laundry in our RV save us from making unneeded journeys to the nearby laundromats since we've been in parks with all the hookups in our site but no camp laundry.
We've been in several parks that closed their washing facilities during the current epidemic as well, so in both of those cases, having a washer and drier in our RV prevented us from having to travel into the closest town in search of an open public facility.
That "nearest town" was more than 40 miles distant at one campsite in Northern California.
You can simply wash and dry a few loads of clothes while multitasking if your location has access to water, electricity, and sewer.
We like the onboard laundry's time-saving feature since we operate from our RV.
#1. There Are Dangers In Using The Laundry Facilities In RV Parks.
There's no need to carry your dirty laundry to the laundry room at the campground, have coins in your RV to use the coin-operated washers and dryers, or be concerned about what could have been cleaned and dried in those machines before you placed your dirty stuff in them.
On one instance, the melted crayon in the dryer escaped my notice until I saw the stains on my clothing.
Another incident occurred at a campsite laundry facility, when a pillowcase was damaged by an unnoticed bleach pool on top of a machine.
Laundry in your own RV saves money, is more time-effective, and gives you peace of mind that the machinery is sanitized and free of contaminants.
#2. Combination For RV Washers And Dryers
To save space, some RVers combine their washing and dryer into one unit.
A Barn Creation, a family that lives in an RV full-time, reviews the Splendide 2100XC RV washer/dryer combo in the video below below:
Our RV Washer And Dryer Are Fantastic.
We didn't have a washing and dryer in our first RV, and when we were looking for a new motorhome, we weren't sure how important such equipment was.
The washer and dryer were already installed in one of the coaches on our short list, but not in another.
Although we were OK either way, we are very happy that the RV we ultimately settled on had a washing and dryer all set up.
We kept hearing that the tubs were so little that the only things you could wash at once were one towel or a T-shirt and some underwear, but it simply wasn't a deal-breaker.
We can't image not having one after spending almost nine months camping in an RV that had a washing and dryer, particularly during this epidemic.
We can easily meet our washing demands by completing a few loads a week given the number of laundry we produce.
Even the coverings on our dog beds may be washed in the baths.
If this is the argument others are using to discourage you from installing this equipment in your new RV, I can tell you that it is no longer a concern.
Tiny laundry tubs in RV washers and dryers are a thing of the past.