What could be better than getting a good night's sleep on a comfortable Air Mattress? If you're like me, you probably enjoy camping and spending time outdoors in your RV.
A comfortable bed is key to getting a good night's sleep while on the road, and an Air Mattress is the perfect way to achieve that.
Not sure which one to choose?
Check out my guide to the Best Air Mattresses for RVers for all the information you need!
Recommendation Buying
Amazon's SoundAsleep Dream Series is the Best Overall
Lightspeed Outdoors Self-Inflating Sleep Pad from Amazon is the Best Budget Option
Walmart's EnerPlex Luxury Camping Air Mattress is Best Queen Mattress
AeroBed Kids from Bed Bath & Beyond is the Best for Kids
Therm-a-Rest MondoKing at Amazon is the Best Lightweight
Coleman Camping Cot at Amazon is the Best Cost
Amazon's SoundAsleep CloudNine Series is the Best Splurge
Luno Car Camping Mattress from Huckberry.com is the Best for RV Camping
Because they're dependable, comfy, and inflate automatically, air mattresses are a terrific alternative for sleeping in the great outdoors.
When performing research, however, customers should also consider the weight of the air mattress.
You'll want something light if you're trekking a few miles to your campground; vehicle campers may use something a little heavier.
However, there are a plethora of possibilities available, constructed from a variety of materials, thicknesses, and pricing points.
Fortunately, we've done the legwork for you and compiled a list of the best selections.
Continue reading to learn about the best Air Mattresses for RV camping.
Recommended: Best RV Mattresses of 2023
What We Enjoy
Warranty period of one year
Pump with a single click
Thick
What We Don't Care For
It is possible for the middle to sink in.
SoundAsleep's Dream Series is one of the greatest air mattresses on the market.
It inflates in four minutes, literally at the press of a button, with a dependable internal pump to keep you from waking up on the ground.
Furthermore, the maker claims that it will remain inflated for days, so you won't have to worry about it losing air throughout your vacation.
It's also tall, standing 19 inches tall to keep sleepers comfy and off the unpadded ground.
Inside, 40 internal air coils keep sleepers cool and comfortable, and the bed can accommodate couples weighing up to 500 pounds.
A one-year warranty is also included.
There's a size for everyone with this mattress, which comes in twin, twin XL, queen, and king sizes (and every size of tent).
Weight: 18.92 lbs.
Capacity: two persons
Inflation: internal pump
Dimensions: 78 x 58 x 19 in.
What We Enjoy
Lightweight
Pillow that is built in
It also comes with a carry bag.
What We Don't Care For
For backpacking, it's too big.
For a single person, it's rather large.
Lightspeed's Self-Inflating Sleep Pad weighs only 6.2 pounds and has huge air valves for simple self-inflating after a long day of hiking or camping, making it a perfect economical alternative to a hefty air mattress.
Despite being closer to the ground than a regular air mattress, it has a medium insulation factor, so even though it's just 3-inches thick, you'll keep warm and toasty.
With a large carry bag and two compression straps included with your purchase, it's also simple to transport from house to campground.
This sleeping mat has a one-year limited guarantee and is 77 x 30 inches.
Weight: 6.2 lbs.
Capacity: One person
Inflation: Air valve
Dimensions: 77 x 30 x 3 in.
TripSavvy put it to the test.
The Lightspeed Warmth 3.0 is a self-inflating pad, which means you just open the two knobs at the foot of the pad and it begins to fill with air.

However, the recommendations advocate keeping the pad's valves open for many hours, preferably overnight, the first time you do this.

The first time I inflated the pad, it didn't seem very full after a few minutes, but it looked much better after keeping it open overnight.

Subsequent usage were straightforward, and the pad was fully inflated in less than a minute.

In case of emergency, I carry a sleeping pad and sleeping bag in my vehicle, and this pad is ideal for that purpose since it doesn't take up much room but gives enough of warmth and comfort for its size.

Because this pad is too heavy for hiking, it's best used for RV camping, overnight rafting excursions, or other situations when you don't want the weight of a full air mattress but don't want to carry it on your back.

Another incentive to choose the Lightspeed is that it is less expensive than most other choices.

Expert Reviewer Justin Park
Suggestions: Best RV Short Queen Mattresses of 2023
What We Enjoy
Sizes: twin or queen
Pump with no wires
Thick
What We Don't Care For
When fresh, there is an unpleasant plastic odor.
Backpacking is not recommended.
With a fully sealed external pump that inflates the bed in only 60 seconds and welded seams to keep the air in, this queen-sized mattress stands true to its "Never-Leak" claim.
With just 9 inches in height, it's a bit shorter than some of the others on our list, but that helps cut down on weight if that's a worry for your RV camping trip.
The coil-beam architecture of the mattress replicates the comfort of a traditional bed while also providing support.
We appreciate that the external pump comes with numerous universal nozzles, allowing you to use it to inflate inner tubes and other water toys you've taken along on your vacation, as well as plugging it into your vehicle charger.
Weight: 10.25 lbs.
(twin), 15.87 lbs.
(queen)
Capacity: One or two persons
Inflation: Wireless pump
Dimensions: 76 x 39 x 9 in.
(twin), 80 x 60 x 9 in.
(queen)
TripSavvy put it to the test.
In early summer, I tried the EnerPlex Luxury Queen Air Mattress at home and while RV camping in Colorado's Rocky Mountains and foothills to see whether the thick inflatable provided comfort and warmth in the mountains' daily temperature fluctuations.

Despite the fact that the pump unit for the EnerPlex Luxury Queen Air Mattress is modest, I was amazed with how rapidly it inflates the mattress.

The total time was quite close to the 60-second duration indicated by the manufacturer.

I was particularly pleased by how firm the mattress could be with the pump.

Furthermore, the air mattress has a nice structure and is almost as comfy as a traditional mattress for me.

When I used it at home, I added a cover sheet, top sheet, and blanket, which made it close enough for me to sleep well without wondering about whether or not I was on an inflatable.

With a weight of over 15 pounds, this isn't a viable choice for any kind of hiking, no matter how appealing it may seem.

Furthermore, there would be no means to operate the pump.

However, owing to the supplied 12V DC adaptor for your vehicle's cigar/utility socket, it's a terrific RV camping alternative.

However, one thing to keep in mind is the scale.

If you plan on utilizing this RV camping in combination with a tent, double-check the size of your tent.

It was certainly too broad to lie flat in the back of my vehicle as a queen, but it may fit in the interiors of larger trucks, SUVs, and adventure vans.

Expert Reviewer Justin Park
Reading suggestions: Best Three Quarter Mattresses of 2023
#4. AeroBed Kids is the Best Option for Children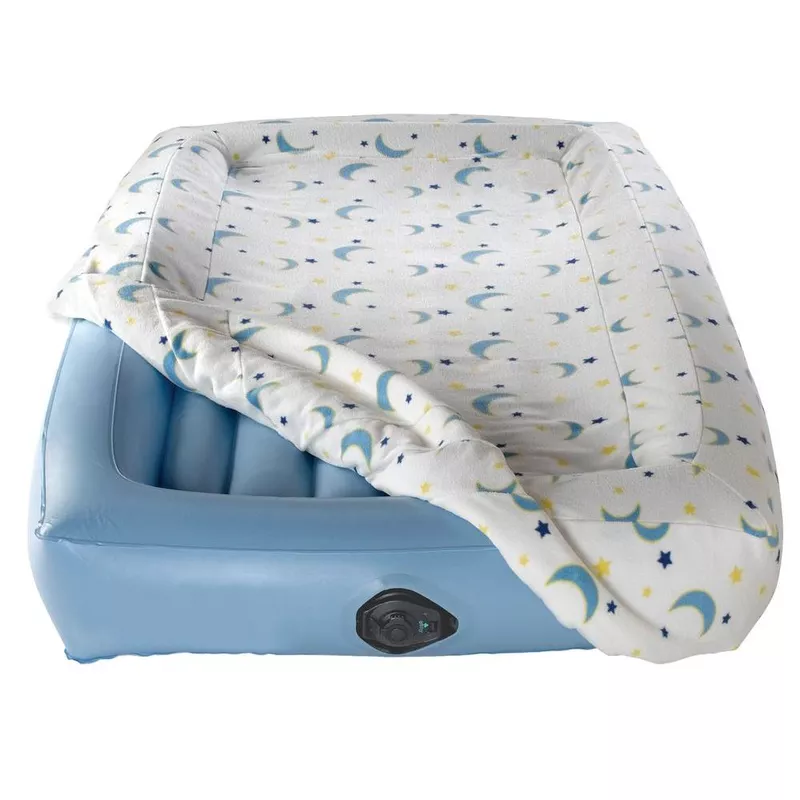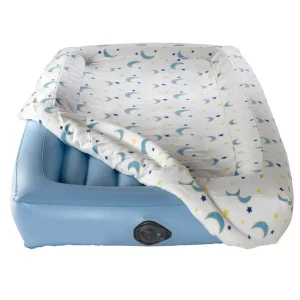 "With a 50-by-25-inch sleep surface, it's custom-made for tiny ones."
What We Enjoy
Includes a fleece mattress cover.
Thick
Durable
What We Don't Care For
It can only handle 150 pounds.
Air mattresses may take up a lot of room in a tent, so if you're searching for something for the kids, save some internal space and check into a mattress made just for them.
With a 60-by-36-inch sleep area, this one from AeroBed is specially created for tiny ones.
Thanks to a 4-inch-high cushion around the perimeter, you won't have to worry about them sliding off.
It also includes a washable fitted mattress pad with a charming star and moon theme, so you'll have one less thing to buy before your vacation.
In addition, the supplied AC pump ensures that the bed is inflated and ready to use in under one minute.
While jumping up and down on this air mattress is definitely not a good idea, it will survive for many travels owing to heavy-duty PVC construction and electronically welded seams that keep every last bit of air in.
Capacity: One kid
Inflation: Pump
Dimensions: 60 x 36 x 8 in.
"It only weighs 3 pounds, is 1.5 inches thick, and can be used all year."
What We Enjoy
Thick
Insulation is excellent.
Spacious
What We Don't Care For
Dimensions of the packaged size
Therm-a-Rest camping air mattresses are inexpensive, packable, lightweight, and resilient, making them ideal for taking on an outdoor overnight trip—especially if you want to travel light.
It's just 4.5 inches thick, keeping the weight under 3 pounds while keeping you off the freezing ground, and it inflates in approximately two minutes.
It's meant to be used all year and features a seal that keeps the air in even the worst winter temperatures.
It'll also be there for you for many more RV camping vacations to come, owing to the materials used, which are designed to endure year after year.
Weight: 14.82 oz.
Capacity: One person
Inflation: TwinLock valve
Dimensions: 78.74 x 25.2 x 4.33 in
Related: Best RV King Mattresses of 2023
What We Enjoy
Away from the earth
It can hold up to 300 pounds.
Option of a twin or a queen bed
What We Don't Care For
Material that is very loud
Backpacking is not recommended.
Some individuals like a little more space between themselves and the ground, which is where Coleman's camping cot comes in handy.
But fear not: this isn't a canvas army cot: the budget-friendly outdoor brand, known for its dependable, high-quality products, makes a great cot that includes an air bed, battery-operated pump (so you don't have to rely on electricity to pump it up), and—best of all—two pull-out side tables with cup holders (so you don't knock over your water bottle in the middle of the night).
It's a one-stop shop for everything you'll need to make camping a bit less rough and a little more relaxing.
If the queen size is too big for your tent—or if you just need one bed—also it's available in a twin size.
Dimensions: 74 x 23.5 x 47.2 in (twin) 78 x 22 x 59 in (queen)
Weight: 13.88 lbs (twin), 41.9 lbs (queen)
Capacity: One or two persons
Inflation: Double lock valve
#7. Luno Car Camping Mattress is the Best for RV Camping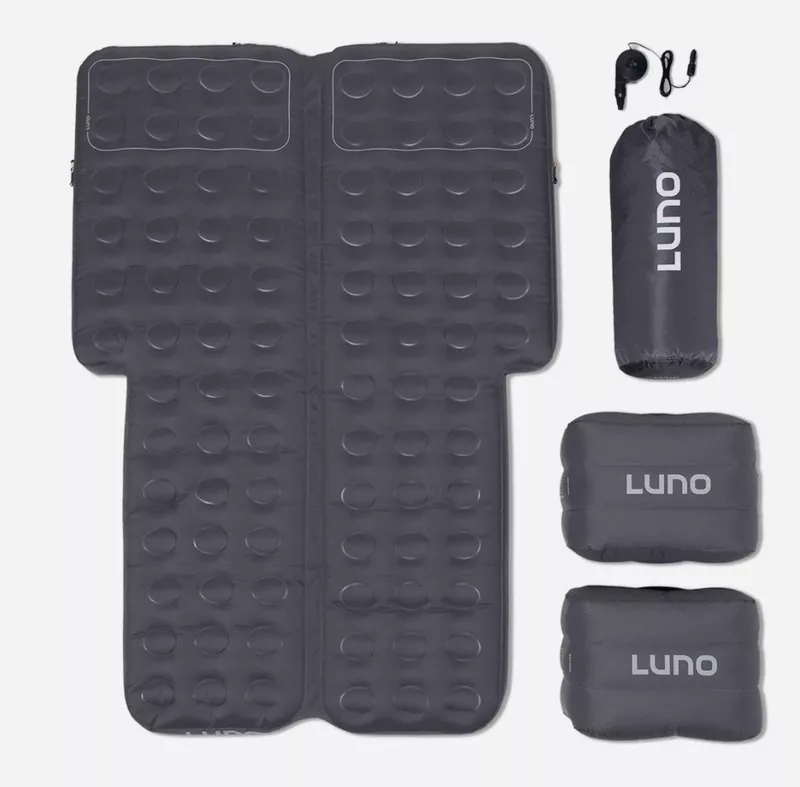 "With this ingenious inflatable mattress, you can convert the rear of your SUV or hatchback into a bed, obviating the need for a tent."
What We Enjoy
It doesn't take up a lot of room.
Durable
Sizes range from small to large.
What We Don't Care For
It isn't compatible with all automobile models.
This ingenious inflatable mattress converts the back seat of your SUV or hatchback into a bed, obviating the need for a tent.
It's composed of tough 300-denier Oxford fabric that can endure dog claws, pine needles, and wood chips, among other things.
It's tiny enough to keep in your vehicle all of the time, and you can inflate only one side for single RV camping.
They provide a number of solutions for different automobile sizes.
Multiple dimensions are available.
Capacity: One or two persons
Inflation: Electric air pump
Weight: 15 lbs.
The Final Word
The Dream series from SoundAsleep (see on Amazon) inflates in about the time it takes you to go outside the tent and wash your teeth, and it's designed to save you from waking up on a deflated mattress.
It's the next best thing to carrying your bed from home with you, with a height of 19 inches, and a range of sizes to choose from, making choosing one to match your tent a breeze.
When buying an air mattress for RV camping, there are a few things to keep in mind.
Price
The frequency with which you go into the woods – or have someone fall on your living room floor—can (and should!) influence the cost of an air mattress.
If you spend most weekends camping throughout the summer, it's a good idea to invest in an air mattress to guarantee a restful night's sleep.
If you only travel a few times a year, though, it's worth looking into a less costly air mattress that can keep you off the ground while still keeping your budget intact.
Thickness
The distance between you and the ground underneath you is exactly proportional to the thickness of your mattress.
A thinner mattress may encourage the cold to penetrate deeper into your bones if you're going out in the winter or in a cold area, or if you're the kind of person who can feel every divot in the earth under them.
If you're easily chilly or can feel even a pea beneath thinner mattresses, you may want to invest in one that's at least a foot and a half from the ground.
Materials
The majority of air mattresses are constructed of PVC, textile-reinforced urethane plastic, or rubber.
But there's usually more to a mattress than glossy plastics: velvet toppers make sleeping a bit easier since your sleeping bag (or sheets) won't slide about on them.
Most Commonly Asked Questions
How big should your air mattress be?
Measure twice and purchase once is the best method to ensure your mattress will fit in the tent.
Make careful to measure the internal dimensions of your tent so you don't end up with one that's too long or, in the case of single tents, too broad.
What is the Best Way to Clean Air Mattress for RV?
Because most air mattresses are intended for outside use, they are built to be tough and simple to clean.
The vinyl or plastic-feeling elements of the mattress may usually be wiped clean, but the manufacturer's directions for cleaning velvet toppers should be followed.
However, if you have a s'mores spill and there are some crumbs or sticky parts, you should be able to vacuum or wipe them up once you get home.
What Should You Look for in a Pump?
If you have access to power, go for an electrical pump to make your task much simpler.
If you're going camping in the woods, though, you may need to seek for one with a manual pump and put in a little sweat to inflate your bed for the night.