RV builders aim to fit as many people as possible into a tiny area, which results in oddly sized beds and the dreaded bunk bed.
Bunk beds are an excellent way to conserve space, but you've undoubtedly noticed that your RV bunks aren't the same size as a conventional twin mattress.
You've undoubtedly also noticed that the mattresses the manufacturer initially installed aren't very comfy.
You've arrived at the perfect spot if you're seeking for a new RV Bunk Mattress.
You may now readily acquire personalized mattresses online, thanks to the increase in the online mattress trend in recent years.
We've done the legwork and compiled a list of our top selections for the greatest alternatives on the market right now.
From luxury to customized alternatives to budget-friendly selections, this list has something for everyone.
We've done our best to ensure that at the conclusion of this article, you'll know which mattress is ideal for you.
Picks for the Best "RV Bunk Mattress"
Top 5 Best RV Bunk Mattresses 2023
#1. Brooklyn Wanderlust Memory Foam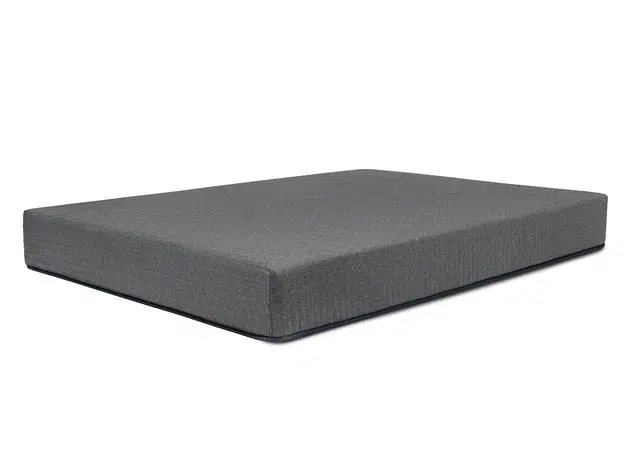 What Customers Appreciate:
At a reasonable price, a very comfortable medium-firm memory foam mattress.
Summary:
RvMattress.com, which is owned by The Brooklyn Bedding Company, manufactures the Wanderlust RV bunk mattress.
This is a simple memory foam mattress design that is suitable for most sleepers.
We suggest choosing an 8′′ or 10′′ choice if you expect to sleep on this mattress every night or if you plan to have heavier people sleep on it.
The Wanderlust is entirely constructed of foam.
A high-density support foam serves as the foundation, with a memory foam comfort layer on top.
Memory foam provides a distinct "cradling" impact than traditional coil or innerspring mattresses.
Although many consumers appreciate the feel of memory foam, it is crucial to note that it is not without its detractors.
Related: Best RV Mattresses of 2023
#2. Luxury Gel Foam Rv Mattress W/Organic Cotton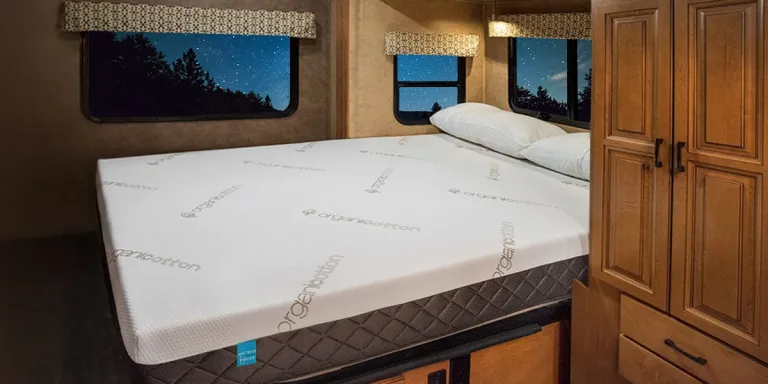 What Customers Appreciate:
For different sleep preferences, a comfortable 2-sided mattress is available.
Excellent feedback (over 200 5-star reviews).
Summary:
Mattress Insider's Luxury Gel Foam Mattress is a high-quality memory foam mattress at an affordable price.
This mattress is a terrific choice if you appreciate the distinctive feel of memory foam.
Mattress Insider's most popular memory foam mattress is now available in a number of sizes, including several of the most common rv bunk sizes, as well as pretty about any custom size you can think of.
This mattress also has customizable comfort features, which enable users to flip the mattress or rearrange the memory foam layers within to change the hardness level.
During the hot summer months, the cooling gel foam helps to control the sleeping temperature, allowing you to sleep cool.
Finally, Mattress Insider has included an organic cotton cover, which creates a delightfully pleasant and healthy sleeping environment.
The Luxury Gel foam mattress is offered in both a normal RV bunk size and a rounded corner version to fit in a variety of different shaped RV beds.
Related: Best Air Mattresses for RV of 2023
#3. Brooklyn Aurora Hybrid Mattress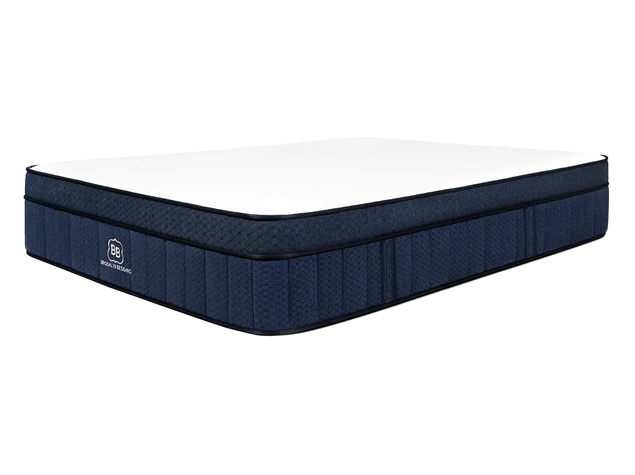 What Customers Appreciate:
The Most Popular Mattress at Brooklyn Bedding.
At a fantastic price, you can get high-end materials.
Sleeps in a cool environment.
The Brooklyn Aurora RV bunk mattress is ideal for those who want to be as comfortable as possible while on the road.
This is Brooklyn Bedding's most popular mattress, and they've chosen to make it available in an RV bunk size to suit RVs and campers.
This is the finest quality mattress available in an RV Bunk size if you want the most wonderful night's sleep while traveling.
The Aurora's hybrid design combines springs and foam comfort layers to give the stability and bounce of an innerspring mattress with the comfort and pressure relief of a foam mattress.
The Aurora comes in three different comfort levels: gentle, medium, and firm (if you are unsure of your comfort preference we recommend going with the Medium feel as this generally meets over 80 percent of sleepers).
Thousands of customers sleep on the Aurora mattress every night in their homes, so it's engineered to endure regular usage as well as the elements of life on the road.
Related: Best RV Short Queen Mattresses of 2023
#4. Park Meadow Pocketed Coil Mattress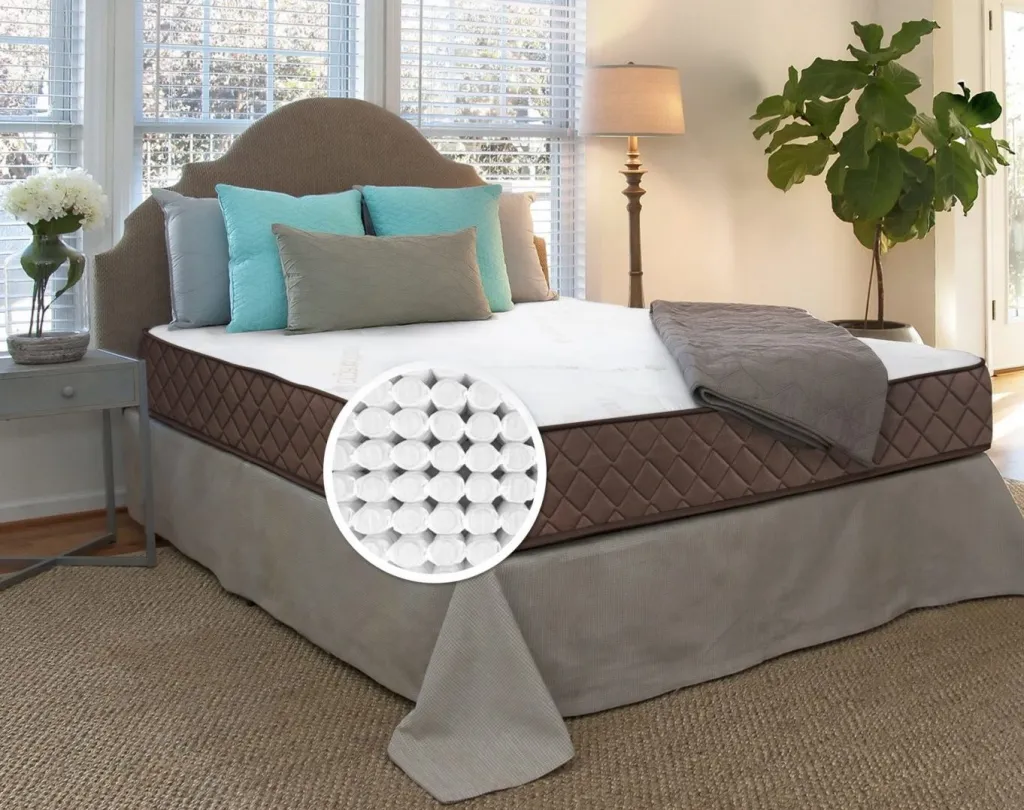 What Customers Appreciate:
This mattress is ideal for those who suffer from back problems or detest the feel of all-foam mattresses.
Summary:
The park meadow mattress is ideal for RV owners who like a conventional innerspring feel to their bunk mattress.
Many mattresses now are built entirely of foam, however an all-foam mattress might feel quite different than an innerspring mattress, which many consumers are used to.
This mattress is ideal for consumers suffering from back problems or who want more support.
Mattress Insider is a company that specializes in bespoke and unusual mattress sizes.
Since 2008, they've been producing mattresses and have served over 70,000 satisfied consumers! Their customer service is second to none, with consumers praising the speed with which they respond and the friendliness of their workers.
Mattress Insider has provided us with mattresses for our RV, and we are confident in recommending any of their goods.
Related: Best Three Quarter Mattresses of 2023
#5. Tochta Custom Mattress Designer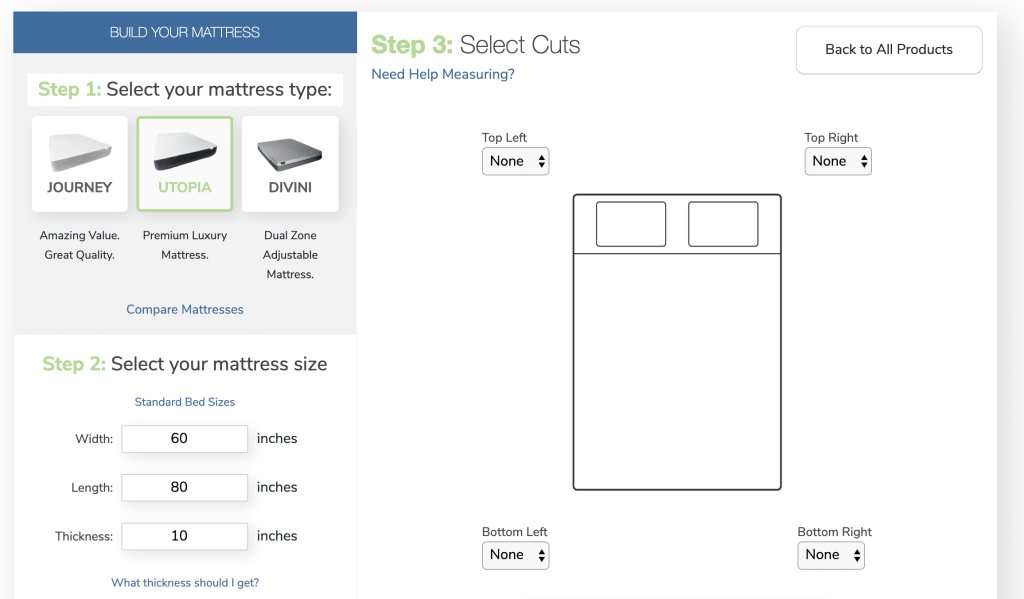 What Customers Appreciate:
Custom shapes and sizes are available in a variety of sizes and may be ordered online.
Summary:
You're restricted to the mattress alternatives available if your RV bunk mattress has a notch or corner cut out of it.
Fortunately, Tochta Mattress's custom mattress program makes ordering custom size or shape mattresses online a breeze.
With the press of a button, you can easily adjust the form and comfort of your mattress and purchase it online.
Each mattress will be made to order, rolled up, and delivered to your home.
Features:
Comfort settings that may be customized
Various thicknesses are available.
Custom shapes and sizes are available in an infinite number of variations.
About the business:
Tochta is no stranger to producing high-quality sleep goods, with over 25 years of expertise and over 2 million satisfied consumers.
Customers may get free delivery and a 100-day risk-free trial to make sure the mattress is perfect for them before making a purchase.
When Picking On A New Rv Mattress, These Are Crucial Considerations To Keep In Mind
How often will you sleep on this mattress? How long do you think it'll have to last? If you want to sleep on this mattress for many nights in a row or if you want it to last a long time, we suggest keeping away from the low-cost mattresses.
Is there a custom cut corner on your mattress? Your selections will be restricted to one or two merchants if your mattress has custom cut corners.
Material: Do you have a preference for a certain sort of feel? Memory foam mattresses, innerspring mattresses, and latex mattresses all have varied levels of comfort.
Before you choose the ideal mattress for you, you must first figure out what you want to sleep on.
What level of stiffness do you prefer? Many of the mattresses on this list enable you to choose your preferred hardness or are designed to satisfy the great majority of sleepers who want a medium-firm mattress.
Measure the precise dimensions of your bed platform before purchasing a mattress to ensure that it will fit perfectly.
A lot of bespoke mattresses have a no-return policy.
Custom Rv Bunk Sheets May Be Purchased From The Following Locations
Mattressinsider.com is our go-to site for custom-sized bed linens.
They have the finest variety and provide excellent service.
They also offer bespoke mattresses, so they're familiar with the sizes you'll need.
Alternatives To Buying A Mattress In A Bespoke Size
If you don't want to buy your mattress online, seek for custom mattress manufacturers in your neighborhood that can make you a mattress that you can try before you buy.
You may visit the following bespoke mattress makers in person:
Verlo Mattress Factories is a company that manufactures mattresses.
The Mattress Factory that started it all.
FAQs About RV Bunk Mattress
What Size Mattress Does A "RV Bunk" Have?
RV bunk mattresses are typically thin and long, and can easily accommodate one sleeper.
Depending on the RV/Camper type and manufacturer, they may come in a number of sizes.
The following are the most typical RV bunk sizes: 75″ x 28″, 30″ x 75″, 30″ x 80″, 34″x75″, 35″ x 79″.
What Is The Ideal Thickness For An Rv Bunk Mattress?
Bunk mattresses should not rise higher than the safety rail at the bed's edge.
This is to keep you from slipping out of bed.
Most guard rails can hold a mattress up to 6 inches thick, and in rare cases up to 8 or 10 inches thick.
Examine your RV or camper and choose a thickness that fits your needs.
You may pick from a choice of mattress thicknesses at most of the businesses we've mentioned.
What Is A Bunk Mattress For An RV?
An RV bunk mattress is exactly what it sounds like: a mattress that fits inside your RV or camper's bunkbed.
To accommodate more people, several RV builders employ bunk type beds.
The size of these bunks varies by RV model and manufacturer.
An RV bunk mattress is often thinner and longer, and it is designed to comfortably seat a single sleeper.
How many types of RV Bunk Mattress are on the market?
While there are few alternatives for RV mattresses that fit into odd-sized bunks, a surprising number of mattress companies have broadened their products to accommodate RV bunk sizes.
Customers may still choose a mattress type and comfort level that meets their requirements.
Some of the numerous mattress designs available in an RV bunk size are shown below:
Innerspring RV Bunk Mattress: An innerspring mattress is a typical type mattress that is supported by coils. This is the most popular form of mattress, and most people are familiar with it.
Although we have mentioned one manufacturer of an innerspring bunk mattress above, the fact that bunk type beds are so thin generally lends themselves to an all-foam mattress structure.
Hybrid RV Bunk Mattress: A hybrid mattress is a fancy term for a mattress that has both innersprings and foam.
This provides the bounce and stability of a spring mattress while simultaneously delivering the pressure relief and comfort of a foam mattress to the sleeper.
We suggest hybrid mattresses to the vast majority of sleepers who have no special sleeping requirements.
Memory RV Bunk Mattress: Memory foam has lately gained a lot of traction in the bedding industry.
Because of its unique pressure relieving and cradling capabilities, the material was first developed for NASA and eventually utilized in mattresses.
Memory foam has a distinct feel that some people like while others despise.
If you've never slept on a memory foam mattress before, you should know that the sensation is very different from that of a typical spring mattress.
Custom cut corners and sizes: Many RV mattresses are available with rounded corners or custom cut edges.
If this is the case, we've included a merchant below in our recommendations who can accommodate and make bespoke cuts for you.
What Is The Price Of An RV Bunk Mattress?
An rv bunk mattress is far more affordable than other mattresses on the market due to its smaller size and thinner profile.
Consider these factors when selecting a mattress for your rv bunk bed.
Where Can I Get A RV Bunk Topper?
Mattressinsider.com is the place to go if you need a custom size mattress topper, and it's one of the few businesses that sells mattress toppers for RVs.
You can get a memory foam topper and even an organic cotton cover to go with it.
Is It Possible To Sleep On A Standard Mattress In An RV?
The majority of the time, the answer is no.
A standard mattress will not fit on a custom-sized bed base.
While some RVs may employ regular size beds, the majority do so in order to acquire more living space within the RV.
Is there a difference between RV mattresses and conventional beds?
Standard mattresses are not the same size as RV mattresses.
This is mainly owing to the RV's lack of useful room.
In order to obtain additional room, manufacturers choose to employ a shorter mattress.
The majority of sleepers may still be accommodated by these shorter "RV mattresses" (minus some taller than average individuals who may find their feet hanging off the end).
What Can I Do To Improve The Comfort Of My RV Bunk Bed?
To make your RV mattress more comfortable, you can either buy a whole new mattress from one of the companies mentioned above, or you can buy a mattress topper from a site like mattressinsider.com
What Are Your Options For Getting Rid Of Your Old Custom Mattress?
When you buy a mattress online, you're left with the task of figuring out how to get rid of your old one.
Fortunately, "A Bedder World" provides mattress disposal services throughout the United States.
We collaborate with mattress recycling facilities to ensure that your old mattress is recycled in the most environmentally responsible way possible.
We've recycled almost 500K mattresses thus far.
Alternatively, try recycling it yourself!
Conclusion
RVs have a lot of odd-size beds, and there are a lot of high-quality firms who provide replacement rv bunk mattresses.
All of the businesses included in this article are ones that we trust and have a good reputation in the sleep industry.
You may place an order with one of them with confidence.