Consider the thickness of the mattress while selecting the ideal one.
Your nighttime comfort is influenced by the thickness of your mattress.
Buying a thin mattress might result in early sagging and poor sleep.
Sleepers should pick a bed that is at least 10 to 14 inches thick.
However, some criteria, such as body shape and sleeping posture, may need a thicker mattress.
In this post, we'll go over things to look for while buying a thick mattress.
We'll also go over what factors influence mattress thickness.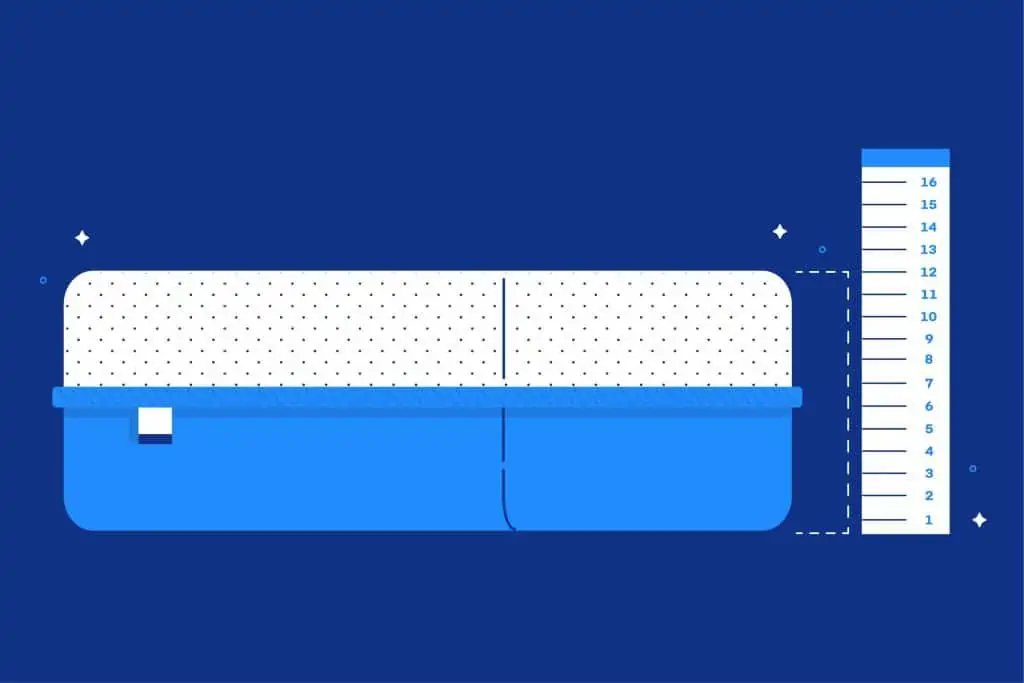 What Factors Influence Mattress Thickness?
Before you buy a new bed, you should understand how the depth of your mattress is determined.
Most mattresses have two or more layers that are meant to support sleepers.
Let's take a look at the two most important layers of every mattress: the comfort layer and the foundation layer.
Related: Best RV Mattresses of 2023
Layer of Comfort
The soft top layer of your mattress is the comfort layer.
When you're sleeping, these layers are the closest to your body and alleviate pressure, which is why they feel so velvety.
Comfy layers are composed of cotton, wool, or poly-foam and mould to your body's contours.
They're also adept at isolating motion transmission, which is extremely useful for couples.
Some luxury mattresses include many comfort layers to give cooling technology or tailored back support to users.
These extra layers may contribute to your mattress's total depth.
They might be as thick as 3 to 4 inches.
The majority of mattresses, however, include comfort layers that are 2 to 3 inches thick.
The transition layers of your mattress are found underneath the comfort layer.
The transition layer functions as a buffer between the soft top layers and the rigid core layers, acting as an insulator.
Insulator/transition layers composed of high-density polyfoam, latex, or wool are used in most beds.
This layer is targeted to provide extra comfort to sensitive areas of your body, such as the head, shoulders, back, hips, and feet, depending on how the mattress is made.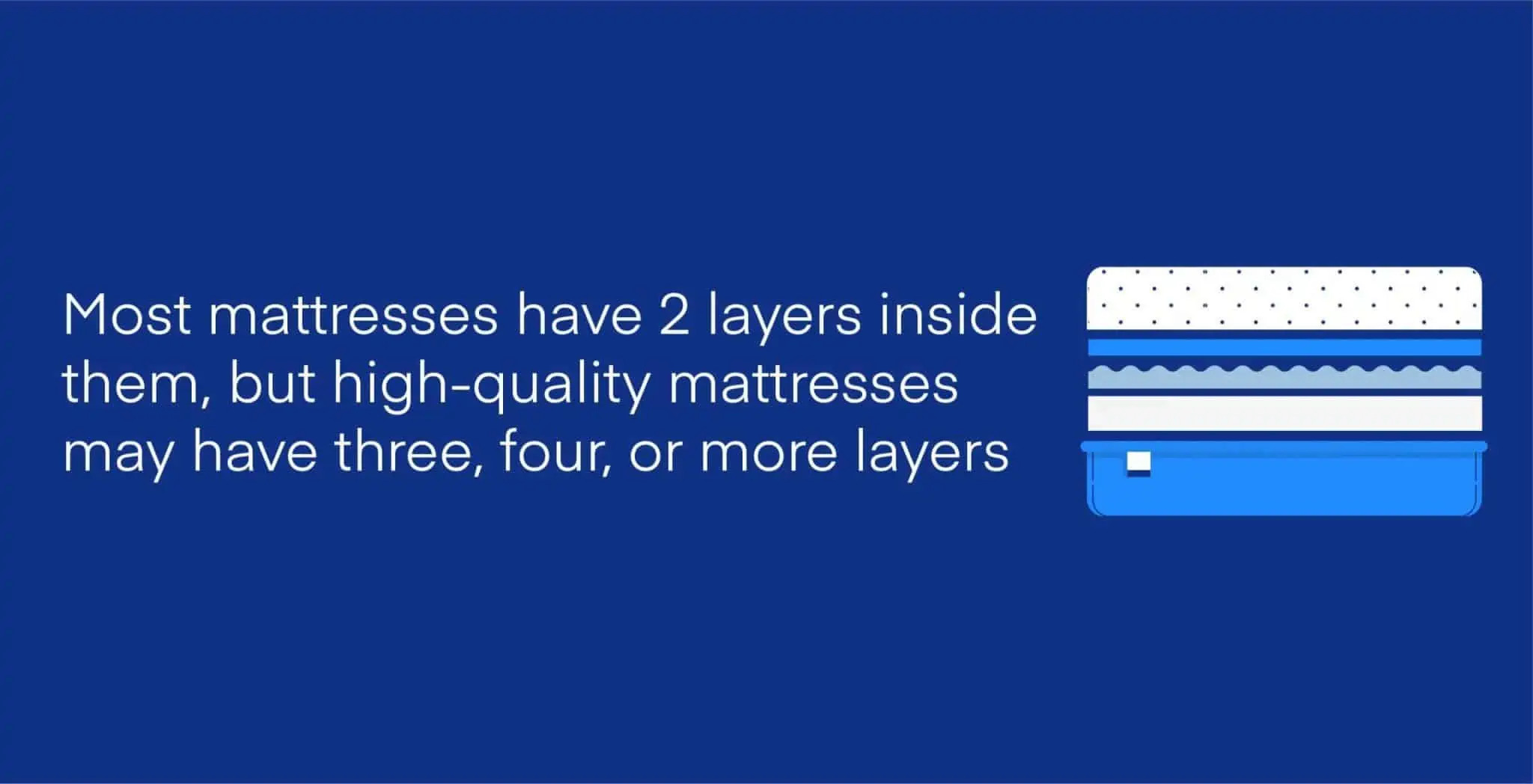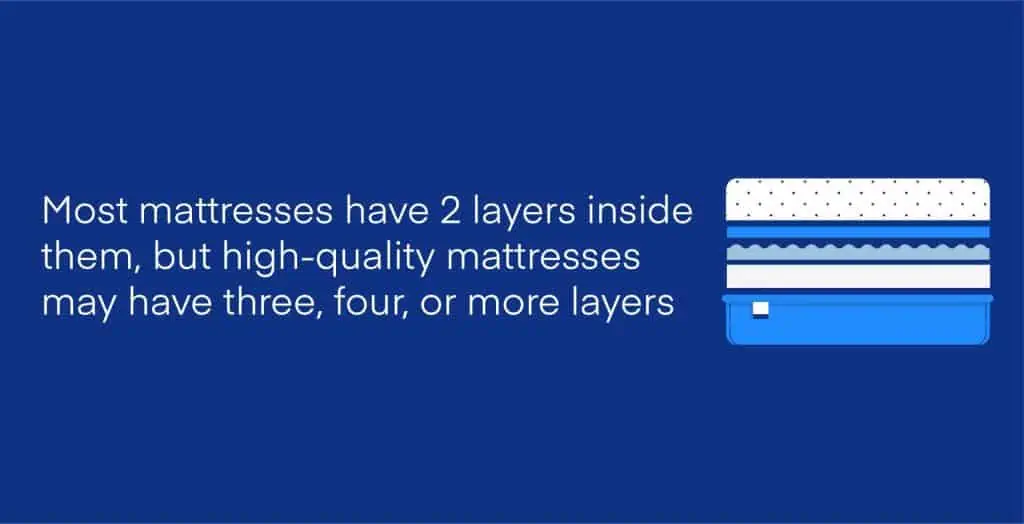 The Foundation Layer
The basis of your mattress is the base layer, which is often constructed of polyfoam, latex, or pocketed springs.
This layer should account for at least half of the thickness of your mattress.
Mattresses with a substantial foundation layer are often more durable, but thinner mattresses are more prone to sagging.
For example, if your bed is 14 inches deep, the base layer should be 6 to 7 inches thick.
Related: How To Blow Up An Air Mattress?
What to Think About When Selecting Mattress Thickness
A mattress should be at least 8 to 14 inches thick to be durable and comfortable.
You'll also need a 2 to 3-inch thick comfort layer and a 5 to 6-inch thick foundation layer to achieve the minimal requirements.
There are, however, additional aspects to consider when purchasing a new bed.
Position to Sleep
How comfy you are on a mattress is determined by your sleeping posture.
Certain sleeping postures, such as side sleep, need more padding to keep people comfortable.
Support, on the other hand, may be required for sensitive body areas such as the back and hips.
Selecting a mattress with a specified thickness will assist you in meeting your sleep requirements.
Side Sleepers: should have mattresses that are 12 to 14 inches thick. Soft cushioning is also required to relieve strain on the shoulders and hips. Pressure points are relieved and muscular aches and pains are avoided when sleeping on thick mattresses with extra-plush comfort layers.
Back Sleepers: like firm mattresses that are 10 to 12 inches thick. You'll need support for your shoulders and buttocks if you sleep on your back. A firm mattress might help you maintain appropriate spinal alignment.
Stomach Sleepers: To avoid spinal misalignment, the recommended mattresses for stomach sleepers are 10-inch thick. Although we do not advocate sleeping on your stomach, thinner comfort layers will give a firmer surface to support your belly and relieve back strain.
Combination Sleepers: Combination sleepers alternate between two and three positions during the night and need a medium-firm mattress to accommodate all of their postures. Combination sleeper mattresses should be at least 12 inches thick and have a medium feel to give the ideal blend of firmness and softness.
Type of Body
Excessive strain on your mattress might result in irreversible damage to your bed and disrupt your sleep.
Determine how your mattress reacts to your body weight to prevent having to replace your mattress sooner than expected.
Mattresses for petite sleepers (weighing less than 130 pounds): should be soft and at least 12 inches thick or thicker. The ultra-thick comfort layers of these mattresses ease pressure points and contour to the body, decreasing joint discomfort.
Average Weight Sleepers (weighing 130 to 230 pounds): Medium-firm mattresses with a depth of 10 to 12 inches are ideal for average sleepers. This, of course, is dependent on your favorite sleeping position. A softer sleeping surface may be required for side sleepers. It's a good idea to go through the comfort layers' materials to see how they'll alter the feel of the bed.
Plus-Size Sleepers (weighing more than 230 pounds): should choose a bed that is 12 to 14 inches thick. Choose mattresses with at least 6 inches of comfort layers. A foundation layer of at least 7 to 8 inches thick is also required. Thicker layers may sometimes give additional cushioning for sleepers and avoid early drooping.
Do You Have A Bedmate?
When you share a new bed with a spouse, the strain on your mattress is greater than when you sleep alone.
Extra strain on a thin mattress may cause it to droop, which will disrupt your sleep.
If you're sharing a bed, make sure it's at least 10-12 inches thick.
Your Foundation's Height
To guarantee that your bed is still accessible, combine the depth of your mattress and the height of your mattress foundation.
It's more difficult to get in and out of bed when your bed is excessively high.
We recommend that your mattress be at least 25 inches from the ground.
This will make it easy for you to get into your bed during the night.
Mobility Concerns
If you have trouble getting into bed, look for mattresses that are less than 14 inches thick.
Individuals with mobility concerns should not go over a 14-inch mattress since fighting to get in bed might exacerbate medical conditions.
Mattresses 12 to 14 inches thick are recommended for those with arthritis, shoulder trouble, or hip pain.
These mattresses are softer and have more padding to help alleviate pressure.
Related: How To Move A Memory Foam Mattress?
The Benefits and Drawbacks of Thick Mattresses
A thicker mattress gives greater padding and a more luxurious resting surface.
Couples should avoid thin mattresses since they cannot support the weight of two persons.
This may make nighttime exceedingly unpleasant and may result in lasting mattress damage due to sagging.
While a thick mattress may be an excellent choice for some, it does have certain disadvantages.
Because very thick mattresses have additional layers, they may be rather costly, with some high-end thick beds costing over $1500.
FAQ
Should I use a mattress topper to make my bed thicker?
Sleepers often buy a topper to improve the comfort of their mattress.
A decent mattress topper may improve your mattress's overall softness, luxury, and support.
It may also help to thicken your mattress and extend its life.
Toppers are also a costeffective solution to add thickness to your bed without having to buy a new mattress.
What is the typical mattress thickness?
Mattresses typically vary in thickness from 8 to 14 inches. The greatest mattresses typically feature a comfort layer that is at least 2- 3inches thick and a foundation layer that is 6-8 inches thick.
A 1-2 inch thick transition layer is also present.
To get a decent night's sleep, stick to mattresses in this price range.
What is the ideal thickness of memory foam mattresses?
If you want to buy a memory foam mattress, look for mattresses that are 10 to 14 inches thick.
This collection of mattresses is long-lasting and provides enough support for sleepers.
Memory foam's inherent comfort may be compromised if you choose a mattress that is thinner than advised.
Memory foam mattresses that are thinner are more prone to droop and get damaged.
For a thick mattress, do I need larger sheets?
For mattresses thicker than 14 inches, a bigger sheet may be required.
Additionally, mattresses with extra things such as mattress toppers or pads may need a larger size.
If your sheets are continuously falling off your bed, we suggest investing in tight-fitting sheets with deep pockets.
What is the ideal height for my bed?
Keep your bed at least 25 inches above the ground level.
Because a mattress might be 12 inches deep or more, most individuals choose for foundations that are 8.5 inches deep to attain the recommended height.
Keep in mind that the height of your bed is affected by the sheets, mattress toppers, and pads you use.
Related: How To Make A Firm Mattress Softer & More Comfortable?
Conclusion
Buying a thin mattress might lead to bad sleep, while other people may find a larger mattress unpleasant.
When mattresses are overly thick, it might be difficult for sleepers to get in and out of bed.
The greatest mattress for you will usually be determined by your sleeping position and body type.
A decent rule of thumb is to buy a mattress that is between 10 and 14 inches thick, since they are known to deliver a good night's sleep.