You've come to the correct spot if you're searching for a three-quarter "3/4" mattress to purchase online.
You may now readily acquire personalized mattresses online, thanks to the increase in the online mattress trend in recent years.
You've undoubtedly found this page because you're looking for a replacement 3/4 mattress (also known as a short full).
We've done the research and compiled a list of our top selections for the finest three-quarter mattresses available today.
From luxury to customized alternatives to budget-friendly selections, this list has something for everyone.
We've done our best to ensure that at the conclusion of this article, you'll know which mattress is ideal for you.
Top 6 Three Quarter Mattresses In 2023
Best All Around Mattress Brooklyn Beddings Signature Hybrid Mattress
Best Eco Friendly Option Plushbeds Eco Green Latex
Best Memory Foam Option Mattress Insiders Luxury Gel Foam With Organic Cotton
Best Budget Option Brooklyn Beddings Chill
Divini Custom Comfort Mattress Best For Custom Comfort
The Park Meadow Pocketed Coil Mattress Is The Best Innerspring Option
Related: Best RV Mattresses of 2023
What is the measurement of a 3/4 mattress?
A regular 3/4 mattress is 48 inches broad by 75 inches long.
This mattress is 6 inches narrower than a full-size mattress and 10 inches broader than a twin-size (single) mattress.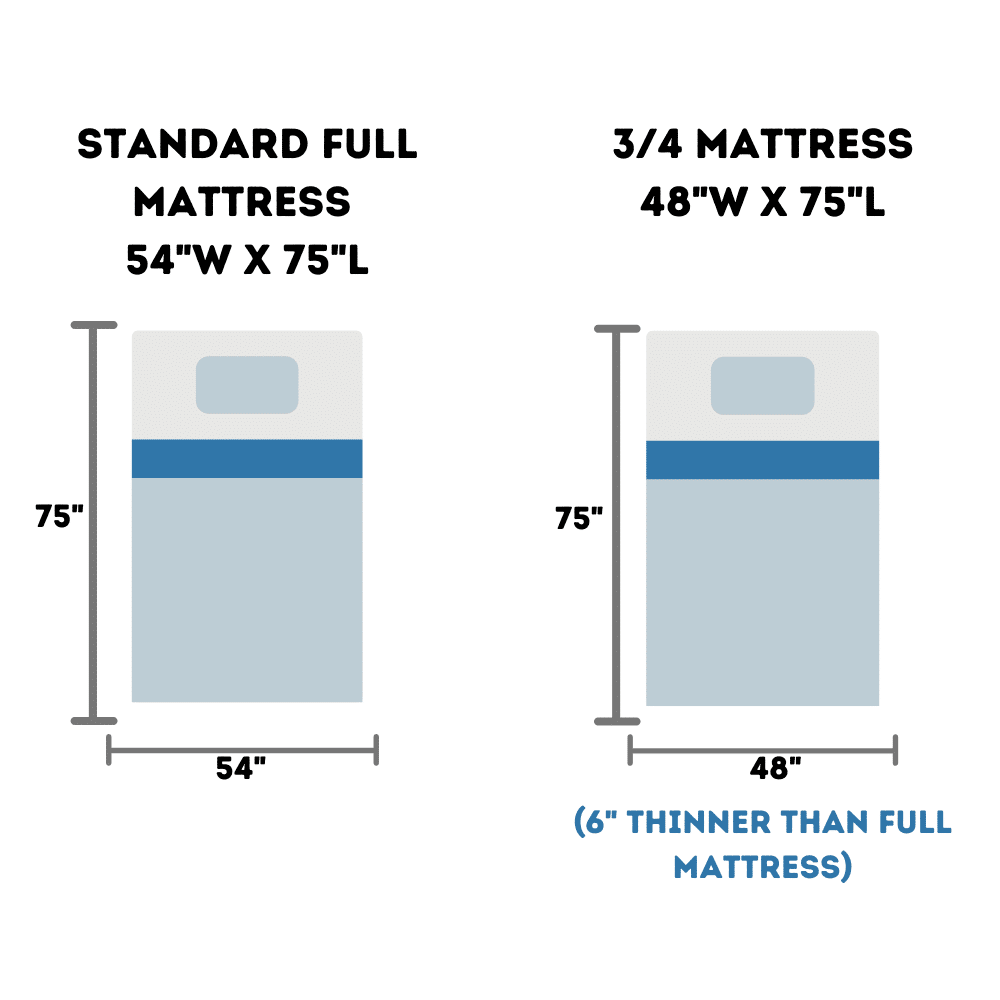 What is the purpose of a 3/4 mattress?
3/4-Size Antique Beds: Because many antique beds are 3/4 size, the mattress is as well.
Finding a new mattress for your antique bed may be difficult, particularly since many of them need notches to be cut out of the corners.
Don't worry, we've compiled a list of customisable mattress alternatives to meet all of your antique bed requirements.
RV Mattress: To provide more sleeping possibilities within their distinctive layouts, RVs often use unusual and custom sized mattresses.
One of the most prevalent RV mattress sizes is the 3/4 mattress.
Below, we've compiled a list of the top possibilities, as well as manufacturers that can completely create mattresses with rounded edges and notches.
Consider these factors before purchasing a three-quarter mattress
Usage Intensity: We've compiled a selection of mattresses that fit a variety of needs and budgets.
Consider how often you will be using your mattress.
If it will be used as a guest bed or an additional sleeper in an RV, a thinner budget mattress may be preferable, however if it will be used every night, a more luxurious sleeping experience may be preferred.
Check your antique bed or RV layout for customizations.
Is it necessary to cut any notches or corners off of the mattress you're ordering? Many custom mattress companies do not accept refunds on their products.
Before placing an order, make sure you measure your sleeping platform many times.
Price: In general, the greater the price, the better the quality materials and the longer the mattress will endure.
Our best all-around 3/4 mattress option strikes a good balance between high-quality materials and a low price.
Related: Best RV King Mattresses of 2023
The three various varieties of 3/4 mattresses that are offered
While three quarter mattresses are technically a custom or odd size mattress, they are more common than the bulk of other custom size mattresses available.
This implies that there are a lot of possibilities accessible, and customers may select from a number of various types.
Hybrid 3/4 mattress: For the majority of sleepers, a hybrid mattress is the greatest all-around alternative.
In order to provide the best of both worlds, a hybrid mattress combines an innerspring or pocketed coil unit with foam.
Customers enjoy the comfort and pressure relief of popular foam layers on top of the strength, feel, and bounce of an innerspring unit.
The best all-around selection on our list is Brooklyn Bedding's hybrid mattress in a three-quarter size.
Memory Foam 3/4 Mattress: Memory foam was first developed and utilized by NASA before making its way into the sleep market.
Memory foam provides excellent pressure relief, but it has a distinct feel that takes some getting accustomed to.
If you've never slept on a memory foam mattress before, we suggest giving one a try before buying one.
Latex 3/4 mattress: Latex is one of the most natural and environmentally friendly sleeping materials available.
Latex is not just a popular healthy option, but it also provides excellent pressure relief and support.
Recommend: Best RV Bunk Mattresses of 2023
Top 6 3/4 Mattresses (Short Full) In 2023
1. Brooklyn Signature Hybrid Mattress
Mattress with the Best All-Around Performance
What Customers Love About the Best All-Around Mattress
Many internet buyers have referred to it as "the finest mattress ever."
There are almost 2,000 5-star ratings on this site.
Summary
The Brooklyn signature mattress is a hybrid mattress that combines the advantages of an innerspring mattress with the cushioning and comfort of a foam mattress.
This mattress also uses "Titan," which combines the greatest qualities of latex and memory foam to appeal to a wide range of sleeping and comfort needs.
This mattress is our top selection for the greatest all-around mattress because it has something for everyone.
Brooklyn Bedding's mattresses are available in a range of popular "odd sizes," including the three quarter size.
Brooklyn Bedding has been in the mattress business for a long time and manufactures all of its mattresses in-house.
This enables them to give clients a factory direct pricing, ensuring that you get a high-quality product at a reduced cost.
The Brooklyn Bedding firm also owns RVMattress.com, which specializes in RV mattresses, so if you're looking for a 3/4 mattress for your RV, you can be certain that it'll fit well and that you'll be purchasing from a company that knows RVers' sleeping requirements and preferences.
2. MobilePlush Eco-Green Latex Mattress
The Most Eco-Friendly Latex Alternative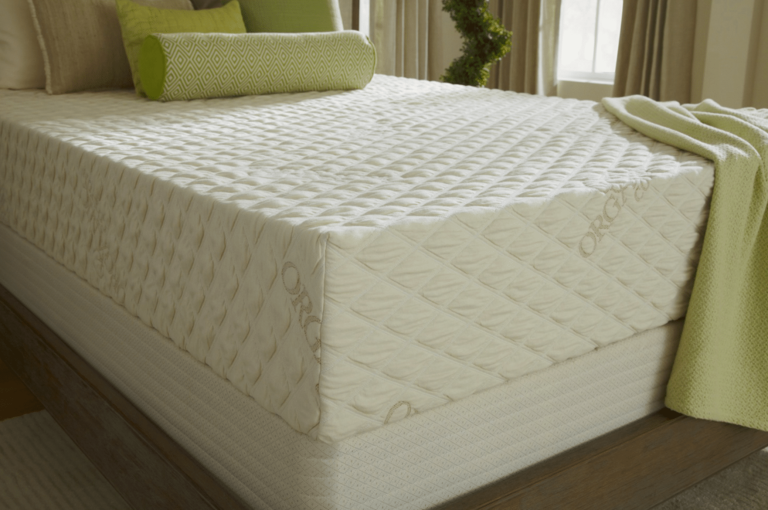 What Customers Appreciate
Natural latex of high grade with an organic cotton cover.
Gold-certified by Greenguard.
Summary
The Plush Beds Eco-green latex mattress is one of the few 3/4-size latex mattresses on the market.
Latex gives a healthy and high-end comfort experience, as well as incredible support.
To provide the purest and healthiest resting environment, the Eco-Green latex mattress is paired with an organic cotton cover.
PlushBeds has been in the mattress business for a long time and places a strong emphasis on ecologically responsible and long-term business operations.
They are one of the most well-known latex mattress producers, and you may buy from them with confidence.
If you're searching for a three-quarter-size latex mattress, this is the greatest choice on the market.
3. Luxury Gel Foam With Organic Cotton
The Best Memory Foam Option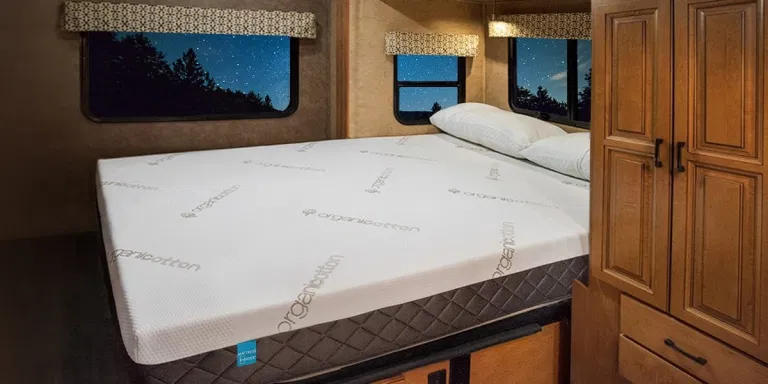 What Customers Appreciate
For different sleep preferences, a comfortable 2-sided mattress is available.
Excellent feedback (over 200 5-star reviews).
Summary
Mattress Insider is one of the most well-known names in the bespoke mattress business.
They specialize in RV mattresses, antique beds, and a variety of other unusual sizes.
Their premium gel foam mattress is an excellent all-around memory foam mattress at a fair price.
It comes in two different thicknesses to suit a variety of budgets and sleepers.
It also has a luxurious organic cotton cover that can be readily unzipped.
The ability to remove the cover and rearrange the interior foam layers to modify the firmness or softness of the mattress is perhaps the most unusual feature.
4. Wanderlust Mattress
The Most Economical Option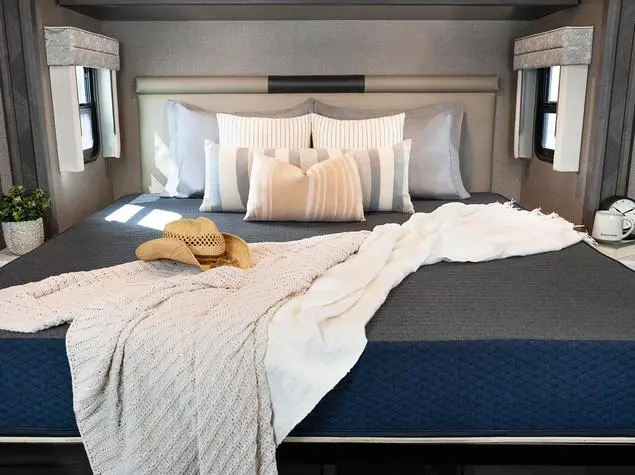 What Customers Appreciate
At a reasonable price, a very comfortable medium-firm memory foam mattress.
Summary
The Wanderlust memory foam mattress is the most cheap memory foam mattress on our list, and it's a terrific all-around mattress for those on a budget.
This mattress comes in a number of different thicknesses.
If you are a bigger person or intend on sleeping on this mattress numerous nights in a row, the 8′′ thickness choice is recommended.
RVMattress.com, which is owned by the Brooklyn Bedding Company, creates the Wanderlust.
This is a well-known firm that has been manufacturing mattresses in its own facility for many years, long before the internet mattress craze.
As a result, they are able to provide manufacturer direct pricing on all of their mattresses, making them an excellent bargain.
5. Tochta Custom Mattress Builder
Best for Shapes, Sizes, and Comforts That Can Be Customized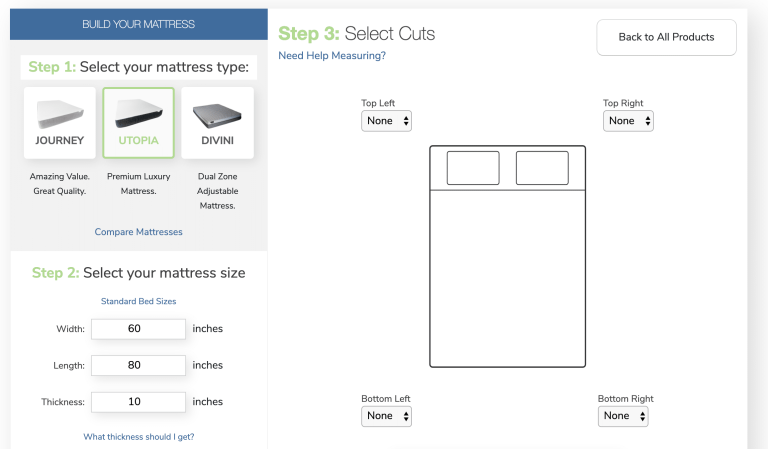 What Customers Appreciate
Custom shapes and sizes are available in a variety of sizes and may be ordered online.
Summary
Customers may adjust the form and comfort of their mattress with a Tochta mattress.
You may choose from two different mattresses and have rounded edges or notches customized.
Features
Comfort settings that may be customized
Various thicknesses are available.
Custom shapes and sizes are available in an infinite number of variations.
About the business
Tochta is no stranger to producing high-quality sleep goods, with over 25 years of expertise and over 2 million satisfied consumers.
Customers may get free delivery and a 100-day risk-free trial to make sure the mattress is perfect for them before making a purchase.
6. The Park Meadow Pocketed Coil Mattress
The Best Innerspring Alternative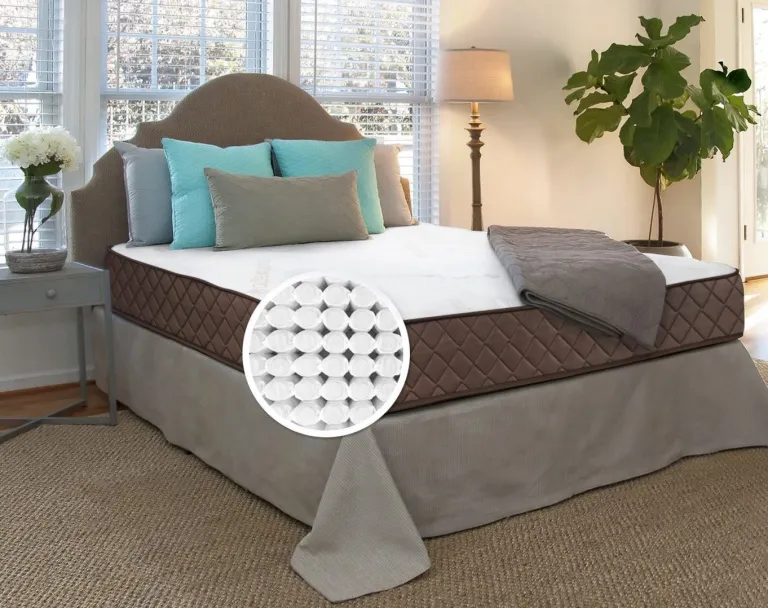 Customers Appreciate
This mattress is ideal for those who suffer from back problems or detest the feel of all-foam mattresses.
Summary
This mattress will be a terrific alternative for you if you love the sensation of a classic innerspring mattress.
A pocketed coil spring unit with comfort foam layers on top is used in the Park Meadow.
Mattress Insider makes this mattress, and it may be created in any custom size that buyers need.
Innerspring mattresses provide excellent support and bounce, which most sleepers want from a mattress.
Related: Best Air Mattresses for RV of 2023
Do you need 3/4 mattress accessories?
If you need sheets, comforters, mattress coverings, or other accessories, all of the stores mentioned above sell them together with your 3/4 size mattress.
What are your other alternatives for buying a three-quarter mattress?
If you don't want to buy your mattress online, seek for custom mattress manufacturers in your neighborhood that can make you a mattress that you can try before you buy.
You may visit the following bespoke mattress makers in person:
What are your options for getting rid of your old custom mattress?
When you buy a mattress online, you're left with the task of figuring out how to get rid of your old one.
Fortunately, "A Bedder World" provides mattress disposal services throughout the United States.
We collaborate with mattress recycling facilities to ensure that your old mattress is recycled in the most environmentally responsible way possible.
We've recycled almost 500K mattresses thus far.
Conclusion
Three-quarter mattresses are relatively popular, and there are a number of high-quality firms that provide replacement mattresses.
All of the businesses included in this article are ones that we trust and have a good reputation in the sleep industry.
You may place an order with one of them with confidence.