If there's one thing that most RV owners are aware of, it's that:
A new RV's factory-installed mattress is virtually always a disaster.
Nobody wants to return to their RV after a fun-filled day only to sleep on a bed that suuuuuucks.
The good news is that you can quickly and simply replace your cut corner RV mattress (or any other shaped mattress).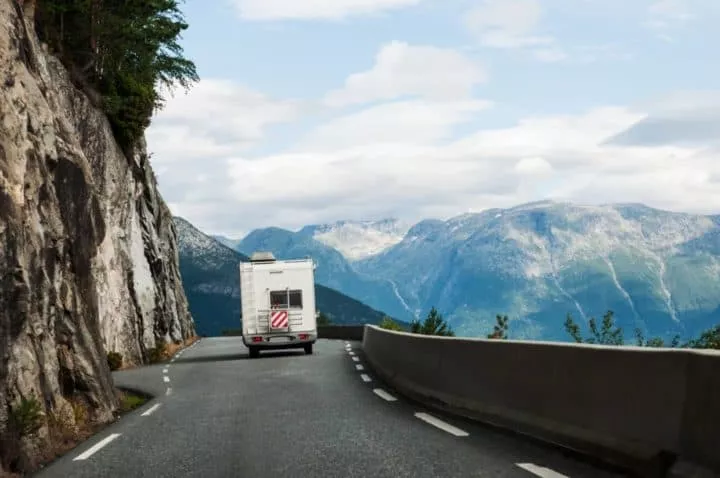 The bad news is that getting your bespoke corners cut will cost a bit extra (but not much).
Could you, however, create your own?
Is it possible to utilize a standard camper mattress without a cutout?
Is it possible to utilize a topper to improve the comfort of your current travel trailer or RV bed?
We'll address those and other concerns so that everyone in your RV is comfortable with the sleeping arrangements, whether you have an RV bunk, a short queen bed, or a cut-corner RV mattress.
Related: Best RV King Mattresses of 2023
Why Should You Replace Your RV Mattress With A Corner Cut?
The primary goal of most publicly listed RV brands is to make their investors happy.
This implies they'll have to 'cut corners' (get it?) on quality wherever they can.
It doesn't matter what comes with your RV. It's probably a pitiful excuse for a bed.
This is why so many new owners replace their standard mattress right away.
Not to mention the need to replace a worn-out one left by the previous owners.
Eew.
A Quick Guide to RV Mattress Sizes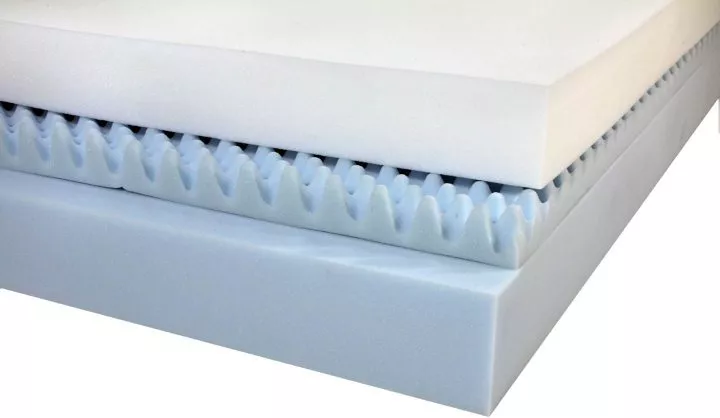 You may choose from a full-size cut corner mattress, a king mattress, or a cut corner RV bunk mattress. There are several RV bed sizes to choose from.
This is partially owing to the manufacturer's necessity to fit the contents of a whole home into the dimensions of a highway-legal rolling box-shaped vehicle. They only have a limited amount of room to work with, and it's often oddly shaped.
There are, however, some'standard' sizes that have names.
Sizes of RV Mattresses:
Bunk Bed in an RV
Full RV
3/4 RV
Queen of the RV
Short Queen RV
Mattress for a Camper King
Short King RV
It's recommended to take measurements of your RV and determine whether it fits into any of the specified sizes.
Keep in mind that one RV mattress manufacturer's perspective on the measurements may vary from another's.
Measure and double-check that whomever you purchase from matches the shape of your mattress, ensuring a flawless fit.
Mattress sizes are more complicated than they seem! If you want to learn more, we published a whole post on RV mattress sizes.
Related: RV Sofa Bed Mattress: All You Need To Know
Is It Possible To Use A Non-Cut Corner Mattress?
Let's say you don't want to spend $300-$1000 on a new cut corner mattress since you're on a budget.
Make your own unique size and form instead.
How?
If you come across a high-quality but low-cost all-foam mattress, trim it down to size!
You may trim it to suit your irregular-sized RV bed area if it's a little too large, and you can also make the corner cut or cuts yourself if it's a little too big.
It's not nice, but it'll be covered by your fitted sheet or anything else, so it's not a huge concern.
Keep in mind that many foam mattresses come with a decorative and, in some cases, protective cover. If that's the case, you'll have to cut through the cover.
Remember, once you've chopped into it, there's no going back! (Assuming you're still in the middle of your sleep experiment.)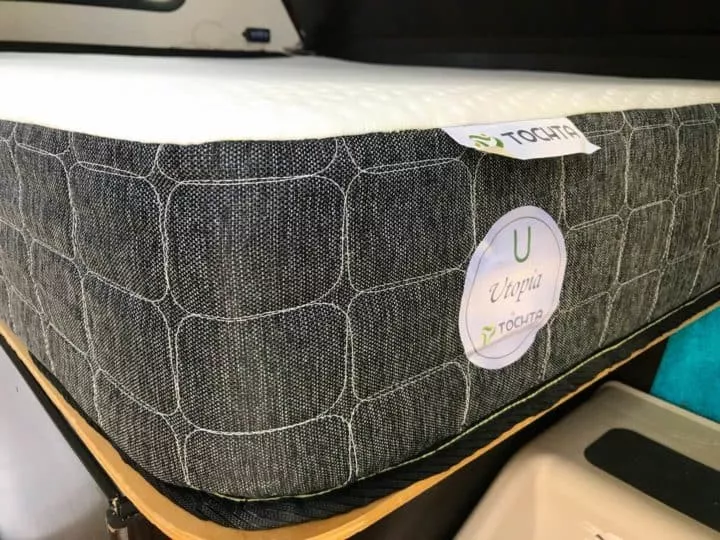 Is it possible to make an old RV mattress work?
So, although the RV full-size mattress with the cut corner that came with your camper isn't bad, you'd want something better.
Rather of purchasing a new camper mattress, consider adding a high-density RV bed topper to your old one.
Place a topper on top and give it a try. It will be less expensive and wasteful than purchasing a new bed.
You may also simply cut the corner since most toppers are composed of foam. Boom.
It may make your mattress feel brand new if you put it on top of it.
For years, Marshall and I used our travel trailer beds to do this effectively.
Mattress Insider has them for sale at a fair price, and they come in RV bed sizes as well.
For example, a short queen topper for an RV costs about $179. (at time of publishing this article).
Related: Can a Regular Queen Mattress Fit in a Camper or RV?
RV Mattresses with Custom Corner Cuts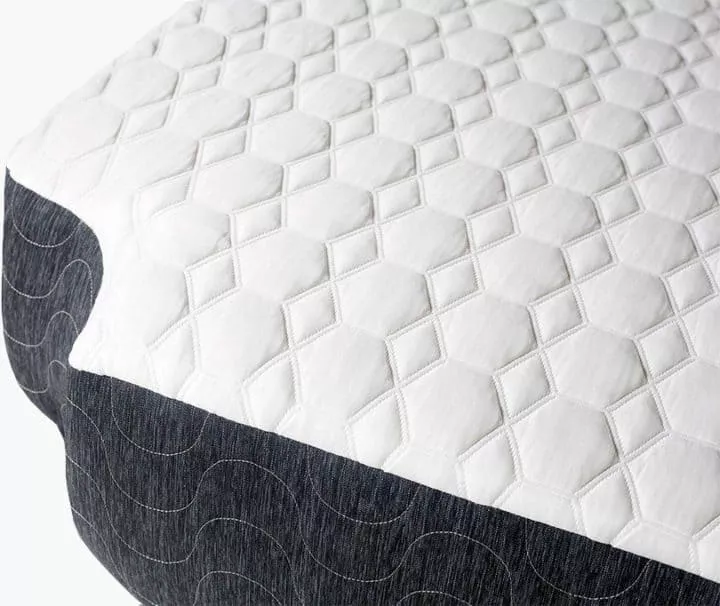 A mattress with a notched edge
Custom camper mattress sizes, as well as custom measurements and corner cuts, are available from certain vendors.
This may include angles, notches, and radiuses (in certain cases).
Simply fill out the form on the company's website with the proper dimensions and corners.
Once you've done, add it to your basket, pay for it, and wait for it to come!
It's even shrink-wrapped into a little package for easy transport!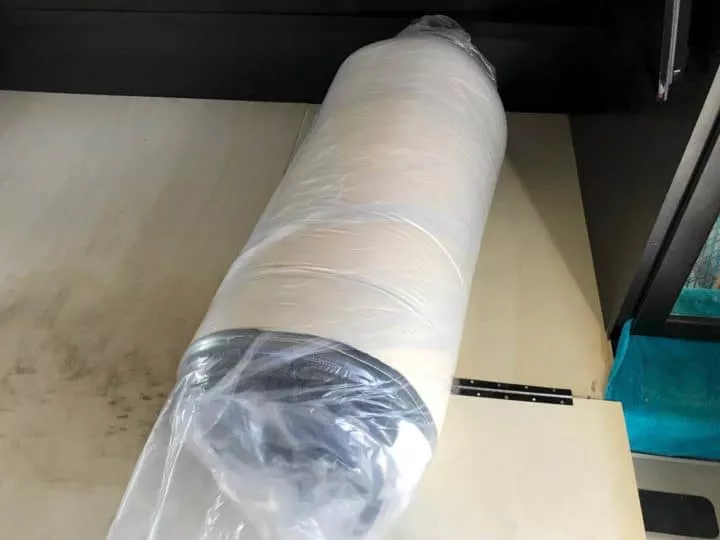 When you think about it, it's quite astounding.
Where Can You Get RV Mattresses With Corner Cuts?
When it comes to ordering custom-sized RVs, two firms dominate the market:
Tochta
Insider on Mattresses
Tochta is our favourite since they provide all three corner styles, while Mattress Insider only offers two:
On their create your own mattress website, Mattress Insider (MI) only has angled and curved options.
By phoning them for a special order, you may be able to have a notch placed in one.
Nonetheless, both organisations have a stellar reputation, a user-friendly website, and we know Tochta's customer service is second to none.
We don't know much about MI's customer service, but we love that they have live chat! Tochta is lacking in this area.
Customer service is critical, particularly in today's world. More information about both firms may be found lower down.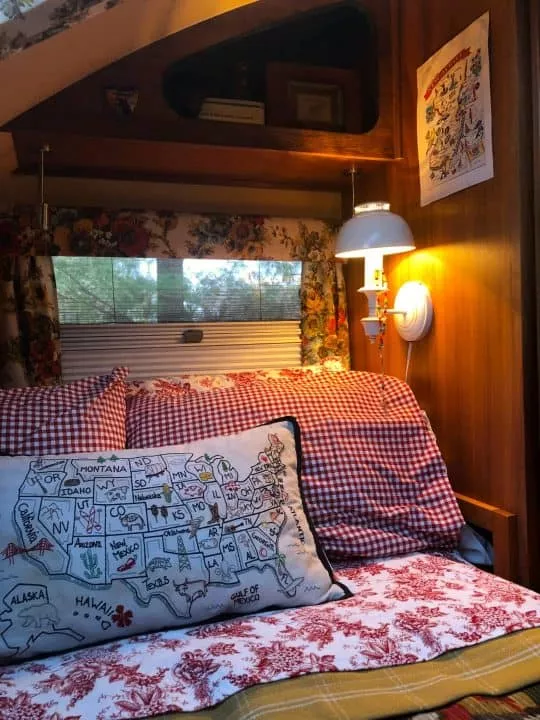 What About RV Bunk Mattresses with Cut Corners?
Both of these suppliers can provide you with an RV corner bunk mattress.
Whether your RV bed replacement cut corner requires an angle, a radius, or a notch, you may have one produced to your precise specifications to fit any size or shape bunk bed platform.
What Are the Best Mattress Materials?
This is such a personal issue. There is no such thing as a "best" mattress.
Everyone has a different taste, therefore it's up to you to figure out what sort of mattress materials you want to sleep on so you can figure out what kind of mattress to acquire.
Keep in mind that finding a manufacturer to custom-make an innerspring mattress (rather than a foam mattress) may be more costly and challenging.
As a result, you'll be considering all-foam options.
There are many different kinds of foams, and many mattresses are hybrid mattresses with many layers of foam.
The only other piece of advice we can provide in terms of what's 'best' is that polyurethane foams are the least dense and have the lowest lifespan of all foams.
Although latex and memory foam are much superior, poly-foam is often utilised in one or more layers of any foam bed.
Related: RV Mattress Sizes And Types Explained 2023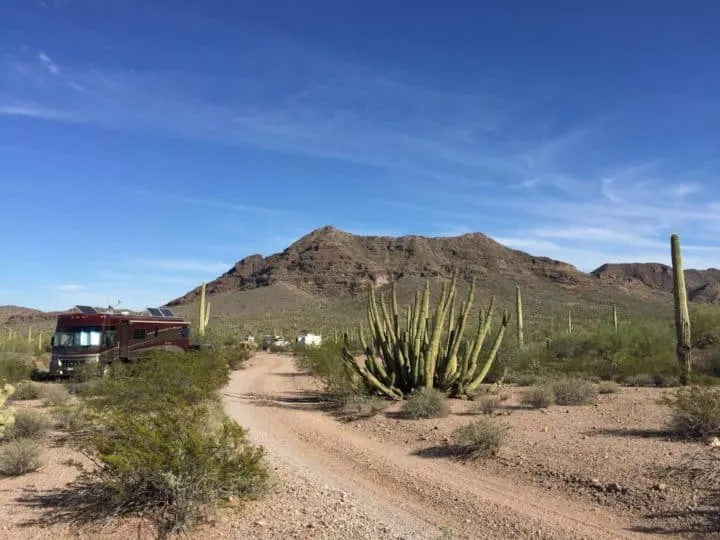 Types of Mattress Foam
#1.Foam Memory
This is a 'hugging' material that might become heated when sleeping.
It will be cooler and less rigid if you obtain a memory foam mattress with gel beads.
Kelly's Tochta Utopia mattress is a gel memory foam that is just amazing!
#2.Latex
Latex foam is a high-quality foam manufactured from rubber tree sap. It might be natural (expensive/longer lasting), synthetic, or a combination of the two.
It's often utilised in the bottom layers of foam mattresses. Talalay and Dunlop are two popular high-quality varieties on the market today.
#3.Polyurethane Foam
This is the least expensive and least supporting of the foams. Because it's made up of substances generated from petrochemicals, it has the greatest risk of becoming harmful.
It's the least thick of the bunch, so it's not the most durable (it could only last a year), and it decompresses rapidly.
Though it's not a flawless certification that eliminates all contaminants, if yours contains poly-foam, be sure it's CertiPur-US certified.
Though we've heard that this accreditation was created by the polyurethane business, it's not flawless and doesn't protect you from all harmful substances.
We can only expect the worse.
Keep Moisture Out of Your RV Mattress With Cut Corners
It's unlikely that your vehicle is kept in a climate-controlled environment.
Even if it is, moisture might cause mould to grow where the mattress meets the platform.
As a result, RVers purchase Tochta's HyPUR-Flow moisture barrier.
Tochta's HyPUR-Flow moisture barrier
This is used by truckers and RVers to provide ventilation under the mattress and avoid moisture build-up.
It operates in any temperature and can be made into any form.
Please keep in mind that it will raise your mattress by 1/2 inch.
Anything that enables air to circulate underneath your mattress can aid in the prevention of mould.
We Recommend Ordering Corner Cut RV Mattresses From These Two Companies
The following two businesses are the best to order a corner cut RV mattress from:
Tochta
Insider on Mattresses
Custom sizes and corner cuts are available from both providers. Sure, the cutbacks come at an additional expense, but it's fairly reasonable.
Don't forget that Mattress Insider (MI) offers toppers for RV mattresses.
Let's take a look at how simple it is to buy custom corner RV mattresses from both businesses.
#1.Cut Corners Tochta's Custom Size Mattress Builder
Tochta's website is really simple to navigate. They only have three things, but that's a good start.
You won't be paralysed by analytical paralysis!
There are no major choices to be made. You may choose between the greatest value, the most popular, or one that can be customised on both sides of the bed (so two people can have their ideal sleeping areas).
There will be no more squabbles between partners about whether the camper should have a soft or hard bed.
Tochta's bespoke mattress ordering page
Choose your mattress model, input the width, length, and thickness, and then click on the corner or corners you wish to measure, and you're done!
As you input your numbers and 'make' the cuts, the pricing will change.
#2. Custom Mattress Builder With Cut Corners from Mattress Insider
Tochta's web-based mattress maker is almost comparable to MI's. You may also make a bespoke corner cut mattress using it.
The procedure is almost identical to Tochta's.
The order page for a bespoke mattress may be found underneath Mattress Insider's page.
However, you are restricted in a few areas. To begin, you have a choice of four goods. This is a fantastic start.
However, you may only choose the most luxury of the four thicknesses. Also, this website does not provide a mattress with a notched corner, but Tochta does.
The pricing varies as you make changes to the website, much like Tochta.
Where Can I Purchase RV Cut Corner Sheets?
Yes, Tochta and MI both offer sheets with customised corners!
#1. Insider on Mattresses
With a 10 sheet size, MI only provides three options "The sheet's 'foot' ends have a radius.
Queen
Queen of the shorts
King
In other words, the fitted sheet contains ten holes "On one end, radii rounded corners (two corners).
They DO provide complete sheet customisation.
You must, however, phone them to place your whole custom order for corner-cut RV mattress sheets.
#2. Tochta Mattresses
The Tochta user interface resembles the MI user interface.
They do, however, provide complete personalization of sheets that need cut corners.
You choose the colour, size, thickness, and corners for your order before completing it.
#3. What MI excels at
There is a live chat option with a real person.
Mattress toppers for RV mattresses are available.
#4. What Tochta excels at
Cut corner RV sheets may be fully customised online. There's no need to speak to anybody.
They have a mattress with adjustable firmness and softness on either side.
On the internet, you may customise your mattress to your liking. There's no need to call.
Although it may not be fair, we feel Tochta provides superior customer service. We've called them many times and have always been blown away. I still like the conversation that MI provides.
What Are Some Other Sheet Options?
Sheets are not required for your RV bed. Kelly and I got rid of our camper bed linens a long time ago. The fitted sheet was too difficult to put on.
Instead, I draped a quilt over the bed and topped it with a duvet.
The blanket is positioned such that it just covers the exposed area of my mattress, which is encircled by three walls, and it looks beautiful!
Even if your RV mattress corner is chopped, you may be able to accomplish something similar.
Replace your linens at Beddy's or QuickZip if you have the right-sized bed.
One of those options could work with a corner-cut mattress.
Most Commonly Asked Questions
What Is The Best Way To Cut An RV Mattress?
Get a large serrated bread knife if you want to cut the RV bed yourself.
It should suffice. Use an electric one if possible. You may also use an electric carving knife. Marshall, a co-founder of Camp Addict, has used one of these to cut foam for pillows, and it should be perfect for a mattress as well.
Is It Possible To Cut A Mattress Corner Off?
Yes, you may try cutting the corner off to construct a cut-corner RV mattress. If it's composed entirely of foam, it'll be the simplest.
It's possible to perform the same thing with an innerspring mattress, but it'll be more difficult. With the open side visible to RV passengers, it will likewise seem damaged. Also, the innerspring coils may resist staying within the mattress.
You'll probably cover it with a fitted sheet, but nonetheless… What's the harm in trying a secondhand one if you already have one?
If you cut the ends off a new mattress, keep in mind that you won't be able to return it after you've done so.
You could have purchased or constructed a vehicle that requires specific mattress corners.
Conclusion
It's not difficult to replace a corner-cut mattress in your RV. All you need to do is know where to order it and take a few measurements.
If you want a new camper mattress with a cut corner, you have a few options. You may utilise the old one with a topper, or you can try cutting an existing mattress to fit. (This method works well with any foam mattress.)
When you have a junky stock bed, you have a few options. You now know what you need and where you can obtain it!
Keep camping and be joyful!