When traveling in a motorhome, it's difficult enough to get a decent night's sleep on its own, but add a bad RV sofa bed mattress to the mix, and you've got yourself a formula for an unpleasant trip.
What distinguishes an RV sleeper sofa mattress from conventional store-bought bedding for your house, though?
Related: Best RV Bunk Mattresses of 2023
A Unique Foundation
Let's start with the bed's foundation: the frame.
The purpose of a sofa bed frame is for it to be folded and pushed out repeatedly.
Because a conventional mattress isn't designed to be folded, the construction of a hide-a-bed frame includes bracing, joints, bars, and other features that a standard bed doesn't, thus such qualities aren't taken into account when making a regular mattress.
Because of these variations, a hide-a-bed mattress must be built in such a manner that it will not be harmed during the folding and unfolding process, which means it must be thinner (typically 4′′–5′′) than a conventional mattress.
Related: Can a Regular Queen Mattress Fit in a Camper or RV?
Which brings us to the topic of RV sofa bed mattress kinds.
Innerspring mattresses don't have enough area to give much "spring" inside the 4-5′′ depth of a normal couch bed mechanism, resulting in minimal support and a lot of backache and unpleasant sleep (read more on this subject here).
Foam mattresses are a great alternative for couch beds, but only if the foam is thick enough to keep you comfortable and prevent you from feeling the bar (read here about foam specifications).
Memory foam mattresses, on the other hand, aren't a smart choice for RV sleeper sofas; the major reason is that memory foam is a "contouring foam," not a support foam, and you need as much support foam as possible given the height restrictions on your couch mattress.
Related: RV Mattress Sizes And Types Explained 2023
As a result, save memory foam mattresses for your normal RV mattress rather than your camper couch bed.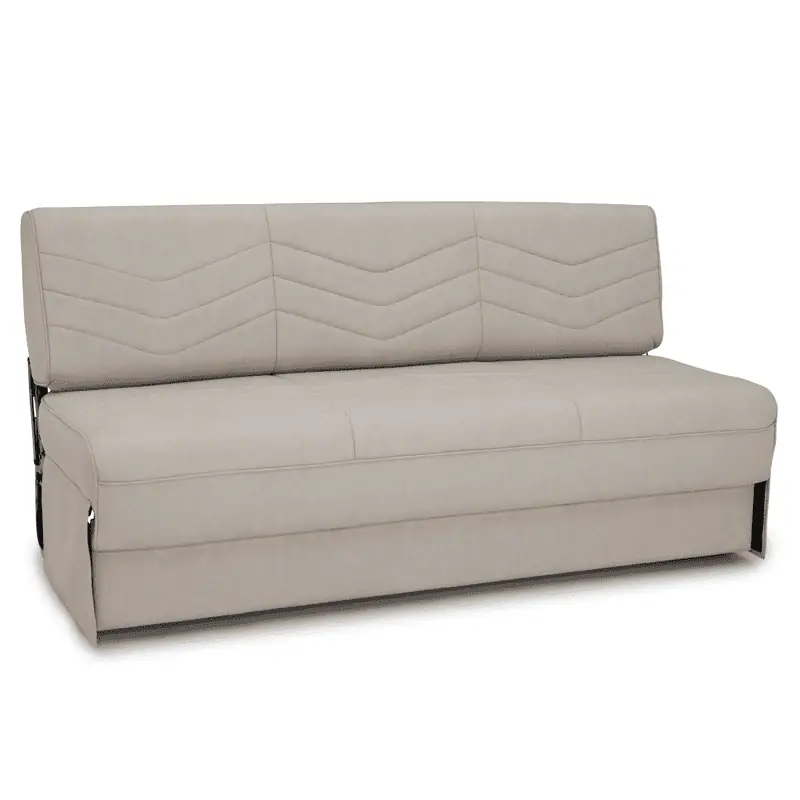 A Different Perspective
Aside from the frame it rests on, RV sofa beds come in a variety of sizes (sometimes even compared to regular sofas).
Each RV manufacturer creates its sofa bed depending on the measurements available inside the travel trailer; as a result, there is no industry standard for RV sofa bed mattresses, which means that they are normally custom-ordered.
It might be costly for folks like you and me to acquire a custom size mattress in certain situations.
For example, innerspring sofa mattresses are not only uncomfortable owing to thickness limitations, but modifying them is very expensive, making them even less rentable for RV sleeping sofa beds.
Customizing foam, on the other hand, is far less expensive, making it possible for anybody to change their couch sleeper mattress.
Related: RV Memory Foam Mattress: Must Read Before Buying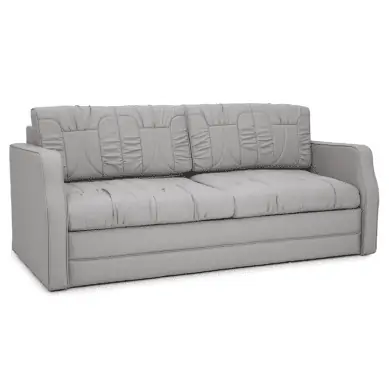 Other Distinctions About RV Sofa Bed Mattress
In addition to these reasons, you must purchase a replacement for your RV sofa bed mattress online, rather than going to your local furniture store or your RV dealer (they do not regularly offer custom size motorhome mattresses), which you can do with ease and at factory prices using our sofa bed mattress customizer!
Reduced costs, ease of purchasing, and the assurance that you're obtaining precisely what you need (size, material) and desire (comfort rating, accessories) all in one spot are all advantages of buying online.
However, make sure the product you're buying is made in the United States; aside from lower shipping costs (when compared to shipping from another country), the United States has stricter mattress manufacturing standards than other countries, so you can be sure you're getting a higher-quality, longer-lasting product.
RV Sofa Bed Mattress Videos Suggestions From Youtube