No matter whether you like to camp without connections or not, having a few 12-volt tools and appliances on hand may make living in the camper a little bit simpler.
12-volt appliances connect into the circular female sockets used in the majority of cars, vans, RVs, and even smaller trailers like teardrops and operate on DC power from a vehicle, deep cycle, or marine battery.
The typical power consumption of 12-volt appliances ranges from 4 to 5 amps, depending on how they are utilized.
Recommended: Best Must Have RV Accessories of 2023
They may deplete a battery if used often or kept on.
Therefore, having a battery designed expressly for a certain device, such as a freezer or refrigerator, may be useful.
Some of these appliances include an auto cutoff option that helps save battery life.
These are the top six 12-volt tools that are also the least expensive that every RVer needs to have.
A portable burner with a plug-in may not seem to be of much use.
But this handy tackle-box-sized burner may also be used to reheat prepared meals while traveling, in addition to preparing food.
Beans, soups, rice, and other hot foods may be cooked on this portable stove, which has a temperature range of up to 300 degrees F.
It costs around $30, and you can add your own metal disposable pans, making cleanup simple.
Related: Best Camping Accessories For RV of 2023
The Smart Car Pot is yet another item made by RoadPro.
The water in this 20-ounce pot may be heated for soups, tea, or coffee.
It is inexpensive around $20 and includes a lengthy 4 1/2 foot power chord.
You can tell when the liquid is boiling since the container is transparent.
Speaking of refrigerators, this handy small cooler can keep anything from beer to veggies and meat cold in the hottest temperatures if you don't have electricity connections or a gas refrigerator.
It has been around for over 30 years and costs only around $105 for the Koolatron P27 Grey Voyager Cooler (with coupons available).
Up to 48 12-ounce beverage cans or several days' worth of food will fit in this 29-quart container.
A 12 volt blanket can keep you toasty outside of your RV as well as in bed, your car, over the campfire, and when relaxing outdoors.
The Schumacher 1222 12V Heated Travel Blanket includes an 8-foot cable and a lovely blue hue.
This blanket is reasonably priced and warms you rapidly.
Suggestion: Best RV Kitchen Accessories of 2023
#5. Wet/Dry Car Vacuum
Regular portable vacuums just won't do the job if your RV has a tendency to become filthy.
With a 12-volt vacuum that can clear up both wet and dry messes, you can give your cleaning some more vigor.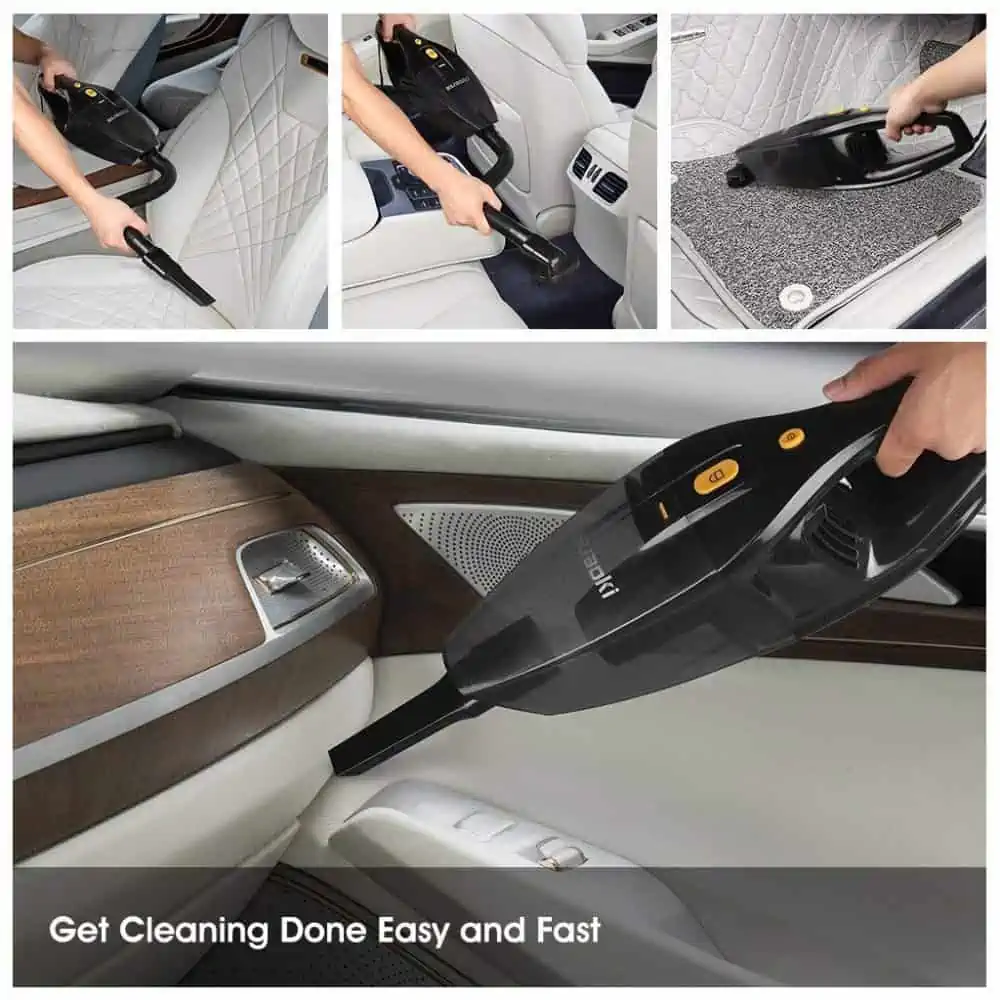 A lithium-ion battery and three cleaning accessories are included with the Winjoy.
These are the Best Vacuum Cleaners For RVs, which we also endorse.
Recommended: Best Fun RV Accessories of 2023
One of the most useful emergency equipment you may have in your camper is a tire inflator.
You may use them to mend flat tires on vehicles, as well as on motorbikes, bicycles, river tubes, children's toys, and to help a fellow camper who is stuck.
This high-quality cordless tire inflator incorporates a useful light for operating in the dark.
It includes a charger, a digital pressure gauge display, and a vehicle adaptor.