When initially getting everything set up, each style of RV has its own quirks, and a fifth wheel is no exception.
Here are the fifth wheel accessories that we suggest you use to set up your fifth wheel.
Our most recent improvement is a 2020 Montana High Country 335BH fifth wheel from Camping World.
Going from a travel trailer to a fifth wheel required some adjustment, but these are the fundamentals.
Maximum Weights
If you've read or seen any of our earlier postings, you know that we discuss weight often.
I have to bring it up again because you want to set up in a fifth wheel.
Make sure the tow vehicle you want to use to tow the fifth wheel is capable of handling the weight of the fully loaded trailer.
On the inside of the driver's side door of the truck, there will be one or more stickers.
Examine this sticker thoroughly.
The GVWR, GAWR, and carrying capacity or payload are the three values on the placard that you should focus on.
Suggestion: Best Must Have RV Accessories of 2023
The GVWR and GAWR
The truck's maximum weight after being completely loaded is known as the GVWR (Gross Vehicle Weight Rating).
This implies that the weight of the truck must be less than the GVWR shown on the sticker when all passengers, a full tank of petrol, a fifth wheel attached, and any other equipment may be present in the bed of the vehicle.
The maximum weight that each axle is rated for is known as the GAWR (Gross Axle Weight Rating).
On the placard, there ought to be a front and rear axle rating.
This still holds true after the vehicle is fully loaded; the weight of each axle should be less than the figures shown on the placard.
The amount of weight that may be loaded into or on a truck before the GVWR is reached is known as the carrying capacity or payload of the vehicle.
In essence, it is the GVWR less the truck's curb weight.
If you already own the vehicle and are looking for a 5th wheel, this rating is useful to know.
A fifth wheel's pin weight typically makes up between 15 and 20 percent of its overall weight.
Due to weight restrictions, many 5th wheel owners use dually trucks.
These feature two sets of wheels mounted on the back axle.
Since the fifth wheel is mounted on the truck's rear axle, duallies have a substantially larger rear axle weight rating than single rear wheel vehicles.
Any weigh station, which is often located at truck stops, may handle these weights.
We advise weighing a few times as you gather and get rid of stuff while traveling.
A Truck's Bed Size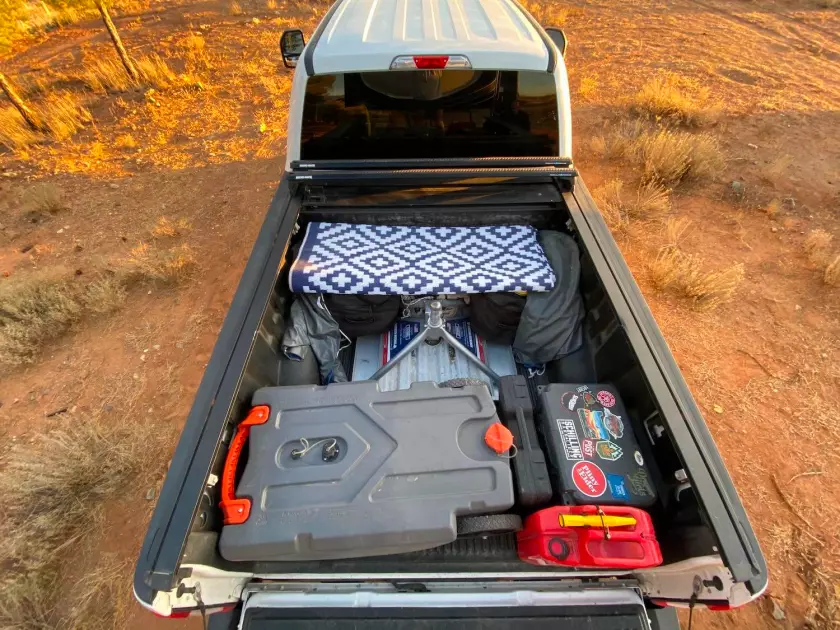 Truck beds come in a variety of sizes.
Some are just 5.5 feet long, while others are 8 feet long.
You'll have more versatility with a fifth wheel the longer the bed.
However, it might be difficult to maneuver an 8′ bed truck around town when you aren't towing.
Having a short bed may provide you the versatility of being able to tow as well as having a manageable vehicle to drive about town since many hitches nowadays can allow for lesser bed widths.
Our current Ford short bed, which is 6 feet 9 inches tall, is perfect for pulling our Montana.
Related: 6 Best 12 Volt RV Accessories of 2023
Hitch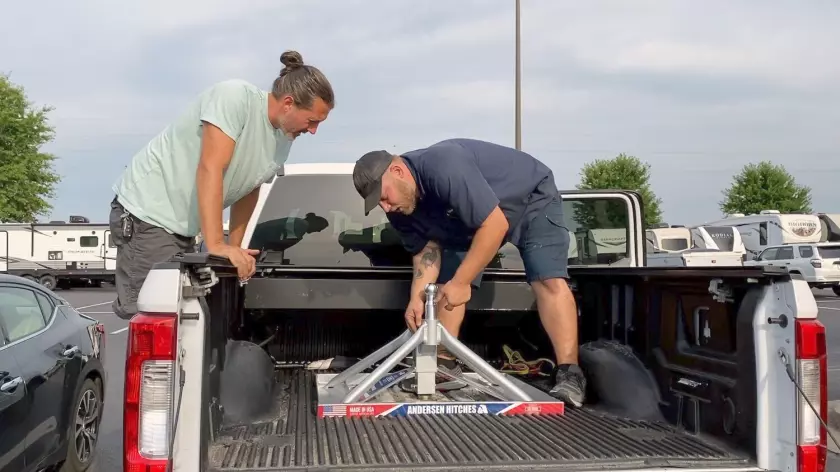 A successful towing experience depends heavily on selecting the proper hitch.
There are many various kinds of hitches available, as well as several brands.
The regular 5th wheel hitch and a goose-neck style hitch are the two basic kinds of hitches.
A large clamp on the normal hitch opens with the use of a lever, takes the kingpin from the fifth wheel, and then closes around it to fasten the fifth wheel to the vehicle.
The gooseneck connection on the fifth wheel lowers onto a ball that is normally installed in the truck bed as part of the gooseneck type hitch, which secures the fifth wheel to the vehicle.
According to my study, there isn't actually a "better" choice; rather, it comes down to personal taste.
There is something known as a slider hitch if you decide on a normal 5th wheel hitch.
When making a tight turn or when you need a little more space between the front cap of the fifth wheel and the rear of the truck cab, this kind of hitch enables you to slide it back.
These are often simple to use and may be quite helpful if you need them.
Ultimate 5th Wheel Hitch by Andersen
The Andersen Ultimate 5th Wheel hitch was our choice.
The Andersen seemed to be the best option after looking at several various hitch choices and knowing our weight restrictions.
It is more of a gooseneck type hitch, with the ball above the back axle being where the hitch in the bed attaches.
The B&W Turnover Ball system, which is compatible with the Andersen, was already installed in the Ford vehicle we have.
The Andersen hitch's weight of 35 pounds, as opposed to some of the other conventional type hitches' weights of around 300, pleased me as well.
Any weight I can save on the hitch is appreciated since our vehicle only has one rear tire and weighs one ton.
The hitch is also simply removed from the bed so that, if necessary, I can remove it and have complete access to the truck bed.
I had a little bit more space from the back of the cab because to the Andersen's additional 6 inch offset from the rear axle.
We have been pleased with the Andersen so far.
At Camping World, we purchased our hitch, had it fitted for our truck/5th wheel arrangement, and had it installed.
The installation and instruction on how to hitch up and unhitch were both excellent work by the service team.
Suggestion: Best Camping Accessories For RV of 2023
"Pin Box"
The pin box on your fifth wheel is another item to be mindful of.
All fifth wheels have one installed when you buy it, however it may be changed for a better or different one.
If you have a short bed, one reason to swap would be to have an expanded pin box, which would provide additional space between the truck and 5th wheel.
In order to prevent such "chucking" action, certain pin boxes provide greater cushion when contacting bumps.
So you may want to consider a new pin box for your fifth wheel if you need additional clearance or are having a rough ride.
We made the switch to MORryde's Rubber Pin Box and are quite pleased with it!
Truck Improvements
These enhancements for your vehicle are simple to perform.
Despite being quite inexpensive, they are absolutely worthwhile.
An Air Bag
You could feel a little droop on the rear of your vehicle after the fifth wheel is totally sitting in the truck bed.
This is typical, and the amount of sag depends on the weight of the fifth wheel and the suspension firmness of your vehicle.
You could wish to attach air bags to the rear suspension to get rid of the sag and give your vehicle a level ride again.
Your trip will be lot more pleasant if you accomplish this, which is a simple and affordable task.
We adore the Airlift 5000 Ultimate Plus package that we placed on our vehicle.
The bags relieve the leaf springs of a lot of tension, which makes the vehicle ride level.
I hope that helped you get settled on a fifth wheel.
Pulling our fifth wheel has been a lot more pleasurable than towing a travel trailer.
Brakes
These Power Stop Extreme Duty brake pads and rotors were also included as a brake improvement for our Ford F350.
The rotors' slotted and drilled design, which keeps them cool while stopping with such a hefty weight in the rear, was particularly appealing to me.
They have been a significant improvement so far.
Bed Lining
Many vehicles either come equipped with bed liners or have owners install them after buying the vehicle.
Although bed liners are excellent for safeguarding the bed, installing a 5th wheel hitch might be problematic.
The majority of drop-in liners are too large and cumbersome to fit snugly against the truck bed with the 5th wheel hitch.
The liner has to be trimmed in order for the hitch to fit appropriately and safely as a result.
Spray-in liners often don't operate in this manner.
These fit the truck bed considerably more closely and don't obstruct the installation of a 5th wheel hitch.
If you have an option, choose a spray-in liner since they both provide the same level of protection.
A drop-in liner that came with our vehicle was expertly trimmed by Camping World to suit our Andersen hitch.
It wasn't an issue, but at some time I may do rid of the drop-in liner and switch to a spray-in liner.
Recommended: Best RV Kitchen Accessories of 2023
Accessories For Your Fifth Wheel Camp Site
You want to make sure you have everything you need to set up and enjoy your stay at the campsite when you arrive there now that your vehicle is prepared and you're ready to pull.
We suggest the following RV accessories.
Leveling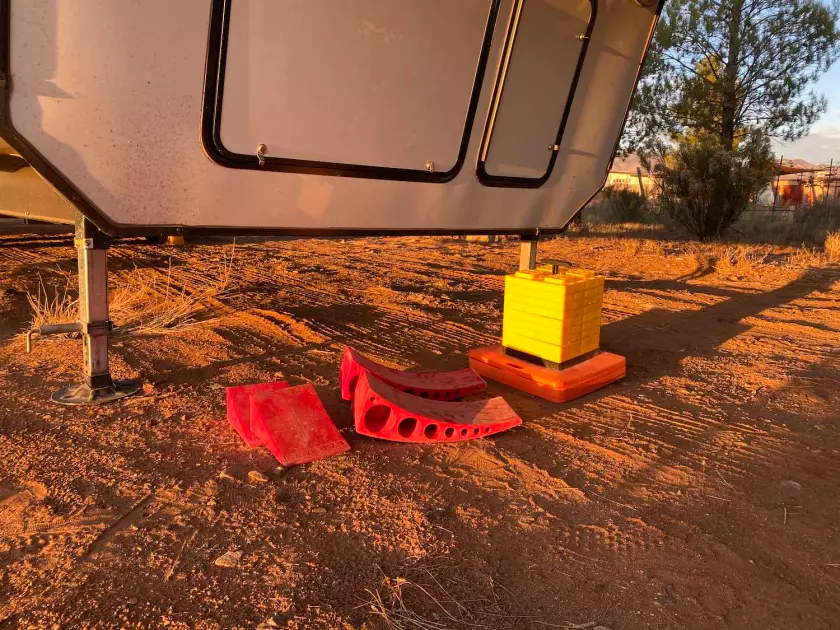 Sadly, not every website you bring up won't be level.
To make sure your setup is nice and level, you will need a few extras.
Using a leveler, you should inspect your levelness when you first park.
A leveler may also be added to the side of your apparatus.
You must roll backward or forward onto leveling blocks if it is not level.
Performing this will level it out as much as possible before setting the jacks.
The rig should not be leveled by the jacks.
They are designed to keep the rig steady, not to raise a lot of weight to level it.
Once everything is level, you should install your tire chocks before detaching to prevent the rig from rolling!
Power Security
Unfortunately, it's a sad fact that the power at many campsites might be a bit old.
As a result, the power pedestal's internal connections may be brittle, loose, or suffering from other wiring problems.
Make sure you have some kind of power protection device, such as an RV surge protector, to safeguard your vehicle and all the gadgets within.
The Progressive Industries EMS-PT50X, which is designed primarily for 50 amp rigs but is also available for 30 amp rigs, is one that we really enjoy.
If there is an electricity issue or a surge at the campsite, this will definitely rescue you.
Water Connectors
Make sure you have a drinking water hose if you want to connect to the campground's water supply.
Like this Camco one, they are typically white.
Additionally, you need an integrated water filter.
During our six years on the road, we have encountered some really fascinating water.
Finally, you should purchase a water pressure regulator to ensure that the pressure is not too high for the plumbing lines in your vehicle.
To be safe, they typically advise using between 45 and 55 psi.
Sewer Connections
The less glamorous aspect of RVing, ahh yeah.
Well, because it's a requirement, here's what you should get to make sure you maintain it free of sewage.
Almost everything you need is included in kits like this Camco 20′ kit.
Because sewage lines often get walked on, I prefer the Camco Rhino series because the hoses are rather robust.
The package also contains the 90-degree elbow that connects to the campground's sewage intake.
Additionally, disposal sites may make advantage of this.
Always use toilet paper that is safe for septic systems! Toilet paper that is septic safe and available at the grocery store will work just as well as RV toilet paper.
Bikes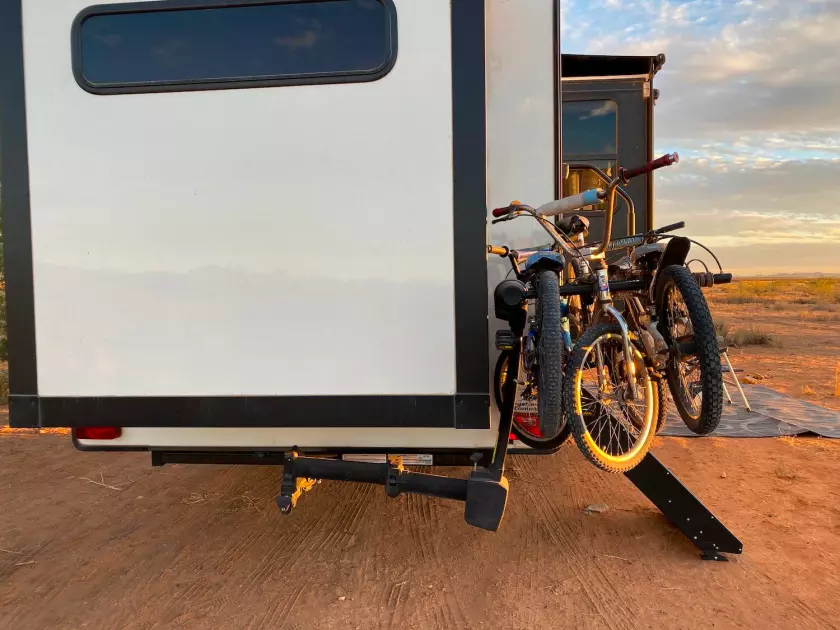 When you travel, having a bike is a terrific idea, particularly if the area is renowned for its challenging terrain or beautiful scenery.
However, moving motorcycles might be a hassle, particularly with fifth wheels.
Like many other recent fifth wheels, our Montana arrived with a legitimate trailer hitch on the rear of it.
It can tow 3500 pounds and has a tongue weight rating of 350 pounds.
That implies that if I'm just moving bikes, they must weigh no more than 350 pounds.
I invested on a fantastic Thule Swing, which has served us well ever since we had to make room for the rear slide-out.
Having a hitch placed on the rear of your fifth wheel has the nice benefit of working with almost any bike rack that has a 2′′ receiver.
Camping Equipment
When you've finished setting up your campsite and want to go outdoors to relax or watch a stunning sunset while you're camping.
Make sure you have everything you need for a pleasant outdoor experience.
Our favorite rv camping gear consists of:
Fire Pit with Propane
Rug outdoors
Stylish Outdoor Chairs
A kitchen table outside
Infinite Grill
You'll need an extension cord for anything.
Picnic tables with tablecloths
We have a complete page on it instead of simply recommending one RV kitchen equipment.
Boondocking Essentials
Check them out if you intend to take your fifth wheel off the grid.
It significantly improves the experience.
Even while RV parks are fantastic, mixing up a few boondocking locations is very fun.
Power Boondocking
You have a few alternatives for power.
You may choose to go solar; the 2020 Montana High Countries have an excellent solar preparation kit.
In other words, all of the cabling from the roof to the battery bay and finally to the bay where the solar controller would be located is already in place.
Additionally, a cable runs from the location of the solar controller to a cabinet inside.
With this, a remote display for the solar controller may be installed.
This is a real prep package that will save you a ton of money by cutting hours of effort from the setup.
The roof should include a few panels for a nice solar system.
Depending on what you want to achieve, you may use anywhere from 100 watts to over 1000.
Your solar controller must be sized for the number of panels you have and how they are configured.
Then, in order to power the electronics within your rig, you'll need an inverter to convert the 12 volt electricity from your batteries to 120 volts.
Depending on how often you boondock or how much electricity you consume, you may also need to update your batteries.
Future Solutions in Indiana installed ours, and we are quite pleased with it.
We now have 4 lithium Battle Born batteries and 600 watts on the roof.
We will be updating this system due to the fact that we prefer to boondock quite a bit and that, with six people and too many gadgets to count, we consume a lot of electricity.
A generator is an additional power source.
When there isn't enough sun to keep your batteries charged, our tiny Honda generator performs well.
It is very quiet, portable, and fuel-efficient.
Water Boondocking
We have two possibilities for replenishing our holding tank with water.
This 5 gallon fresh water container, which we first used, has served us well for years.
I just updated to a water transfer pump and a 60 gallon bladder, which has been wonderful.
It totally replaces our fresh water tank, giving us enough water to last us a few days.
Our RV's sewage can be dumped into a Camco portable sewer tote, which we can then transport to a disposal station.
It's nice that this kit has all the connectors, and I especially like that it's from the Rhino brand.
So perhaps that will start you moving and help you find a pleasant campsite or boondocking location.
The beauty of RVing is that you can bring just about whatever you want in your vehicle, so obviously this isn't an exhaustive list.
So, whatever you bring, have a good time!
5Th Wheel RV Accessories Videos Suggestions From Youtube