Effective sleeping space in your camper is a top consideration whether you have children or prefer to vacation in your RV with friends.
Bunk beds are the most effective technique to expand the sleeping area in campers and RVs.
There are several bunk bed travel trailers available today, but which are the best? The following campers are included in our ranking of the top 12 travel trailers:
Grand Design Imagine 2400BH
Starcraft Autumn Ridge Travel Trailer 32BHS
Jayco White Hawk 24 MBH
Forest River VIBE 31BH
Jayco Eagle 264BHOK
Keystone RV Bullet 243BHS
Jayco White Hawk 24 MBH
Coachmen Catalina 261 BHS
Rockwood Geo Pro G20
Jayco Jay Feather X213
Gulf Stream Innsbruck 288ISL
Coachmen Clipper 17BH
The benefit of getting a travel trailer with bunk beds is the ability to take extra guests with you.
More people can go with you since you'll have more room for them to sleep.
As a consequence, you won't have to make difficult selections about who will attend if you have a large family or group of friends.
Pro Tip
We strongly advise renting a fifth wheel before making a decision to purchase one, toy hauler or not.
In order to know precisely what you want when you are ready to purchase, you may rent a fifth wheel for a week and discover everything you like and dislike about it.
Please read The Ultimate Guide to Renting an RV for additional information about renting a fifth wheel.
The Top 12 Bunk Bed Travel Trailers
Here, we'll take a look at twelve of the top bunk bed travel trailers currently available.
We did not rate the travel trailers, despite the fact that this is a numbered list.
Instead, there is no ranking of the travel trailers.
As a consequence, you may pick from any of the possibilities that are stated below.
#1. Grand Design Imagine 2400BH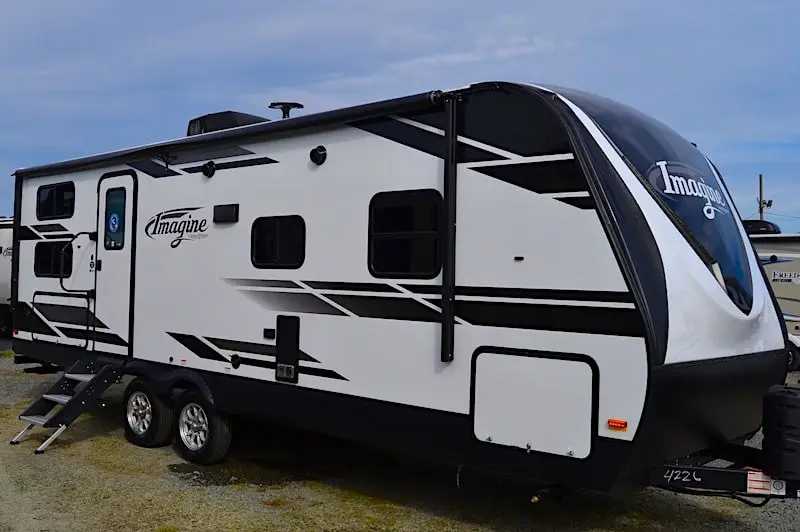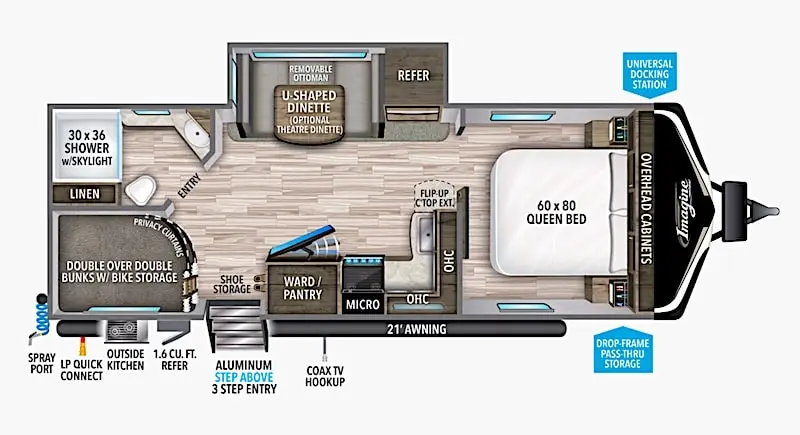 Main Specs:
Size: 28′ 11″
GVWR: 7,495 lbs
Sleeps: up to 8
The kids will be prepared for camping fun in this family-friendly trailer all year long when it comes to bunk bed travel trailers! To enjoy indoor conveniences and outdoor excitement, just tie up and go to a state park, RV resort, or a friend's property.
While inside there is plenty of storage in the entrance wardrobe/pantry, the two wardrobes in the master bedroom, the overhead cabinets throughout, and the bathroom linen cupboard, you may store bigger goods like camping chairs, tables, and fishing poles in the pass-through storage.
The double-sized bunks, which also include a ladder, privacy curtains, and bike storage underneath, will be claimed by the youngsters for themselves.
Before eating at the U-shaped dinette or selecting the optional theatre dinette in its place, everyone may take turns getting washed up in the large bathroom.
The LED HDTV is mounted so you have the ideal viewing position, and the L-shaped kitchen puts everything at your fingertips.
Even cooking a few meals outdoors in the outdoor kitchen while lounging under the 21-foot awning would be enjoyable.
Like other Imagine by Grand Design models, this one has a laminated aluminum main floor, rear wall, side walls, roof, and end walls in the sliding rooms and floors.
It also has a one-piece roof membrane for years of lightweight towing to your favorite locations.
The distinctive drop frame unobstructed pass through storage gives best in class storage, and the Universal Docking station provides an all-in-one place for utilities and connections.
Additionally, the required four-season protection package offers prolonged camping season and industry-leading tank capacity.
An 81′′ radius ceiling creates a roomy interior, along with residential cabinets, a pull-down sprayer kitchen faucet, updated residential furnishings, and worktops.
Related: Best Dog Camping Beds for Travel
#2. Starcraft Autumn Ridge Travel Trailer 32BHS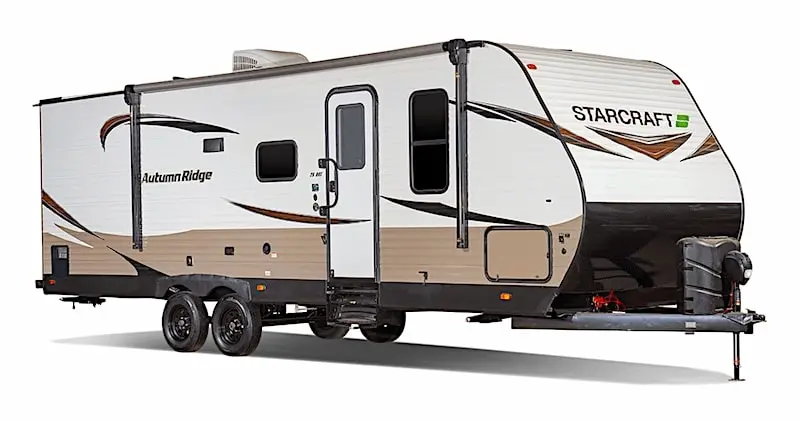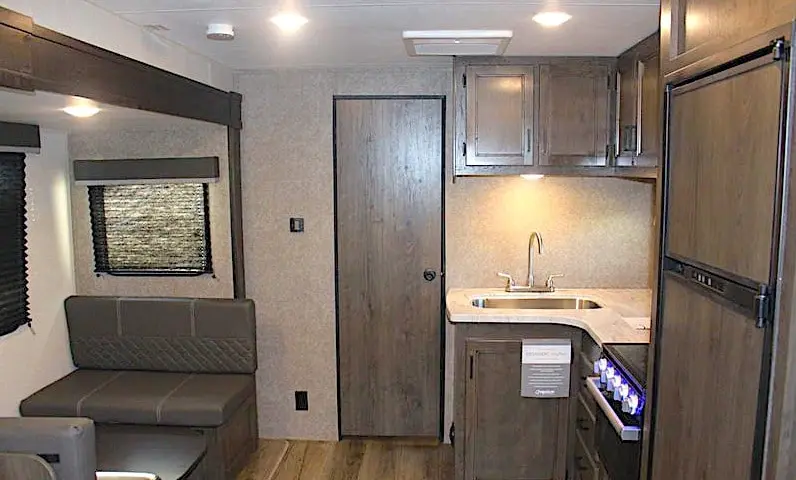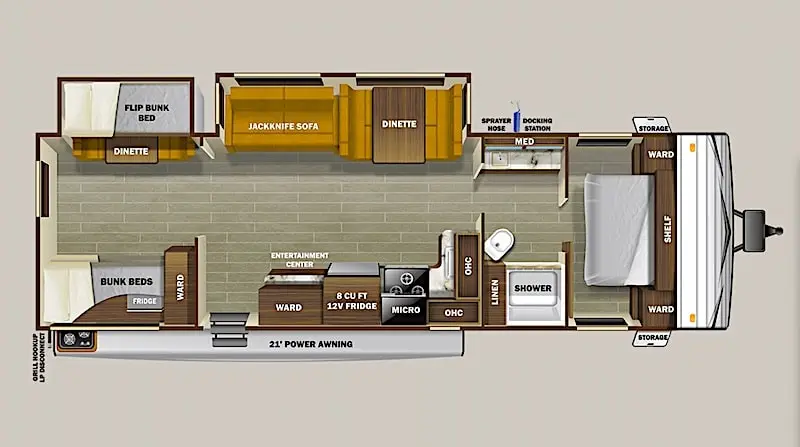 Main Specs:
Size: 36′ 7″
GVWR: 9,250 lbs
Sleeps: up to 10
With 23 different floor layouts that have bunk beds in its design, Starcraft RV seems to realize the benefits of offering bunkhouses in their lineup.
The models with bunk beds are listed below, and each model may have several floor layouts with bunks.
The following are some of this Autumn Ridge 32BHS's highlights:
Private Dormitory
Jacob's Chair
Walk-Through Bathroom
Streamlined Storage
Personal Bedroom
The two slide outs and the 21-foot motorized awning are simple to put up, and you can cook outdoors with your family or inside with them! The kids will like having a dinette and triple bunks all to themselves.
#3. Jayco White Hawk 24 MBH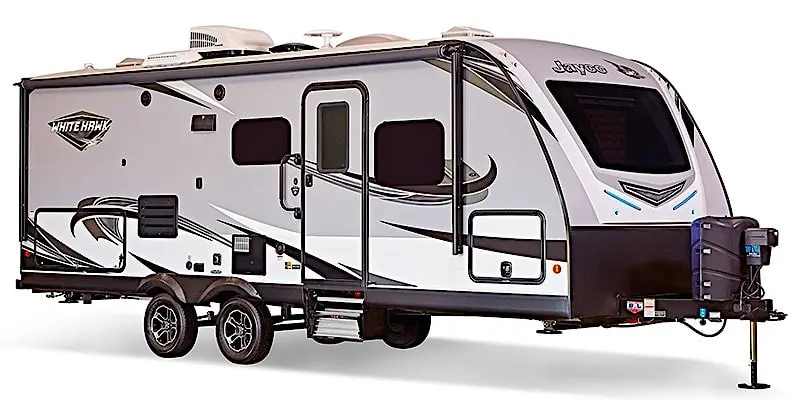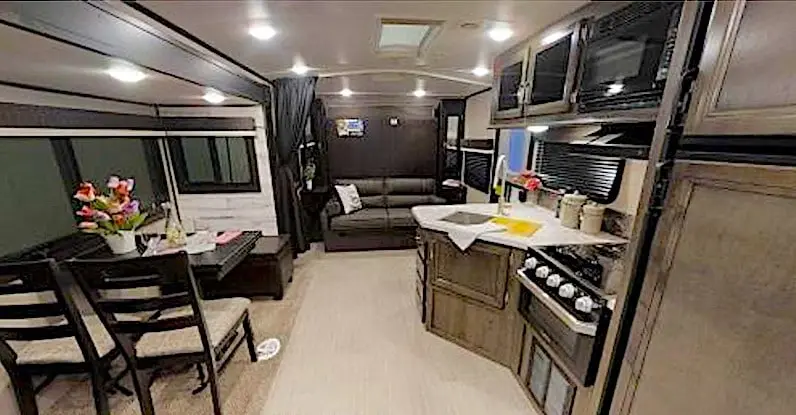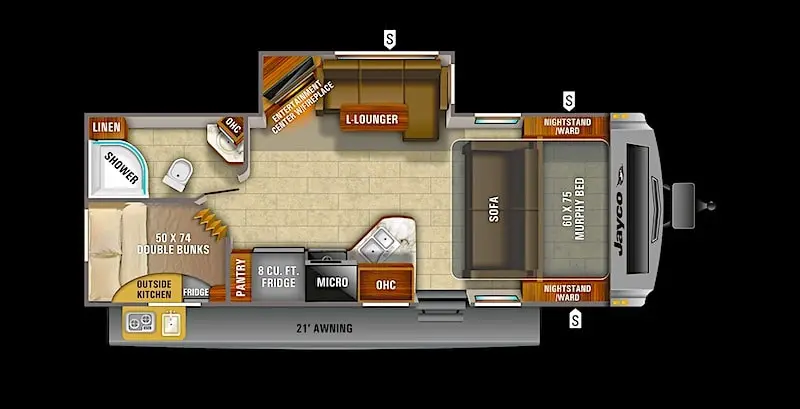 Main Specs:
Size: 29′ 5″
GVWR: 7,350 lbs
Sleeps: up to 7
MSRP (price): $34,211
This specific Jayco model has a bunkhouse and a murphy bed that converts from a couch to a 60″ x 75″ queen bed at night.
You can choose whether to use the front of the trailer as additional living space seating or as a partially private bedroom with the addition of the Murphy bed.
In this model, you have the room you need to comfortably sleep seven people thanks to the semi-private bunks.
#4. Forest River VIBE 31BH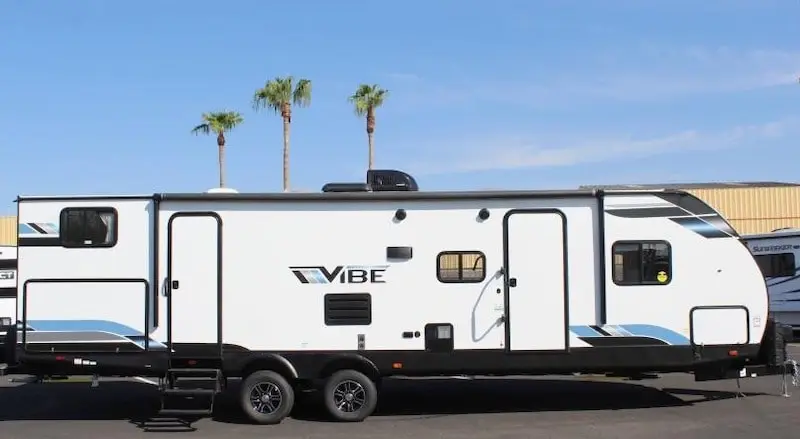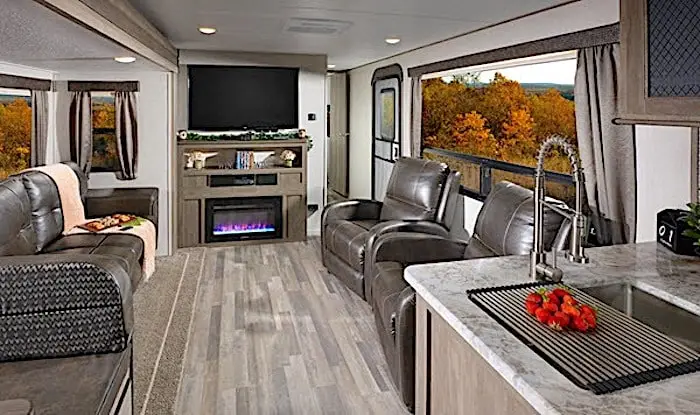 Main Specs:
Size: 35′ 9″
GVWR: 9,667 lbs
Sleeps: up to 9
MSRP (price): $40,900
The Forest River Vibe 31BH's highlights include the following:
Private Dormitory
Exterior Kitchen
Two Differing Slides
Cooking Island
Front bedroom with privacy
While you unwind in the front private bedroom with a queen bed and your own closets, the kids will appreciate the private bunkhouse with two bunks and a twin bed.
This apartment has a three-burner stove, an island in the kitchen, and a pantry for snacks or paper products.
You'll have plenty of space to spread out or play a game on the floor thanks to the two opposing slides in this unit.
At the dinette, have a family meal; alternatively, relax on the sleeper couch and watch a movie.
With the outside kitchen that comes with this travel trailer, you can prepare supper outside while spending time with loved ones around the fireplace in the evening.
Related: Best RV Bunk Bed Railing of 2023
#5. Jayco Eagle 264BHOK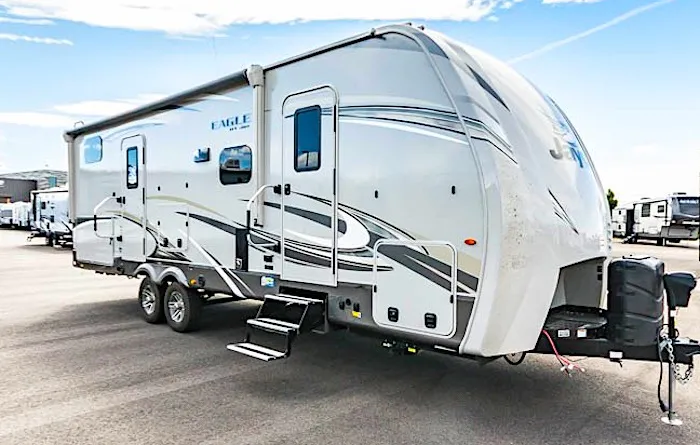 Exterior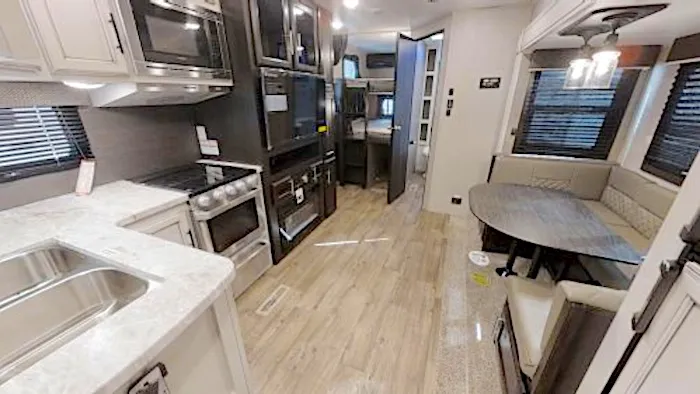 Interior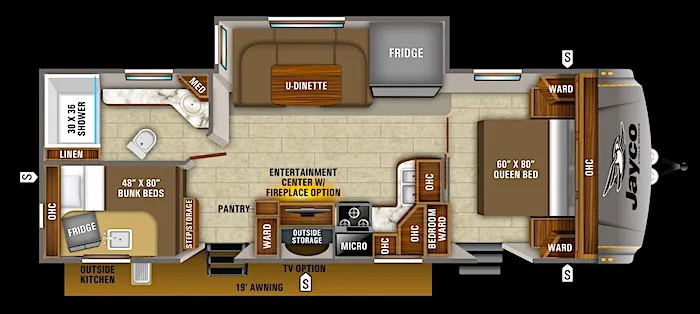 Ground Plan
Main Specs:
Size: 32′ 4″
GVWR: 9,995 lbs
Sleeps: up to 8
One of the better alternatives now on the market is this Jayco travel trailer.
It boasts a "Industry's Best" outdoor kitchen standard and a bunkhouse concept that has won awards.
It has a universal docking station and a substantial quantity of storage.
The trailer sleeps seven to eight people, so you may bring a large group on your vacation.
The offered bunk beds can hold up to 600 pounds.
So, everyone is welcome to join the journey.
To enhance your storage space, the beds may be folded when not in use.
The trailer also has an optional LED fireplace, chaise couch, and 16″ Goodyear tires.
You have lots of room to move about within the trailer since its length is 33 feet 4 inches.
The car weighs 7,610 pounds when empty.
The floor layout may be modified and customized, which will raise the cost.
If you don't care about it, you may alter the trailer to exactly meet your requirements.
#6. Keystone RV Bullet 243BHS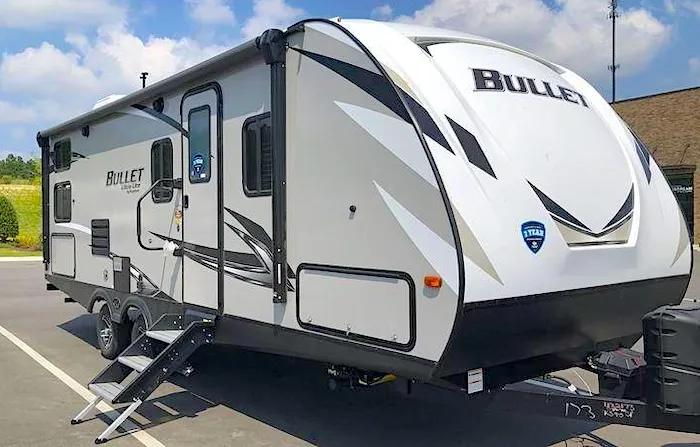 Exterior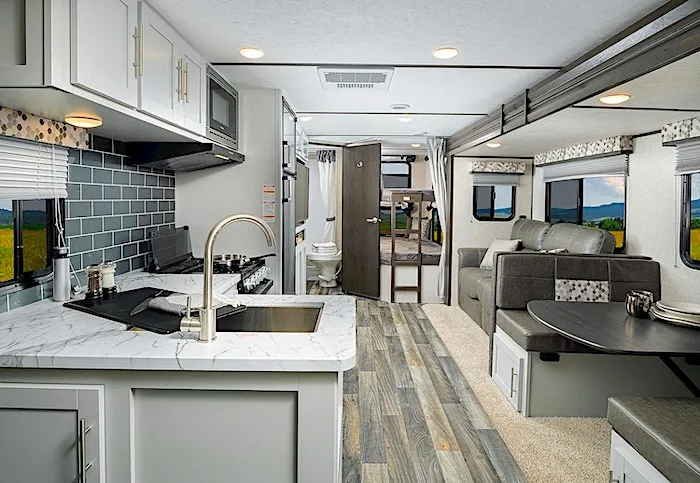 Interior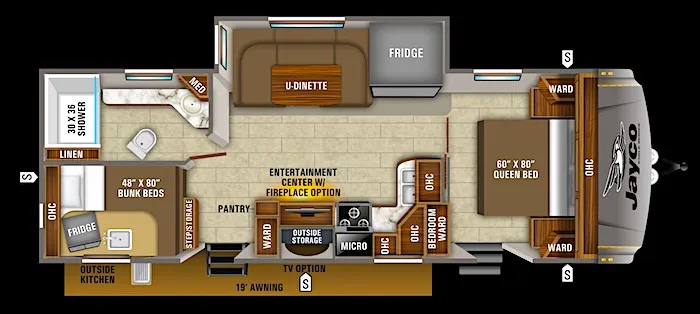 Ground Plan
Main Specs:
Size: 28′ 3″
GVWR: 6,500 lbs
Sleeps: up to 8
An other fantastic choice for a travel trailer with bunk beds is the Keystone RV Bullet 243BHS.
The trailer has a carrying capacity of 1412 pounds and ships with a weight of 5088 pounds.
It has a length of 28 feet and 10 inches.
It stands 10 feet, 8 inches tall.
As a result, you have plenty of room inside the trailer for activities and movement.
With the bunk beds, you can accommodate multiple people on a journey in your travel trailer.
The trailer has enough room and beds to accommodate eight guests.
A kitchen both inside and outside the trailer is included.
So, if you want to have a BBQ, you may, but it won't be a problem if the weather becomes bad.
For those on a tight budget, this bunk-bed trailer is a relatively reasonable solution.
You should be aware that the MSRP does not include dealer fees, freight, title, tax, or any options.
There will thus probably be a price rise, which you will need to plan for in your budget.
#7. Jayco White Hawk 24 MBH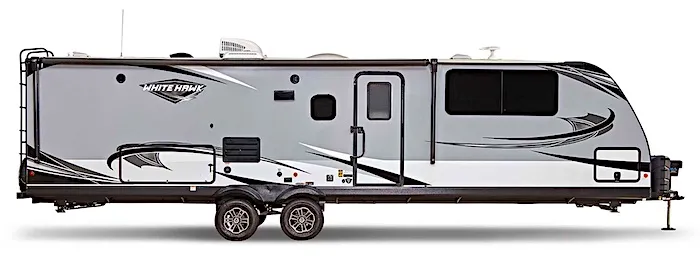 Exterior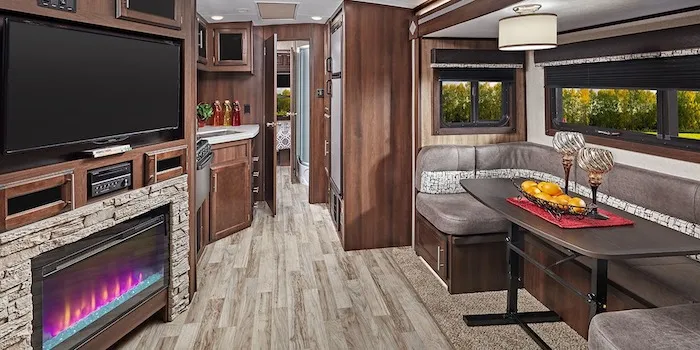 Interior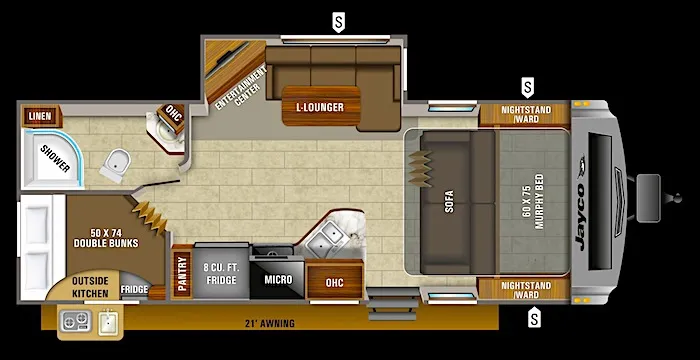 Ground Plan
Main Specs:
Size: 29′ 5″
GVWR: 7,350 lbs
Sleeps: up to 8
You also have the option to pick from Jayco's White Hawk 24 MBH.
The car weighs 5625 pounds when it is empty.
It also measures 29 feet, 2 inches in length.
Because of this, it is a little bit lighter and smaller than the previous Jayco trailer.
Because of the limited size, there isn't much room for sleeping.
The Eagle 264BHOK can accommodate seven to eight people, whilst the White Hawk 24 MBH can accommodate six to seven.
This will still allow you to take a respectable crew on your vacation.
The trailer also has a 42 gallon freshwater capacity.
Thus, you won't have to be concerned about running out of water while traveling.
You may personalize your trailer with a handful of the numerous extra options that are offered, if cost is not a concern.
The L-Lounger couch, the Murphy bed type, and the fold-down aluminum-tread entrance stairs are a few of the most well-liked alternatives.
Because it can be done on the main sale page, adding features is relatively easy.
Related: Best RVs With Murphy Beds
#8. Coachmen Catalina 261 BHS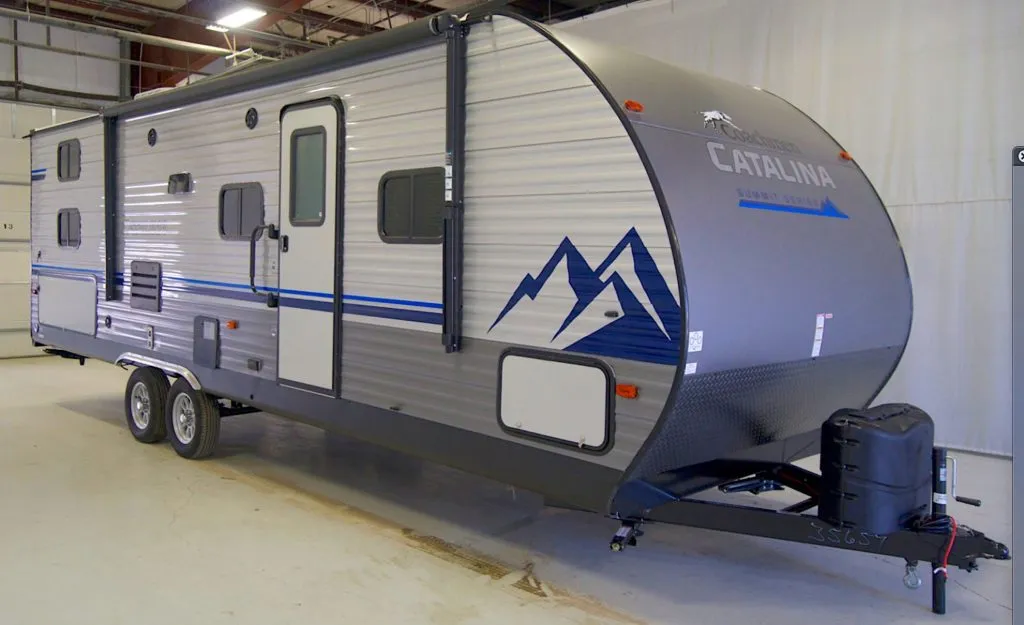 Exterior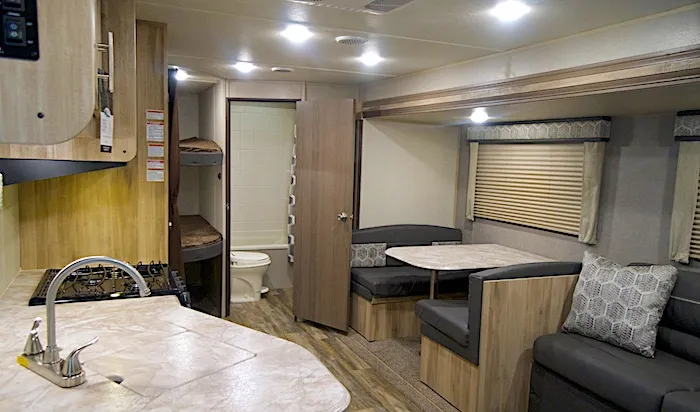 Interior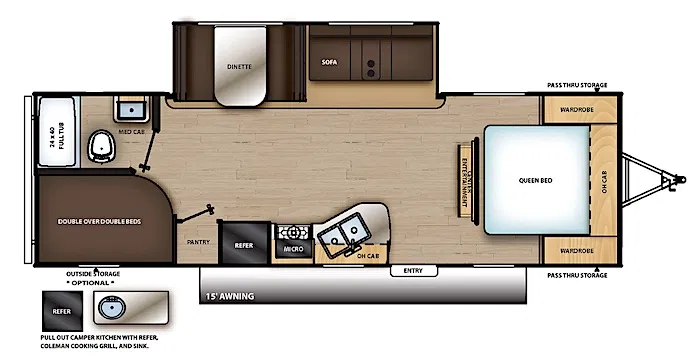 Ground Plan
Main Specs:
Size: 31′ 1″
GVWR: 7,770 lbs.
Sleeps: up to 10
Older model, the Coachmen Catalina 26 BHS.
If you're searching for an excellent travel trailer on a tight budget, this is a terrific alternative for you even though it may not be exactly what you're looking for for some people.
Since it was released in 2010, the only alternatives available are pre-owned.
That does not exclude it from being a strong trailer, however.
The trailer is 25 feet long and 4,579 pounds in weight.
Space is not a problem since it can accommodate seven people for sleeping.
This is a fantastic alternative for those of you looking for a useful travel trailer that won't break the budget too much.
#9. Rockwood Geo Pro G20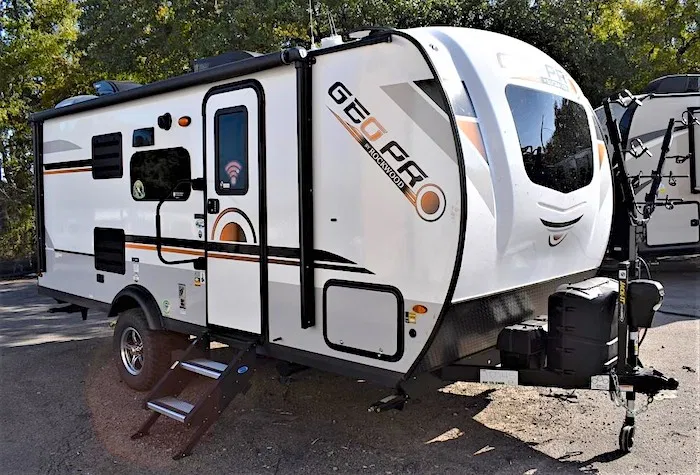 Exterior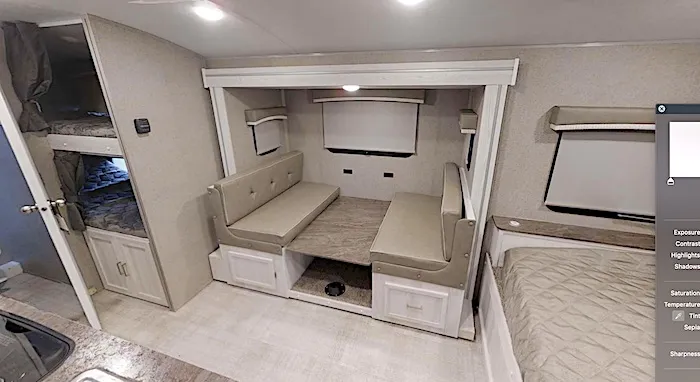 Interior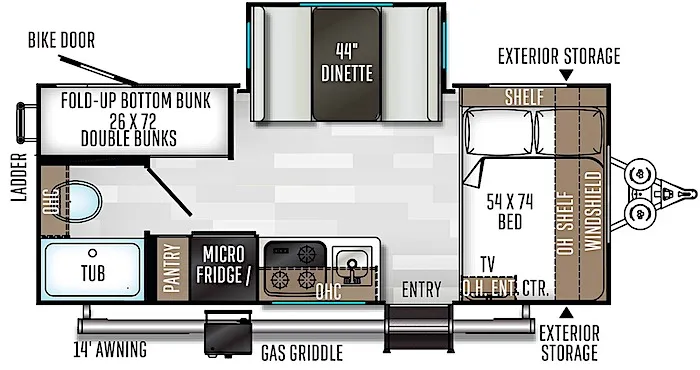 Ground Plan
Main Specs:
Size: 21′ 2″
GVWR: 4,310 pounds
How many it sleeps: up to 4
We'll go on to the following trailer, which comes from Rockwood.
For those seeking for a high-quality travel trailer with bunk beds, the Rockwood Geo Pro G20 is a great option.
The car weighs only 3513 pounds when empty.
Additionally, it is just 21 feet, 1 inch long.
It is thus one of the more affordable choices.
Unfortunately, this choice has one of the lowest sleeping capacity since it is one of the smallest ones.
There is enough room for four to five persons to sleep.
So, you can bring your family, but not enough for a long weekend of fun with friends.
You'll need to bring some sleeping bags if you want to do that.
#10. Jayco Jay Feather X213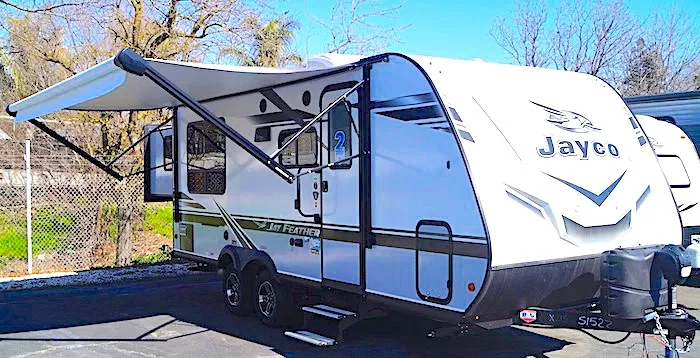 Exterior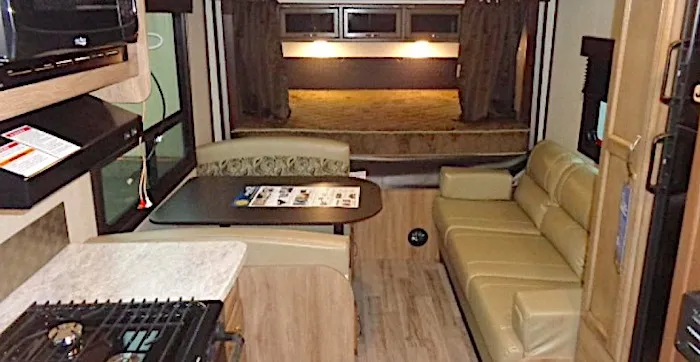 Interior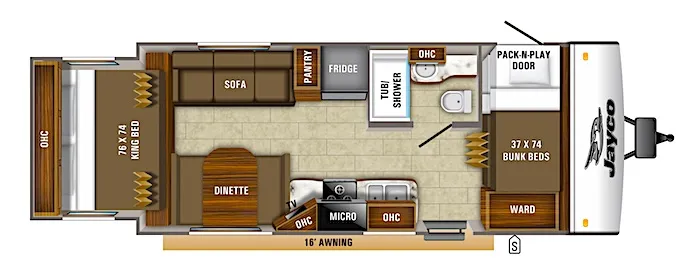 Ground Plan
Main Specs:
Size: 24′ 2″
GVWR: 5,500 lbs
Sleeps: up to 6
The Jayco Jay Feather X213 is the last travel trailer featuring bunk beds on our list.
For those of you who wish to travel with your trailer on numerous occasions each year, it's a fantastic alternative.
The travel trailer weighs 4545 pounds when it isn't loaded.
Additionally, the length is precisely 24 feet.
In comparison to some of the other possibilities we looked at above, this trailer is modest in size.
There is plenty space for beds in the trailer.
The sleeping capacity ranges from six to nine people, depending on your willingness to share a bed.
Some are bigger than others.
As a result, you are able to travel with your family and many friends.
If money isn't a problem, you may personalize your trailer with extra features, just as with other Jayco products.
On the Jayco website, you may examine the extra costs associated with these features.
The hybrid model with front and rear tents, aluminum-tread access stairs, and sturdy vacuum-bonded sleeping platforms with a 1050-pound weight rating are some of the most well-liked features.
#11. Gulf Stream Innsbruck 288ISL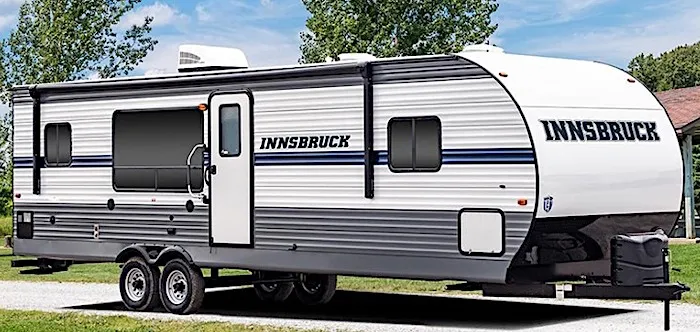 Exterior
Interior
Ground Plan
Main Specs:
Size: 33′ 0″
GVWR: 8,480 lbs.
Sleep: up to 9
One of the largest alternatives now on the market is this Gulf Stream trailer.
It is 33 feet long and 6660 pounds in weight.
There is thus enough space in the trailer for your family, friends, and belongings.
The beds available in a variety of sizes, much like the previous travel trailer.
As a consequence, there is a wide range in the sleeping capacity.
This trailer can accommodate between 7 and 10 people, depending on who is prepared to share a bed.
This trailer need to be at the top of your list if you want to travel with plenty of people.
#12. Coachmen Clipper 17BH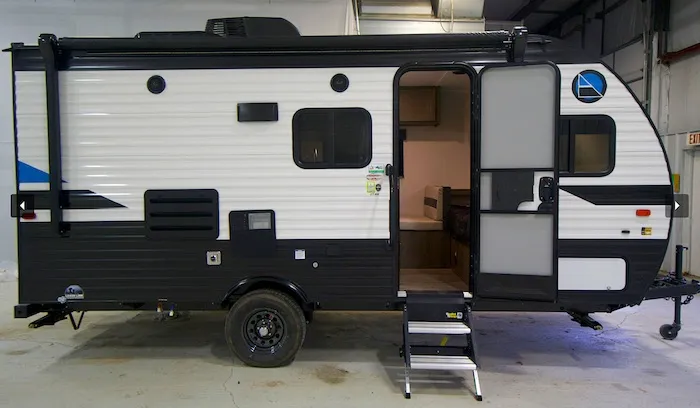 Exterior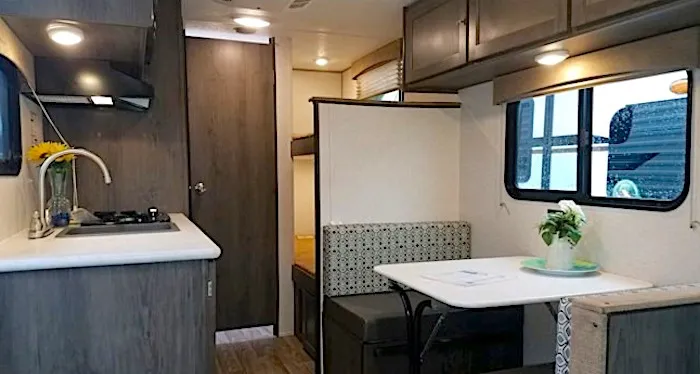 Interior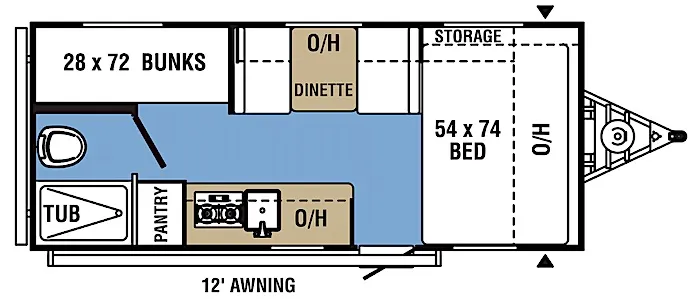 Ground Plan
Main Specs:
Size: 20′ 5″
GVWR: 3,840 lbs.
Sleep: up to 4
We'll look at one more model of bunk beds in a travel trailer from Coachmen.
The trailer has an outside length of 17 feet and a vehicle weight of 2940 pounds.
As a result, it is one of the smallest trailers that are now on the market.
The trailer can only fit 5 people in beds as a consequence.
So, if you pick this trailer, you won't be bringing a big group of people with you.
What Actually Differs A Bunk House From An RV With Bunk Beds?
Bunkhouse camper units are a terrific choice when your activities include three or more people, especially if those persons are children.
One benefit is that youngsters like having their own private place where they can confide in one other and conceal all of their belongings—toys, clothing, and games—from the RV's main living area.
The architecture of travel trailers has changed as more RV manufacturers try to draw in families, to suit such bigger groups.
In particular, manufacturers have introduced bunk beds or bunkhouses to their floor patterns to increase sleeping capacity without using more room.
But what distinguishes a bunkhouse from a bunk bed?
The space below the bunk bed in a conventional bunkhouse arrangement often features chairs that may be used as a bed when necessary.
Because it offers versatility to the space and may be used as a sitting area when the bed is not in use, this design is a little better for many campers than simply two bunk beds.
Bunkhouse RVs also provide parents with a place to go when children are asleep, which often includes a door to close off the bunkhouse room.
You may put little Johnny and Suzie to bed after a full day of camping, exploring, and cooking over the campfire while the grownups remain up to relax with a drink of wine or play cards.
You each have a space to "go away" during your camping trip whether it is wet or really chilly outdoors.
Your Guide to Choosing the Best Travel Trailer with Bunk Beds
It might be challenging to choose the greatest travel trailer with bunk beds.
There are other factors to take into account, like the trailer's size and sleeping capacity.
We do, however, hope that the details we provided above may be useful to you as you do your search.
It's fantastic if you decide to watch one of the aforementioned trailers! We still hope you learned a lot about what to look for in a decent travel trailer even if none of them are the ideal match.
We wish we could tell you what the top bunk bed travel trailer is.
Unfortunately, everyone has distinct wants and preferences, thus it would be reckless of us to claim that we were aware of yours.
However, we can confidently state that each of the bunk-bed travel trailers listed above is a terrific option.
If you decide to choose one of the eight alternatives listed above, you won't be sorry.
Have you ever bought a bunk-bed travel trailer? How many people will your travel trailer need to accommodate? Do you intend to buy any of the aforementioned travel trailers? Comment below and let us know!
Best Travel Trailers with Bunk Beds Videos Suggestions From Youtube