Since your RV serves as a temporary residence, it is essential that you feel as at ease and calm there as you do at home, particularly in your bed.
Making your bed "you" is something every RV owner has to think about since your bed is a comfortable spot you go to to unwind after a long day of exploring.
We have a great list for you as well as many other great suggestions if you're searching for some wonderful RV bedding ideas to improve your RV experience.
This article will cover the following topics:
Camper bedding suggestions for RVs
The Essentials for Your RV Bedroom
Advice for a Restful Night's Sleep While Traveling
Try These RV Bedding Ideas For Your Camper
Since everyone has distinct preferences and interests, no two people will have the same bedding.
There are, however, a few excellent options available that are quite adaptable and would look great in any RVs.
#1. White and Blue Outfits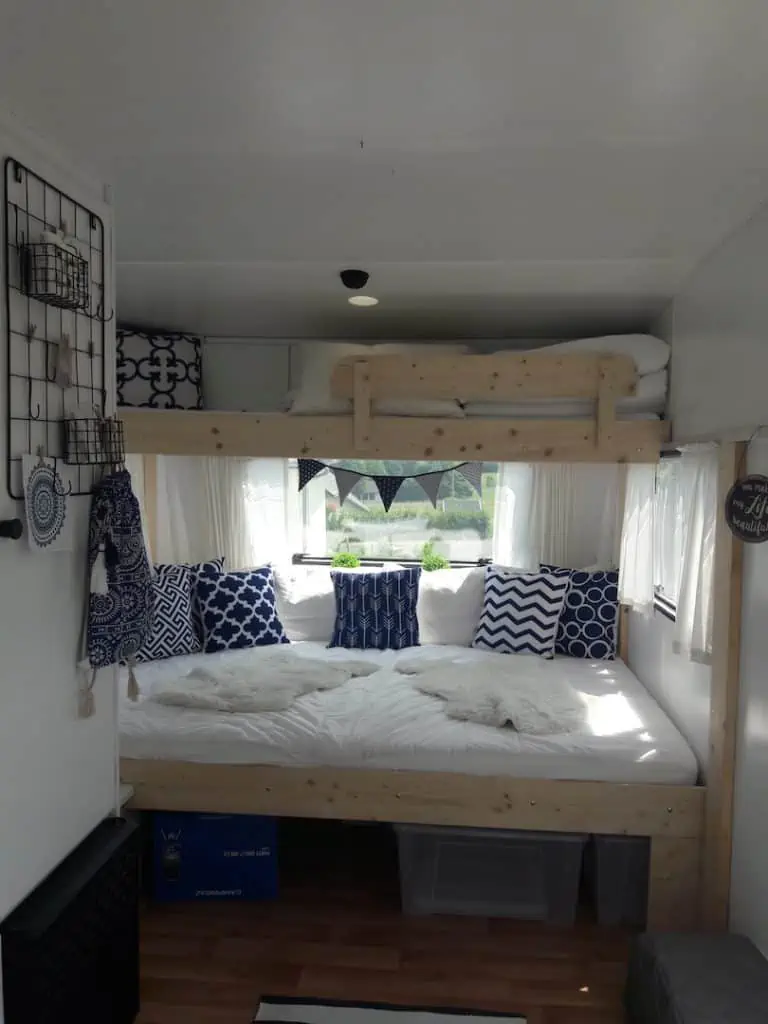 The reason why blue and white are such a common pairing is because they are adaptable and fit with just about every style and setting.
You may utilize a variety of blue bedding color schemes, however a few of the most well-liked ones are:
Navy
Blue baby
Navy blue
Pale blue
Blue sky
Teal
This color combination looks fantastic when used with a nautical or anchor motif.
Think of pairing navy blue sheets and a comforter set with navy blue and white striped cushions.
Then, to complete the idea, place some anchor photos on the wall and scatter a few little nautical trinkets about the space.
The "sea waves" pattern, which consists of a range of blue shade stripes with a white stripe thrown in, is another unusual design you may use in your RV bedroom.
Your bed should have a sea wave comforter, white sheets and pillowcases, and a couple light blue decorative pillows on top.
#2. White Only
Going all white is a pretty courageous choice for anybody to make, but those who do so may benefit from the style.
White is adaptable in all circumstances since it is an evident simple color to combine with a number of other colors and patterns.
Additionally, it's a fantastic way to keep a space appearing open, tidy, and bright.
Stick to the all-white color scheme for the room's bedding, or go with white pillows, sheets, and blankets but add some brightly colored throw pillows on top to liven up the space.
You can even want to match the throw pillow's color to the drapes or the carpeting.
There are many other fabrics and textures you can use to really give a sense of comfort and creativity to an all-white RV room, so it doesn't have to be dull.
With a down comforter and matching silk or satin pillows, you may choose white satin or silk sheets.
Throw a tiny white throw blanket on the edge of the bed to offer a little something extra.
Related: Best RV Bunk Ladder of 2023
#3. Cozy Camper Bed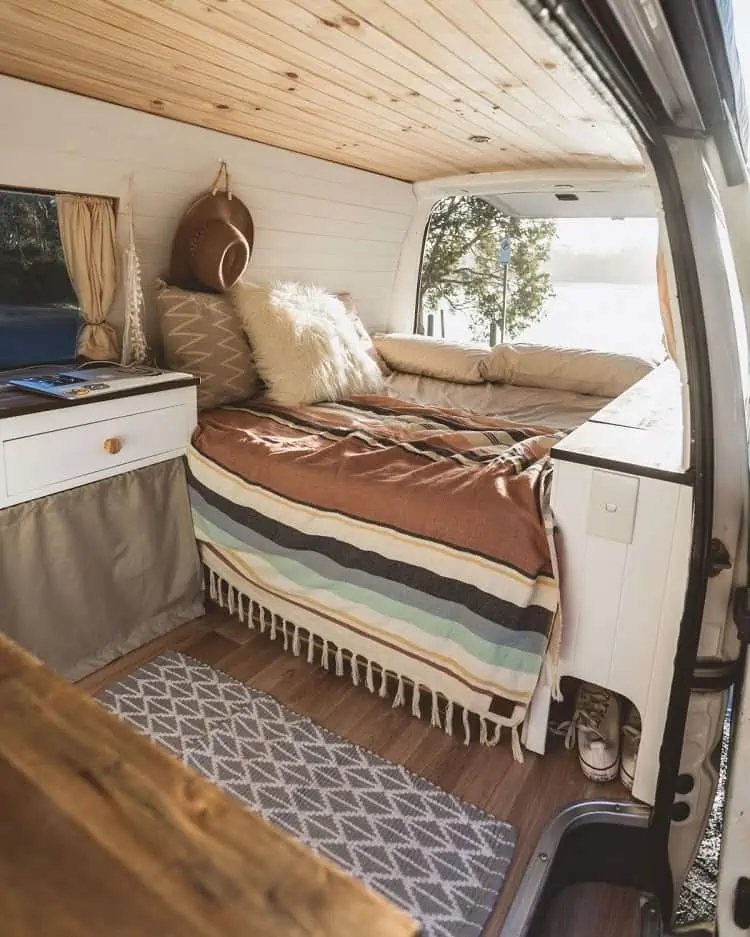 For campers who like to spend a lot of time away from home or perhaps want to make the camper their only residence, cozy RV bedding is great.
Selecting comfy bedding often gives off a somewhat outdated or perhaps bohemian vibe.
Furs, cotton, and wool are often used as components of warm bedding designs.
This fashion is also often seen in strong, deeper hues and zigzag or striped patterns.
Tan or light brown sheets and pillowcases, a thick wool blanket with multicolored stripes, and a choice of huge soft pillows make for a warm bed.
Flannel sheets, a cotton blanket with a cashmere throw, and large cotton cushions may make up a second inviting arrangement.
#4. Beds for Bunks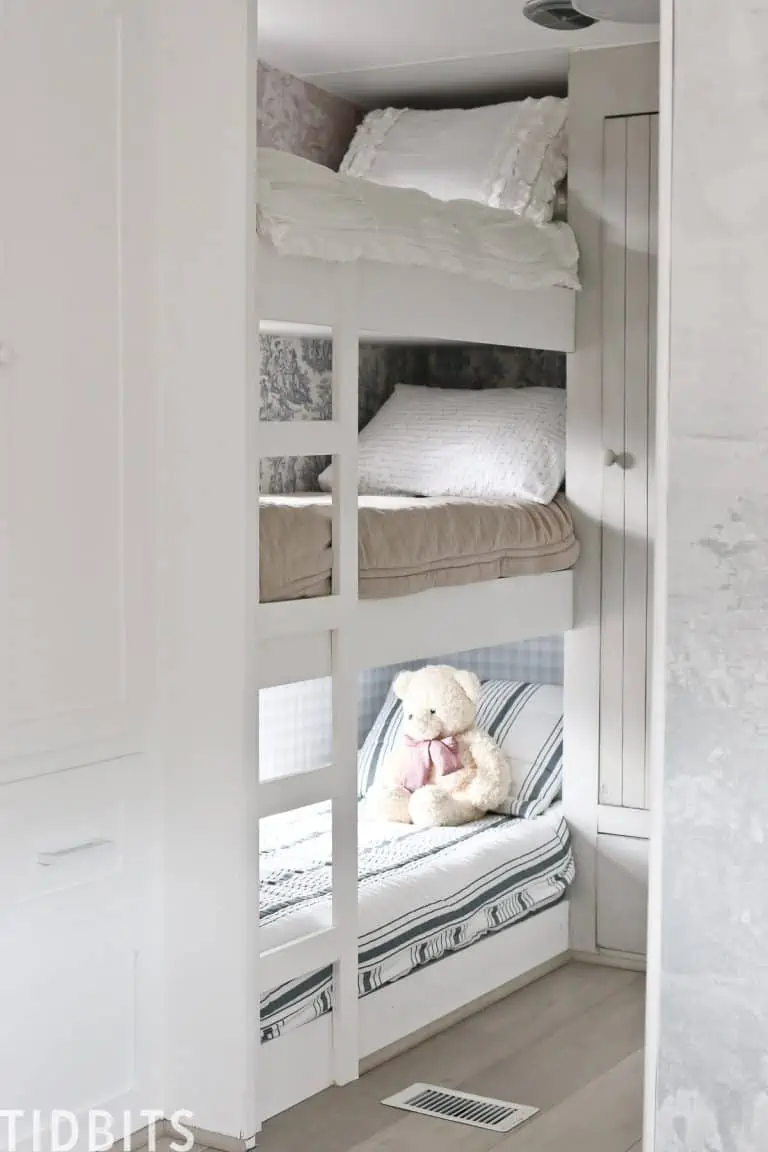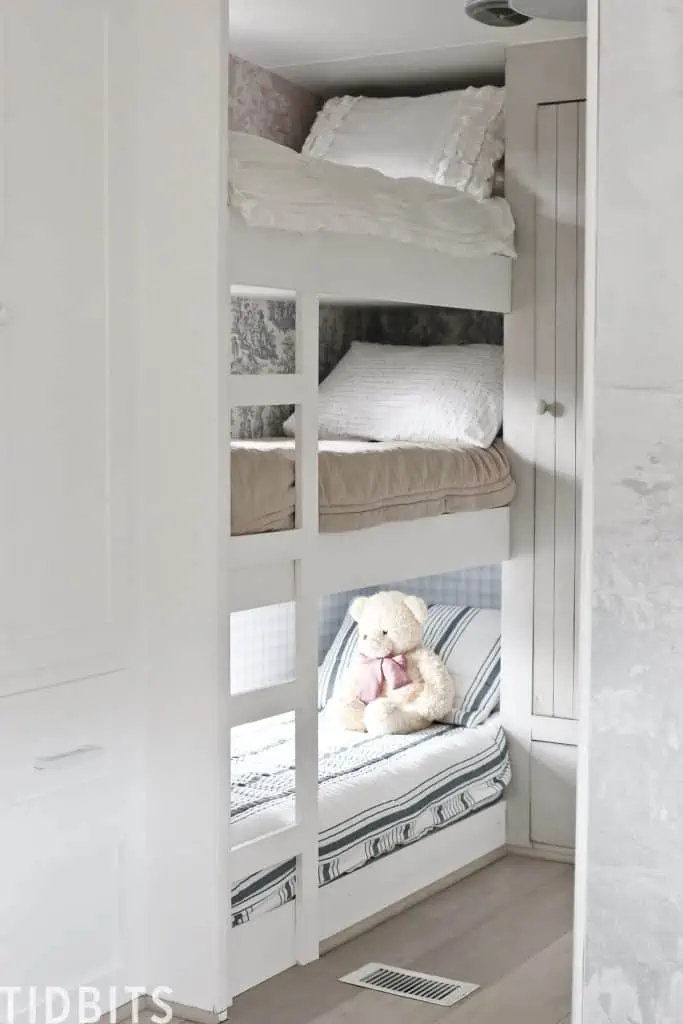 Because there is always an issue with sheets and blankets hanging from the higher bunks, leading sleepers to get up to grab their stuff and make a mess in the morning, having comfortable and practical bedding in RVs for bunk beds may become a bit challenging.
Fortunately, there is a fix for this kind of issue.
A fantastic technique to keep your bunk beds comfortable all night long is to use bedding that zips up (which is quite similar to a sleeping bag).
Finding a beautiful color or design shouldn't be too difficult since there are other firms who provide similar items.
If you have children, it's simple to locate three sets that go well together but have various color schemes so that each bed remains distinctive.
Related: Create a Folding RV Bed for the Front Seats Of Your RV
The Essentials for Your RV Bedroom
There are a few essentials that, regardless of where you are or what you did with your day, can help you feel joyful and calm while designing the most comfortable RV bedroom.
#1. Sheets For The Bedroom Of An RV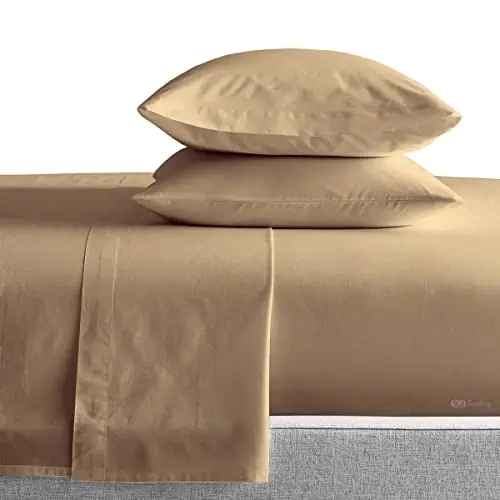 Few things in the world are as pleasant as a set of crisp, clean, soft Egyptian cotton sheets.
With a variety of colors and sizes to fit any theme, they are a fantastic alternative for an RV bedroom.
Egyptian cotton is the ideal fabric for all camping situations since it is supple, strong, and breathable.
There are also the following choices for comfy camping sheets:
Remember to look for mattress sheets with a decent fit and breathable materials before making a purchase.
#2. Mattresses For RV Bedrooms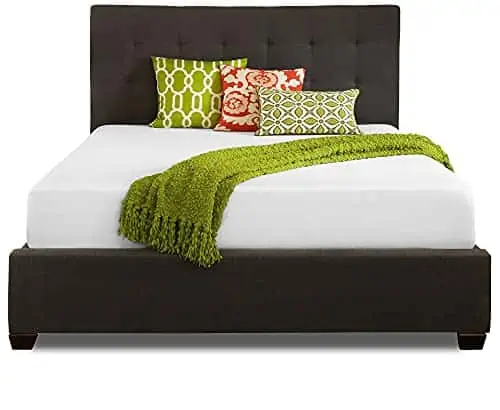 It might be challenging to choose a mattress for your RV since most of the beds are not standard sizes and won't fit the inexpensive mattresses that are readily accessible.
Fortunately, finding an RV mattress doesn't have to be too difficult if you seek in the appropriate locations, such Amazon, Camping World, and Walmart.
Related: Camper Van Bed Designs For Your Next Van Build
#3. RV Mattress Topper
Consider purchasing a comfortable RV mattress topper if your RV mattress isn't the most comfortable item in the world but you can't afford to replace it.
For all kinds of individualized comfort and material preferences, there are several solutions available.
Among the options are:
Infused gel toppers with lavender
Gel toppers enriched with aloe
Memorable foam
The top down-filled pillow
These toppers are available in just about any size you require and at any price point.
#4. Using An RV Fan In Your RV Bedroom
In addition to being useful for hot, muggy evenings, having a good RV fan in your bedroom may put you to sleep with its ambient white noise.
For those wishing to keep their bedrooms cozy with RV fans, there are several fantastic alternatives.
Powerful fans
RV roof fan vent
Modest desk fans
Rotating fans for RVs
Optimal Battery-Powered Fans
Depending on the energy source in your RV, choose your fan.
Get a battery-operated fan instead of a high-voltage one if your connection is poor and avoid plugging in additional gadgets if you have several devices that are always in use.
Advice for a Restful Night's Sleep While Traveling
When you're away from your house and cozy bed, it's not always simple to obtain a decent night's sleep.
Here are a few tips to help you sleep well in your RV even if you may not be able to obtain the ideal night's rest.
Select Your Campsite Carefully
Pick the ideal spot to leave your RV.
You may do this by conducting research on the campground you want to use and selecting the optimal spot where RVs are separated from one another and are not close to busy highways, trains, or commercial establishments.
Maintain Your RV's Air Quality
Regardless of the weather, temperature, or situations, be well-prepared.
Make sure you have a lot of blankets, pillows, and heating sources if you're camping in the cold.
If it's going to be hot, have at least one battery-operated fan just in case your electric fans stop functioning for whatever reason.
The Lighting You Use
Reduced illumination is the greatest strategy for getting a good night's sleep.
While having a nightlight put up so you can see to get a drink or use the restroom is a wonderful idea, it's important to make sure the source is dim or simple to get to.
Use a sound generator
Nowadays, there are many various kinds of sound machines available.
It could be a space-saving combination clock, light, and music device that performs many functions.
A sound machine may help you create the ideal setting for a restful sleep by blocking out the noise made by nearby campers, animals, or passing automobiles.
Related: Upgrade Your Camper With An Electric RV Bed Lift
Conclusion
RVs that are comfortable to travel in come in a wide variety of colors, patterns, and fabrics.
There is a method to design the ideal sleeping area for you and your family that will keep you calm on every holiday, regardless of your own style.
RV Bed Ideas Videos Suggestions From Youtube